Dining room progress and Minted art shelves
This post contains affiliate links and I will be compensated if you make a purchase after clicking on my links.
We're updating our dining room yet again, and I'm showing you the progress as well as our new minted art shelves. Come along and take a look!
So as you might already know, our dining room was in a different room when we first moved into our fixer upper almost two years ago. But since then we've knocked down some walls (in the never-ending DIY kitchen update) and have flip-flopped rooms and made some other updates along the way.
PS. Here is a view of the temporary living room that was in this room before the renovations began.
And where we are now in the dining room progress…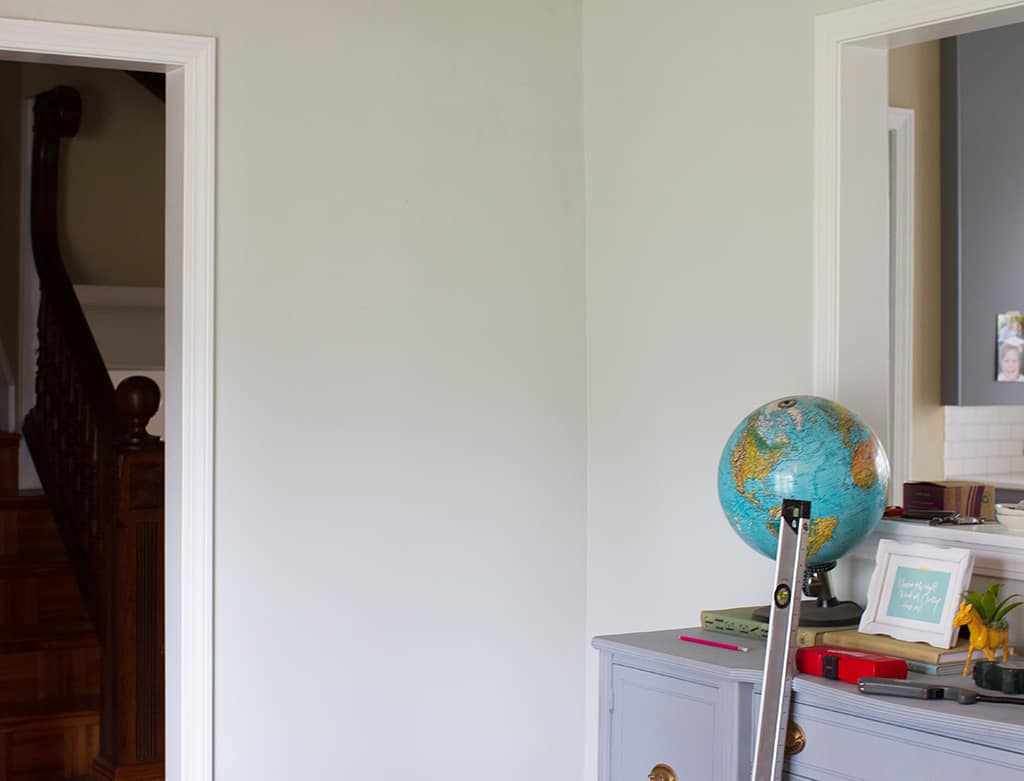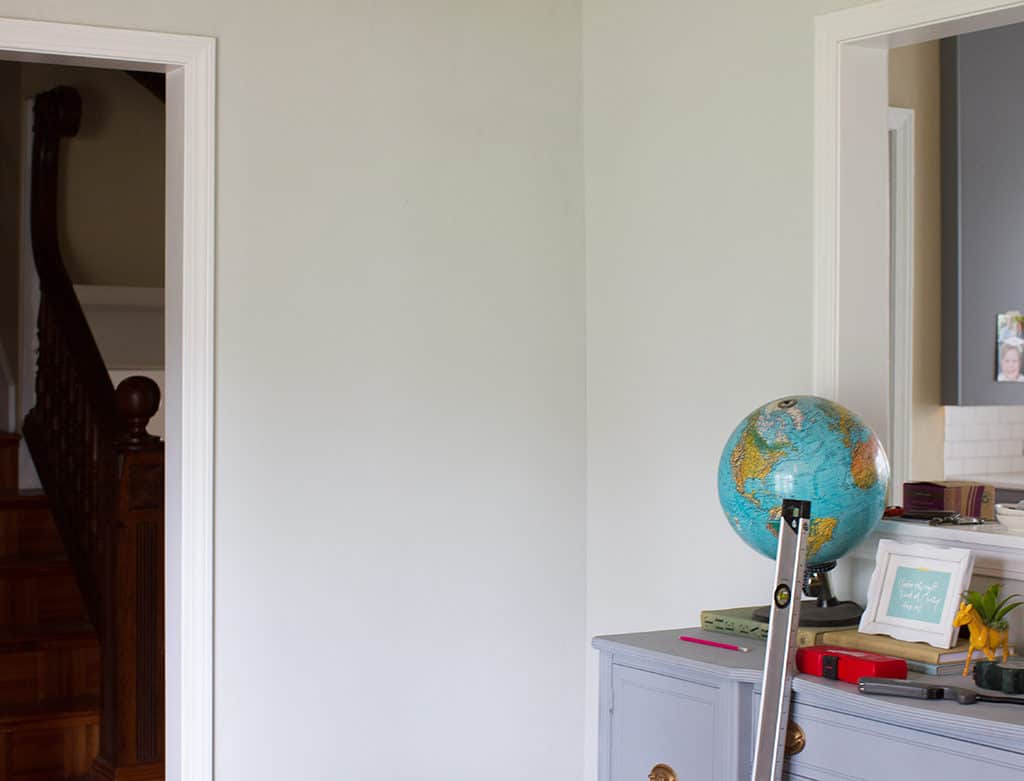 This is a little before shot of an empty corner where we decided to hang our two white Minted art shelves. It was begging for some color and personality.
Ted started out with his laser level to make sure that the shelves would be even. Not necessary since the shelves come with a level, but our fixer upper isn't the most level house in the world, so we break this bad boy out quite often, ha. Sigh.
Psst: You can click here to see a full photo tutorial of more Minted Art Shelves that were hung in Vivi's bedroom recently if you're interested.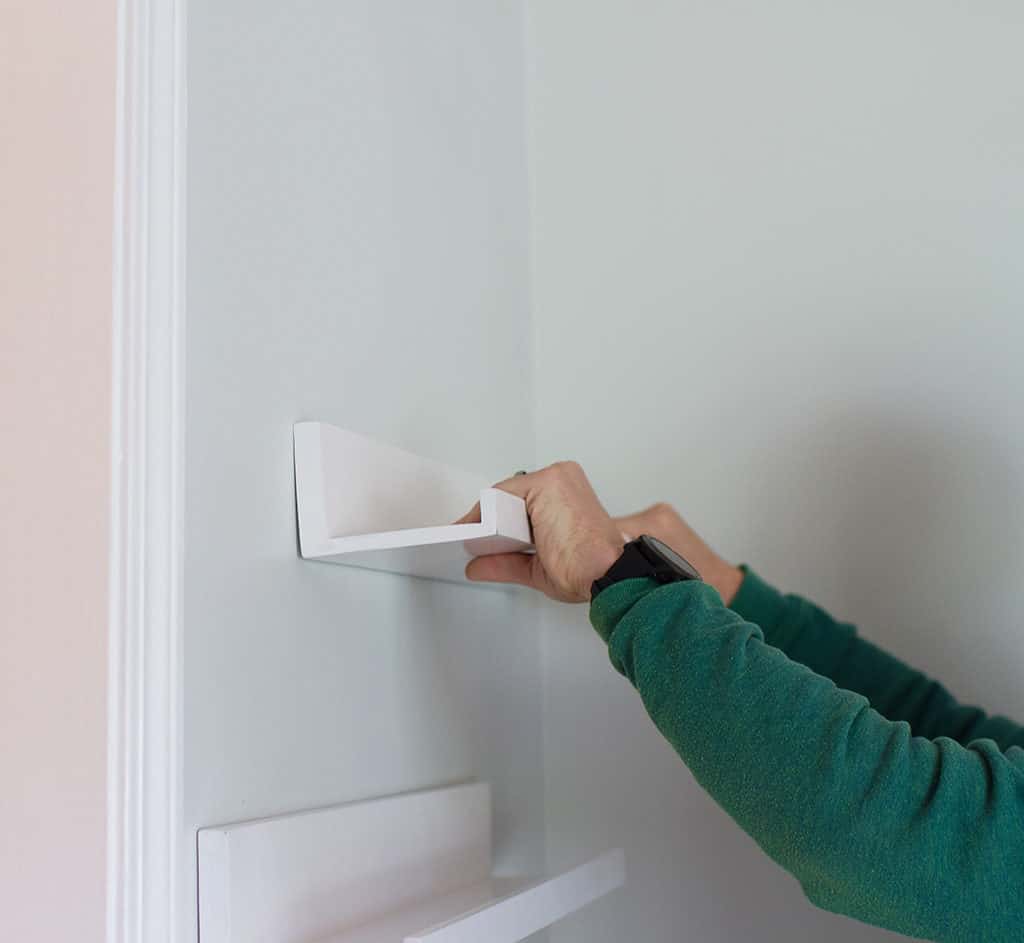 After the shelves were hung I jumped in to do the fun part — shelf styling. My favorite!
I gathered a handful of my favorite coordinating pieces from around the house and styled it up. I like the way the colors work together to fun up this corner of the room.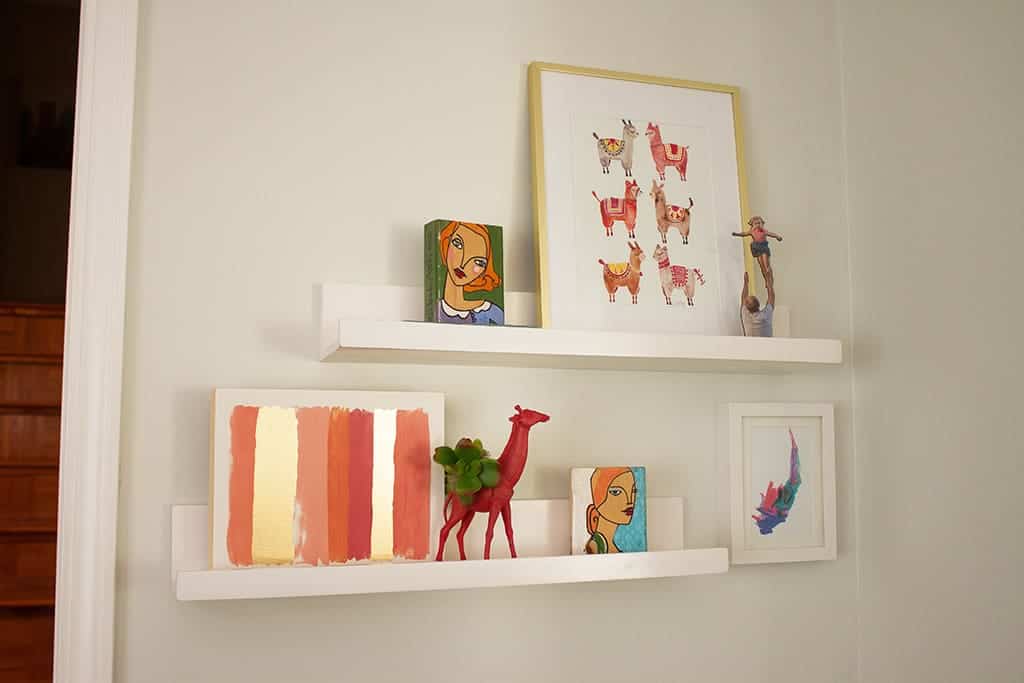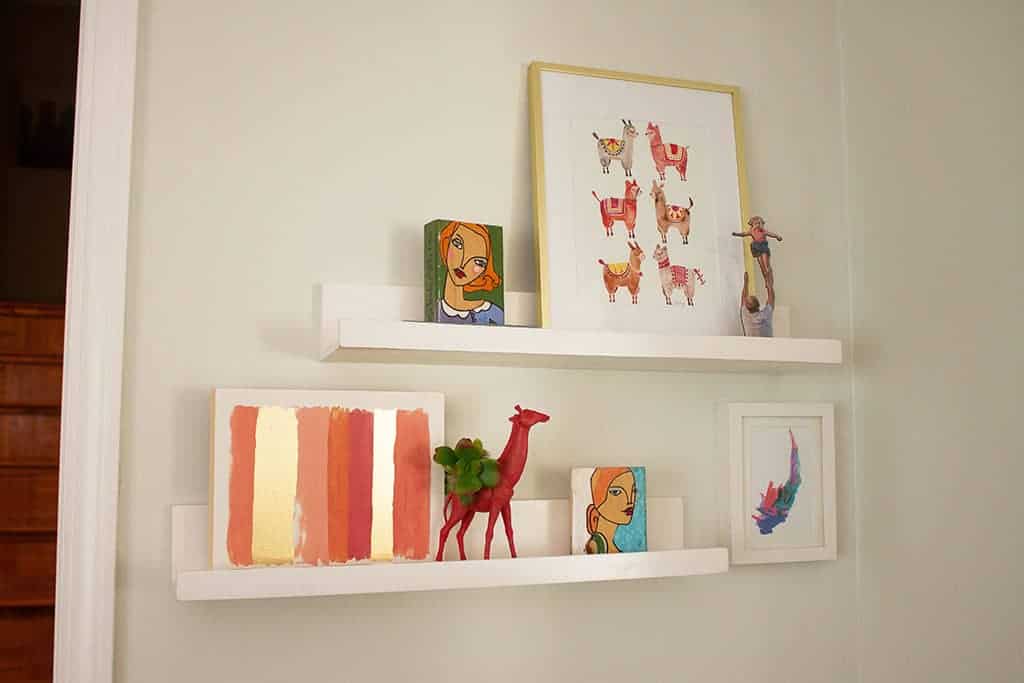 Sources top to bottom L-R:
wood block painting / alpaca print / photo statuette / coral and gold foil print / DIY toy animal planter / wood block painting / wing print (drawn by our three-year-old)
And some close-ups.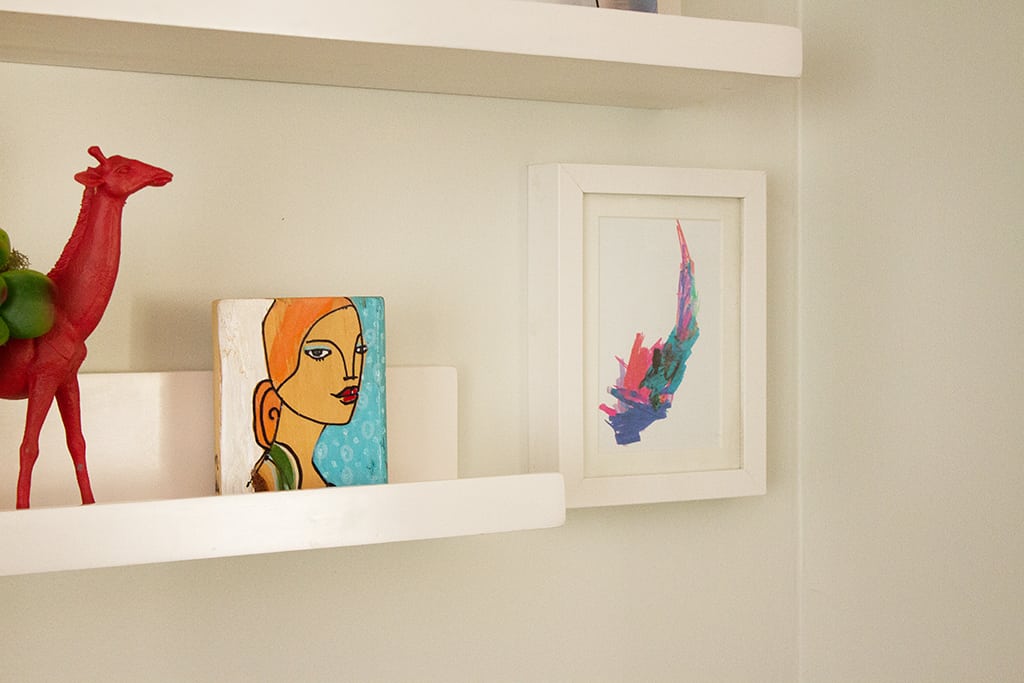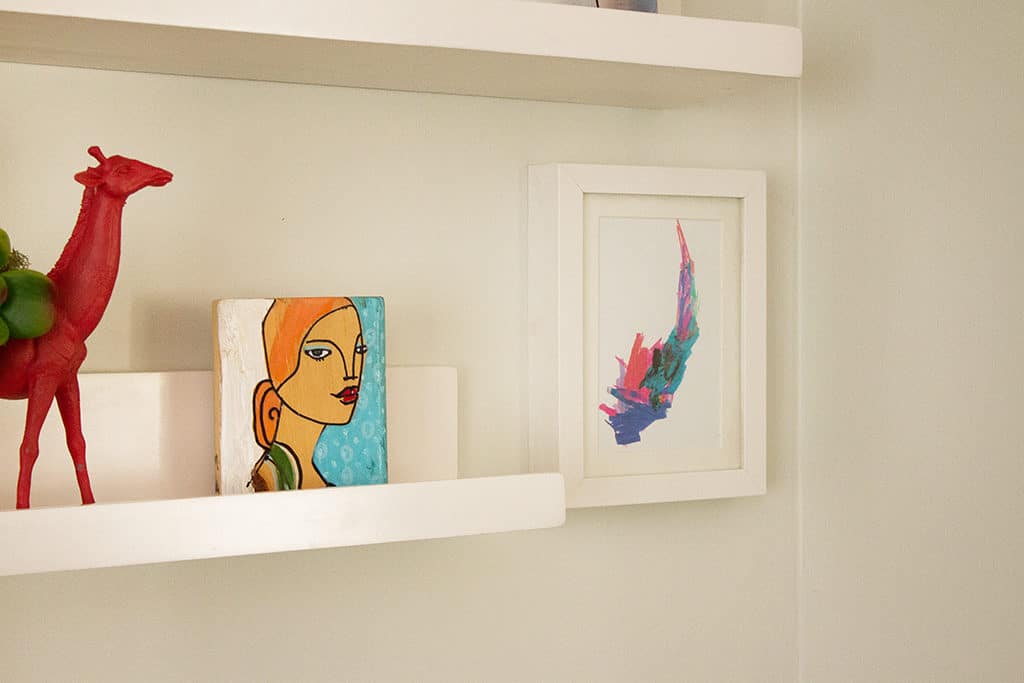 I love my wood block paintings by Bekah Ash! I've been in love with her work since the moment I discovered her in the Chait Gallery in Iowa City in maybe 2004-ish. She has a booth at the Kansas City Plaza Art Fair each September, and I always try to stop by. Her work just makes me happy.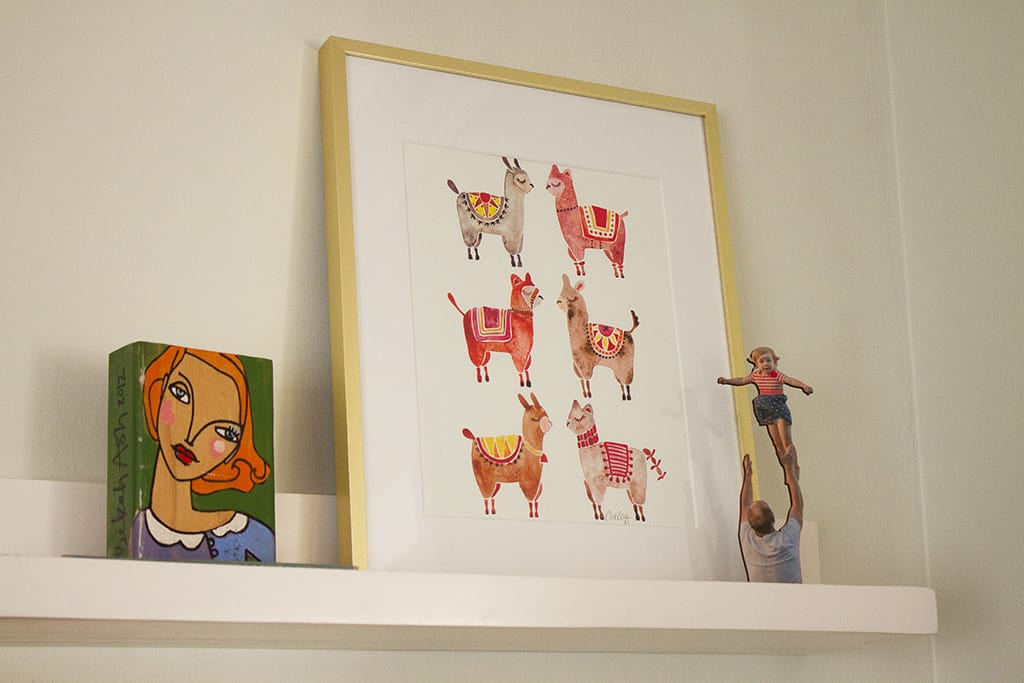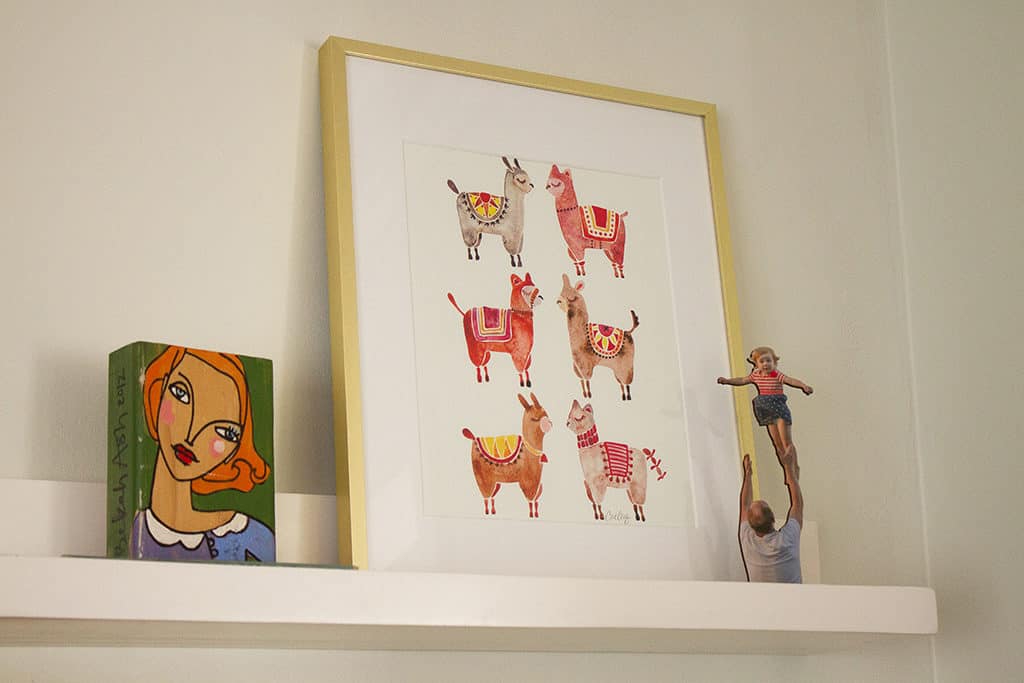 I also love this alpaca print made a Kansas City artist, Cat Coquillette. She paints the coolest pieces, and I have a handful of them in our home as well.
And you might possibly recognize the photo statuette from Mpix that I featured last fall. I have a few of these fun cutouts throughout the house. What can I say…when I find something I love I'm pretty loyal. 🙂
---
And let's take a little tour of the (in progress) dining room as it stands now, shall we?
As you walk in the front door you turn to the right to enter the dining room. The Johnson County beige wall straight ahead will soon match the rest of the light grey (Sherwin Williams Opaline) paint and the red stair carpet will be removed and replaced with wood. We'll also be painting the foyer a bright white or grey color. I'll be excited to see the beige go away!
The flooring situation:
The parquet wood flooring throughout the house is dated and worn, and we're wanting to upgrade. We are starting the process and had a flooring company come over today to measure for all new wood floors throughout the entire house (minus the bathrooms, which will be tile). I'm scared to see the estimate, but so looking forward to nice, new floors. We'll reach out for a couple bids to compare.
Depending on the costs we might choose to replace the three levels of our home at separate times. If we go that route we'll have to choose a wood that has some staying power and will remain available over the next year or two. Or we just might bite the bullet and do it all in one swoop. We haven't decided what we will do ourselves in the project yet. I'd guess that we'll rip out the old flooring ourselves, but we might pay the flooring company to install everything. Should be interesting to see how it all works out.
Back to the tour…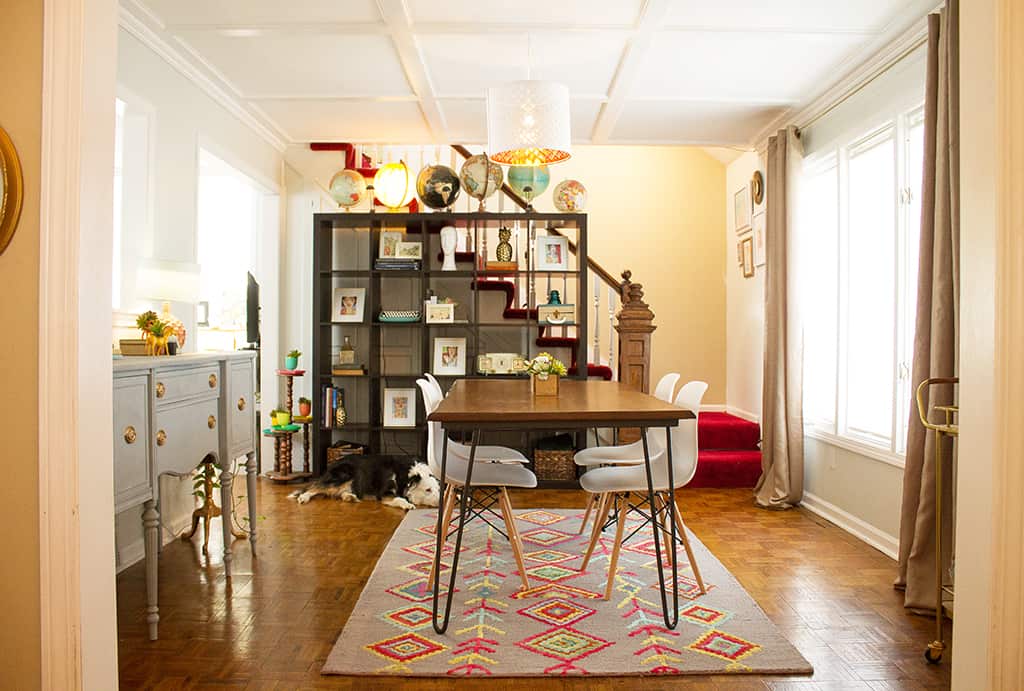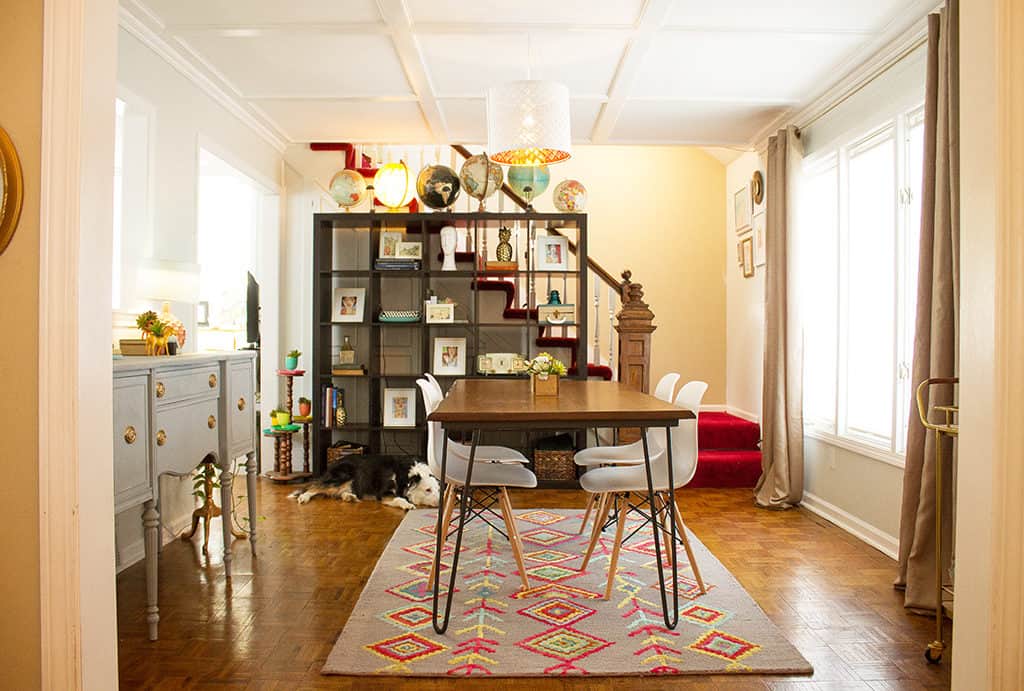 Sources: rug / chairs
/ table

The large IKEA shelf you see straight ahead used to be on the wall where the buffet table is, but we cut a passthrough in that wall to open up the kitchen on that side, so the stair wall is the only place the shelves sorta work.
We have quite a bit of storage under the stairs, but we rarely use it, so I decided the shelves could go along that wall. There's a lot going on behind the shelving, so I plan to paint some white wood backers to hang to the back sides of the shelves, which I hope will minimize and brighten up that area a bit. It hurts my eyes to look at them right now.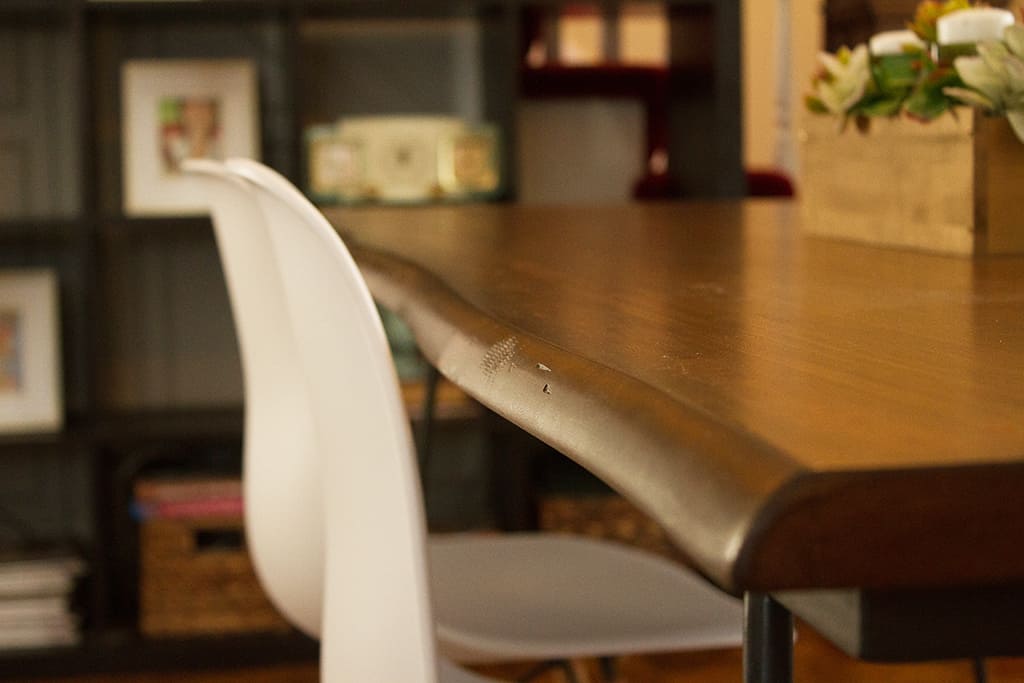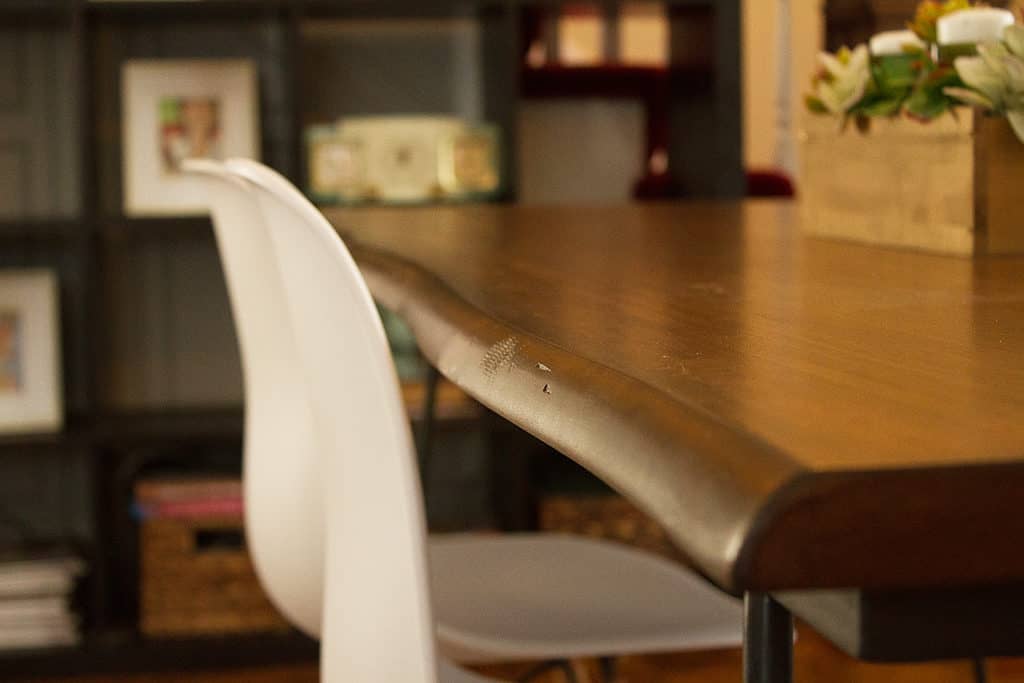 Closeup shot of our new dining table, which we love.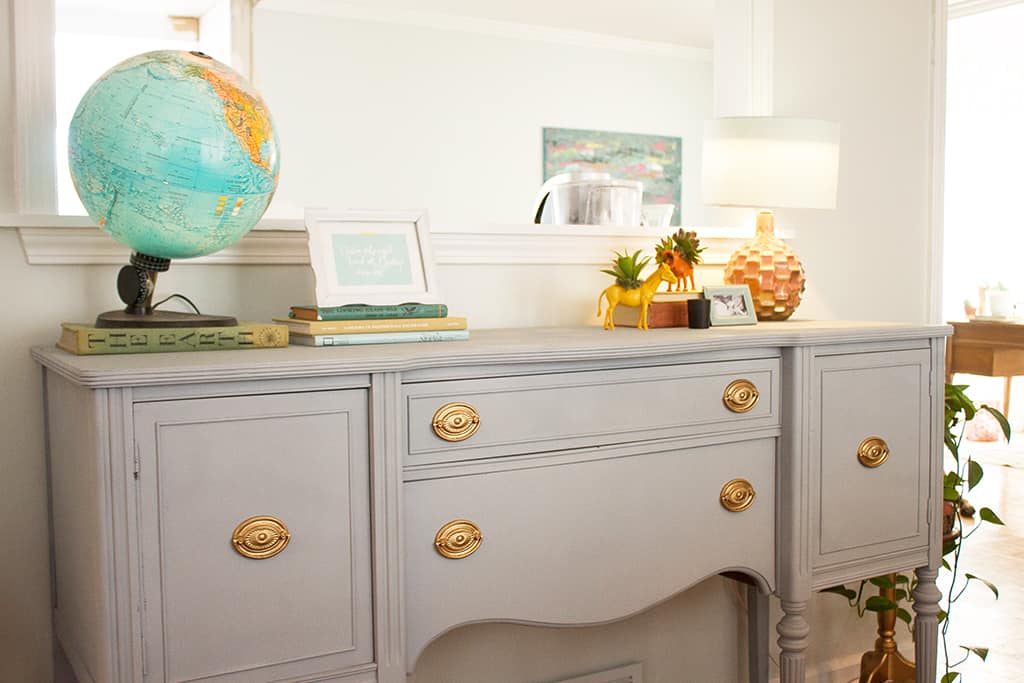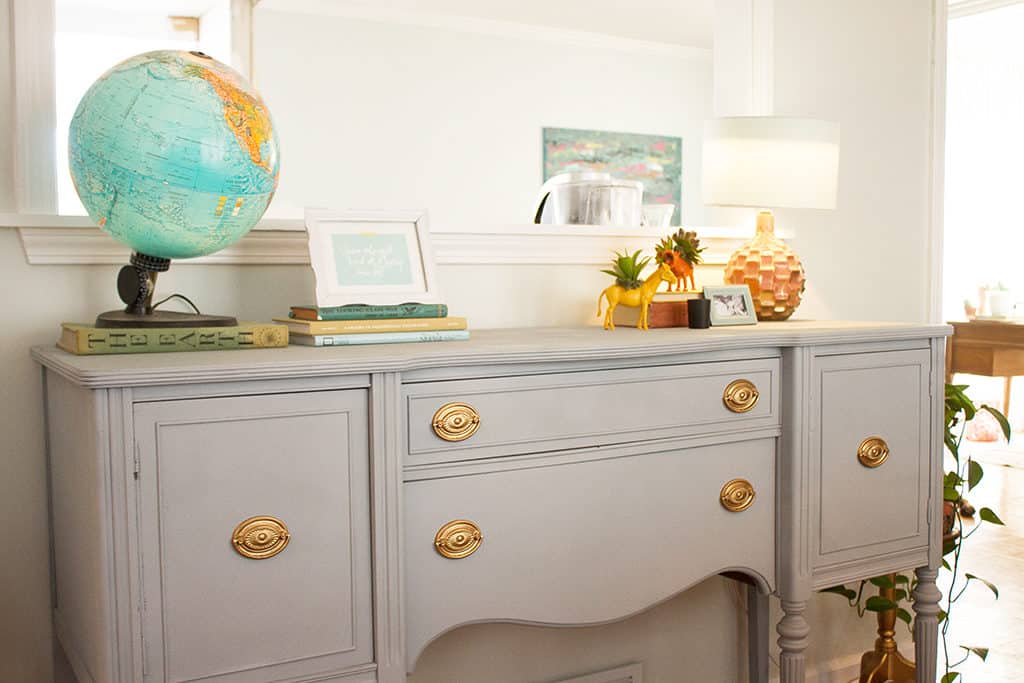 And this is a family heirloom that I got permission to paint to help brighten up the room. It went from scratched up dark wood to this light grey, and I think it really helps lighten up the space.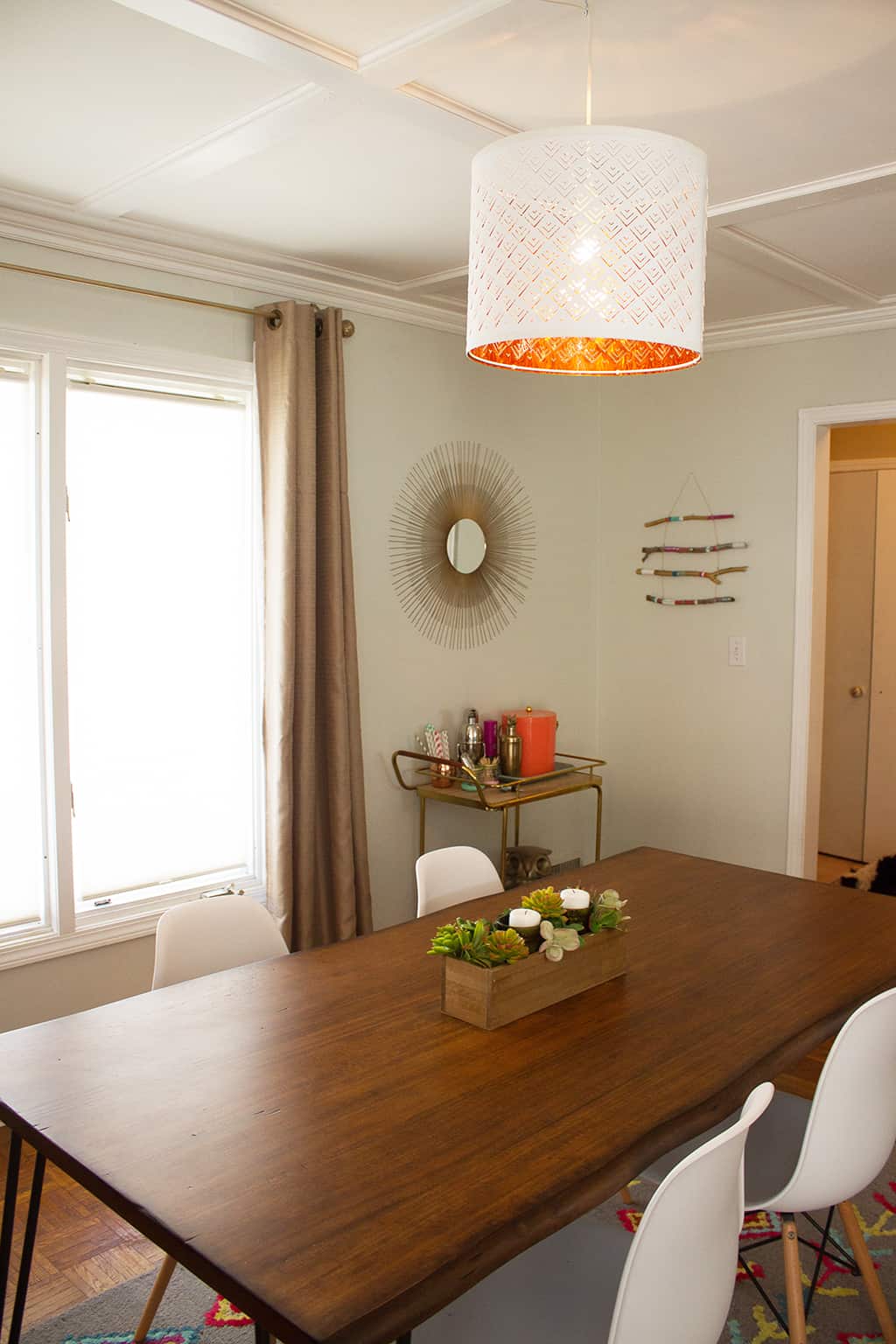 A view from the other side of the room.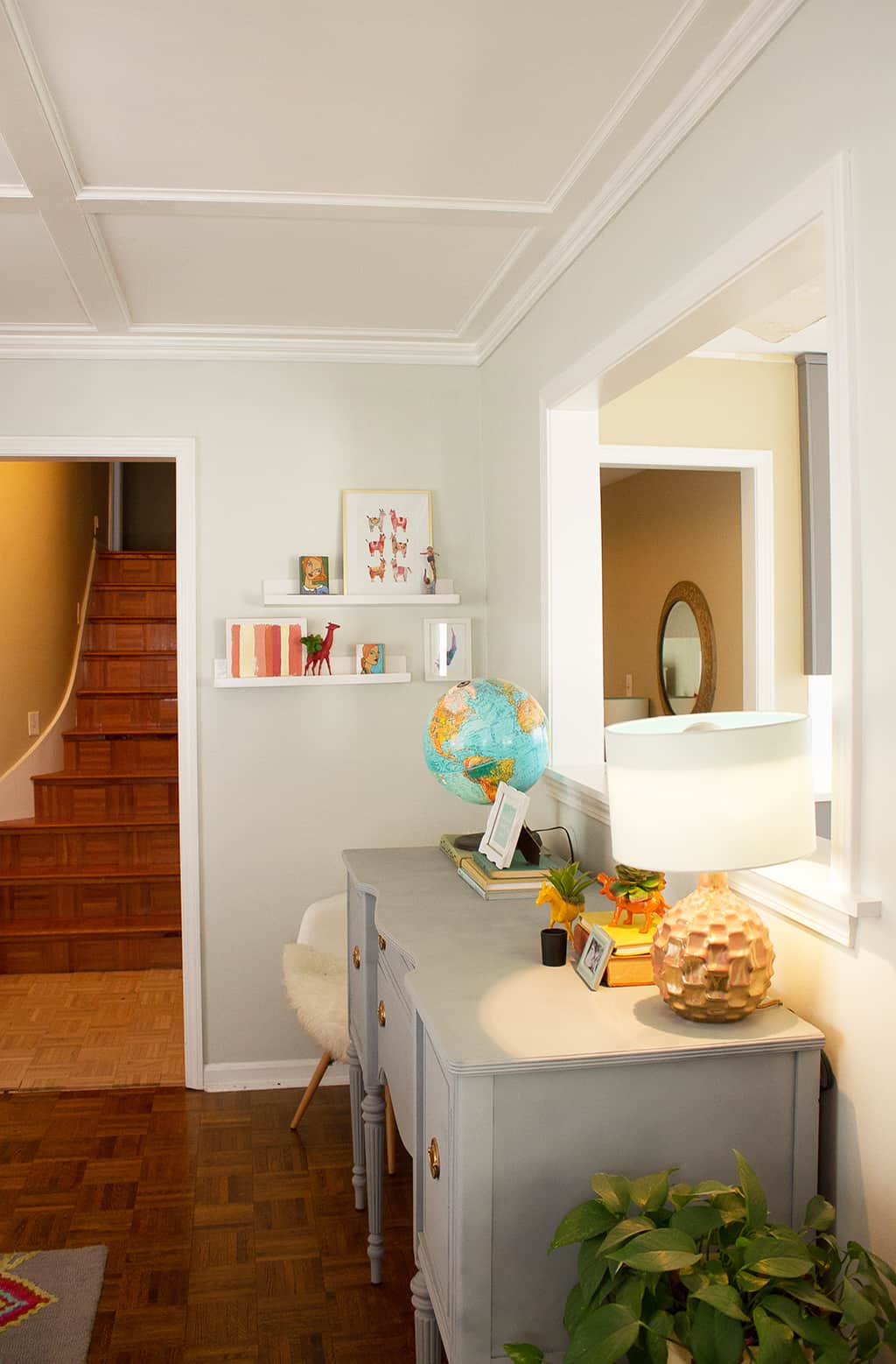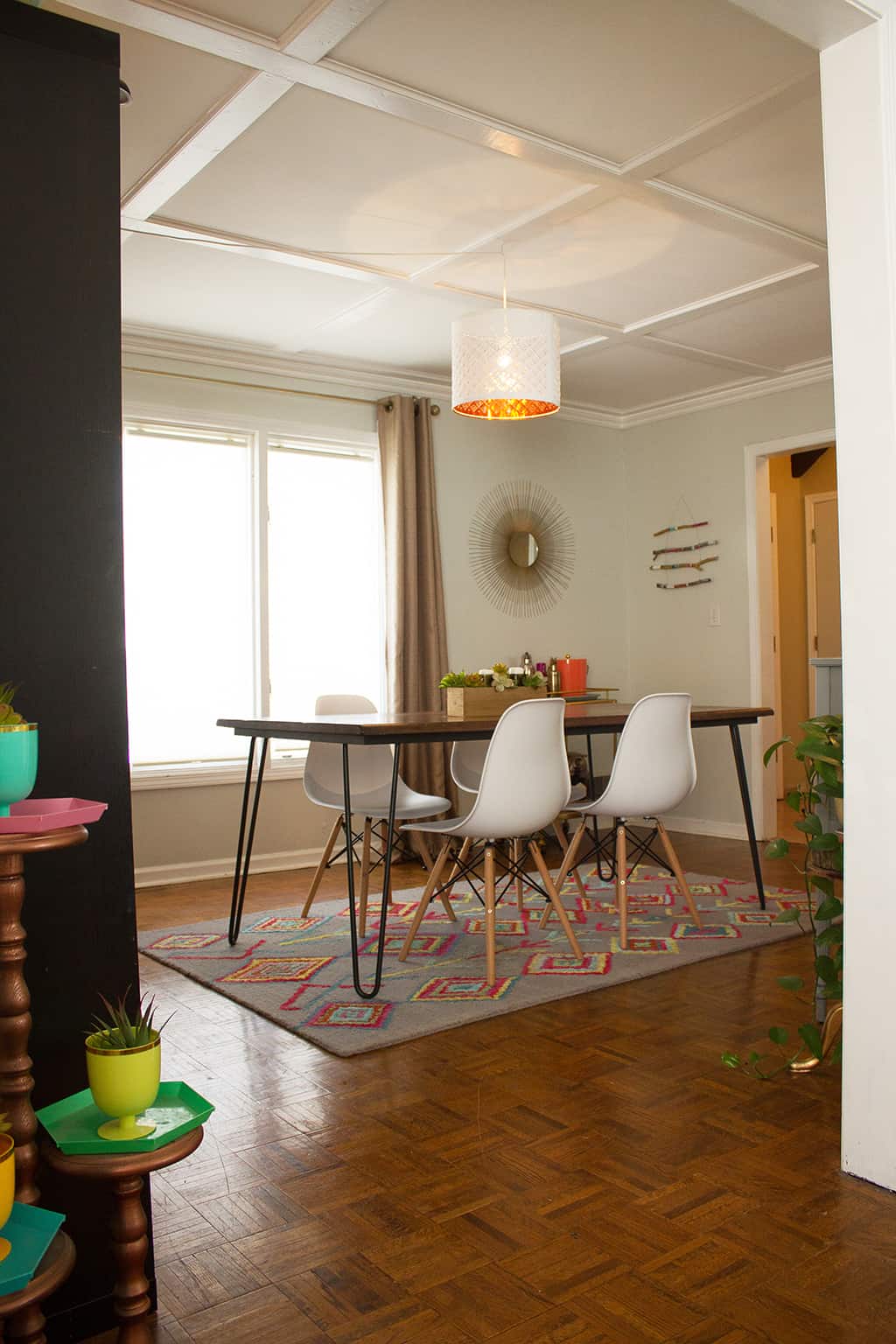 We love our new rug. It really brightens up the room with some much-needed color.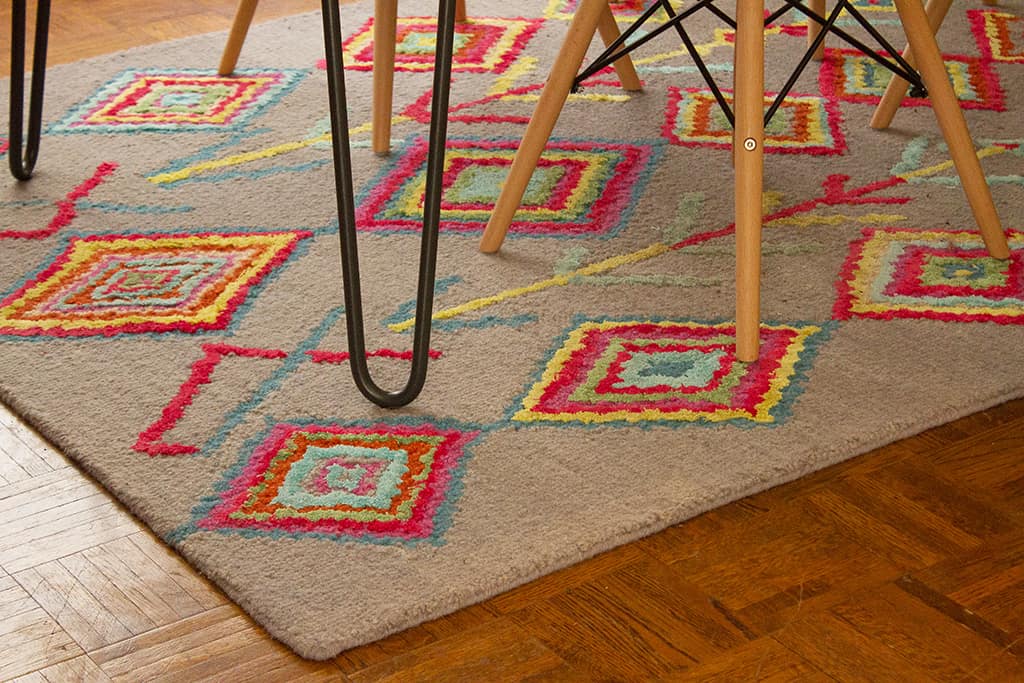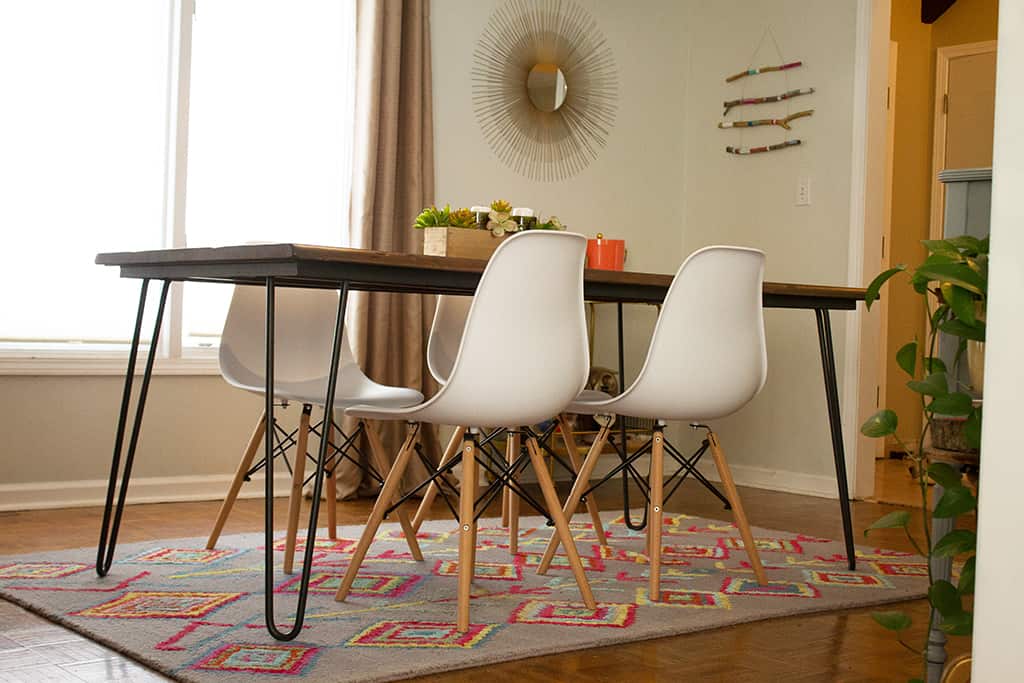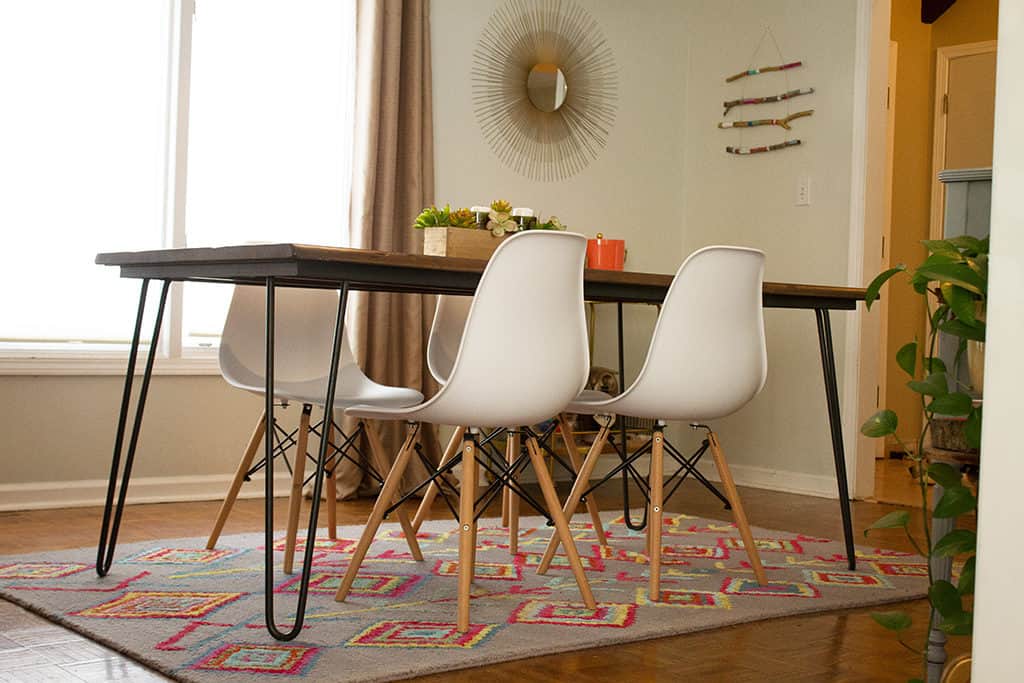 So, there you have it—our dining room as it stands now. I think it's a big improvement, and the Minted shelves helped bring some more personality into the space.
We have some more projects to complete until it's finished, but I do already enjoy being in this room, and often times even work from the table instead of my office nook, so that says a lot.
Anyone else updating a dining room or loving the new minted art shelves? I'd love to hear from you in the comments below.
xoxo
Audrey