It's time for a spring home tour (quarantine style)!
I teamed up with some talented DIY home bloggers (listed and linked at the bottom of this post) to do a home tour hop, and the challenge — due to our shelter in place orders — was to use what we all already have on hand.
If you're joining from Fariha's tour at Pennies for a Fortune welcome and thanks for stopping by!
I'm a big fan of repurposing things around the house pretty regularly, so feel pretty comfortable with this challenge. Come along with me as I take you on a quick tour of a few spaces in our house.
The front porch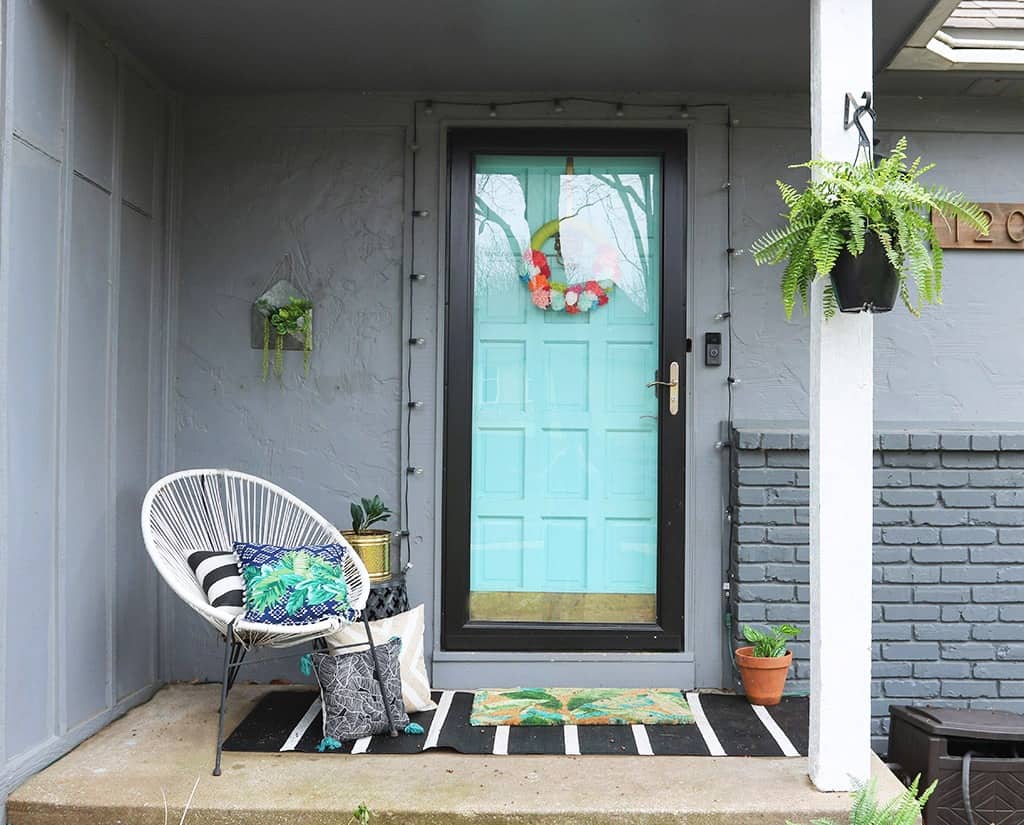 I spruced up our small front porch with a new rug, pillows, and some plants a couple months ago, and am so glad I did!
I leave our deck lights up around our front door year round and love how they look at night. We have a lot of DIY uplighting going on and these are the cherry on top.
The entry way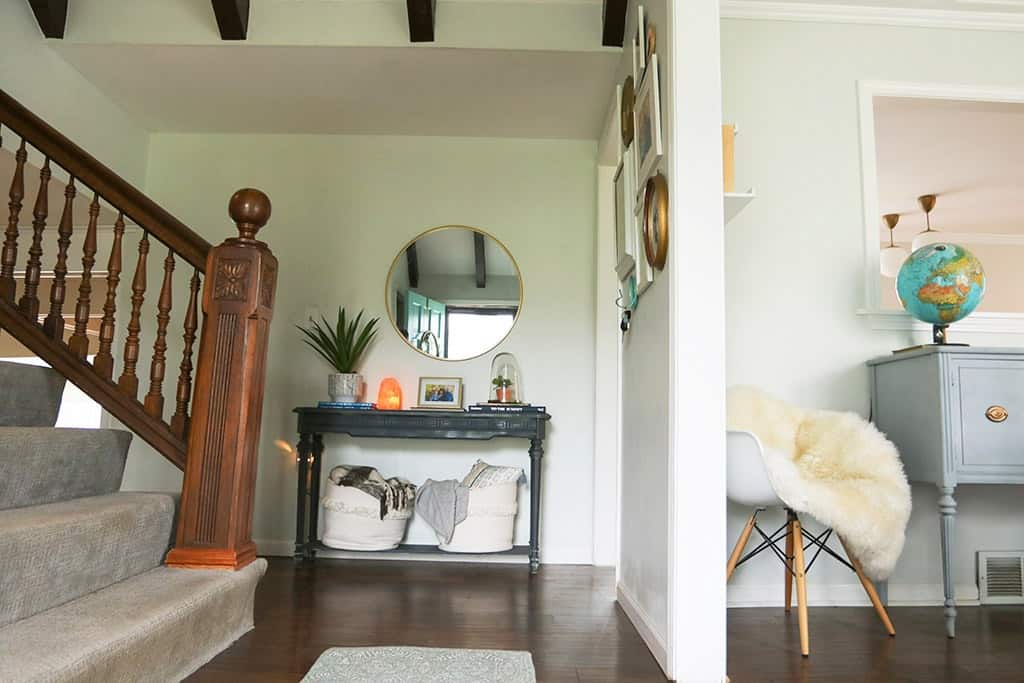 Let's head into the entry way, shall we?
We plan on pulling out this stair banister and replacing it with a more modern one eventually, but that's pretty far down on our priority list, so we're just living with it for now.
I love the console table I found in a trash pile about 10 years ago. I sprayed it a dark grey and have a couple catch all baskets where I store off season shoes, etc. I cover them with blankets because I hate to see clutter, ha.
Here's a closer look at the table top. I adore this modern mirror and have the same one in Vivi's bathroom too.
I added a faux plant, salt lamp, some vintage books, a family photo, and a cloche filled with a faux succulent to make it feel as springy as I could.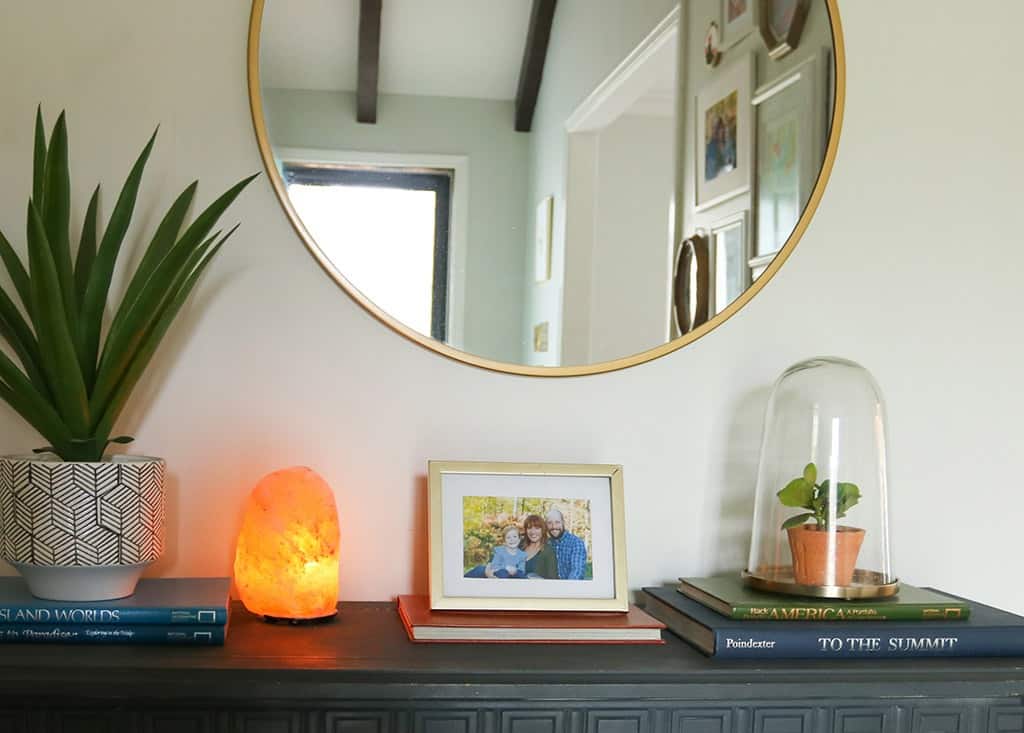 I love using my dad's vintage National Geographic books in our decor. They come in so many fun colors, and I love to stack objects on any kind of colorful book.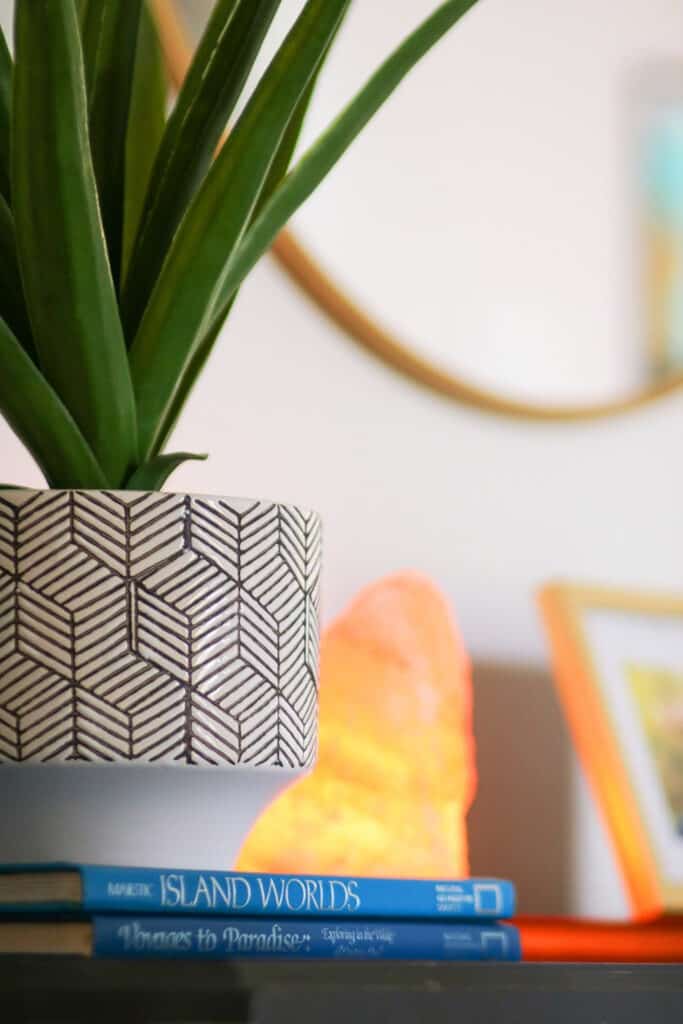 I recently found the prettiest gold wax warmer that scatters the prettiest light. I can't decide if I like the salt lamp or this better. Any opinions?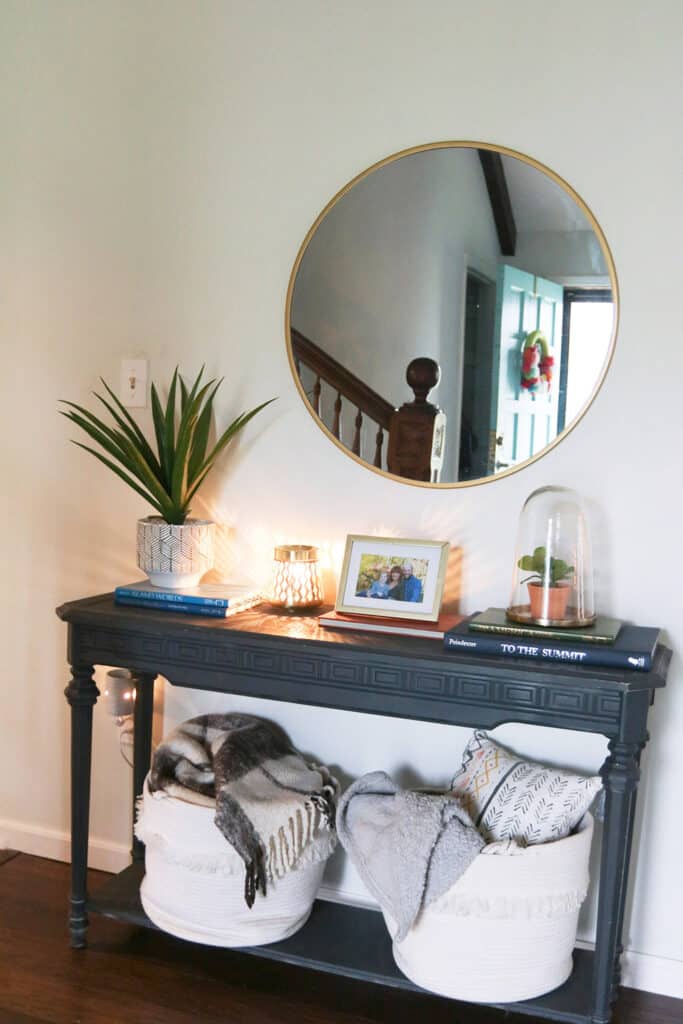 Here it is at night. So pretty!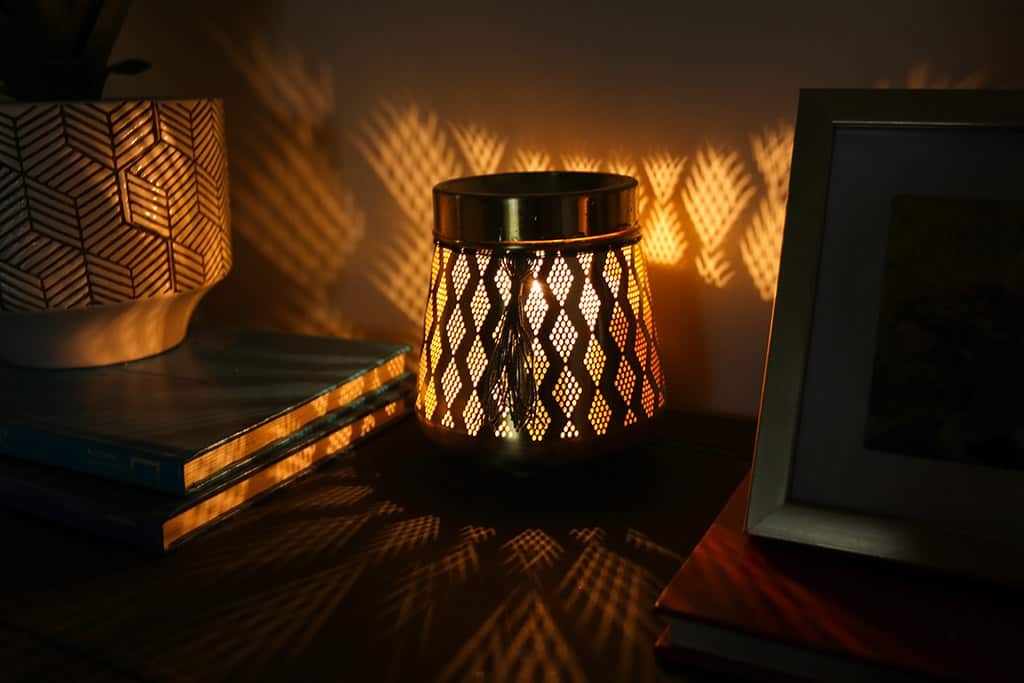 To the right is a gallery wall that I put together to bring in some color.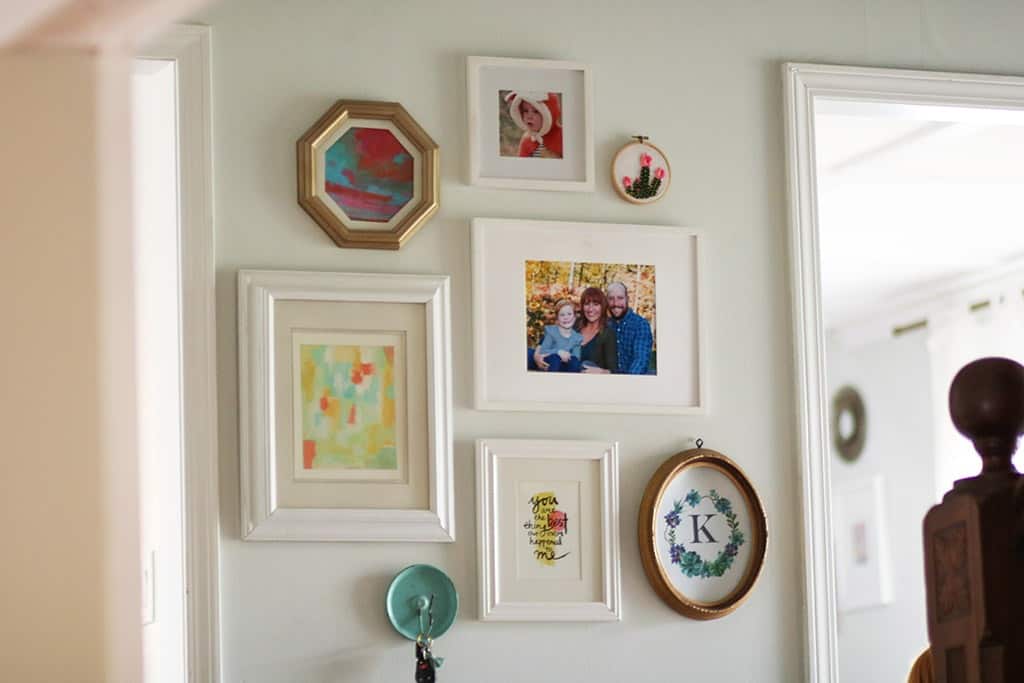 Now we're looking at the entry way door from the dining room.
I once again am having a hard time deciding on something … wreaths.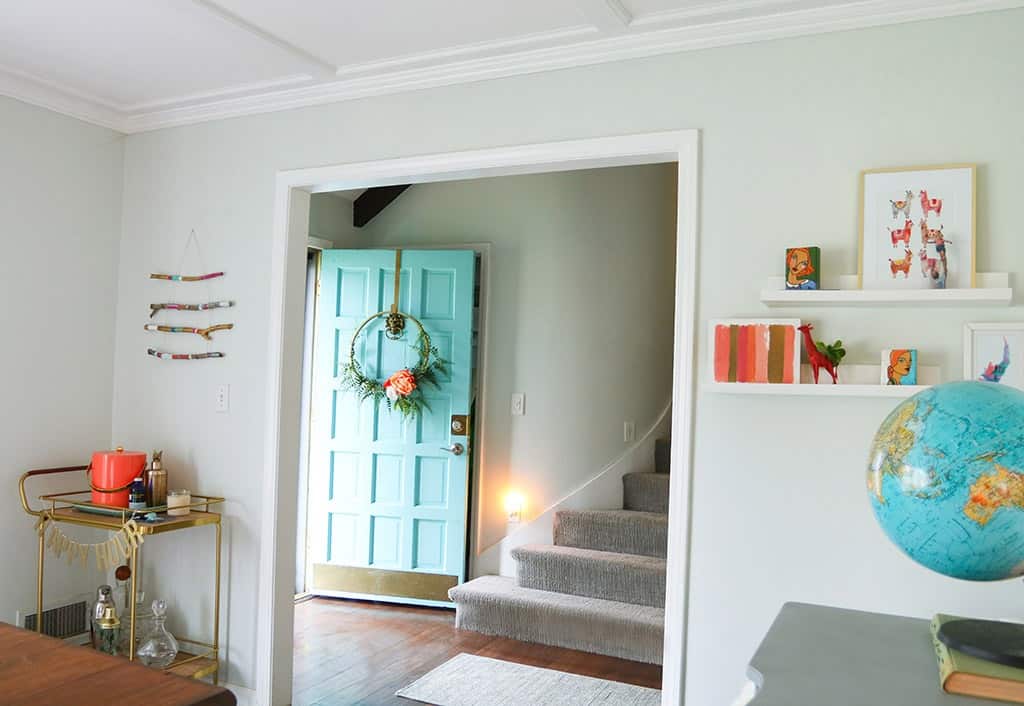 I made this DIY wreath a couple years ago in partnership with Micheal's Stores and love the colorful and minimal vibe.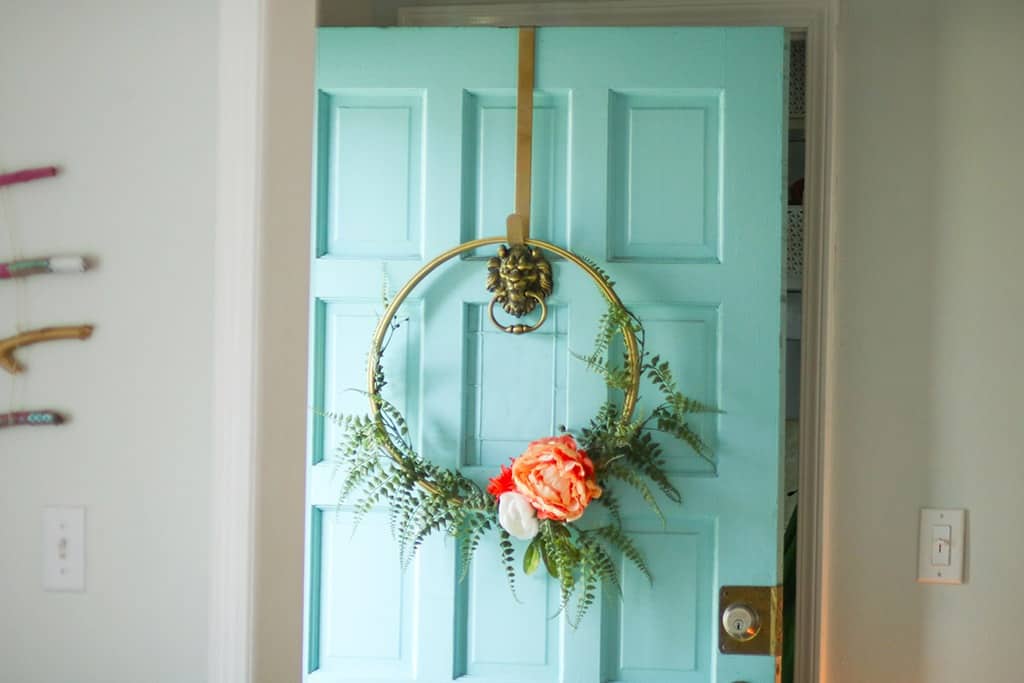 Here's the same view, but with a DIY pom pom wreath. It feels a bit small and off-scale on the door, but I do love it.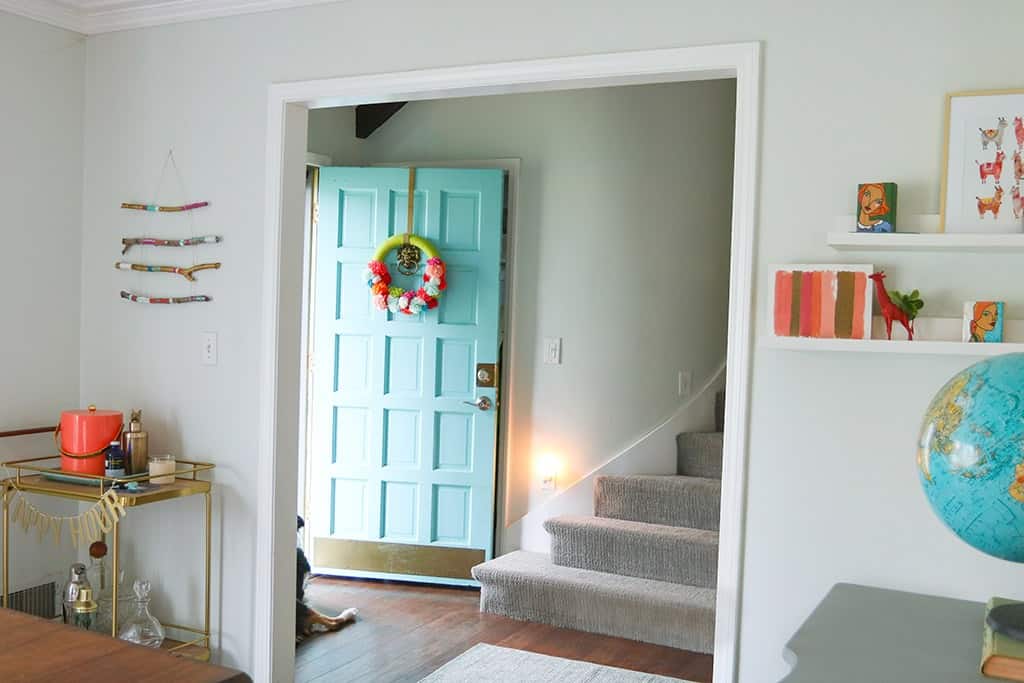 A closer look.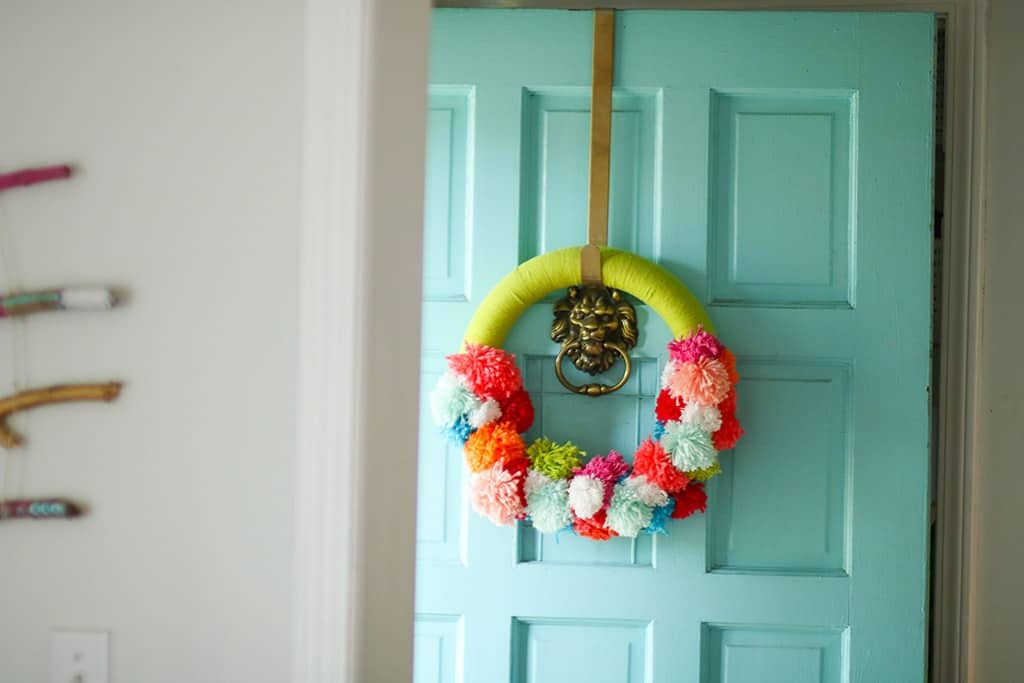 The dining room (aka our new distance learning space)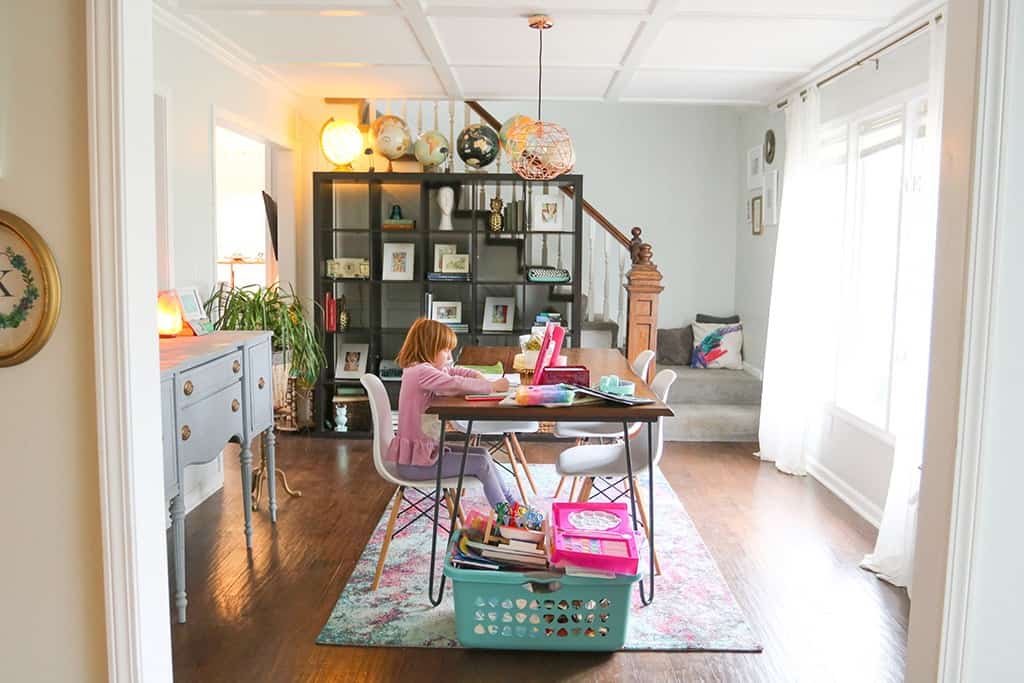 Ever since our schools closed and we went to our shelter in place orders, our dining room has turned into Vivienne's distance learning/homeschool space.
We keep a basket of art and craft supplies and work booklets in here for her to easily access. I like being able to see her work from my home office nook, which I'll show you in a bit.
A look at the space from a different angle. This room is working double duty for us right now!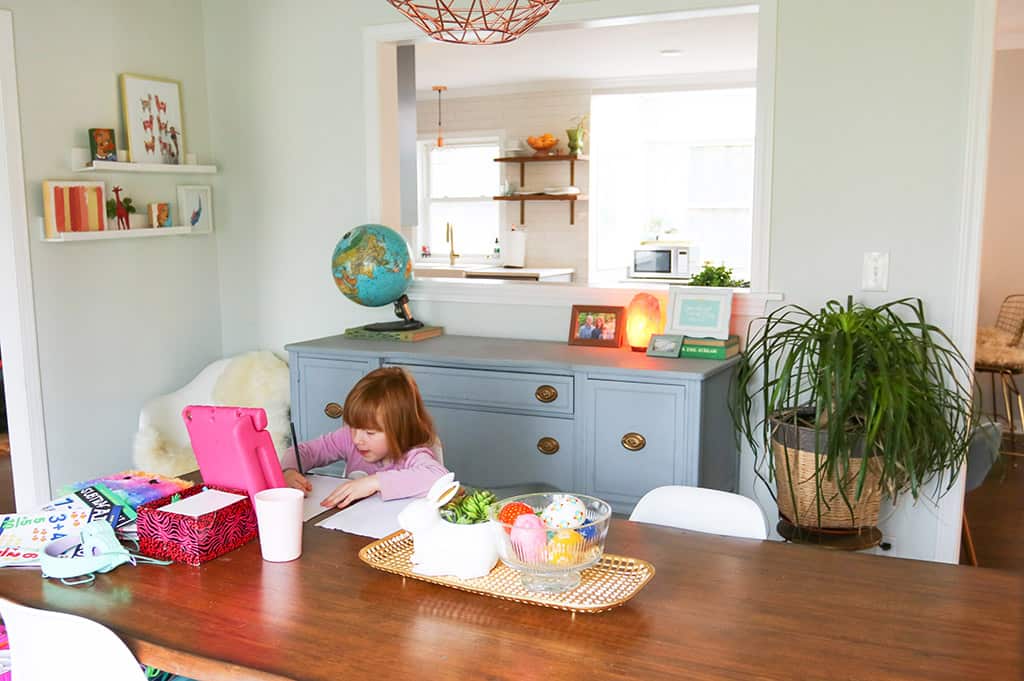 I found a couple Easter decor items in the basement from last year and displayed them on the table to try just a tad, ha!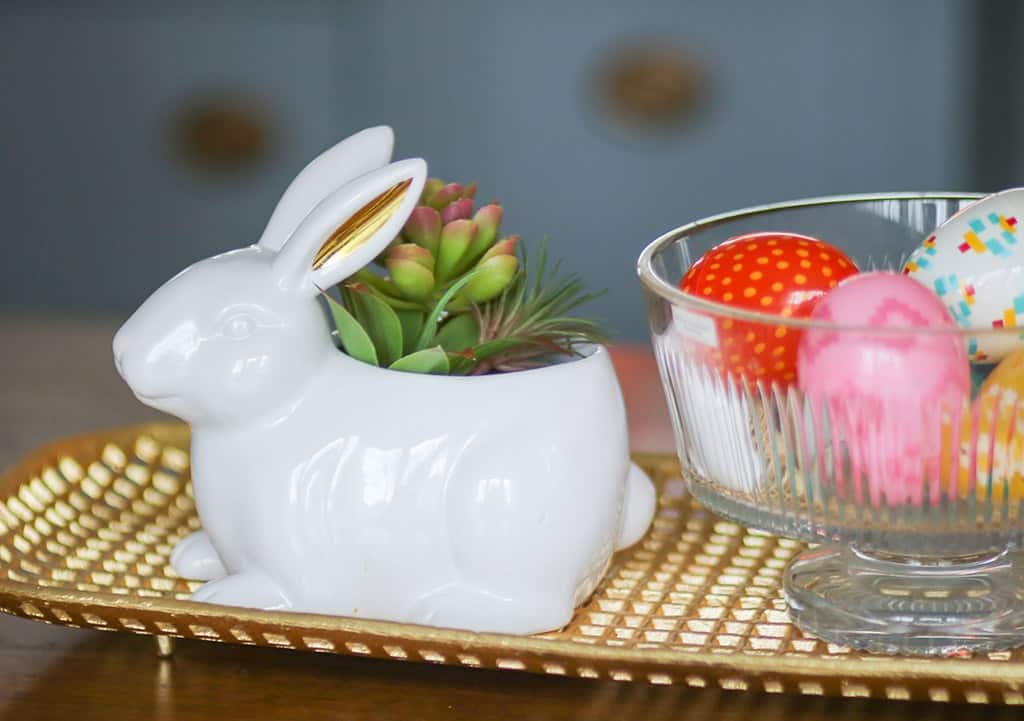 I love these pretty colorful plastic eggs!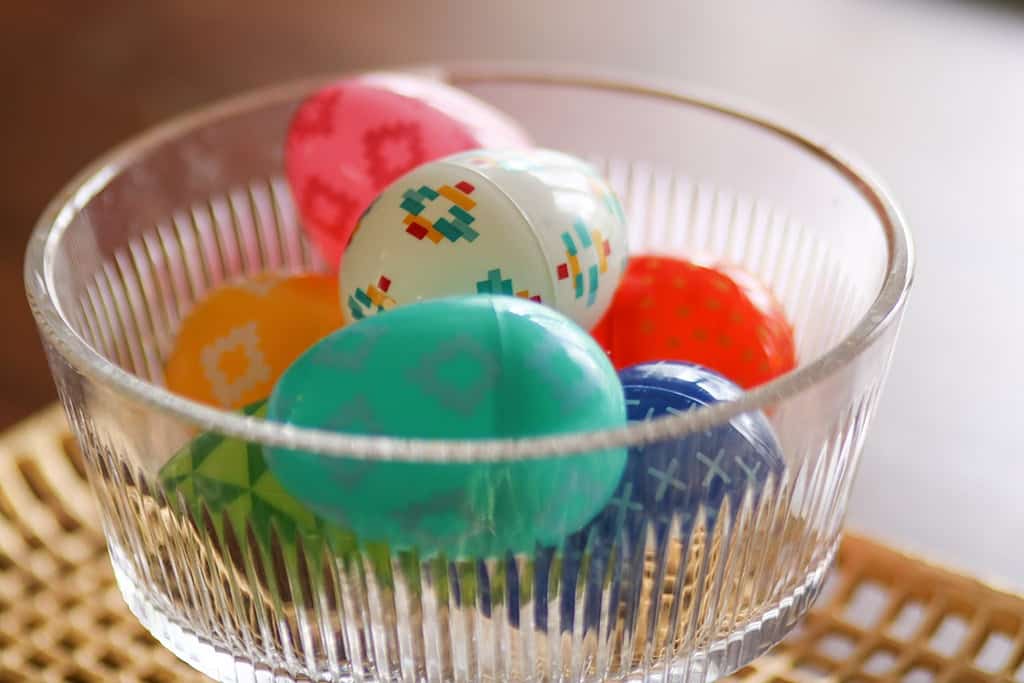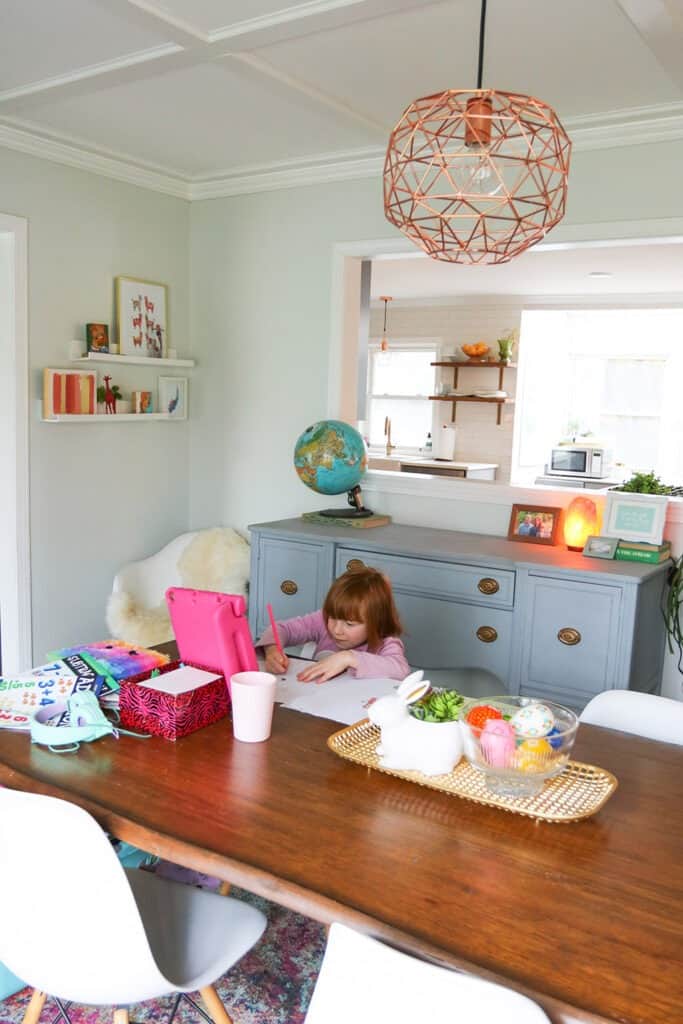 You might notice I have a thing for salt lamps . I have a couple in each room throughout our house. I love the glow they put off, and if they do help purify the air — win, win!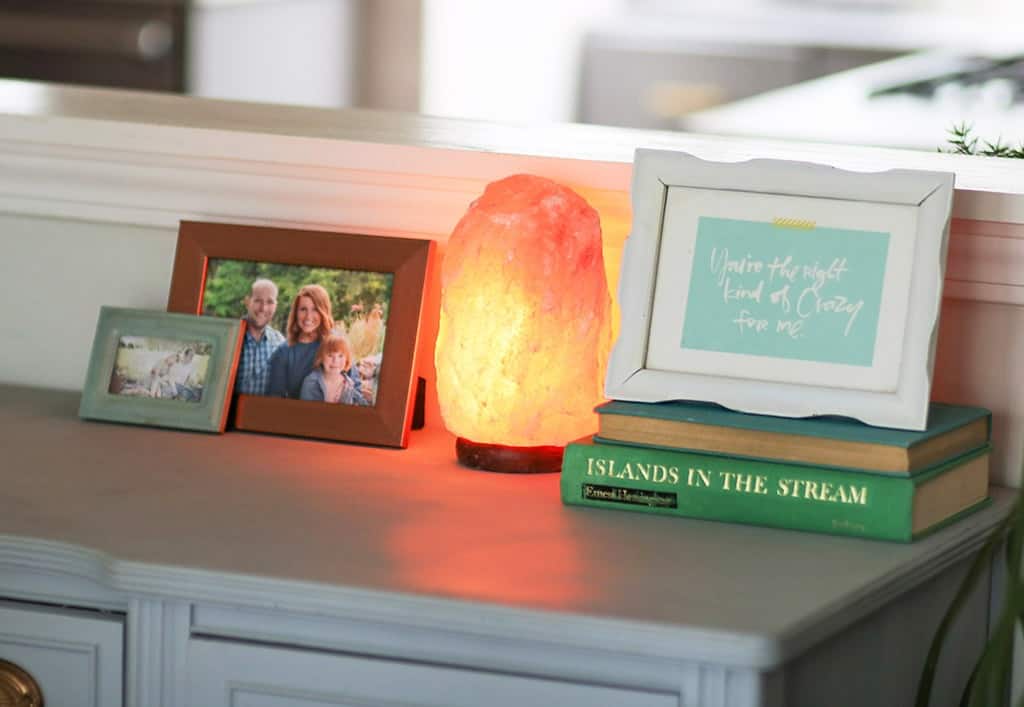 The home office nook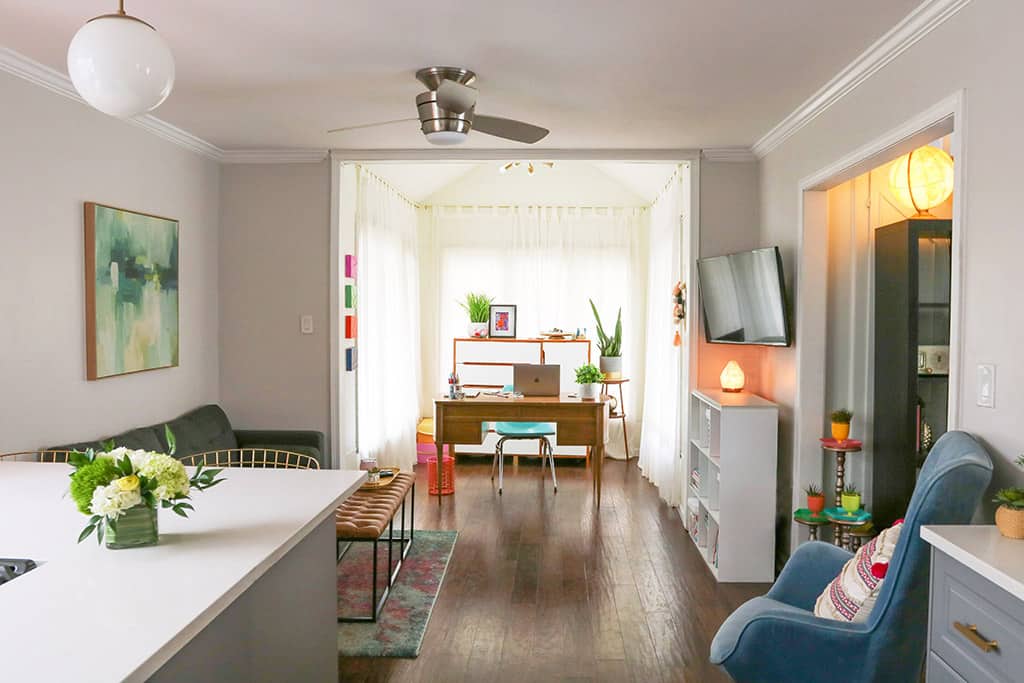 Let's keep this spring home tour going, shall we? Next up is the home office.
I love having my home office nook off the dining room and close to the kitchen.
I hate being in a closed off room, so this space has worked really well for me to work my full-time job (as an art director at a software company) as well as keep an eye on Vivi.
We have a little seating area that we like to use to spread out a bit as a family when needed.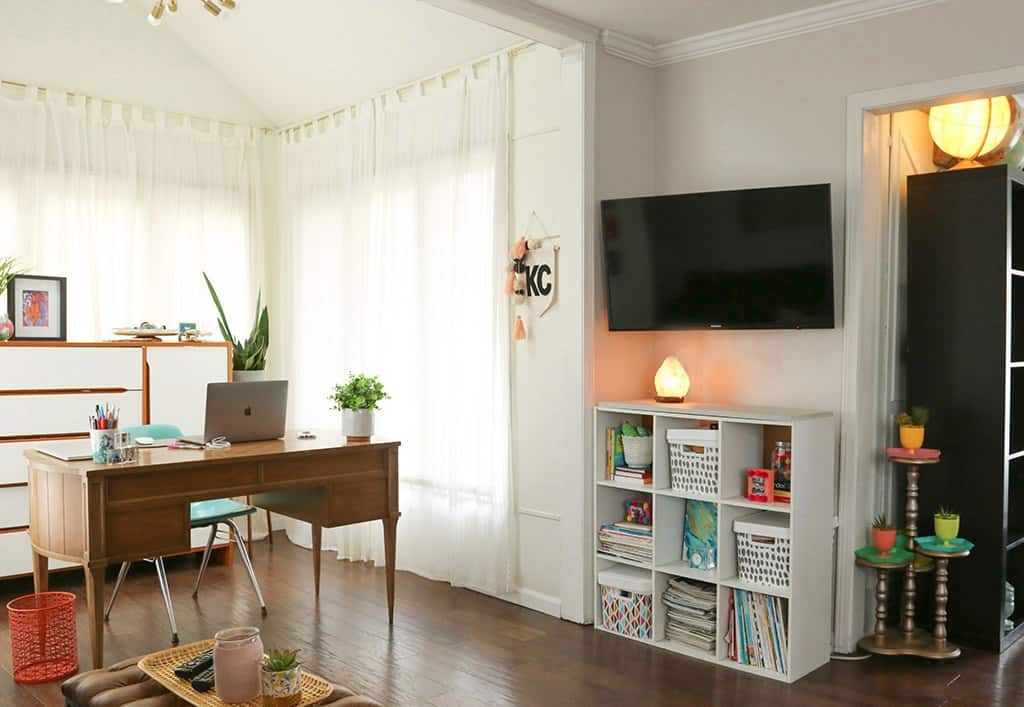 We have a larger living room on a lower level, but my husband has recently taken it over to work from home. We had to move furniture around to make it work for him, so it will not be a top on the tour today, but you can see it on my previous home tour if you'd like. 🙂
I use my office space to store craft supplies for my DIY TV segments and blog projects. I also like having a TV near me so I can watch the news or listen to music while I work.
I love my KC banner, and threw some yarn tassles on it to dress it up for spring.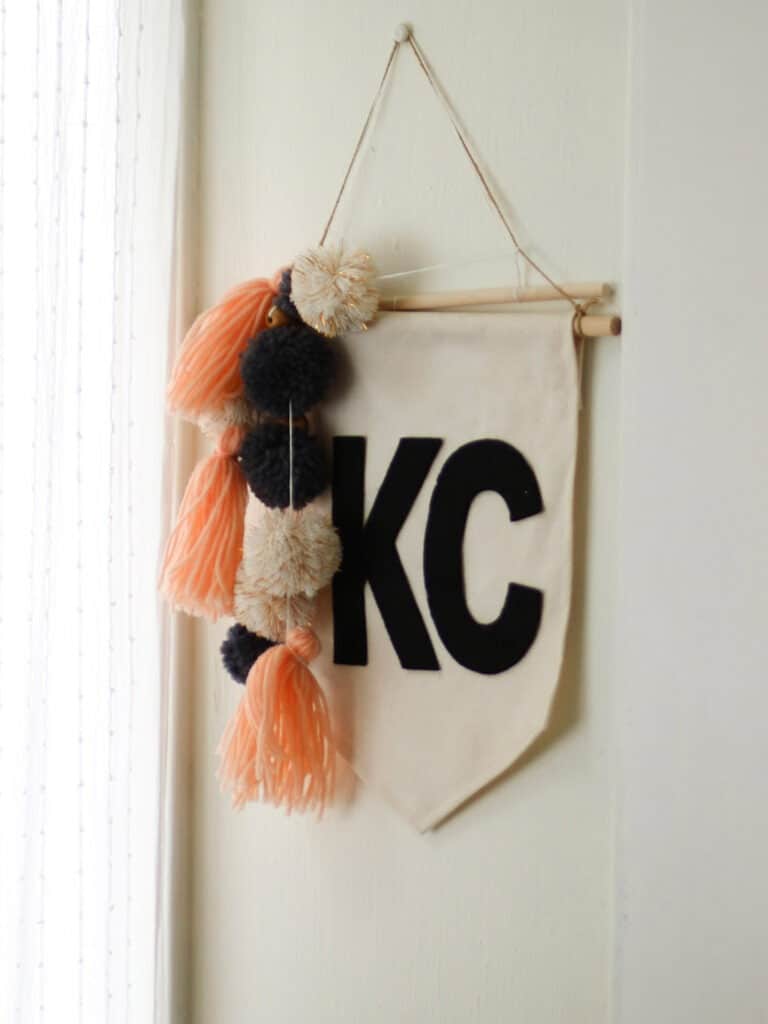 A wider angle to give you a better idea of the space.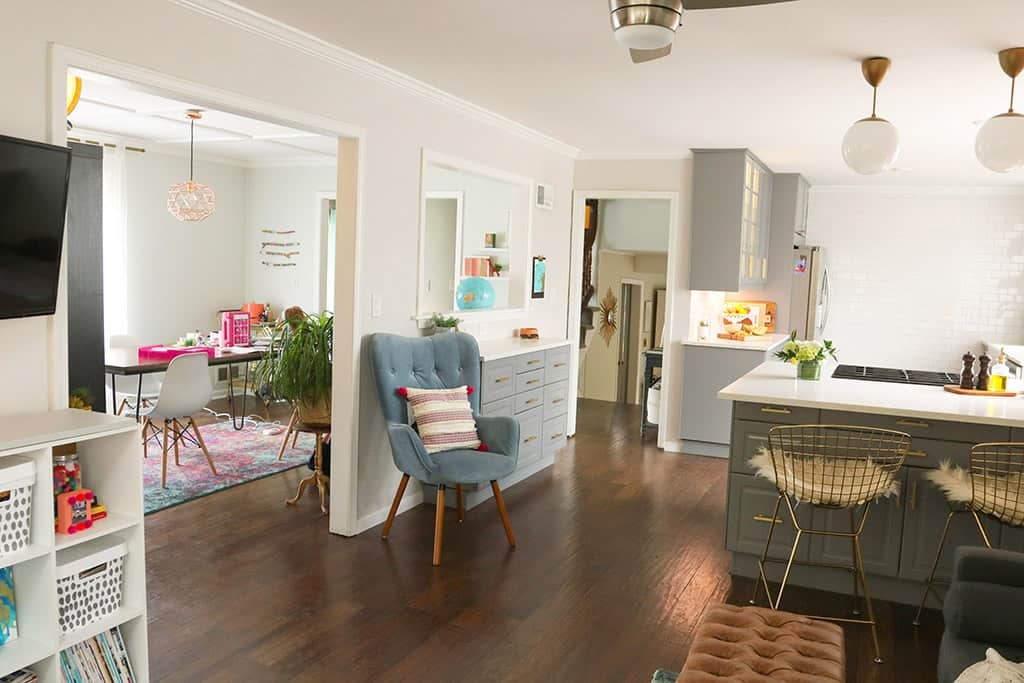 I have the perfect view of Vivi in the dining room.

Confession: I work with a second large monitor, but moved it off the desk for a prettier photo.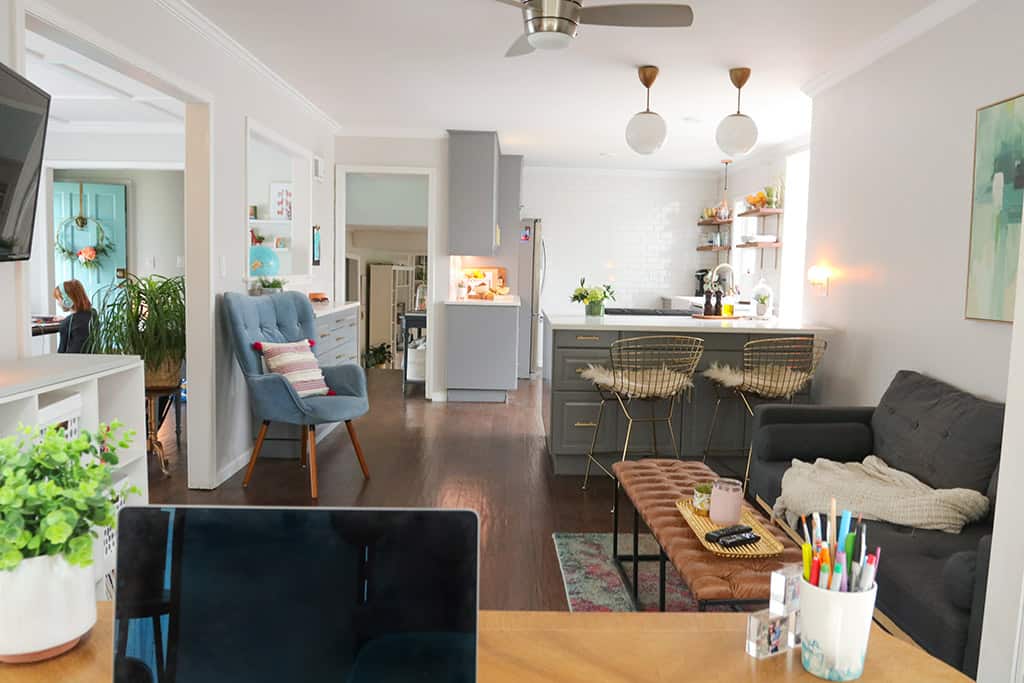 I add in plants wherever I can to bring life to our home. This snake plant has done really well in this corner.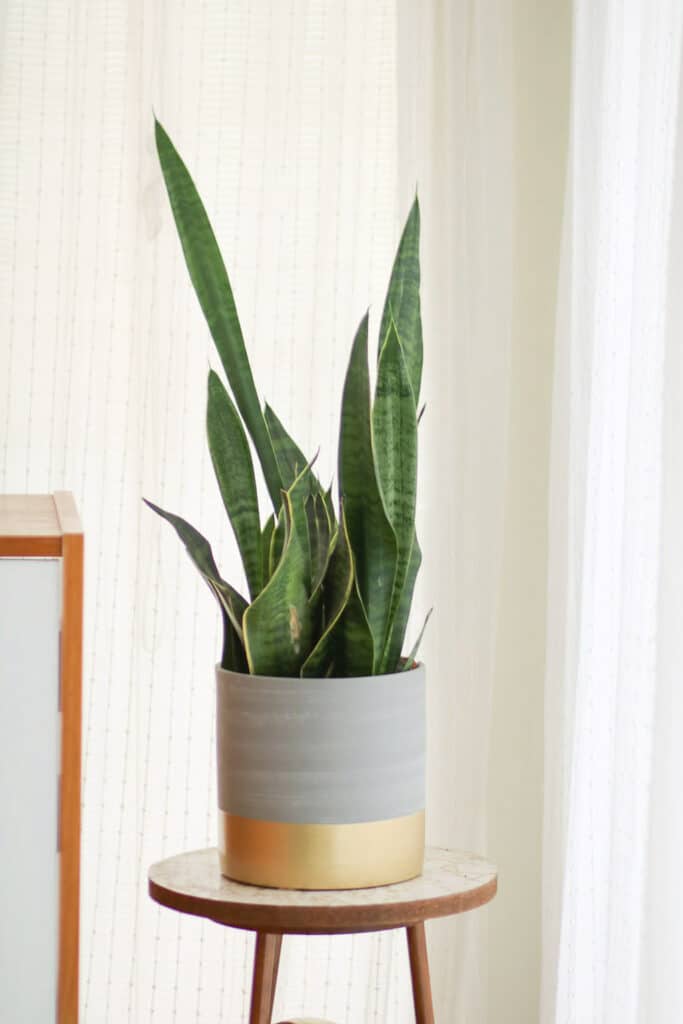 The kitchen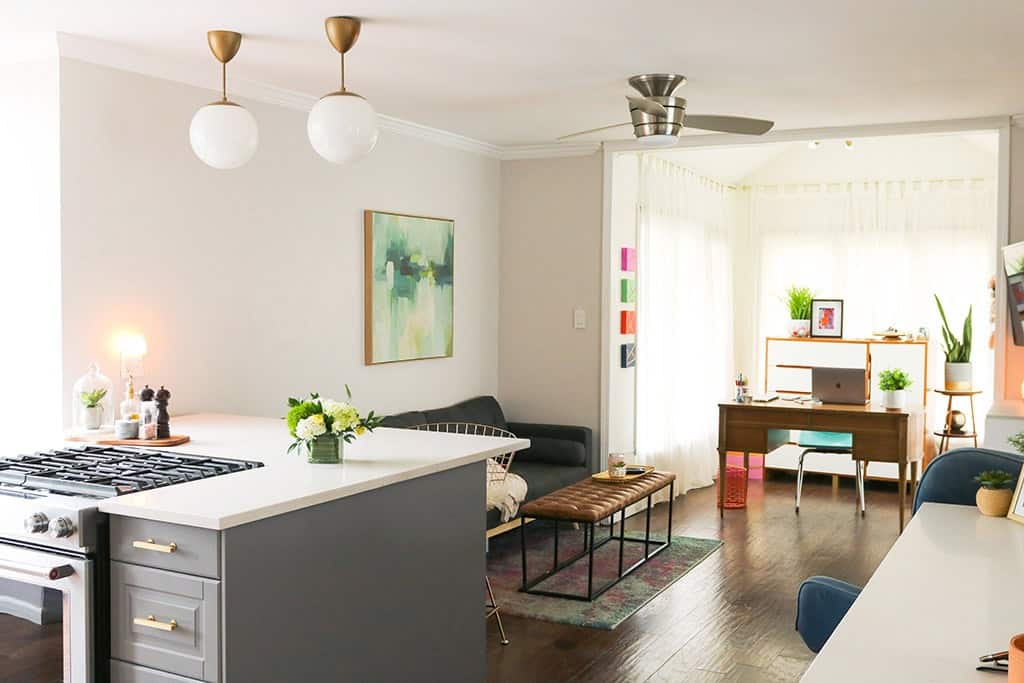 Our kitchen is one of my favorite spaces in our house, but it didn't used to be. In 2016 we started a major gut and renovation in this space, and it took us 2+ years to do it mostly on our own.
Here's a look toward my home office and seating area off the kitchen. I love adding fresh flowers in the spring to bring some life into a space. There used to be a wall where the island now is.
I love how much we were able to open up this space.
To the right is our dining room (aka now the the distance learning room).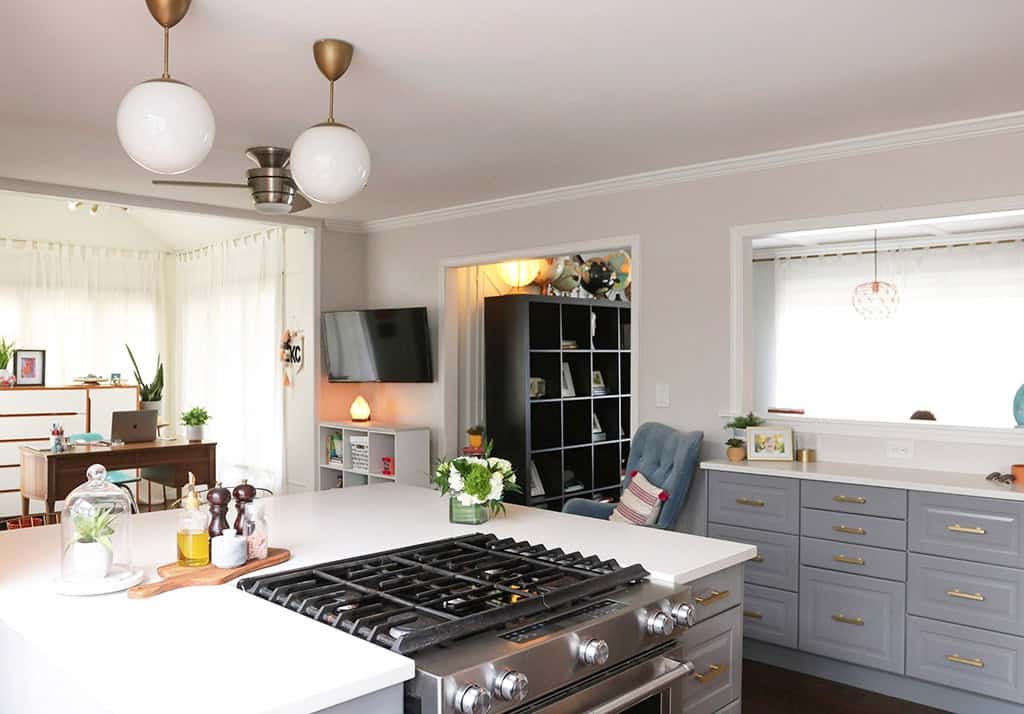 I don't like to have too much clutter on the countertops, so they stay pretty bare minus some fruit, cutting boards, and a glass cloche with a faux succulent inside.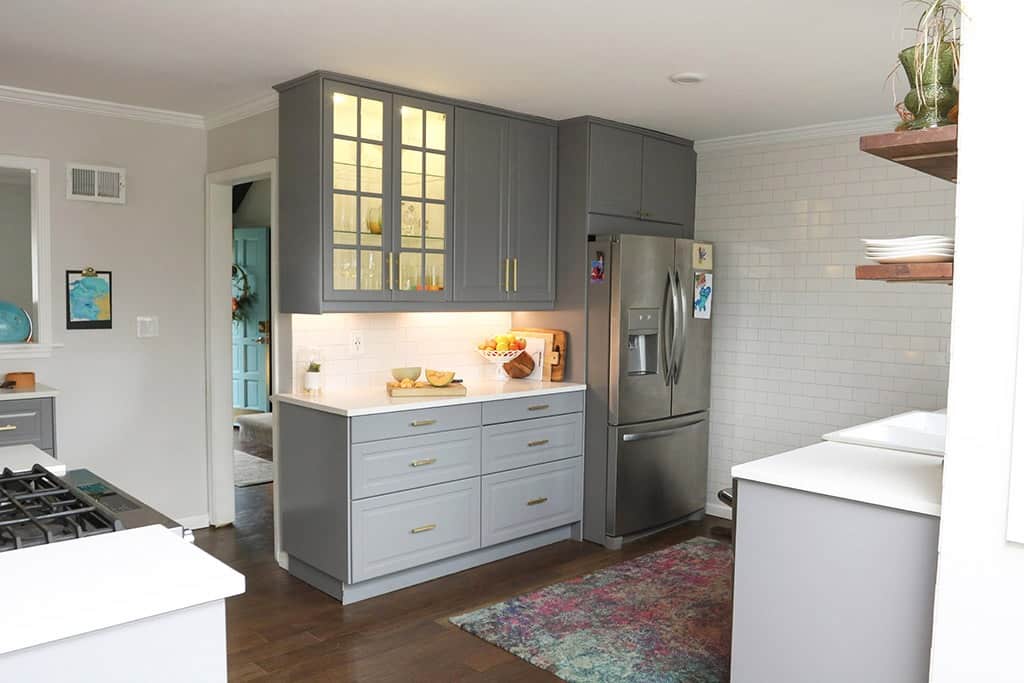 And a closer look at the cloche… I have a thing for cloches — they work well for every single season by just changing up the insides.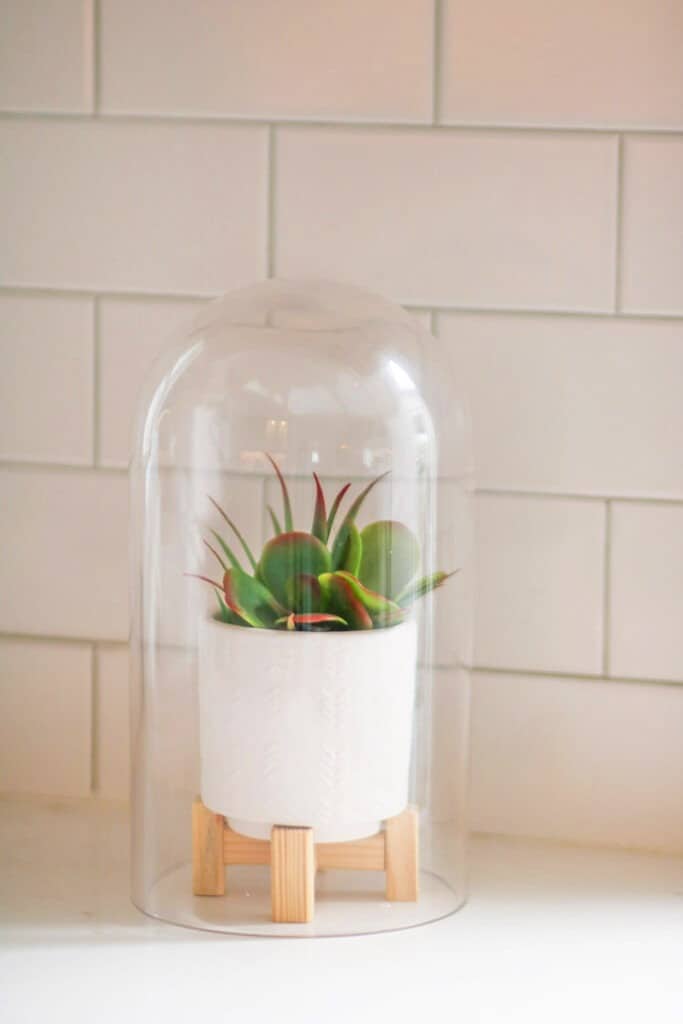 I made some DIY paint pour canvases last year and simply clipped it to a cheap clipboard.
I usually keep one of my free printable calendars here, but wanted a pop of color instead. Especially since we really have nowhere to be due to the Covid quarantine, haha!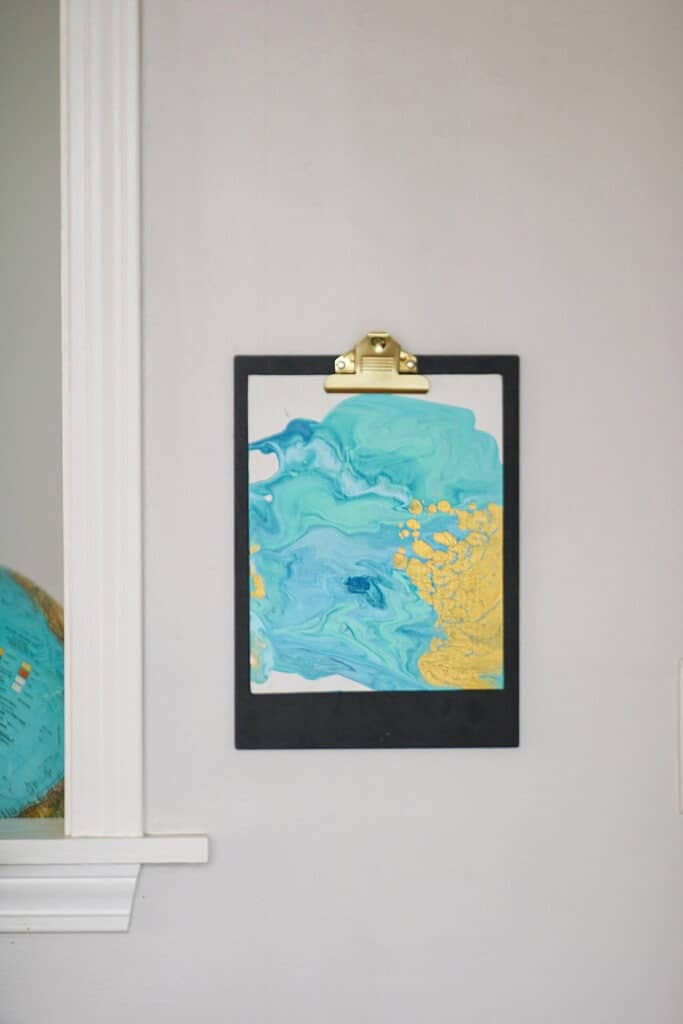 I forgot to take a photo of the kitchen sink from this side of the room, so here's a look at a previous photo in case that helps visualize the space better.
I still love our DIY open shelving! It's so convenient and really opens up that wall space.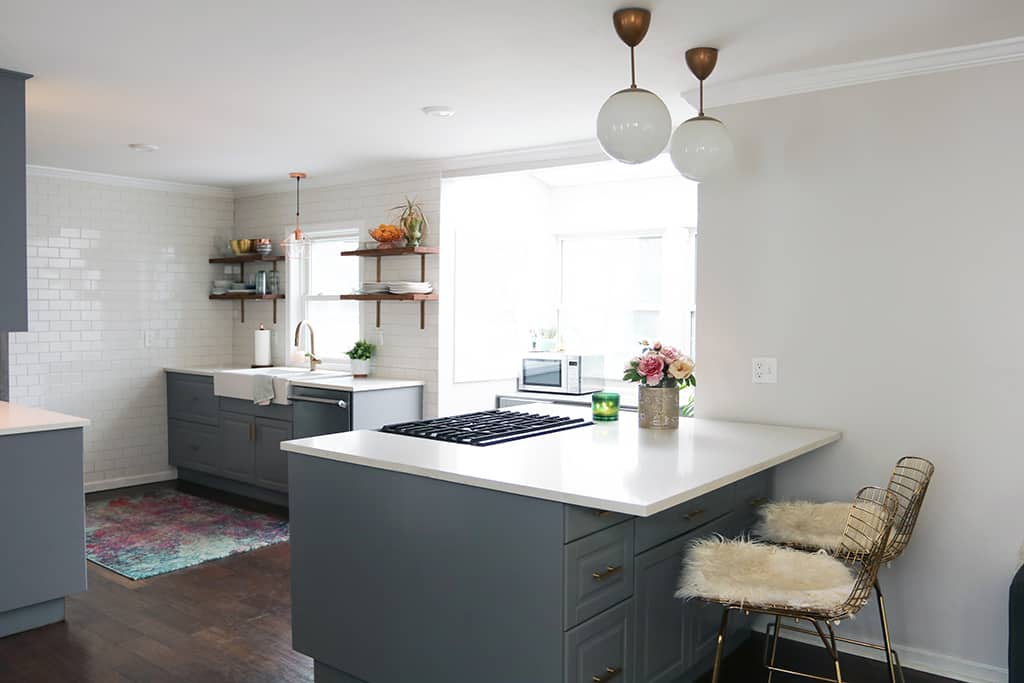 On the island I keep it pretty simple with a cutting board with essential spices and this beautiful bouquet that my best friend Mary surprised me with last week.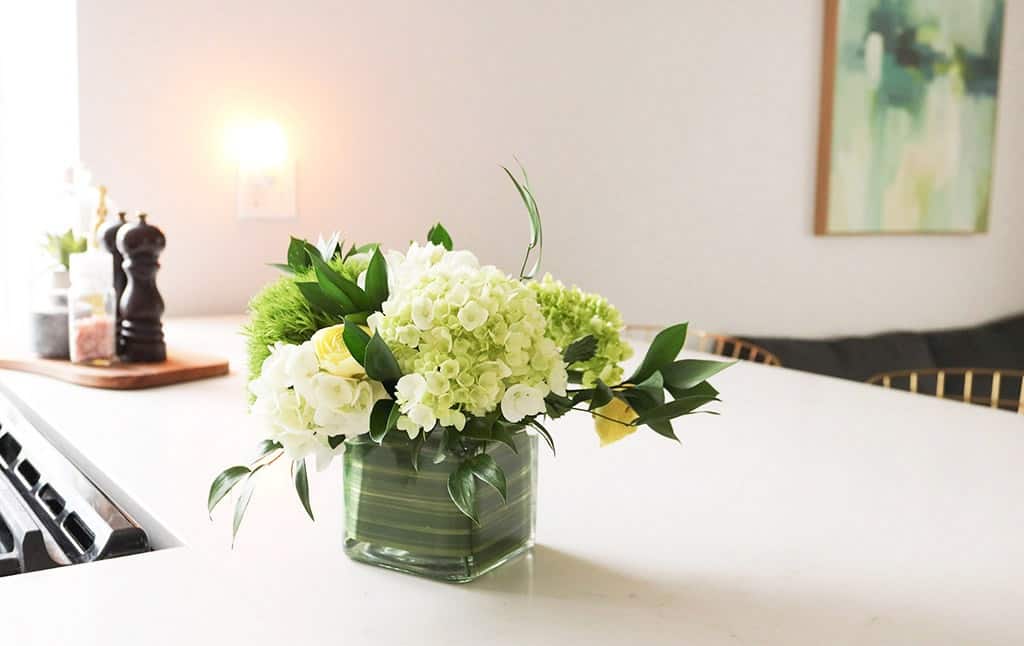 And you guessed it, I have another cloche with another faux succulent in it, ha! I found the marble base for a couple bucks at my favorite local thrift store, Savers.
I found a wicker basket at TJ Maxx and placed a palm plant in to to bring in some texture. I love the windows in this corner of the kitchen.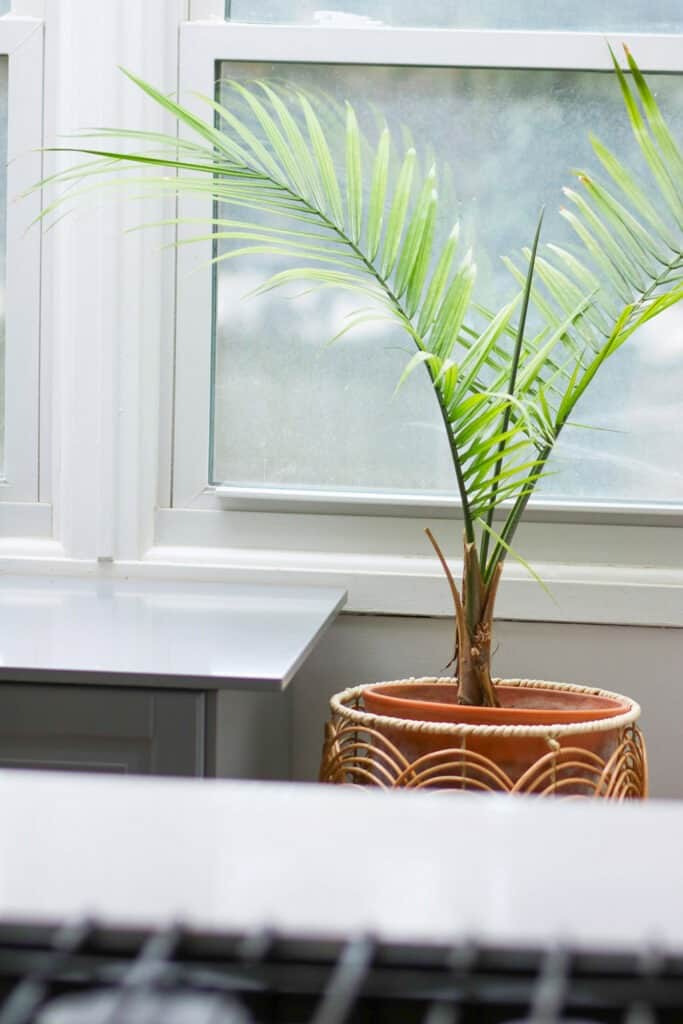 On top of our microwave I have a couple succulents and a cute statuette of Ted and Vivienne that was gifted to me by Mpix.
We recently got a new rosemary plant that I put into a bag planter from a recent trip to Austin. I love plants that are also useful in the kitchen!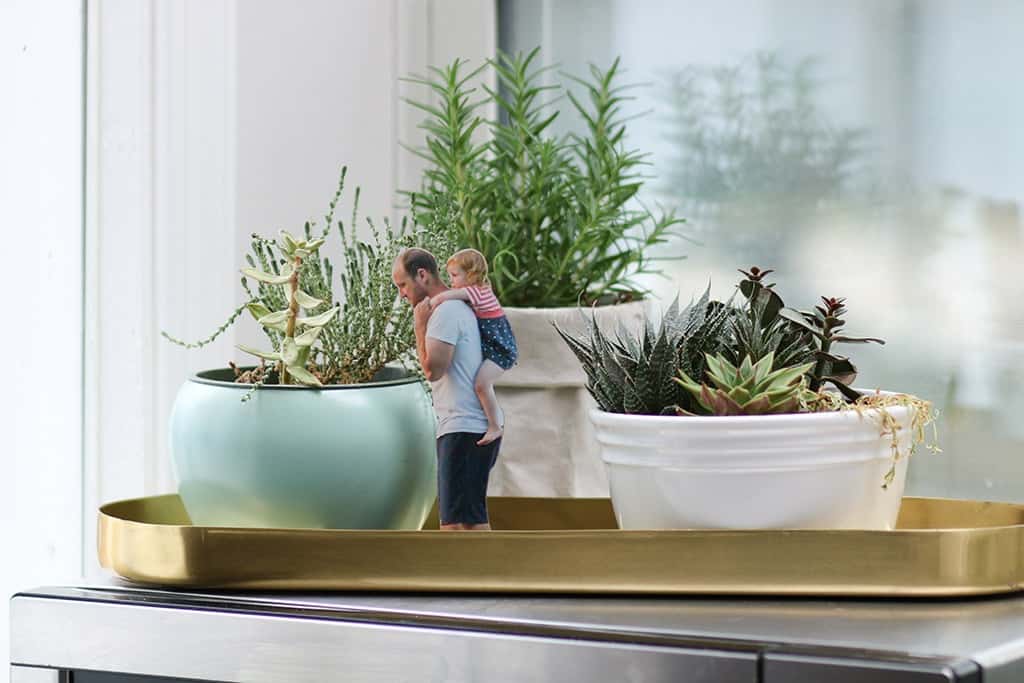 The sun porch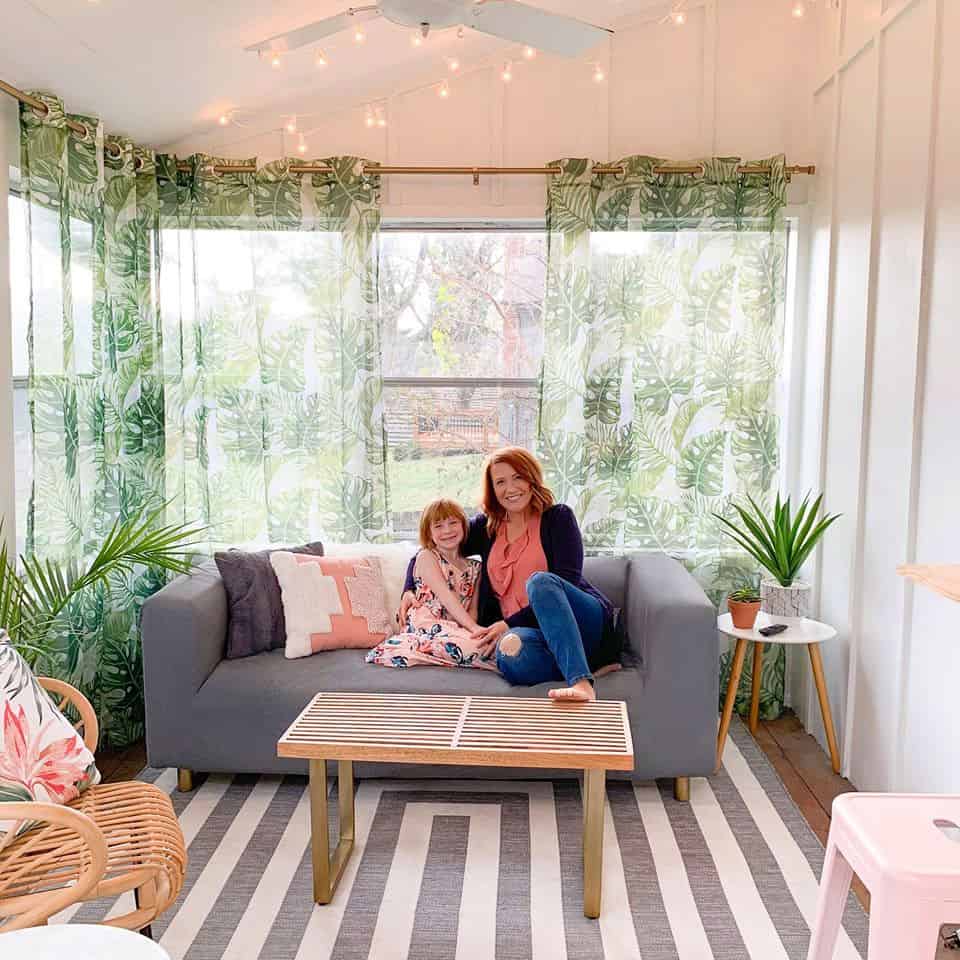 Next up is our sun porch.
Last spring Vivi and I painted what used to be a bright green junk room off our kitchen.
I added the cutest palmy sheer curtains to all the windows from modern brushed brass rods. I love how much life they bring into the space!
I also adore this wicker chair and pillow. They instantly make me feel like I'm on vacation. So needed right now!
The grey and white striped rug was a clearance find last year as well as the marble side table. Both are still available here and there.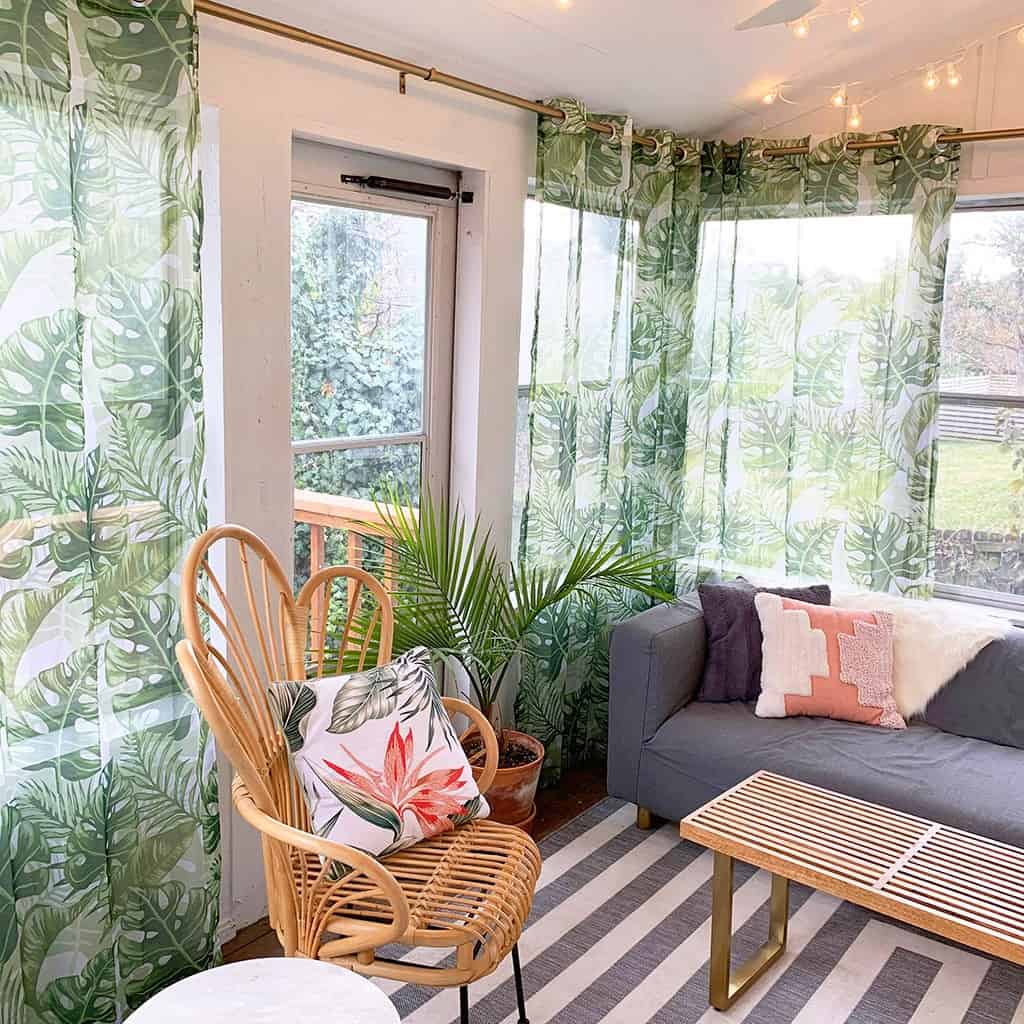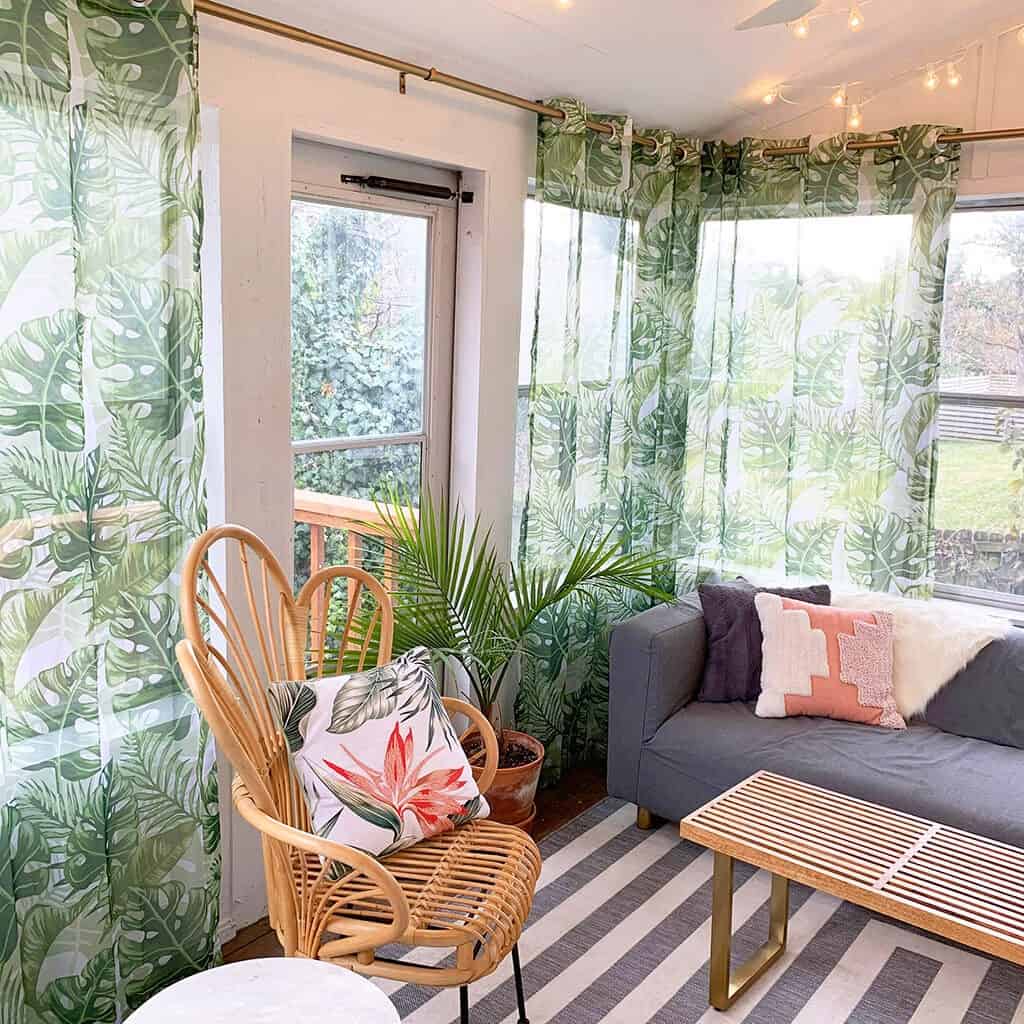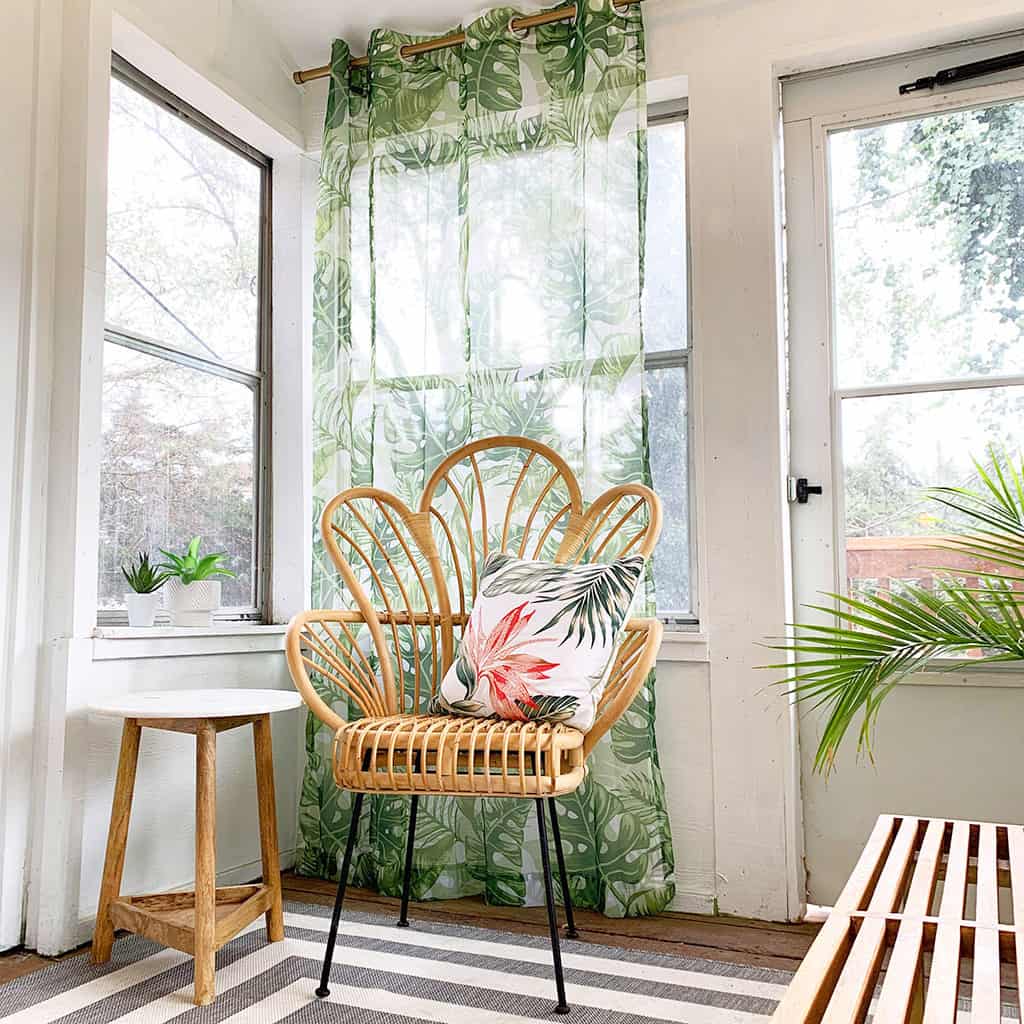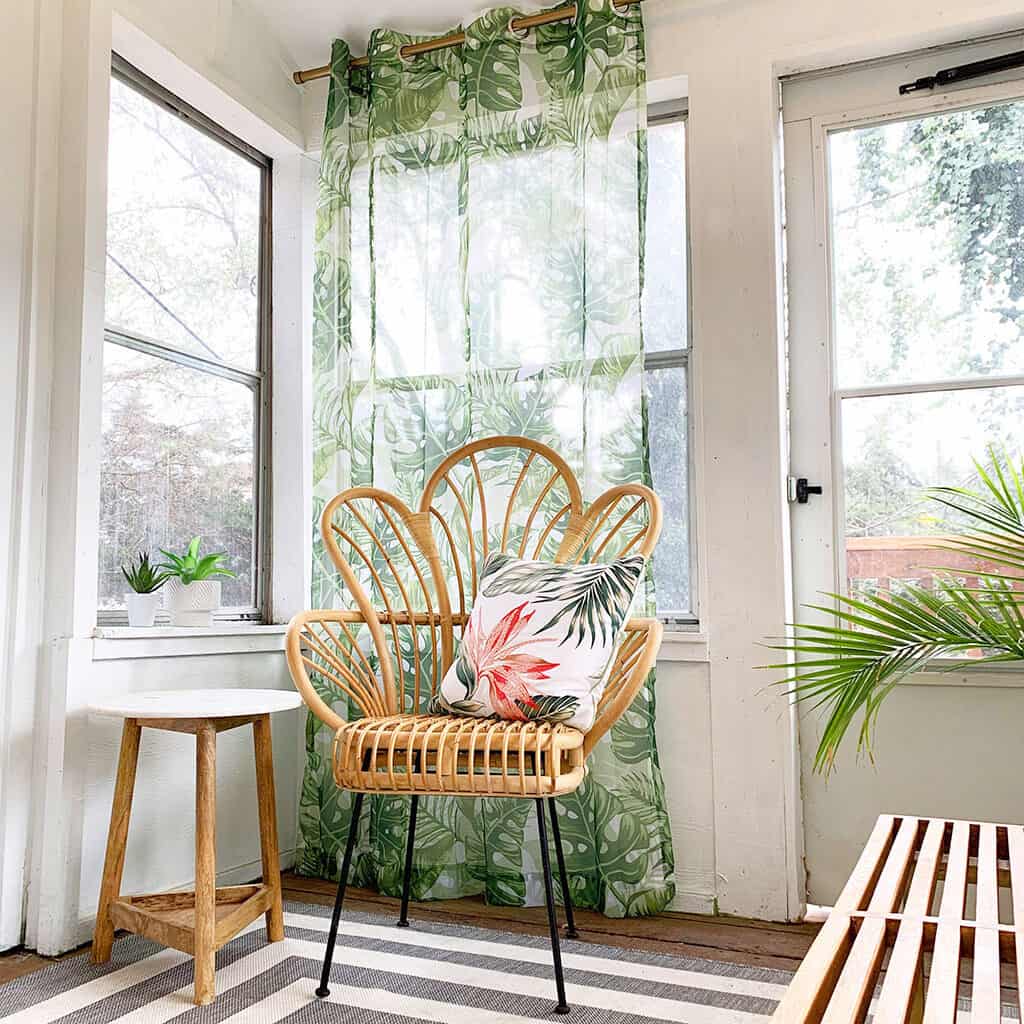 A closer look at the curtains and rod…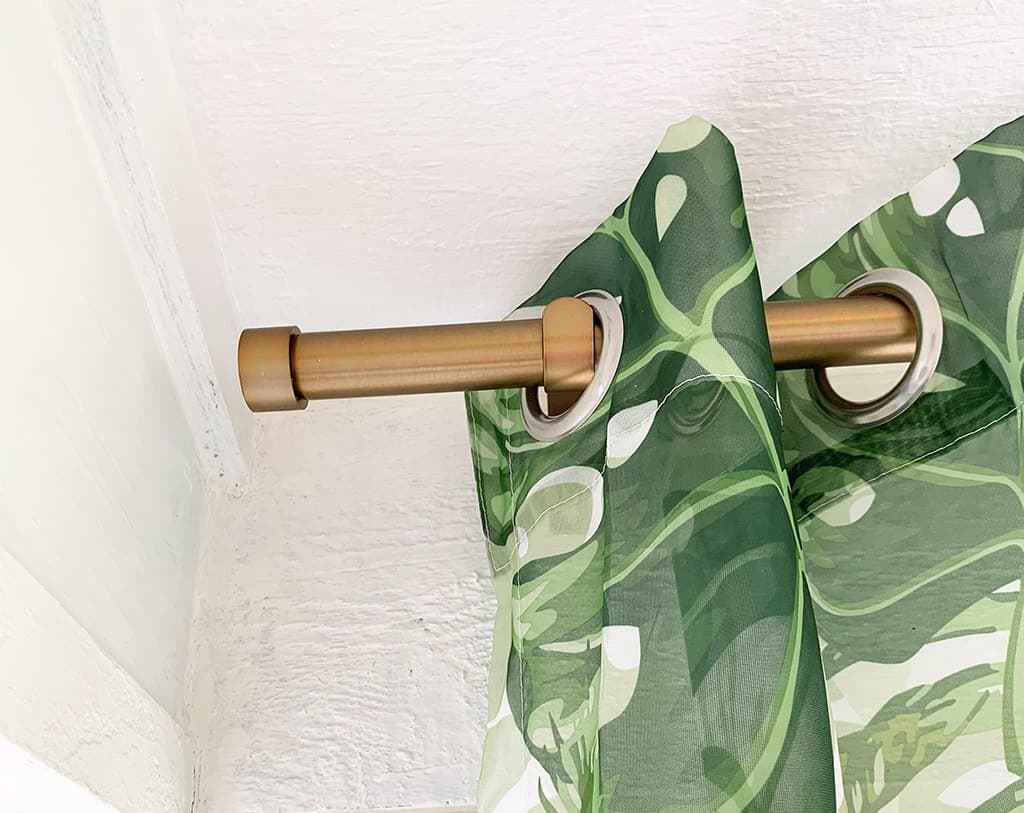 We made a small DIY bar top in this corner by the kitchen door, which comes in handy. I bought some white barstools and spray painted them a baby pink.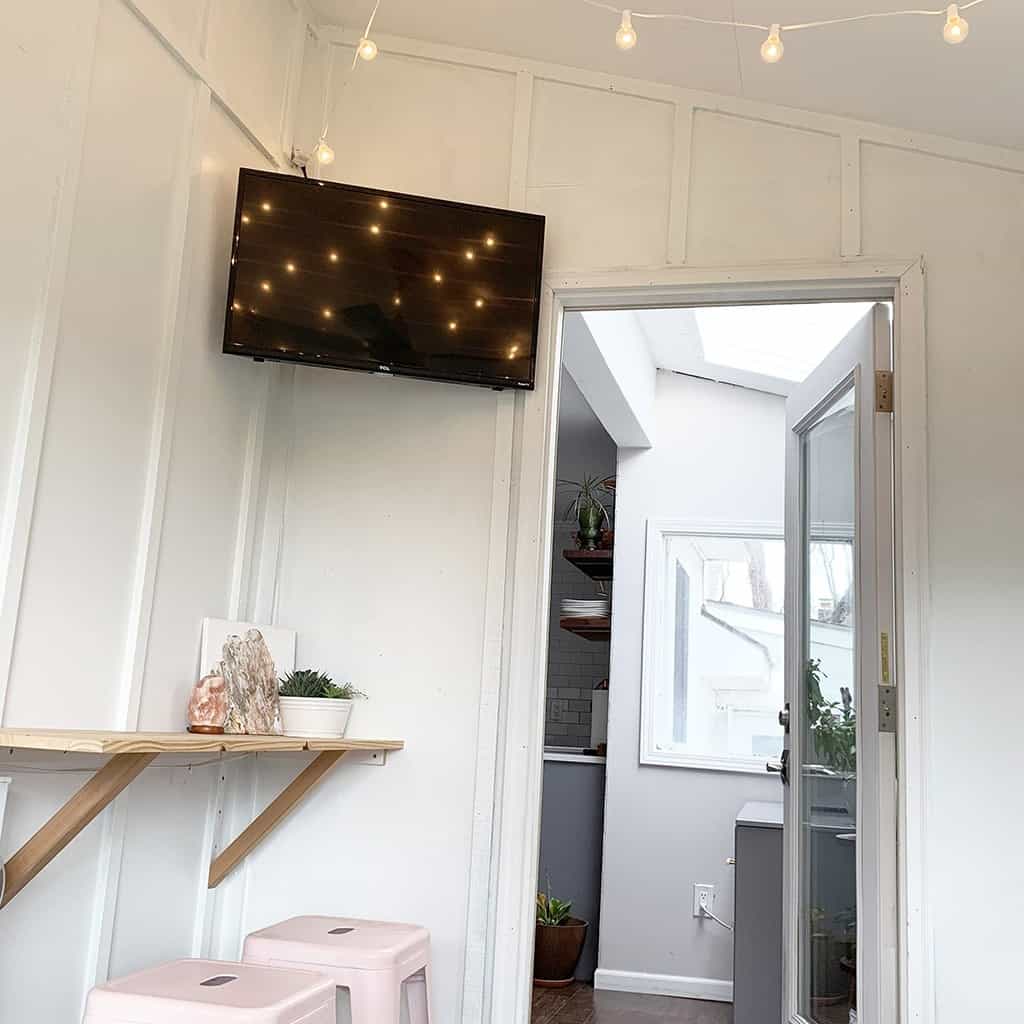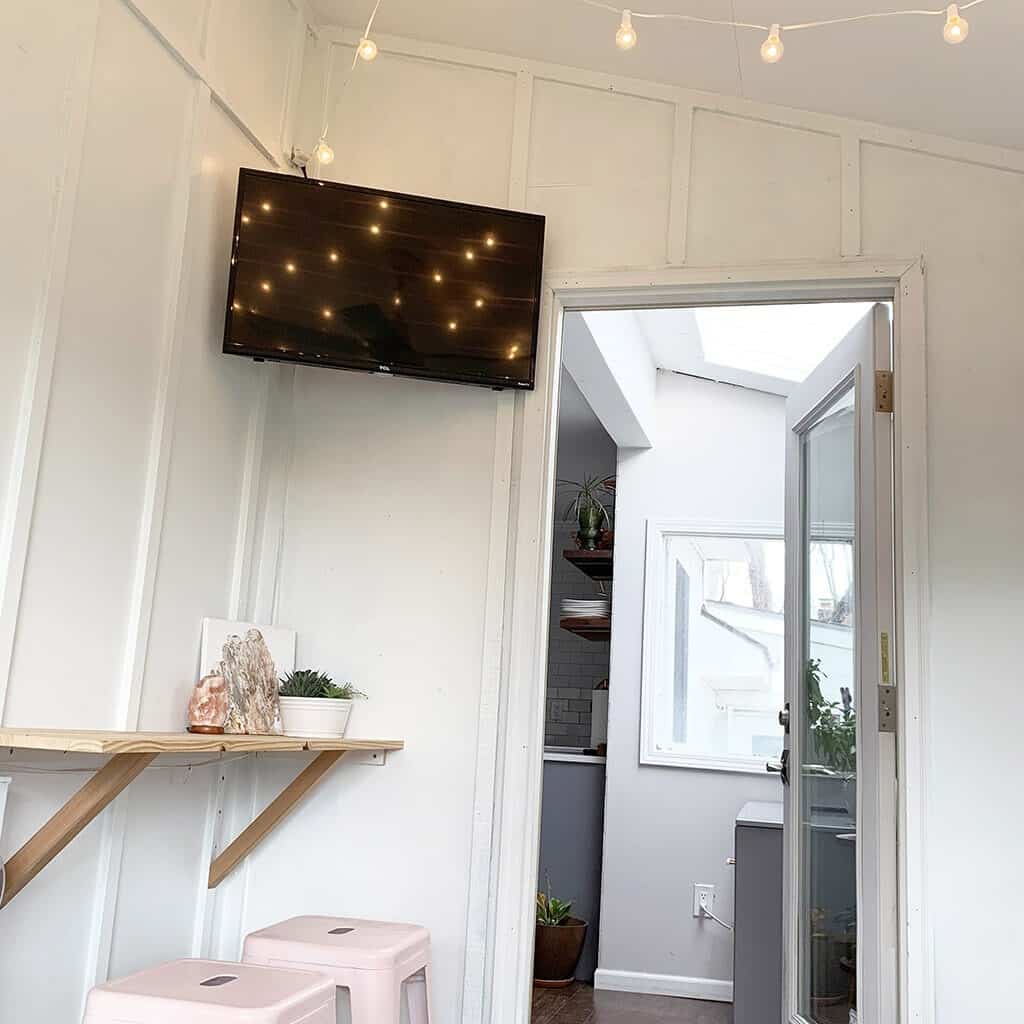 We love the warmer months so we can hang out in this space and relax. This is the closest to a vacation we'll have in awhile, haha.
The back deck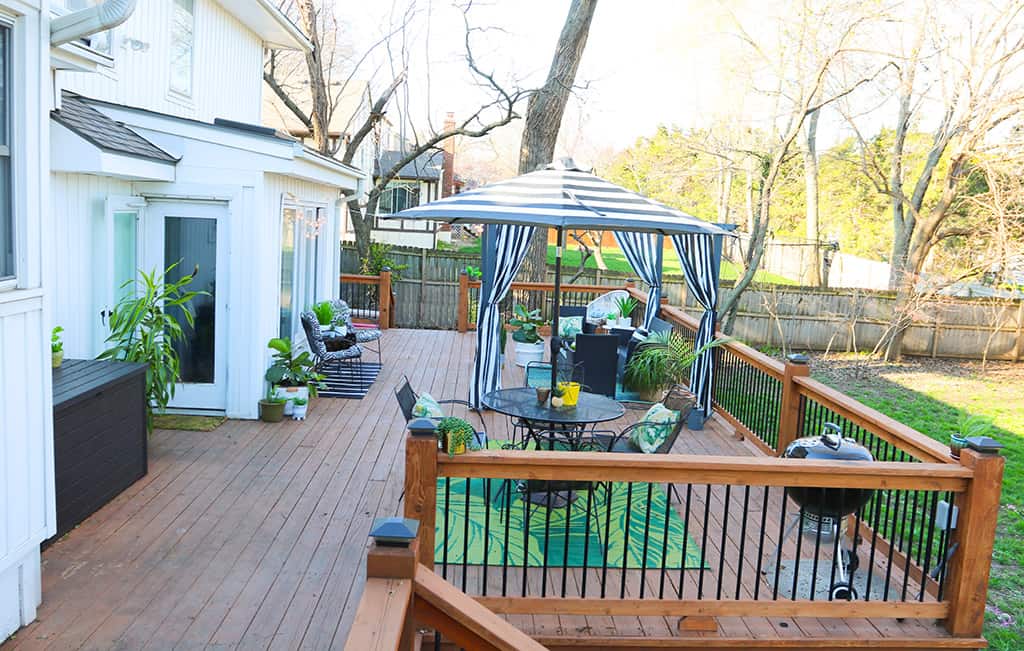 Last stop on the spring home tour (quarantine style) is our back deck. We're extra thankful for this space right now!
Here's the view as you step out of our sun porch.
Moving closer to the main seating area…
We've been spending a ton of time working and dining from the vintage table under the umbrella, and it's been amazing!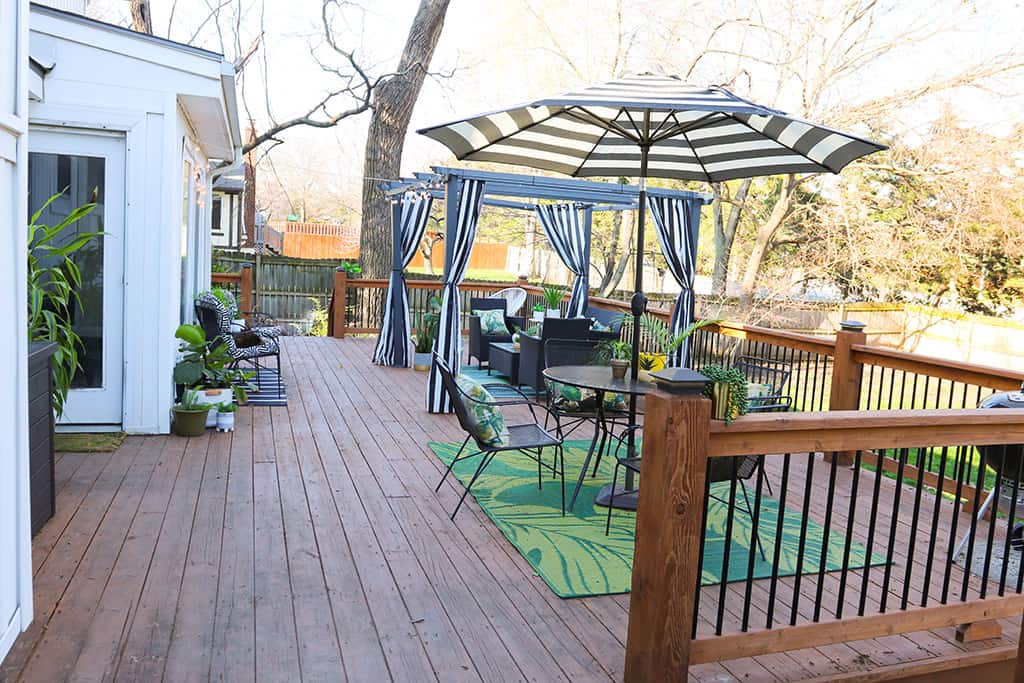 We also enjoy relaxing on the furniture in our pergola to mix it up. I love having the option to close the striped outdoor privacy curtains as well!
I like to put my plants outside on sunny weekend days, so I took advantage of a deck full of plants on this day. We don't normally keep this many plants on the deck — especially during a time of quarantine.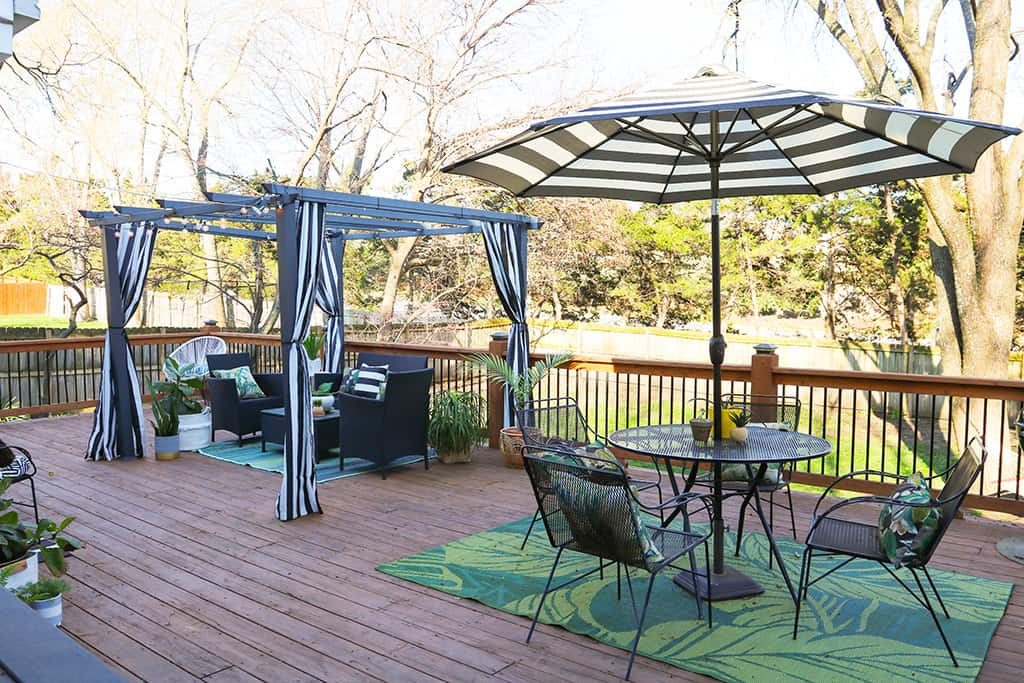 I'm in love with the various palm patterned outdoor pillows we have. I got them on clearance last year at World Market, and they are no longer available, but here are some similar options.
I got the outdoor striped pillows last year on major clearance at Pier 1, but linked similar ones.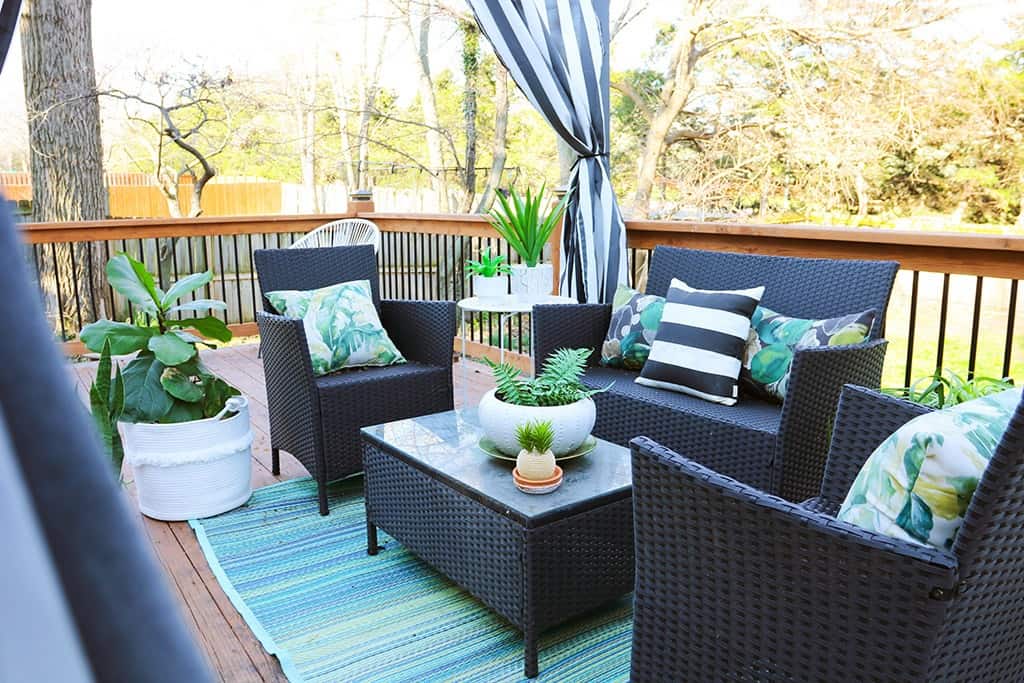 I used magnetic curtain rods and zip ties to install the curtain rods on each corner.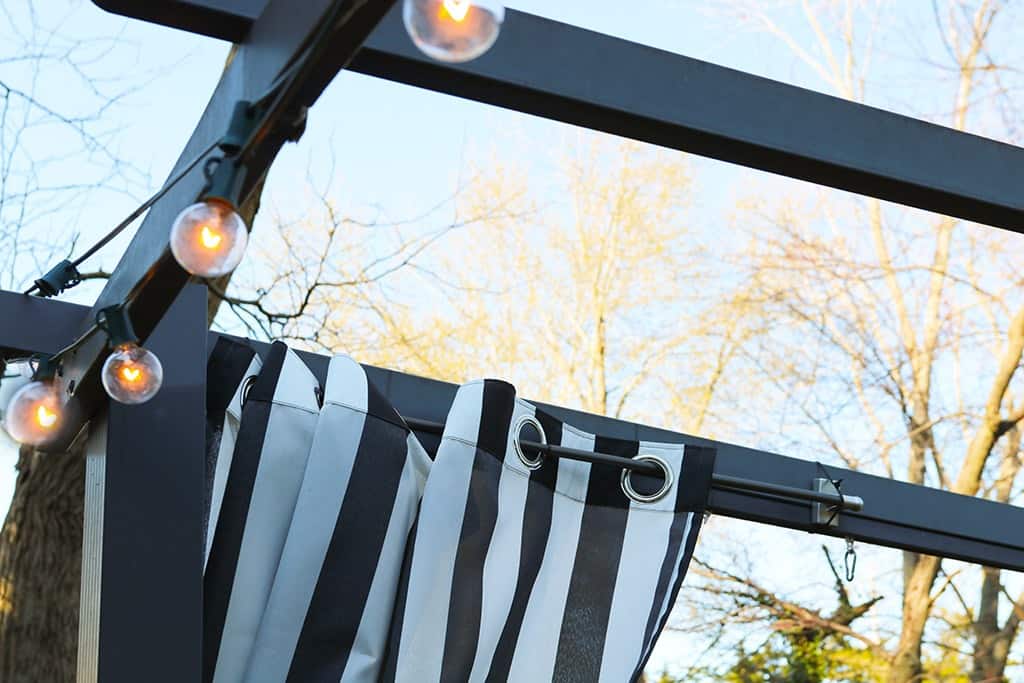 Now let's look back toward the house.
I absolutely love having this huge deck right off our living room. The deck is the one thing that came with this fixer upper that we actually liked. 🙂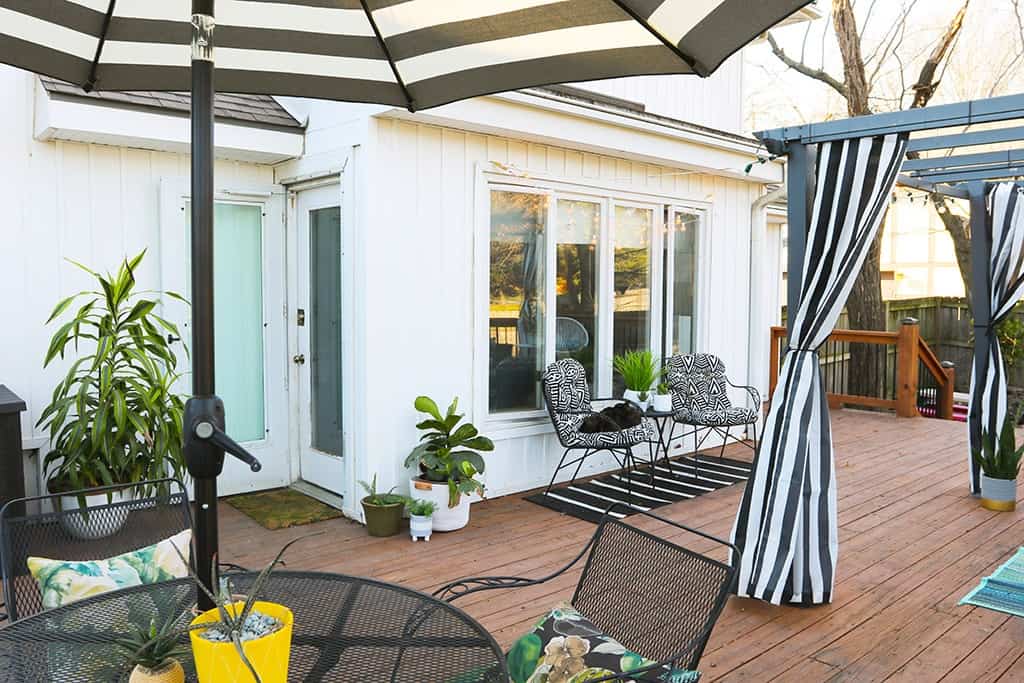 Anyone else love outdoor deck lights? I set ours to turn on at dusk each evening, and love the glow they provide.
Another thing I recently added to the deck, which I love is our huge deck storage box. We store grilling items, extra cushions, hot tub supplies, etc in there and love how big it is! I bought it for myself as a birthday present. Adulting is so fun, ha!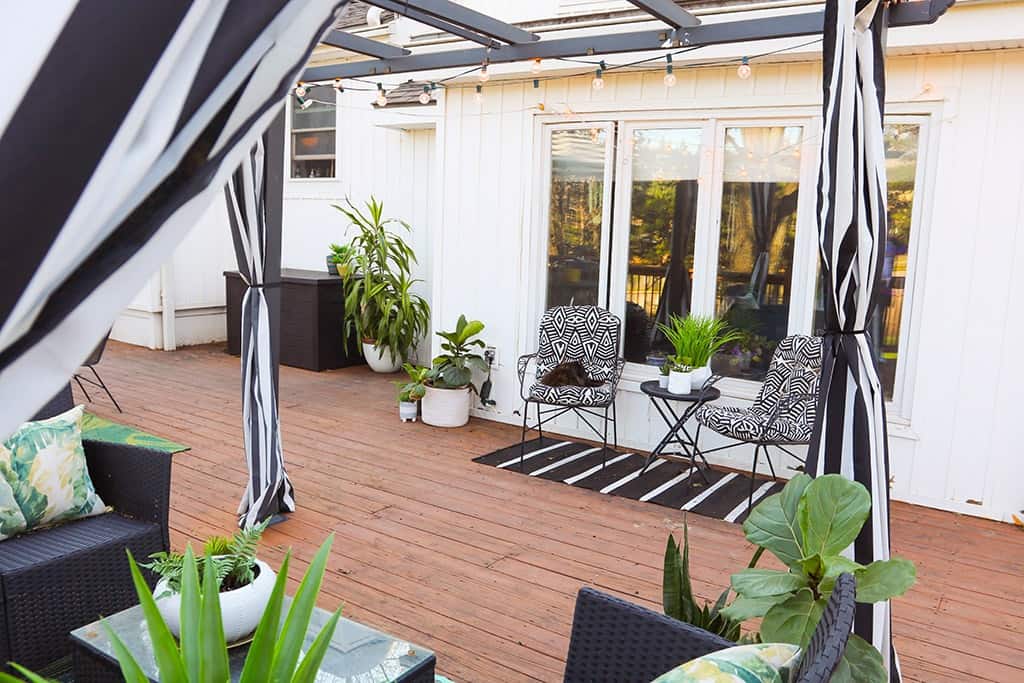 We have a fun, affordable inflatable hot tub that we'll be putting back out on the deck in the next week or two.
It will go where the deck box is now, and we'll move the box elsewhere.
EDIT: And here are a few more shots of the deck umbrella. I hung some Jasco Enbrighten USB/solar-powered café lights in the umbrella to create a nice ambiance.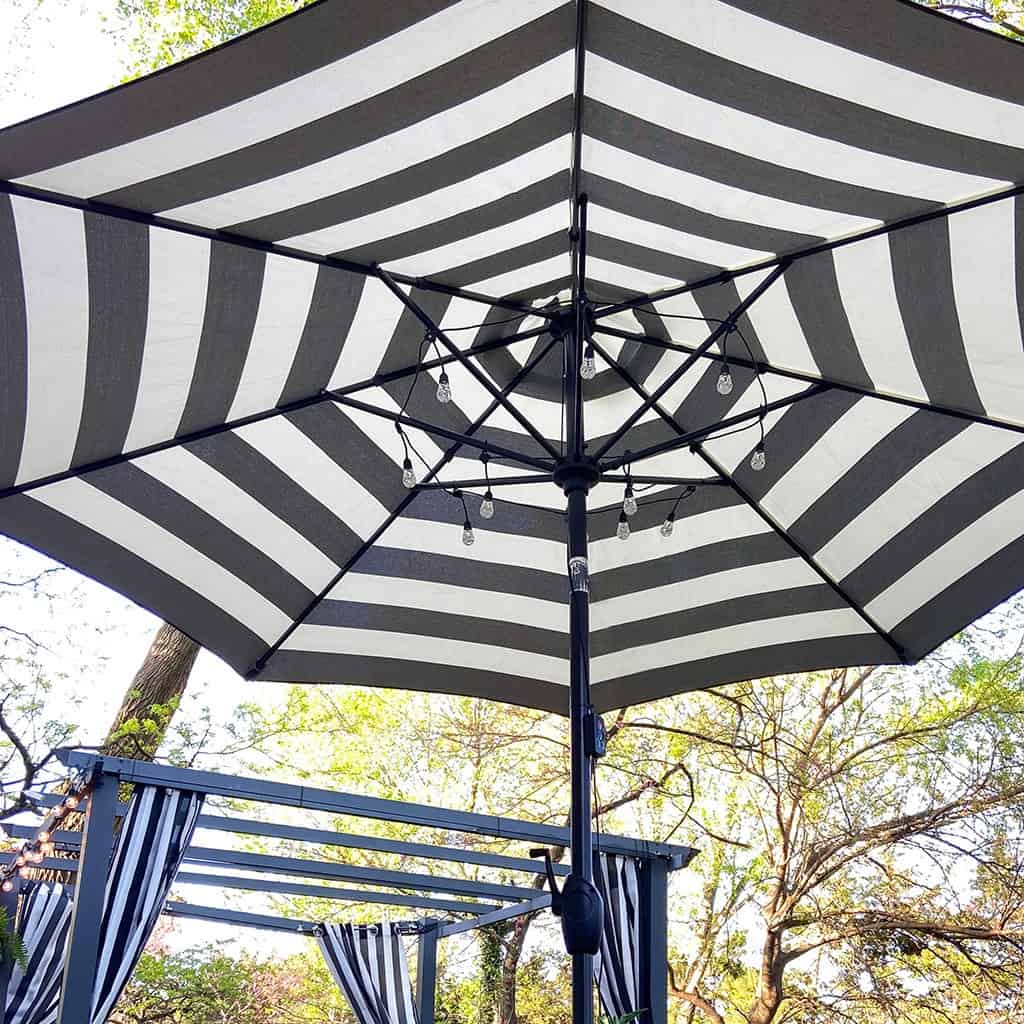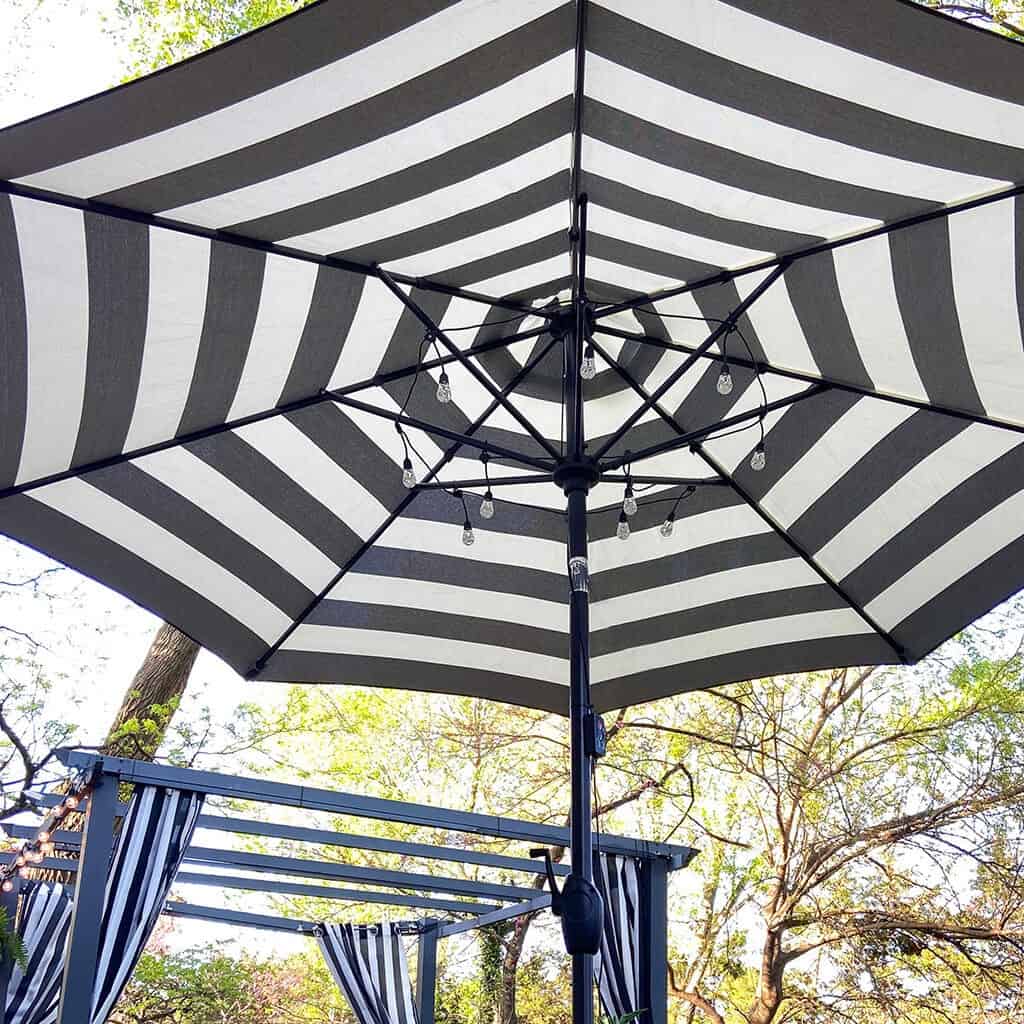 These lights are soo cool and feature 14 different color modes to set the mood for holidays and events.
They come with an easy-to-use remote control to change colors and timers, and have a USB plug that works with multiple power sources — including a solar panel.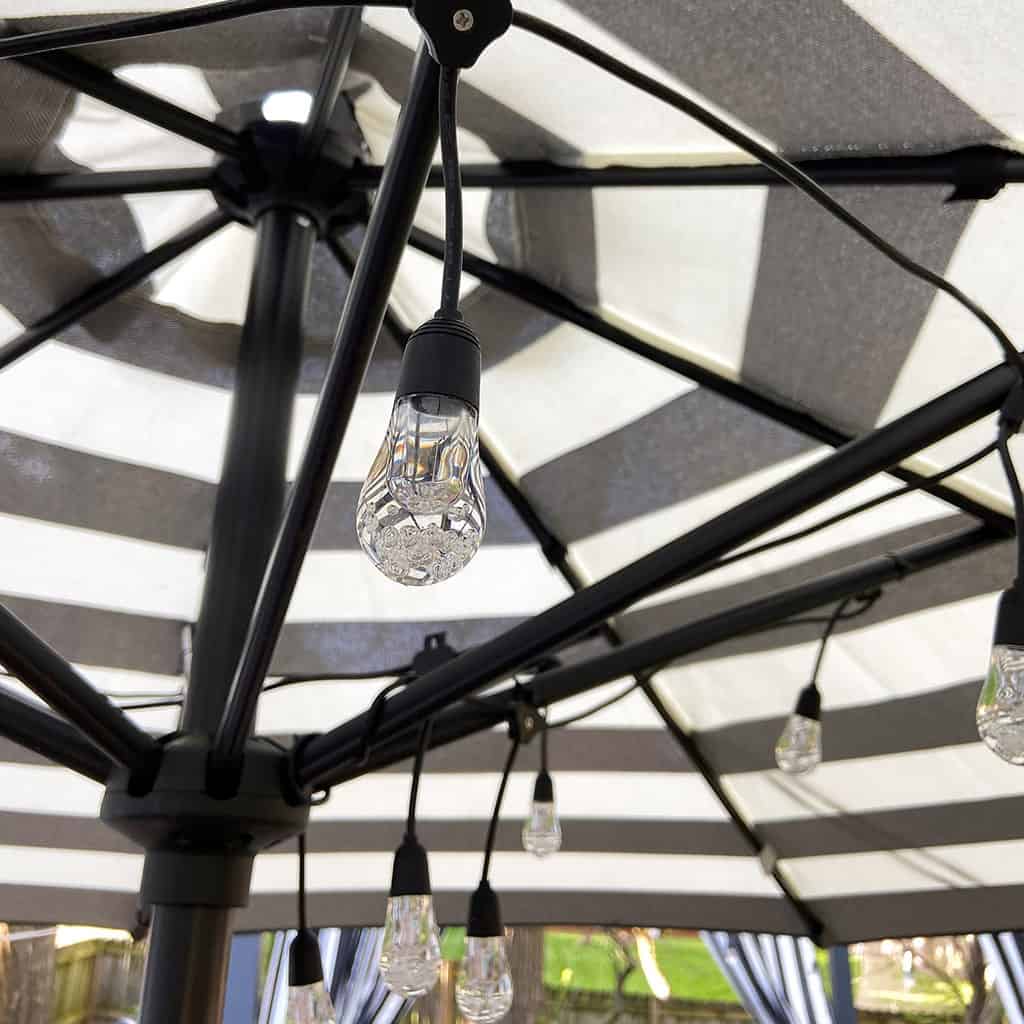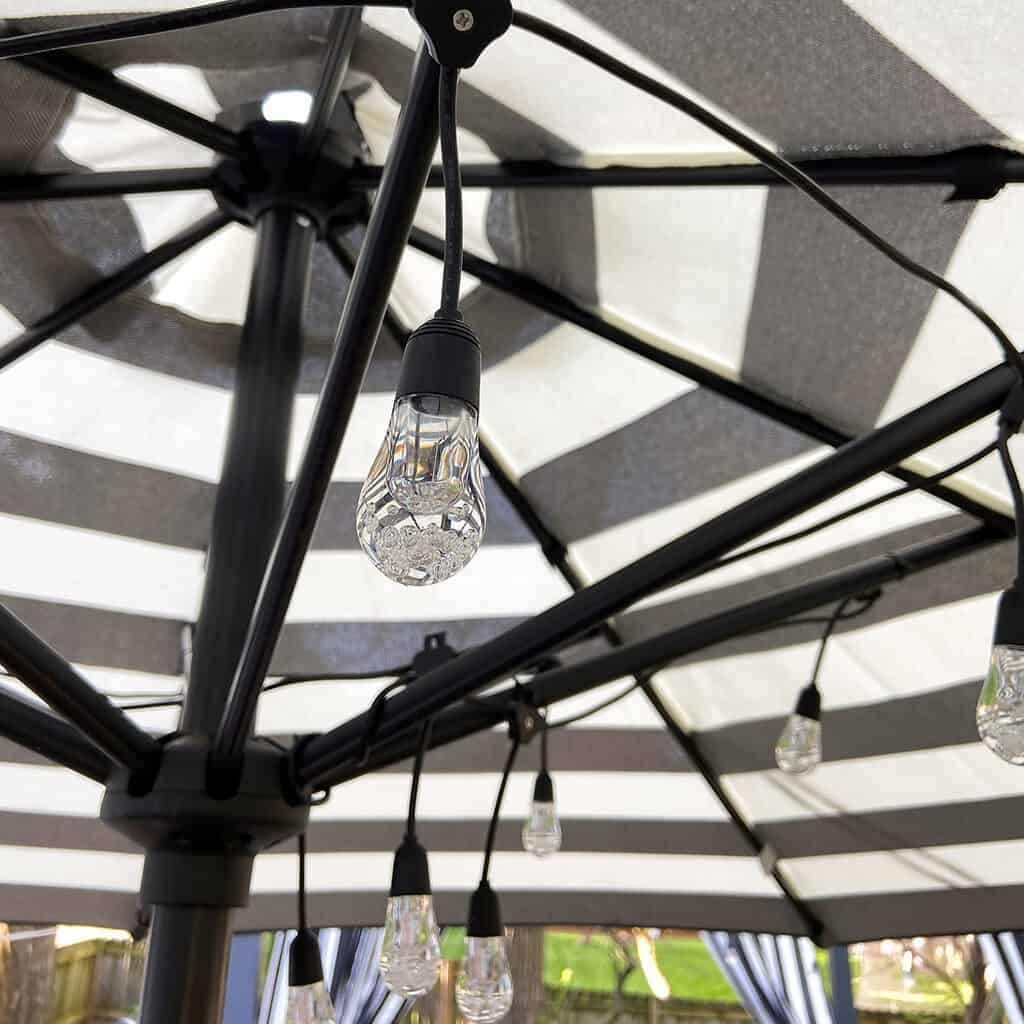 The game changer for these café lights is their compatibility with Jasco's Enbrighten USB Solar Panel. The lights simply plug into the solar panel. Even at the highest light setting, the panel can provide power for up to six hours.

We have used both the solar panel and the standard plug in and both work well.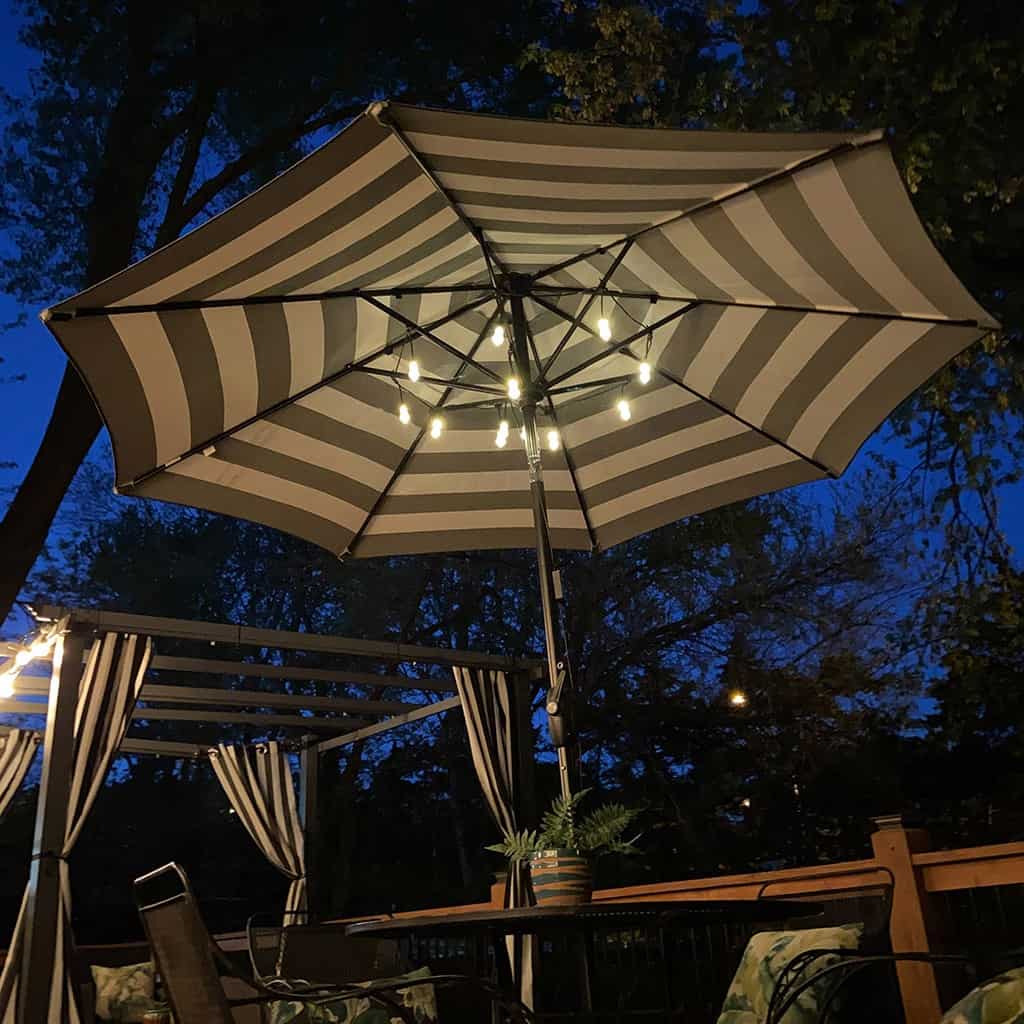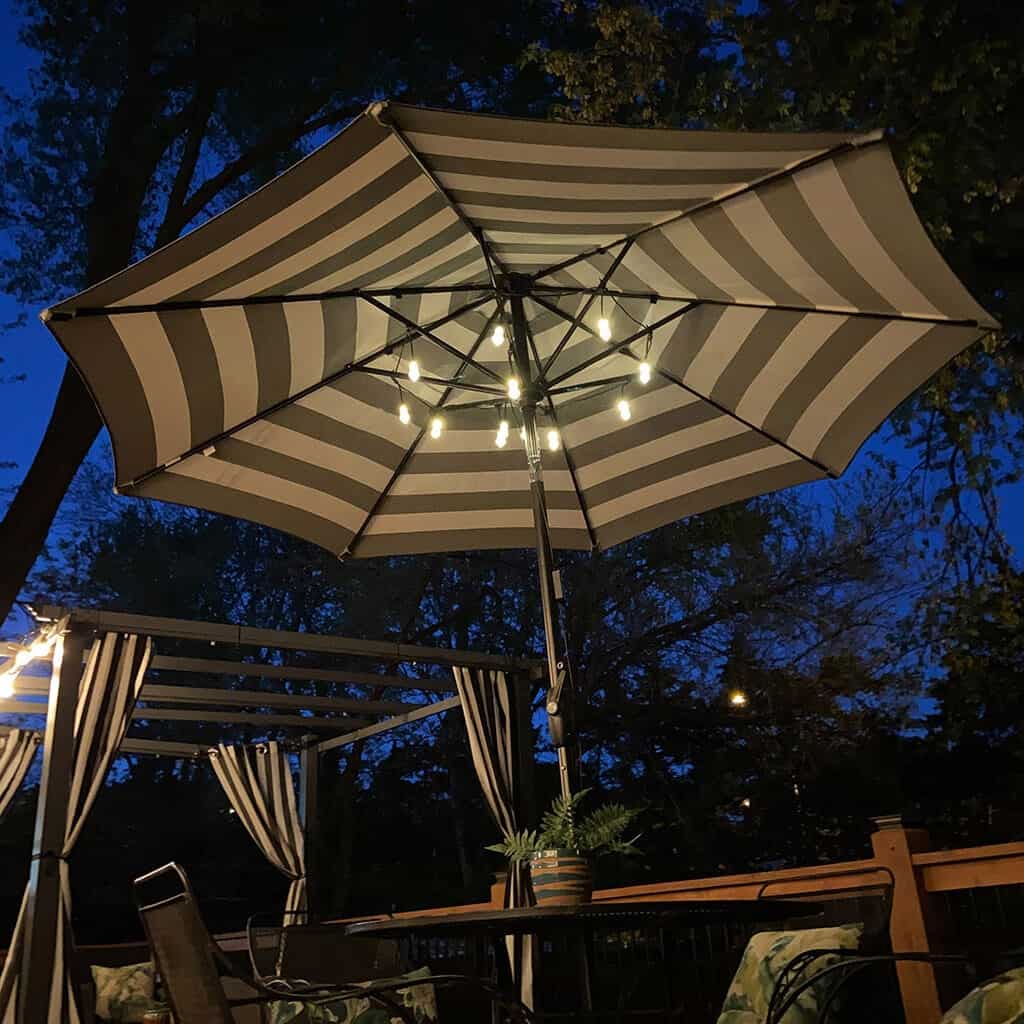 Looking for the best patio umbrella for your needs? Globo Surf put together this comprehensive guide.
I hope you enjoyed my spring home tour (quarantine style)!
It was a good excuse for me to clean my house in the midst of Ted and I working from home and helping our daughter distance learn. 🙂
Have you done anything to your space to spruce it up for spring? I'd love to see if so. Just tag me via Insta, Twitter, or Facebook photos.
Oh, and I'm always so very thankful when you Pin my work too!
xoxo
Audrey
Check out the other spring home tour participants!
I love how individual every's style is.
Don't forget to hop on over to Jordan's tour at A Blue Nest, then you can follow the hop from there!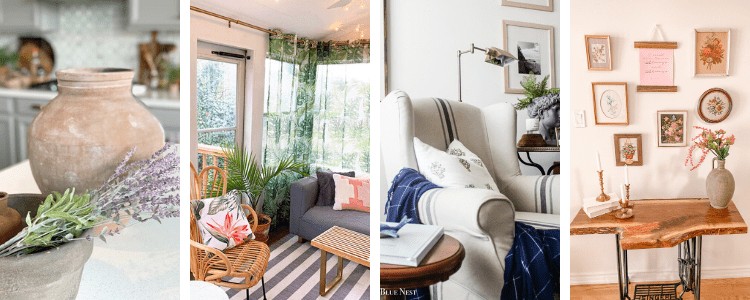 Pennies for a Fortune
Oh So Lovely Blog
A Blue Nest
Mint and Candy Designs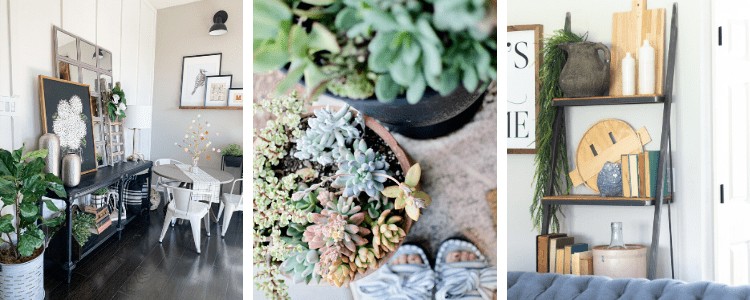 Survival of a Suburban Mom
The Collected House
It's Anna Blog
Pin my spring home tour for later!