Wedding season is upon us! And I'm sharing a DIY modern floral wreath tutorial that would make a BIG (yet affordable) impact at any wedding event from shower to ceremony.
It's also perfect for your front door at home.
All of the supplies used came from my favorite craft store, Michaels, and are linked below.
---
Ok, let's get started on our DIY modern floral wreaths!
Gather your supplies:
Faux greenery:
Faux flowers:
Other supplies:
I got lucky and hit a 50% off floral sale last week—I love it when that happens! I picked some natural-looking greenery and flowers in bold corals, pinks, and oranges plus a pop of white. A perfect summer color palette in my opinion.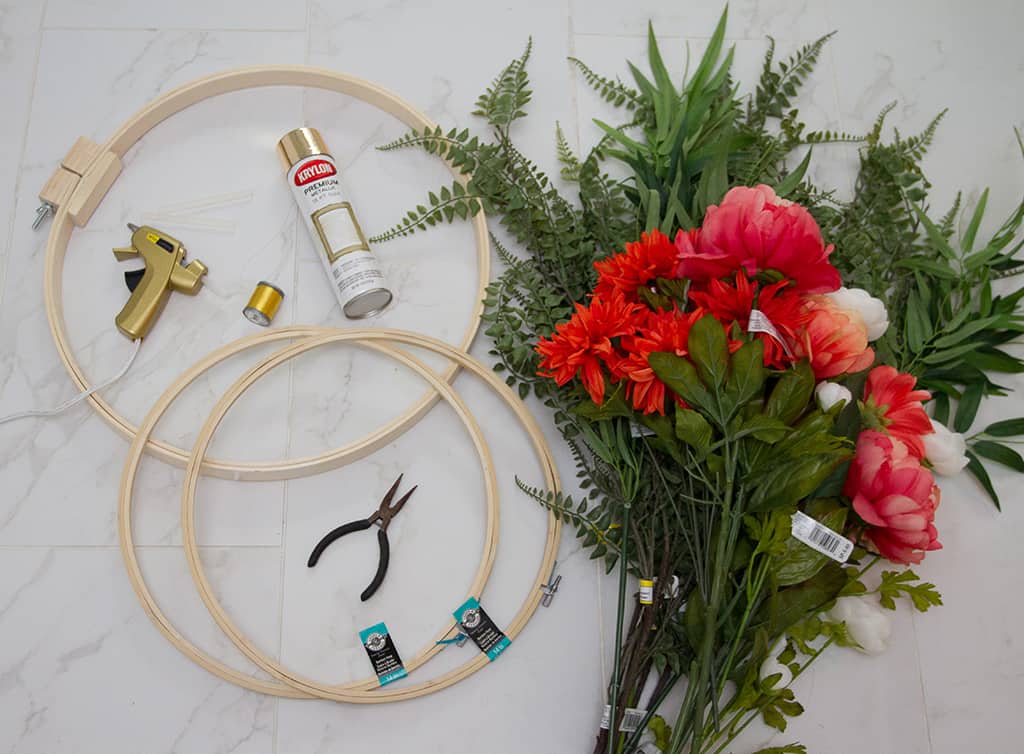 Start off by removing any price stickers. Then lay the hoops on trash bags (or a drop cloth), and prepare to spray paint.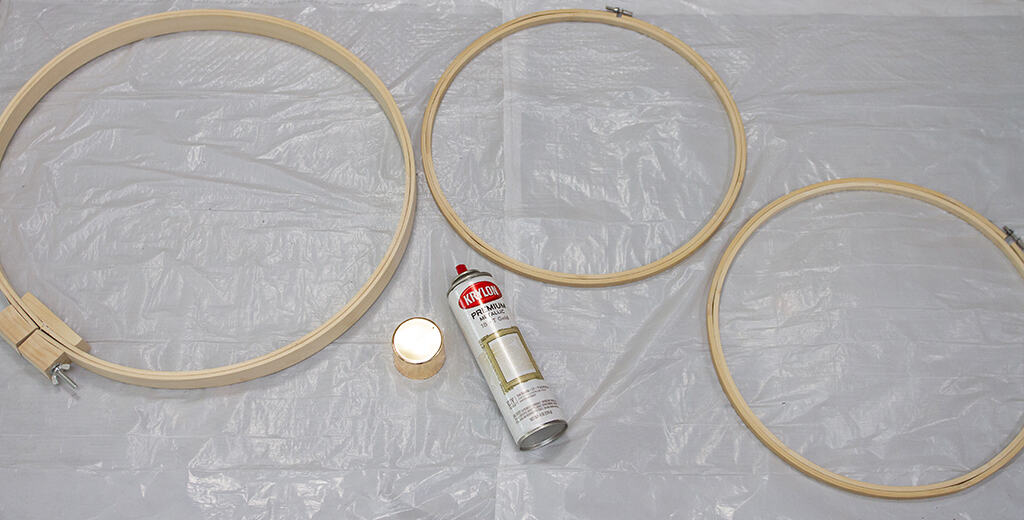 I love gold metallic spray paint, but you can choose any color you want or even keep natural. I sprayed one even coat on both sides of each hoop and let dry for about 45 minutes.
Once dry, plug in your hot glue gun and get to work.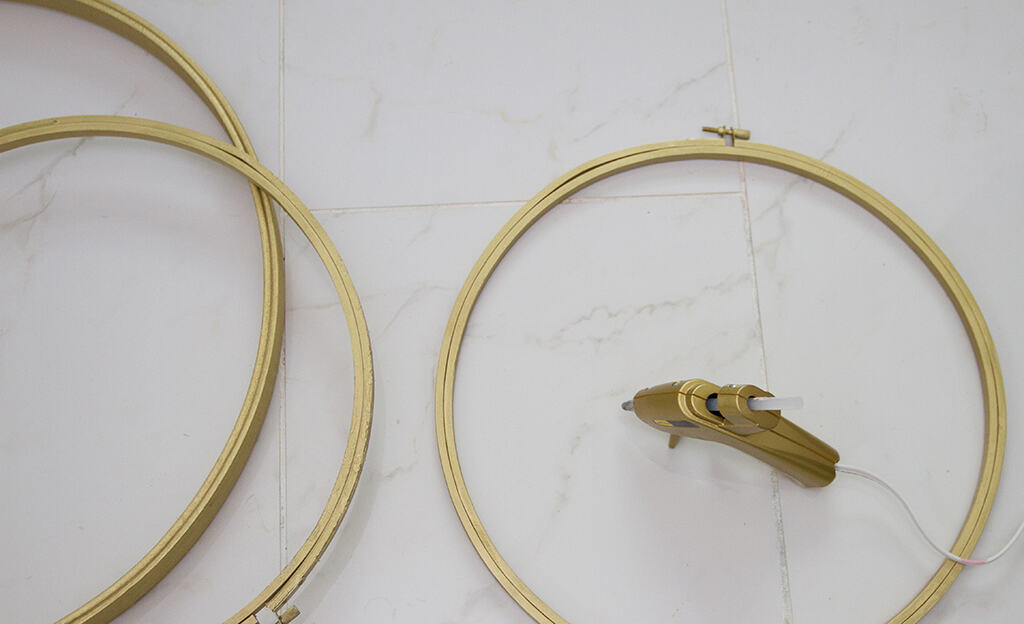 Take your greenery and cut off smaller stems from the larger main stem in varying sizes. For the 14″ hoop you will most likely need two full stems of the ferns, but you can go with fewer if you prefer. I placed mine on top for a rough layout before I started to glue.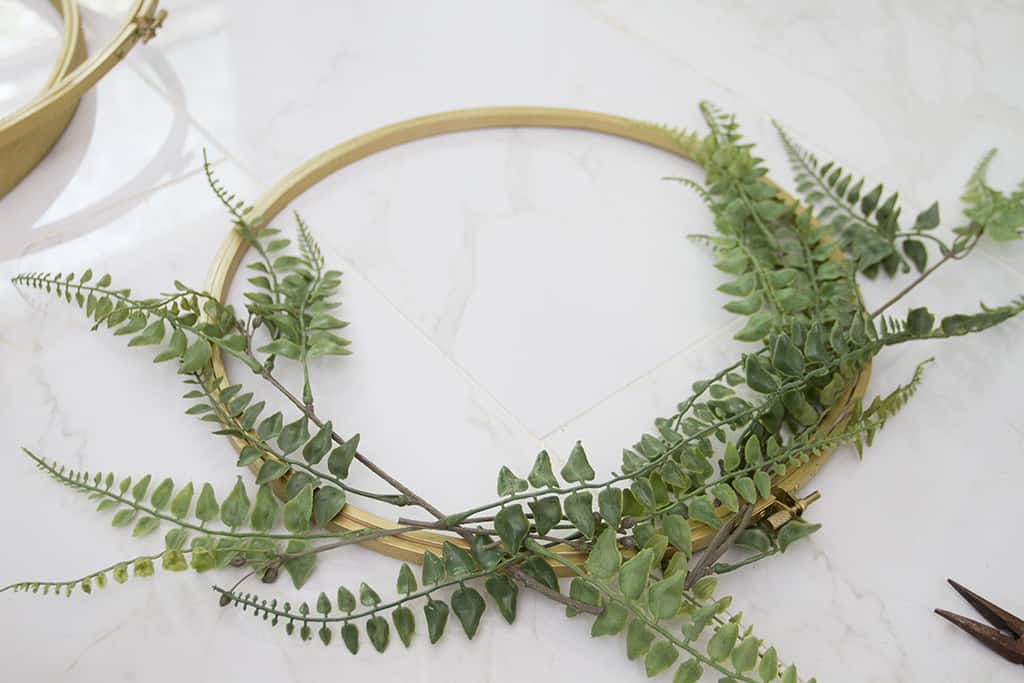 Once you're happy with the rough placement of your greenery, and your glue gun is hot, it's time to start gluing. I prefer to start at the screw tightening section of the hoop since that part will need to be covered up with flowers.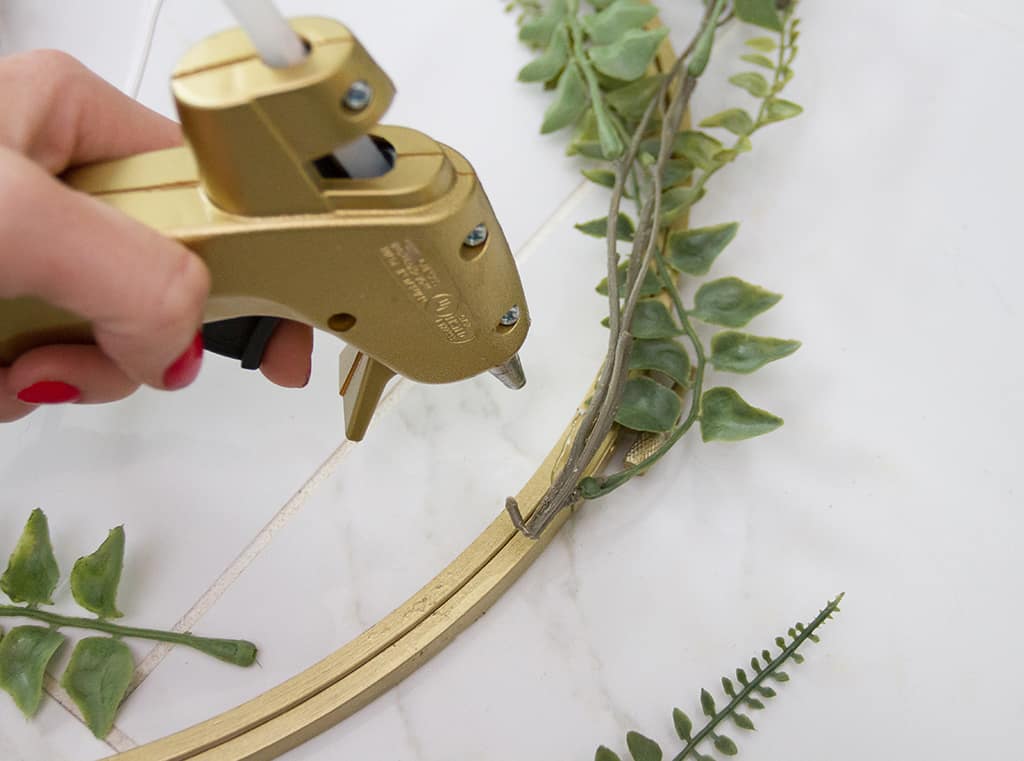 You really only need to focus on gluing a few stems in the same area to start. You'll want the upper leaf sections to be able to droop for a more organic and natural look. I even glued a few smaller leaf pieces to the backside of the wreath to fill it in in some areas.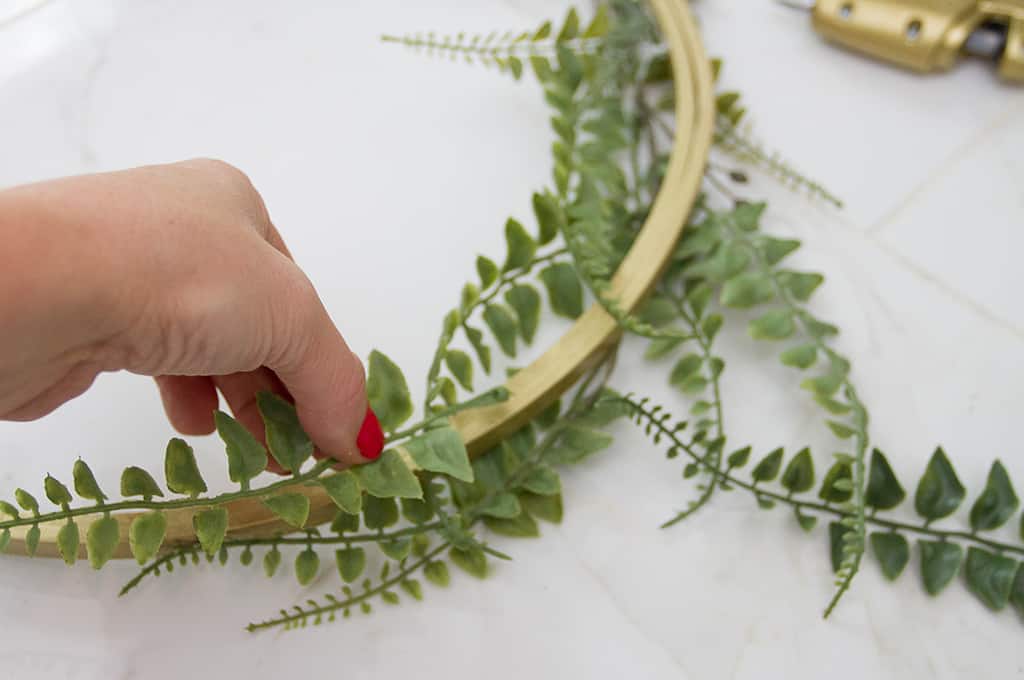 I then like to stop and hold up the wreath to get an idea of how the leaves will fall before I move to the next section. You might need to glue a few leaves in some areas to ensure that they stay where you want them, but for the most part you'll want to focus on gluing the stems only.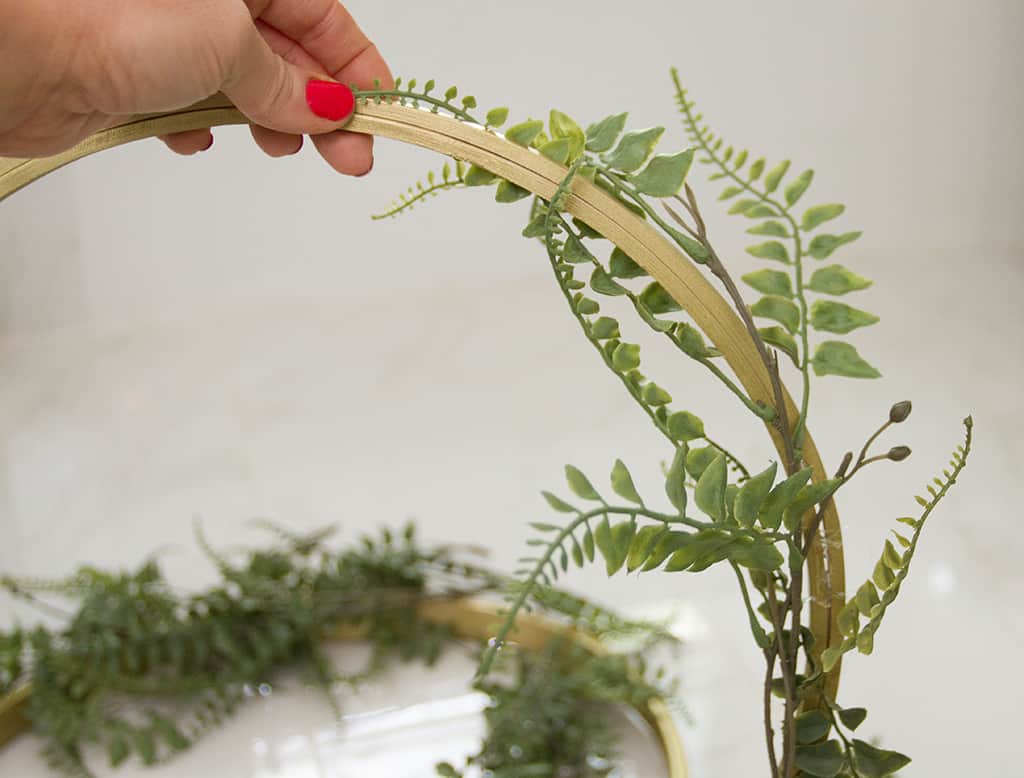 TIP: I like to wrap a longer leaf section around the hoop for some movement, then glue a few leaf tips to the side of the wreath securely. This helps to hold some of the drooping leaf sections into place.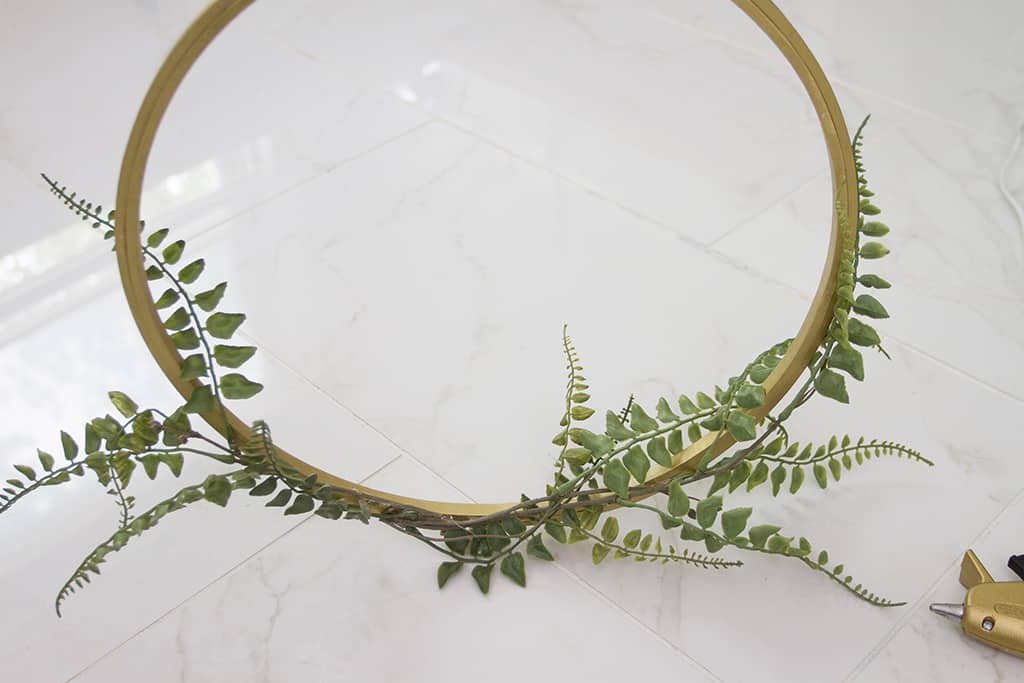 When you're happy with the way the greenery is looking, you'll want to continue to glue in more stems to fill in any gaps. Repeat this step until you feel you have the right amount of greenery placed. The more hoop you leave exposed, the more modern your wreath will look.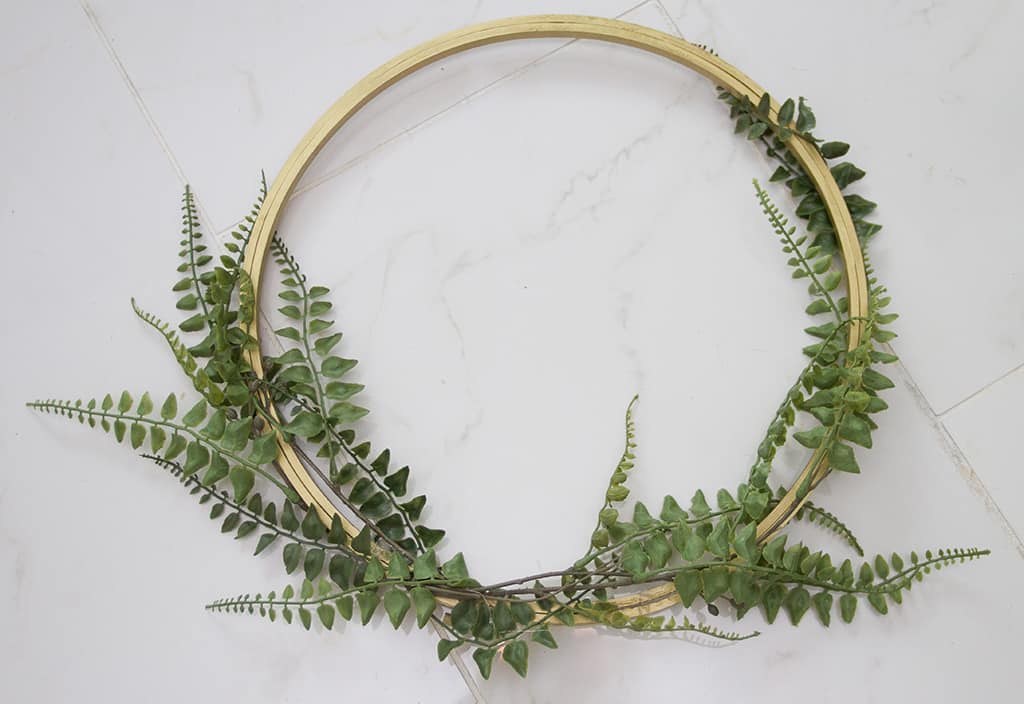 And now it's time to glue on the flower buds! Most flower buds are easy to pull from the stems with your hands, but you might also choose to trim any excess stem with your wire cutters. Remove a few buds that coordinate nicely together—I prefer to use one larger bud and then group in two smaller buds, but that's a personal preference. You will also want to trim off a few leaves.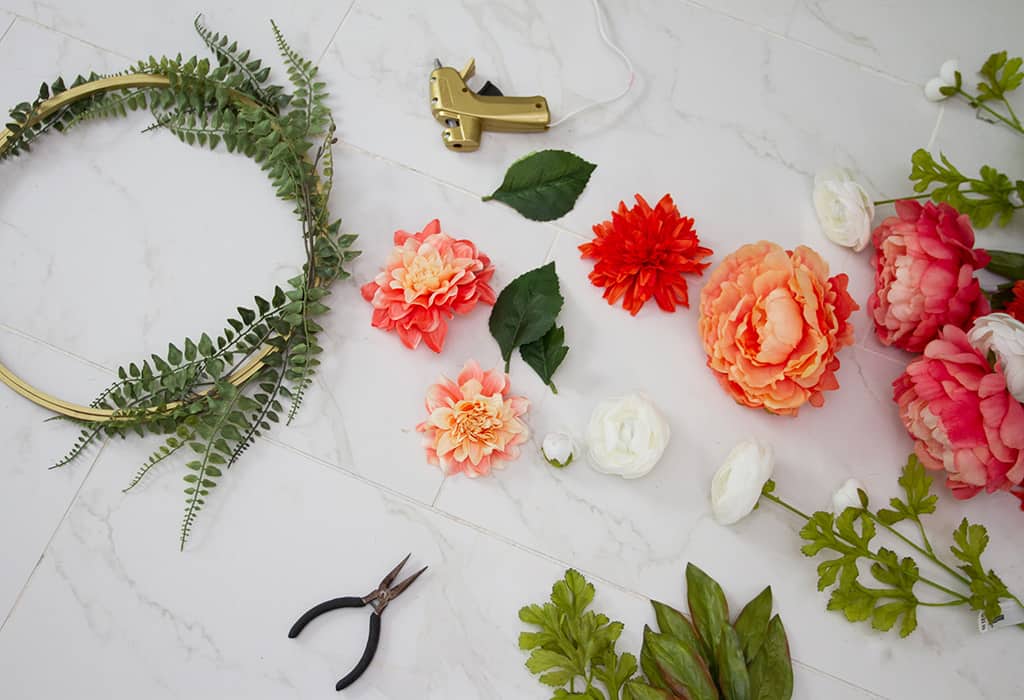 Find the screw connector area of the hoop and glue two on to three leaves.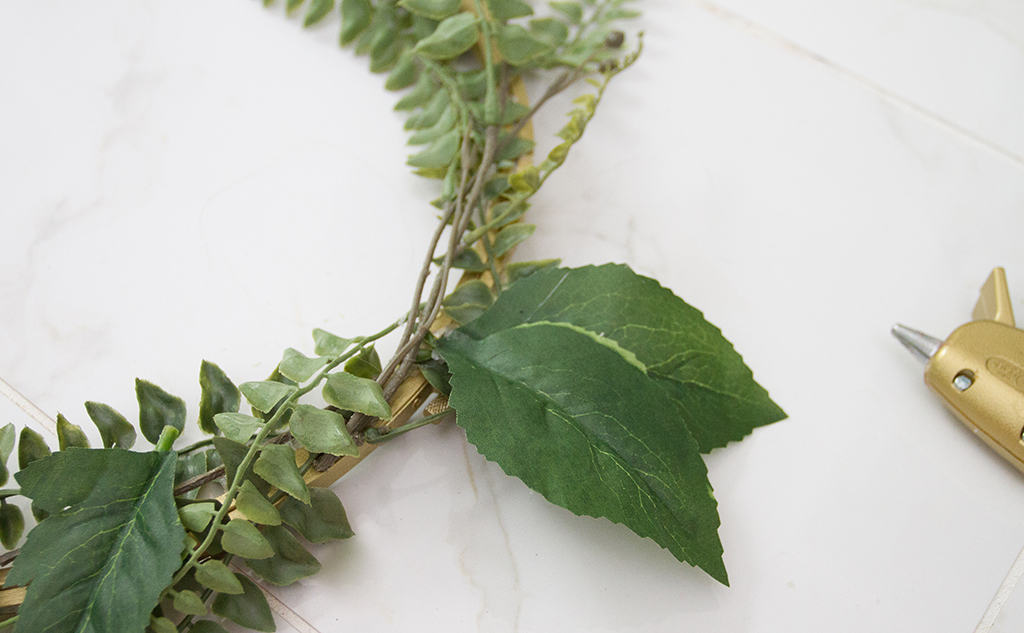 Next, glue your largest flower bud on top of the leaves.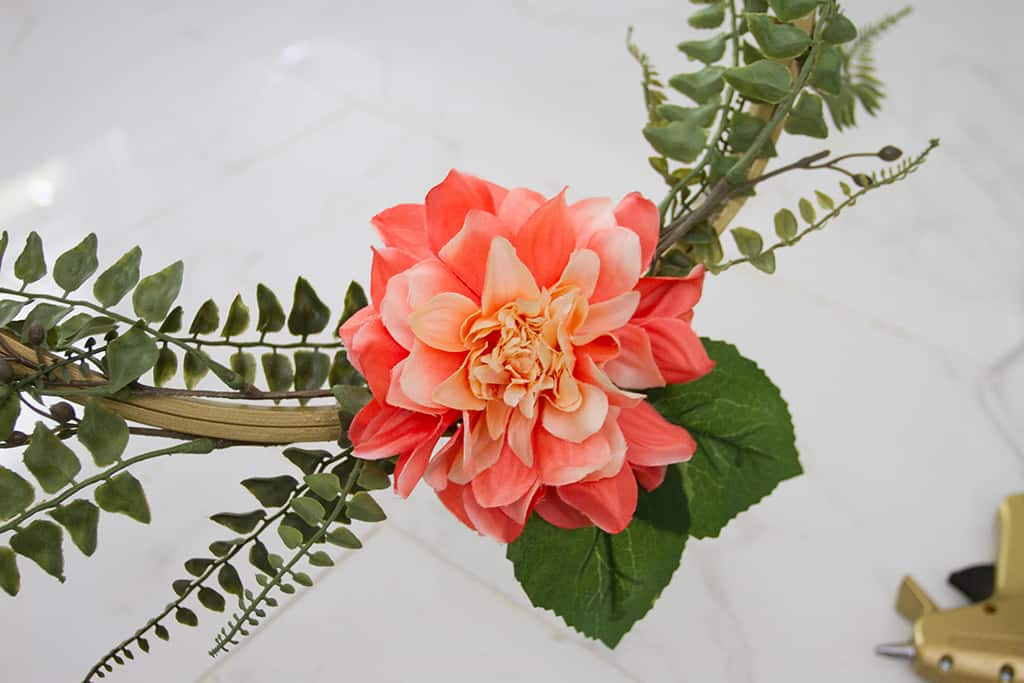 And finally, glue on your second and third flowers and another leaf if you wish.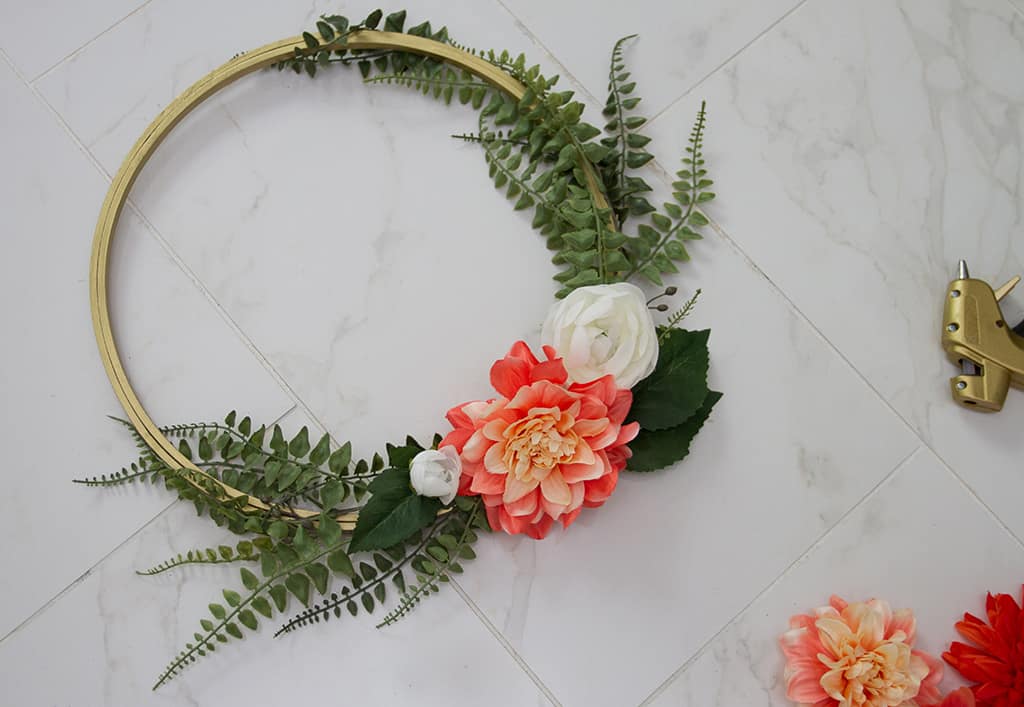 That's it—you now have one completed DIY modern floral wreath!
Repeat these steps with the other 14″ wreath until you're happy. I chose to mix up my flower placement on each wreath to create some variety.
Finally, you will want to start on your 18″ wreath. This one also follows the same steps, but will most likely require 2-3 stems of greenery since it's larger. I used the oversized peony bloom on this one since it worked well with the larger sized hoop.
I laid all three wreaths out and quickly admired my work before I started the hanging process.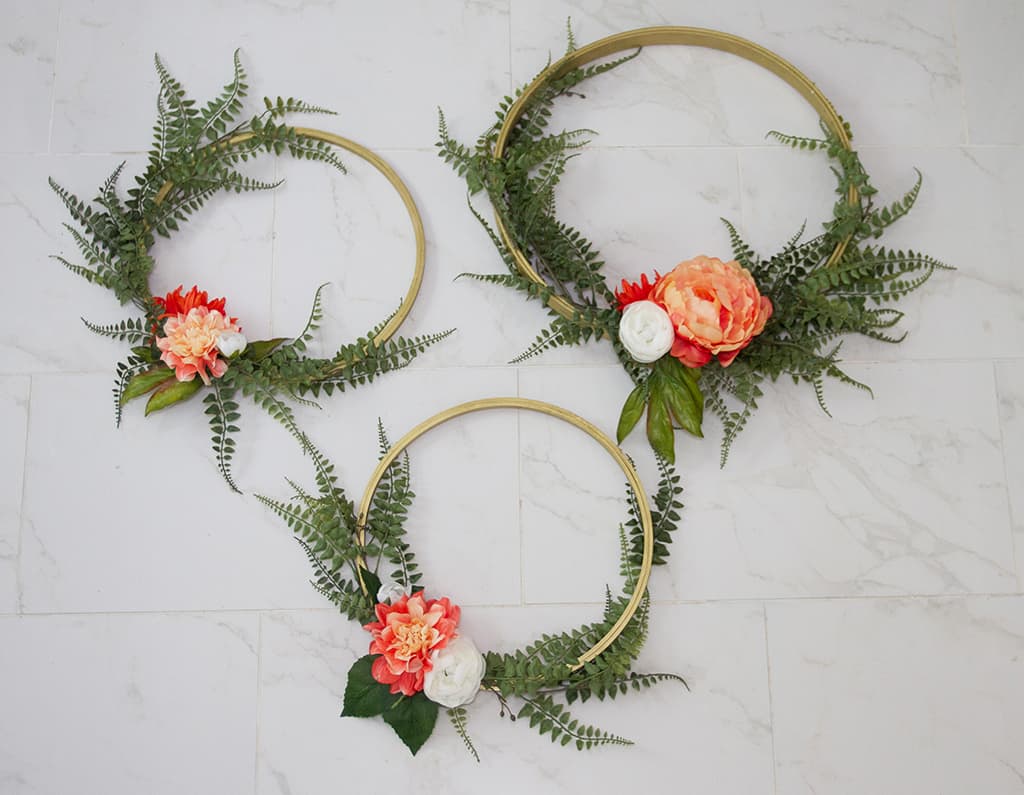 Time to hang! I took three long strands of the string and doubled them up for more strength, then double knotted them. You can use any string or thread for this step.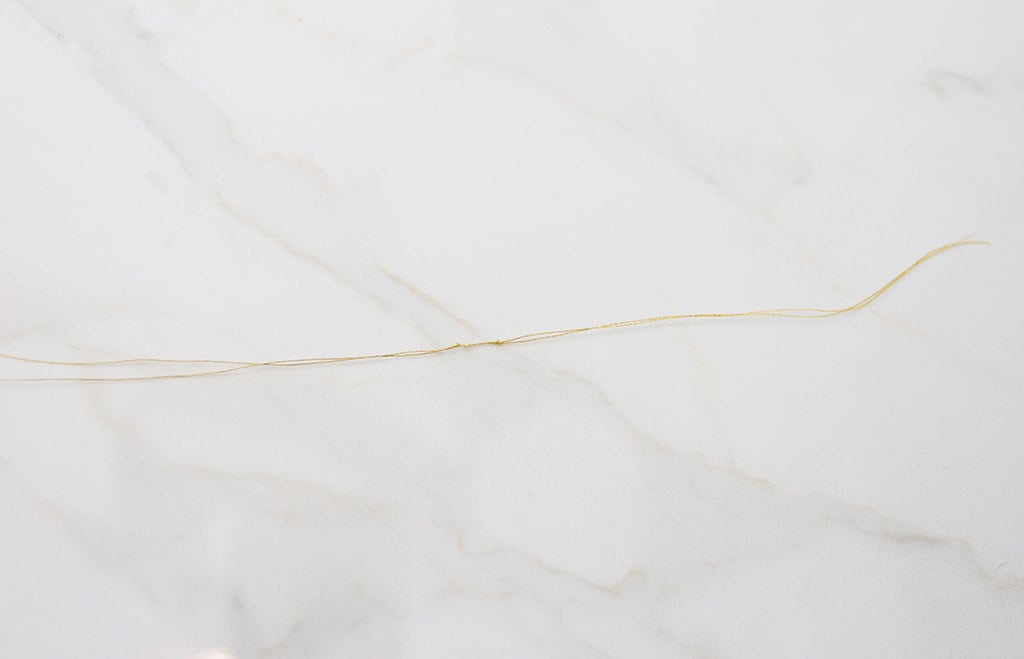 I then looped the string around the top of each wreath and started the hanging process.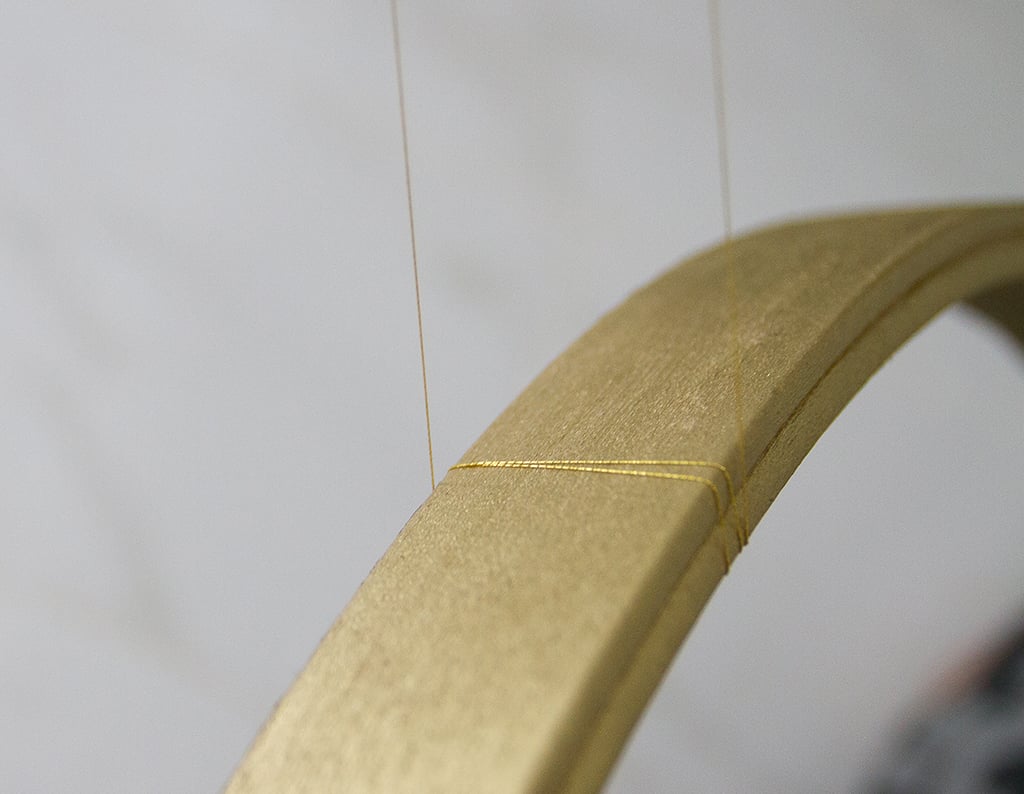 I decided to hang each wreath on some clean and simple white curtains. I hung the string from a curtain rod, but you could also subtly hang them with safety pins or on a wall with nails. They're pretty lightweight and can really could be hung in many different ways, so get creative with it!
And hooray—here is my finished DIY modern floral wreath grouping in it's new home. I just LOVE them!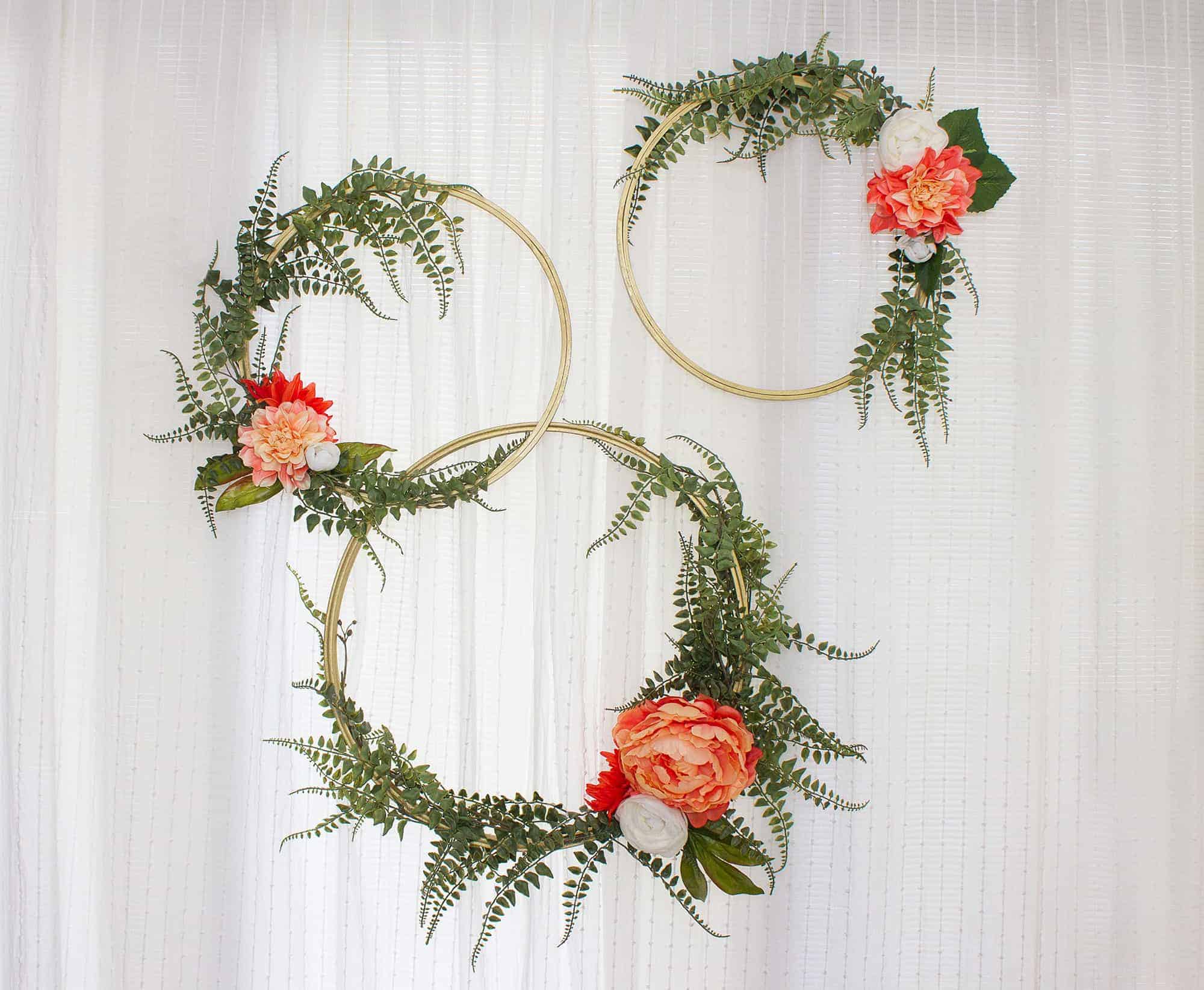 I like the way the subtle curtain texture and clean white color works with the white flowers and helps the wreath stand out. And the overlap of two of the wreaths is a fun, unexpected look if you decide to go that route.
A backdrop like this would work really well for a photo booth or ceremony. You could also simply hang each wreath in various places throughout the venue—the options really are endless!
---
I highly recommend this DIY modern floral wreath project! It took me about one and a half hours to complete from start to finish, but a lot of that time was waiting for the paint to dry. It's a very rewarding project that would be a beautiful focal point in your wedding decor.
If you give this project a try I'd love to see your end results on social media! Simply tag your posts with #MarriedWithMichaels.
Did you know that this May, Michaels is launching a wedding microsite, MichaelsWeddings.com? This will be your one-stop online DIY wedding headquarters.
Below are a few features of the microsite:
Shop thousands of online exclusive pieces
Shop top categories – Décor, Floral, Favors and Invitations.
Big Wedding? No problem – large quantities available site wide
Find exclusive David Tutera merchandise and content
Hundreds of Easy DIY Wedding projects & ideas
Sign up for Wedding Rewards today to gain access to members-only perks like exclusive discounts, events, ideas and more!
I SO wish I had this option when I got married!
---
Oh, and a bonus idea: When your wedding is behind you, you can use these wreaths as decor at future parties, showers, you name it. I even love hanging one on the front door for a colorful pop.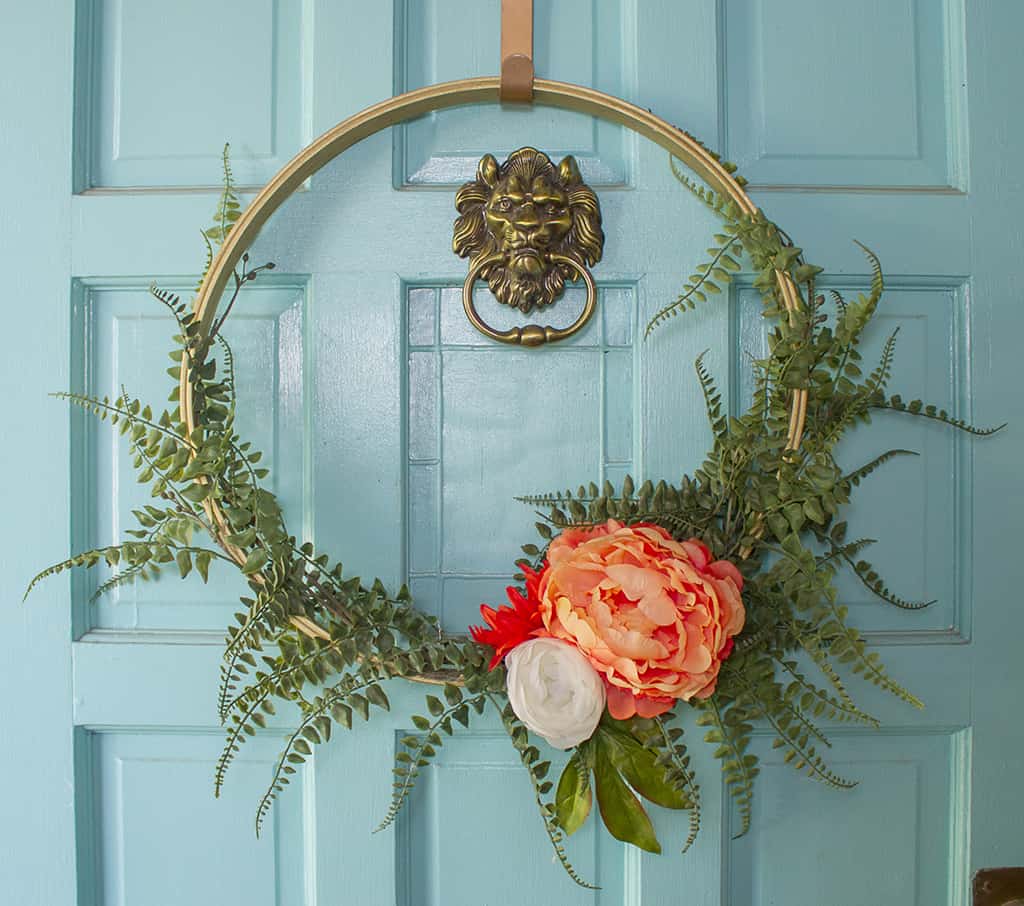 xoxo
Audrey
PIN IT FOR LATER!