I'm excited to share our guest bathroom remodel!
Last spring when we hired a construction company to remodel our master bathroom, we also hired them to remodel a guest bathroom that our five year old uses. We're avid DIYers as you might know, but decided to hire out this round to help the project move along quickly. Ted did build some DIY shelving around the vanity, so at least it wasn't completely hired out. Keep scrolling to see his DIY handy work, which was created with the help of our new Pegasus Folding Work Table and Sawhorse from WORX tools.
---
Here are some before photos.
The vintage floor tile photographed somewhat well, but it was crumbling and was never installed over any cement tile board–just directly to the subfloor, which is not a good idea in a bathroom.The tub also had an almond colored plastic surround that was dingy and just plain ugly. I kept the shower curtain closed so I wouldn't have to look at it.
I hated the tile countertop— it was impossible to keep clean and looked so dated.
You can click the 3 photos below to zoom in.
I liked the white paneled walls, but it was easier and more affordable to gut the whole room rather than work around the walls. We opted to keep our existing tub to save money, but gutted and replaced everything else in the room.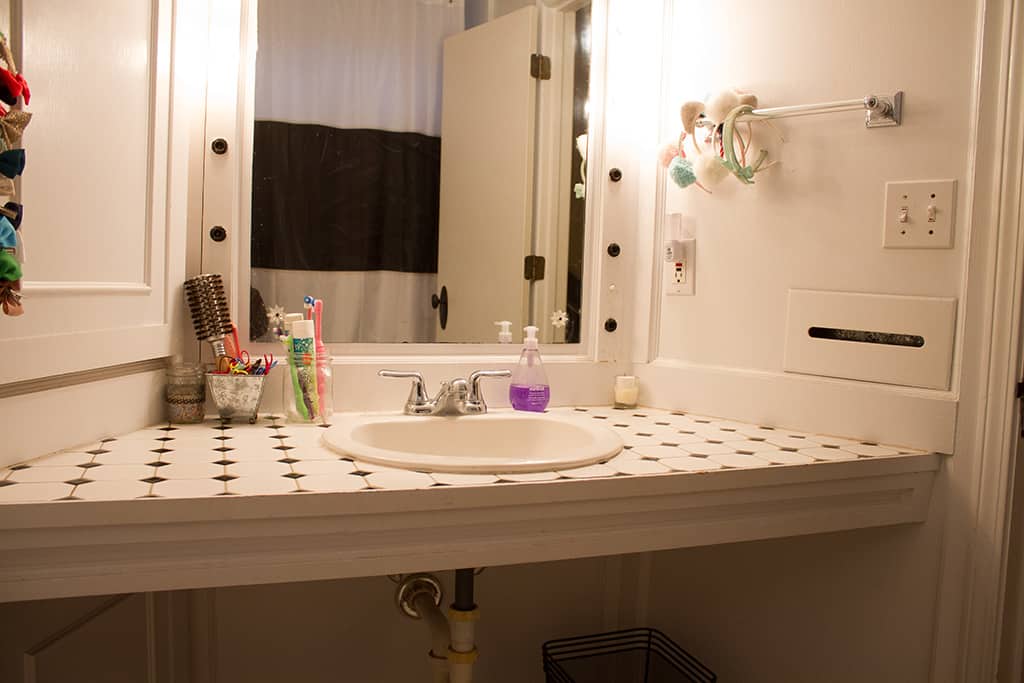 And here is a shot of the new, finished sink area after the remodel. As you can see, one of the walls surrounding the vanity is angled, so we decided to build some easy custom shelving out of some extra materials from the master bathroom vanity.
We went with a squared off 36″ vanity from Cabinets Quick. We love the light grey color and the quality of our soft close cabinets. All of our bathrooms have vanities from Cabinets Quick in them. You can see how Ted assembled the vanity in our half bath.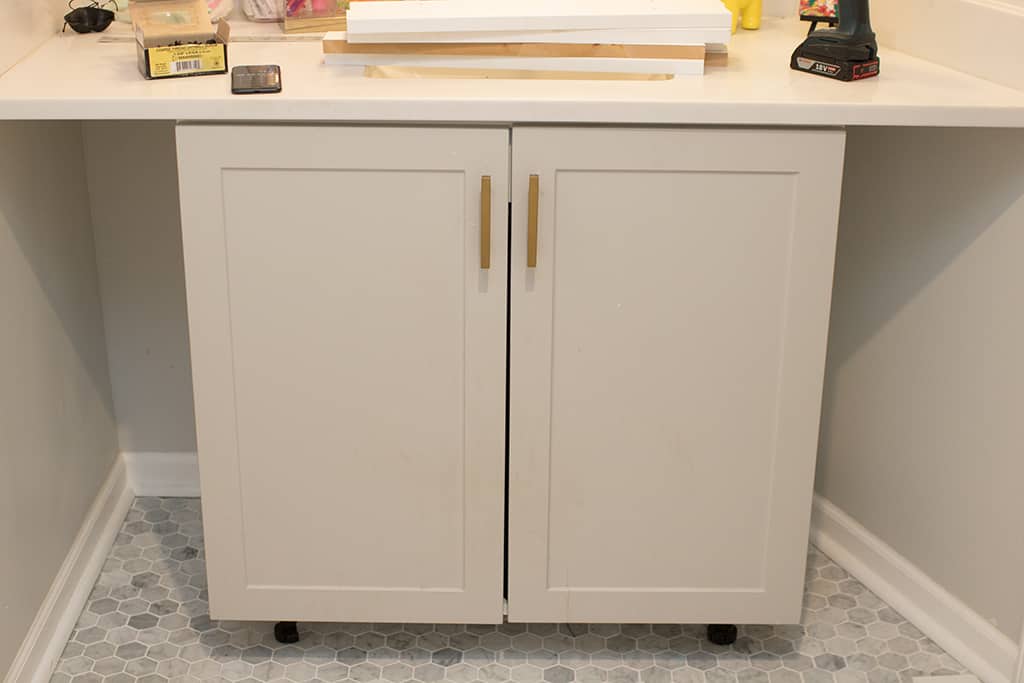 Using his WORX Pegasus Folding Work Table and Sawhorse and vintage circular saw, Ted cut the material into cleats (strips) that would be screwed to the wall and would allow the shelves to rest securely.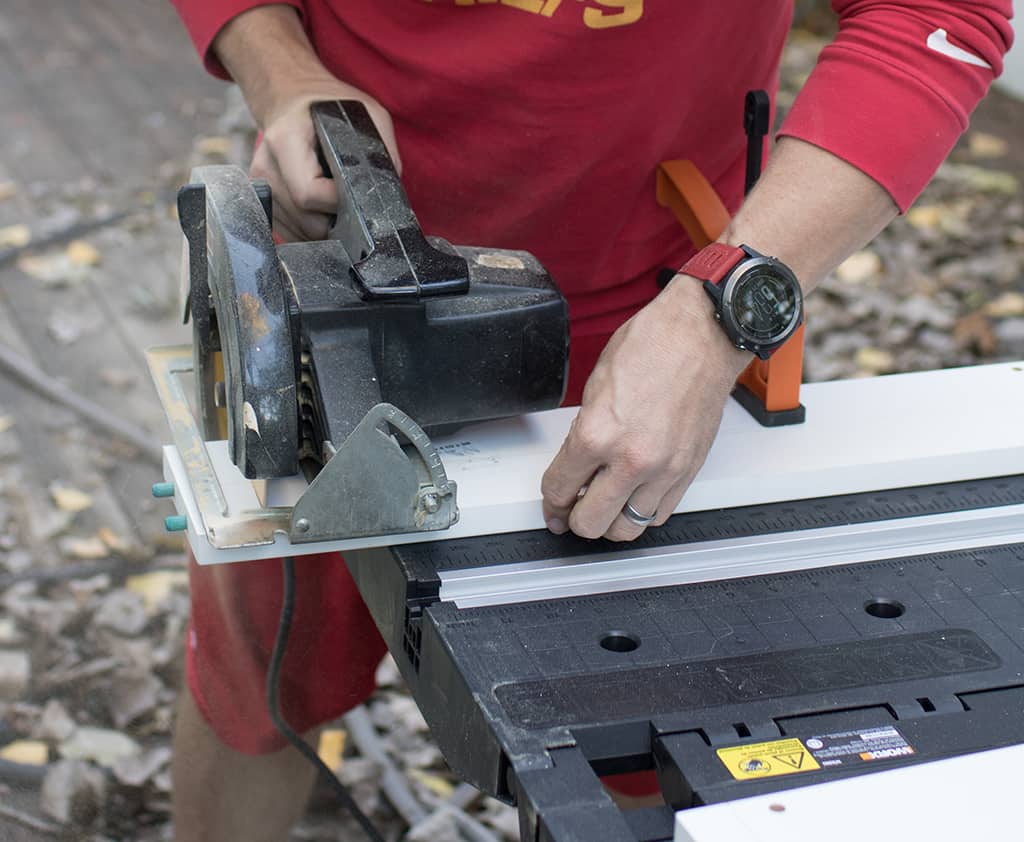 He cut eight cleats.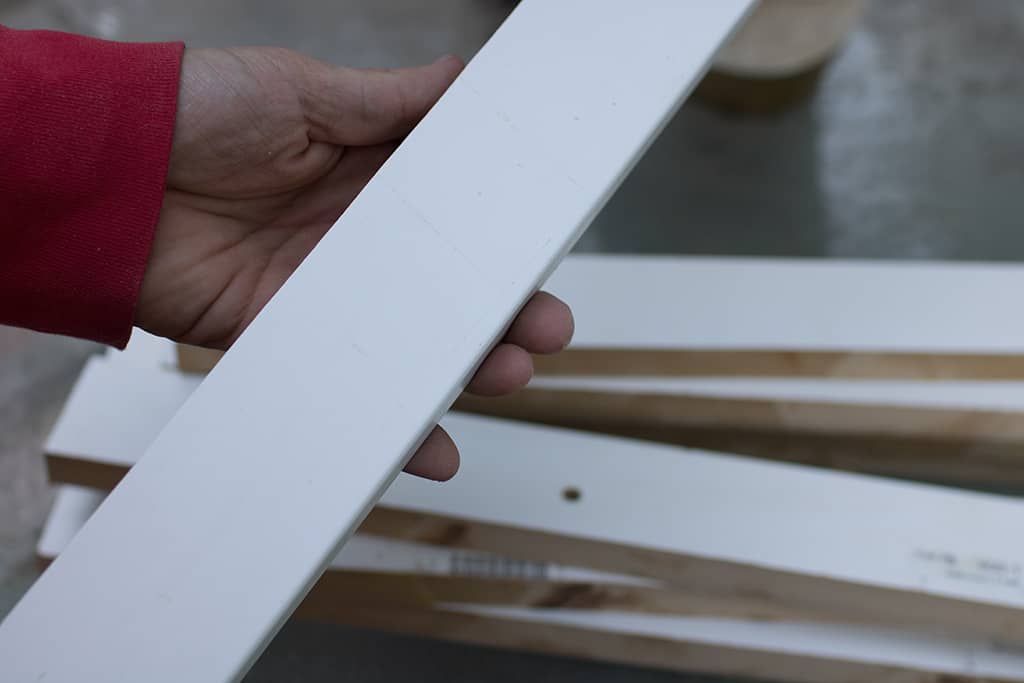 He and Vivienne took some measurements and then created some simple templates out of foam core board.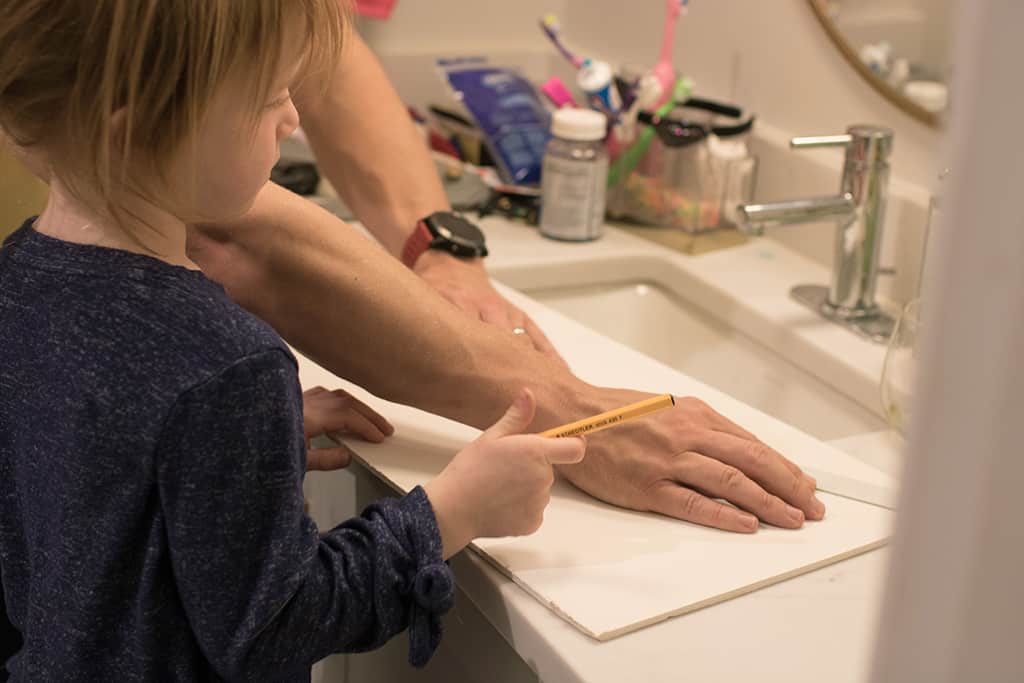 Once the templates were created, he marked up the material and cut the shelves down to size.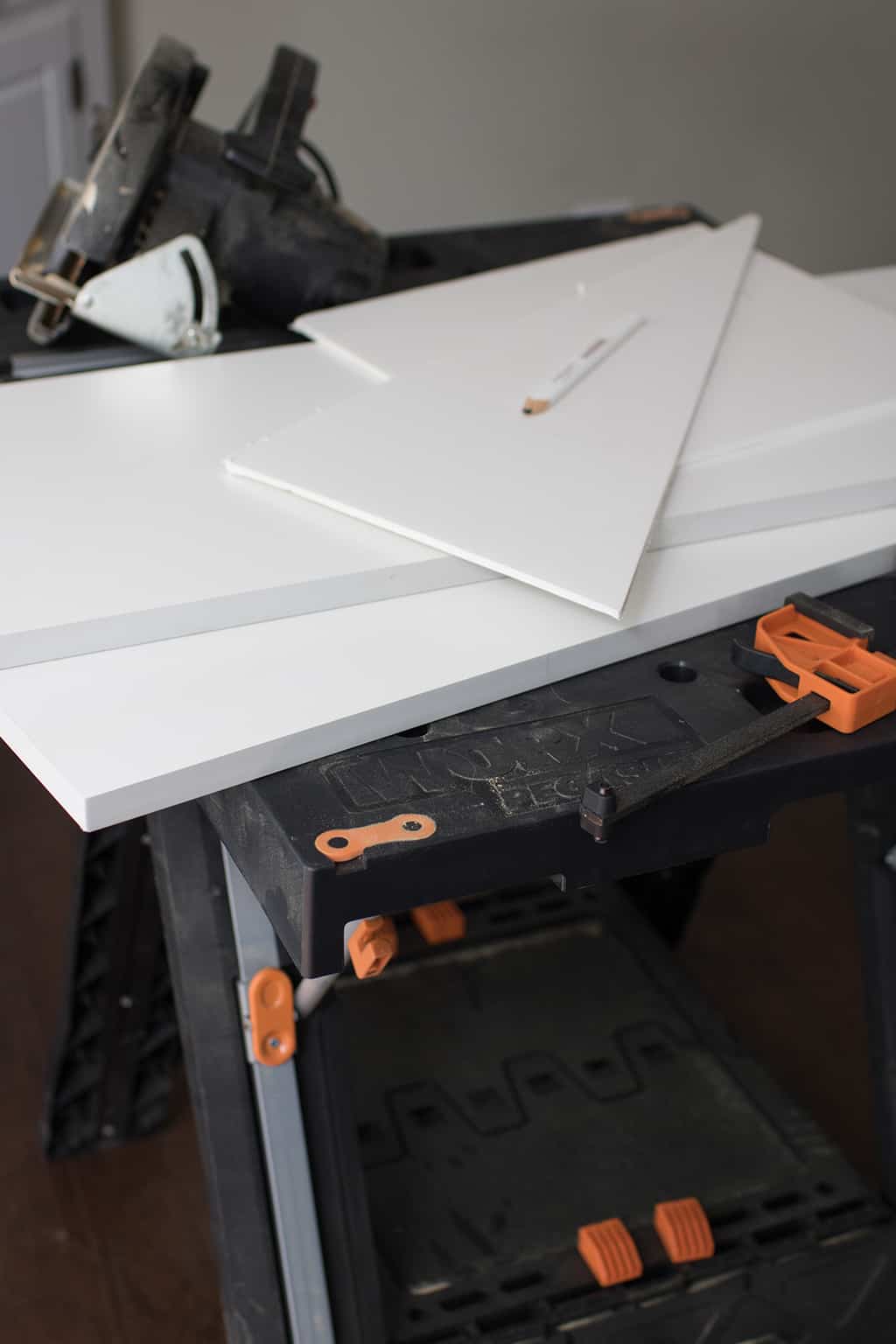 The work table was such a help in the project. It was very sturdy and came with 2 clamps, which Ted used to securely hold his materials in place while cutting. You can fold the table up and down in seconds, which I love for saving space. It's such a great addition to our tool collection, and I know it will be used for many more home remodeling projects in the future.
Using his laser level, he installed the cleats to the wall and cabinet sides.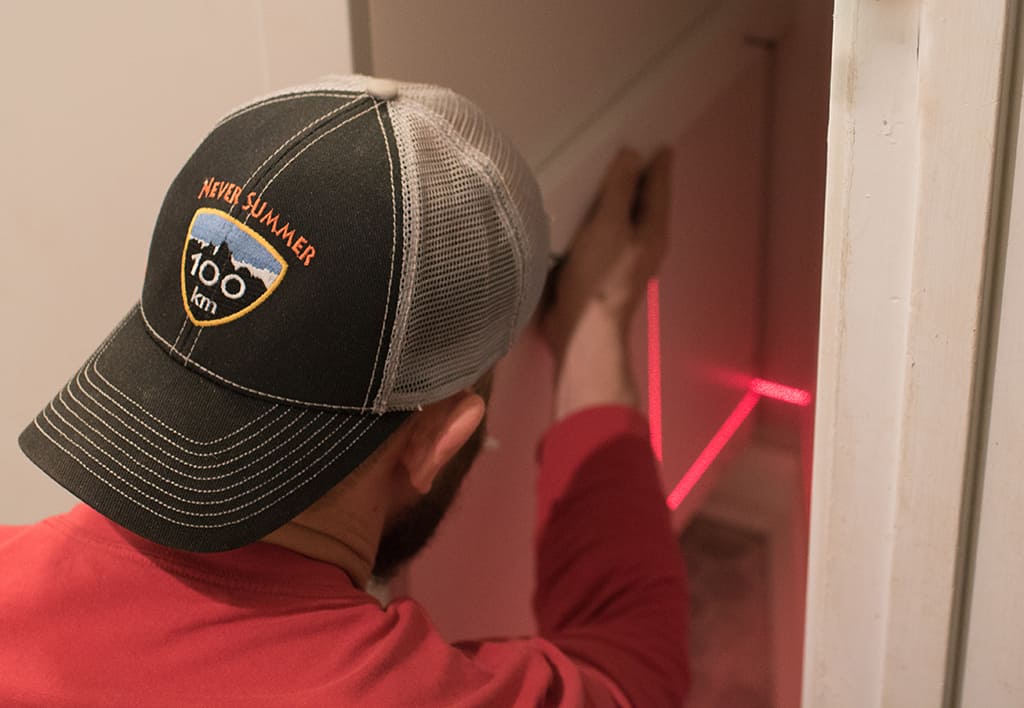 Then he simply placed the two shelving pieces on top of the DIY side brackets at left.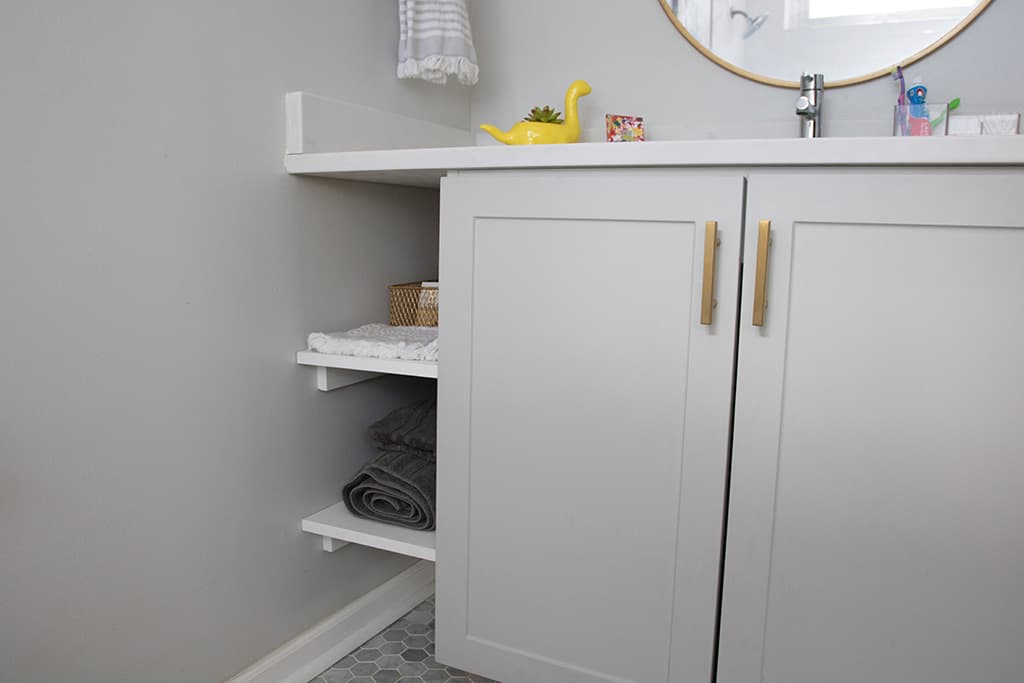 And at right.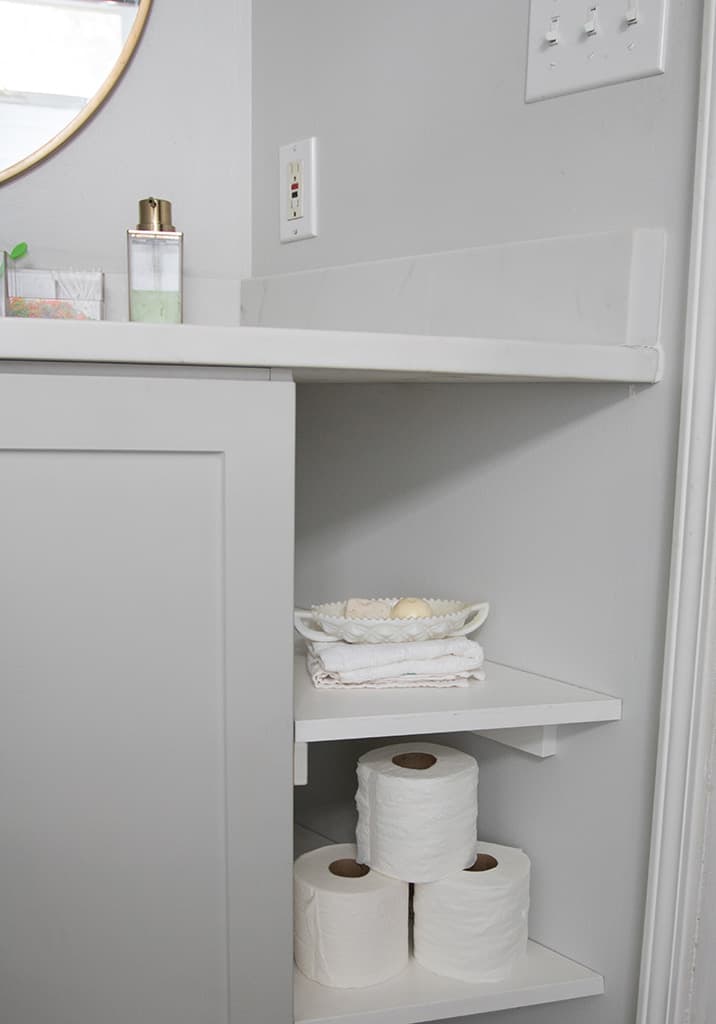 He did such a good job working with the tricky angles on this wall.
There you have it—our DIY contribution to the bathroom. 🙂
---
Now onto more after photos featuring the following products:
---
As I mentioned this is our kiddo's bathroom, so I decorated it with some colorful and quirky decor that she helped me pick out from around the house. I kept her daily organizer out—they aren't beautiful to look at, but this is real life over here people, ha!
We loved working with Lynn at Kitchens and Baths by Briggs. She really listened to what we were wanting and totally got our style. We toured the beautiful show room and saw so many great options, and we we ended up settling on the Moen Align line of faucets and towel holders and a beautiful KOHLER Caxton 17″ undermount sink.
Staged photo for photos: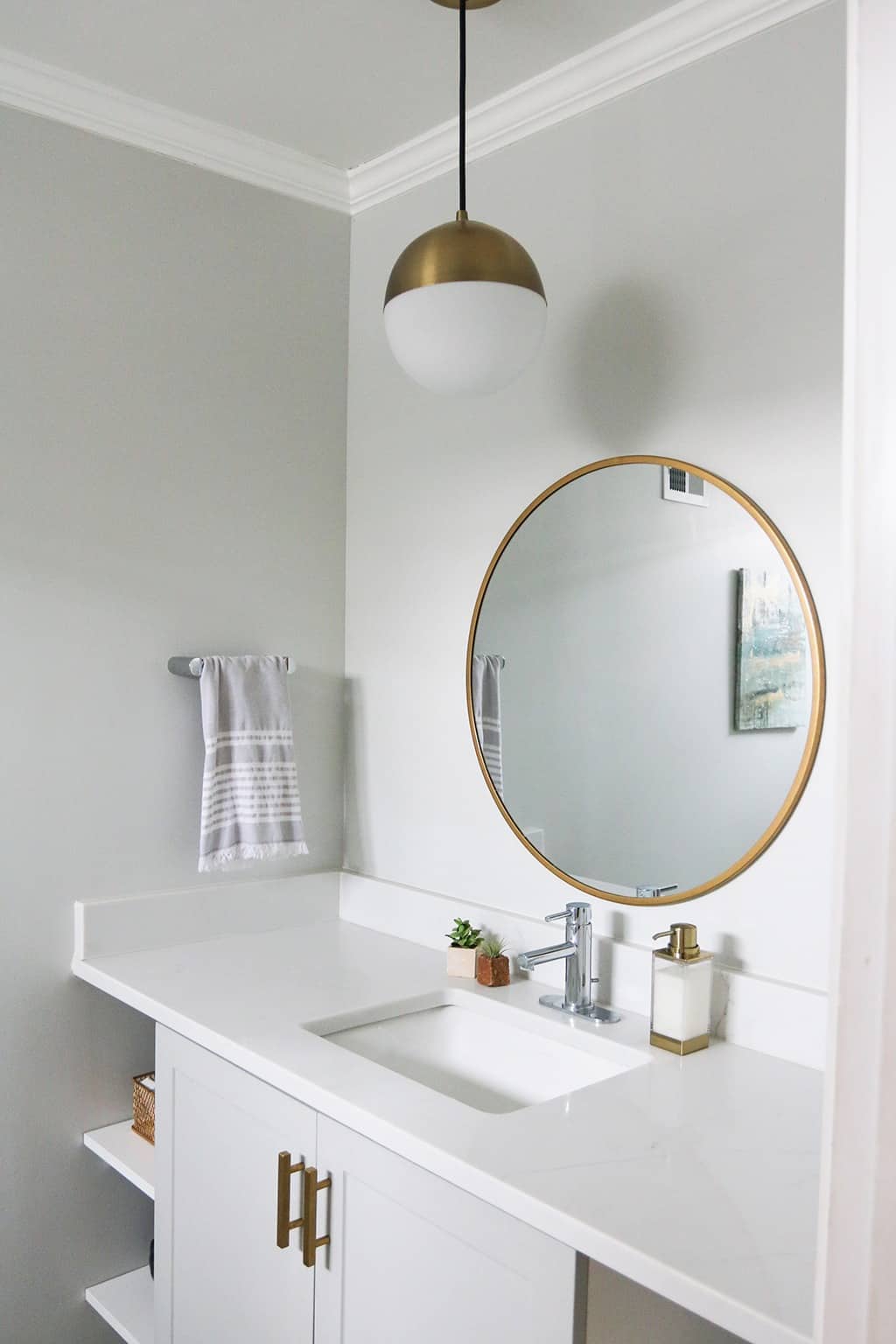 And reality after adding the kid stuff. 🙂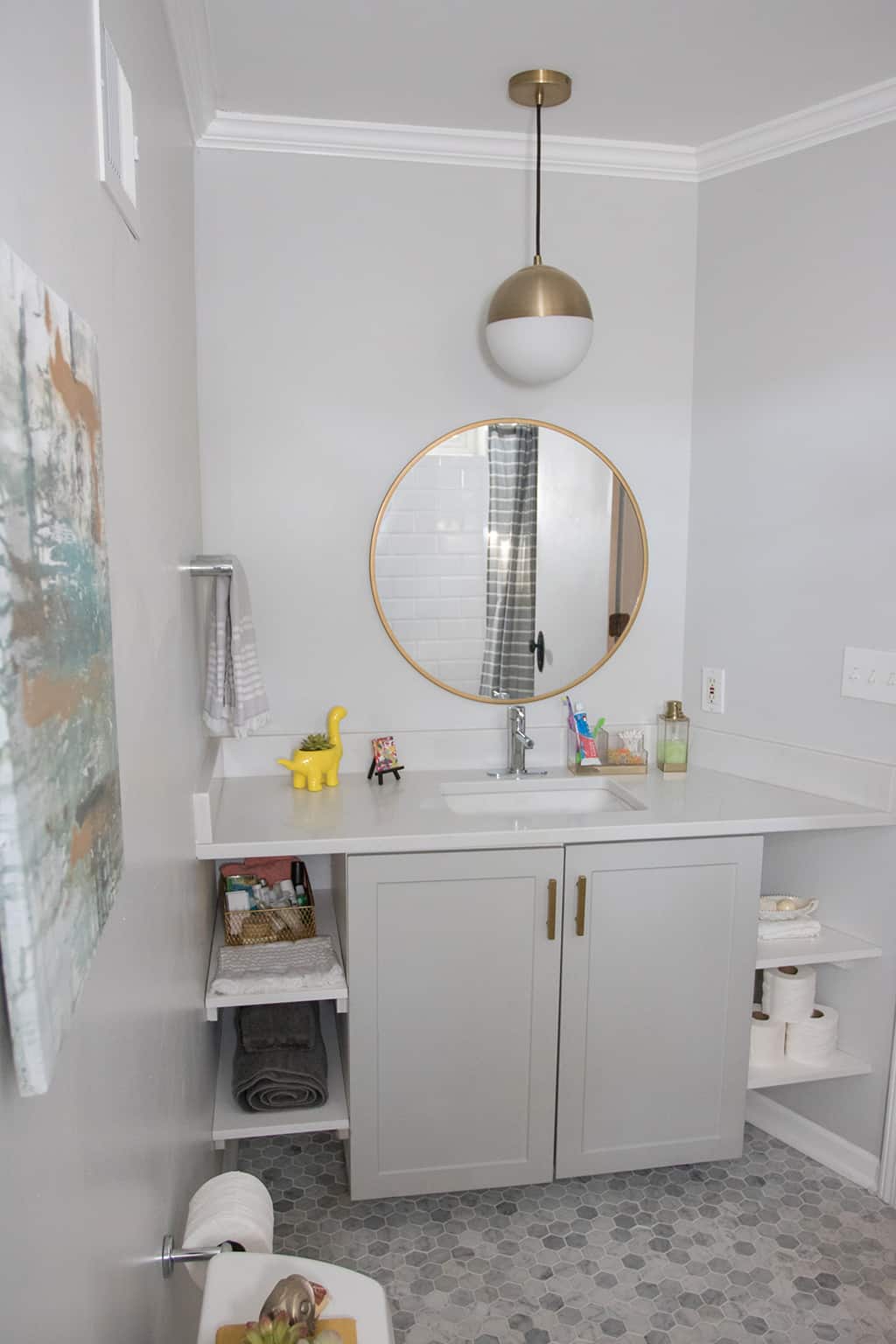 I love the modern Moen faucet from their Align line—so clean and modern! Vivi loves displaying her mini easel painting and dino planter on the vanity.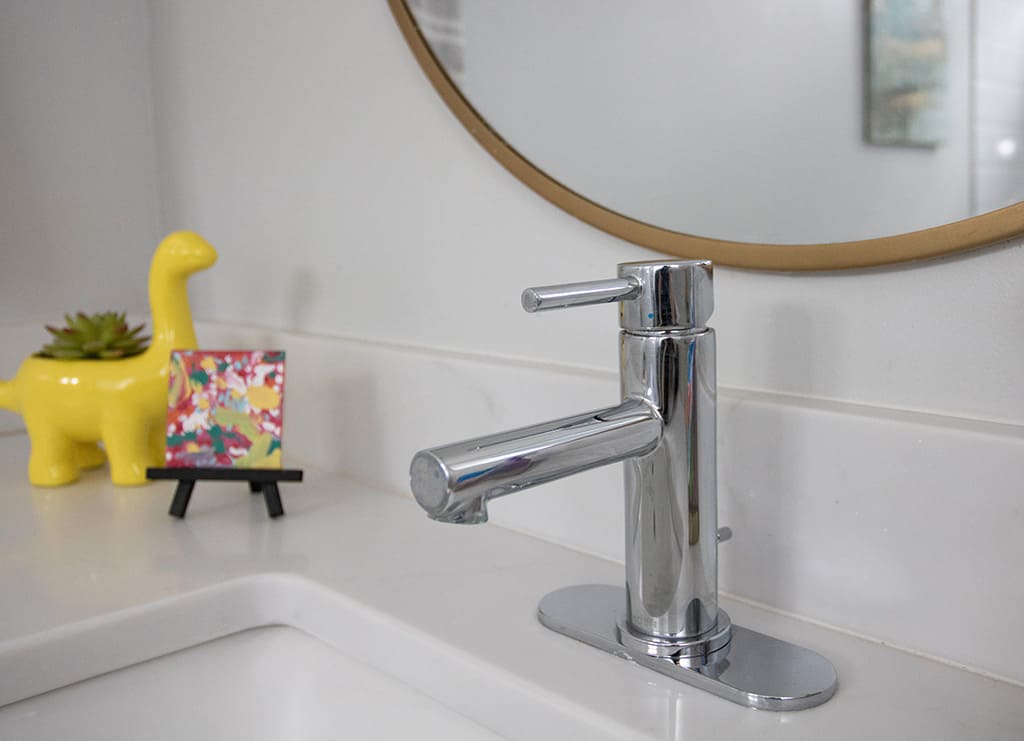 Here's a closer look at our KOHLER undermount sink. We used the same sinks in our master bath too. We love it!
The remnant quartz countertops came from a friend of our contractor, and we got it for a steal. I really like the subtle marble look and how it helps to brighten the room.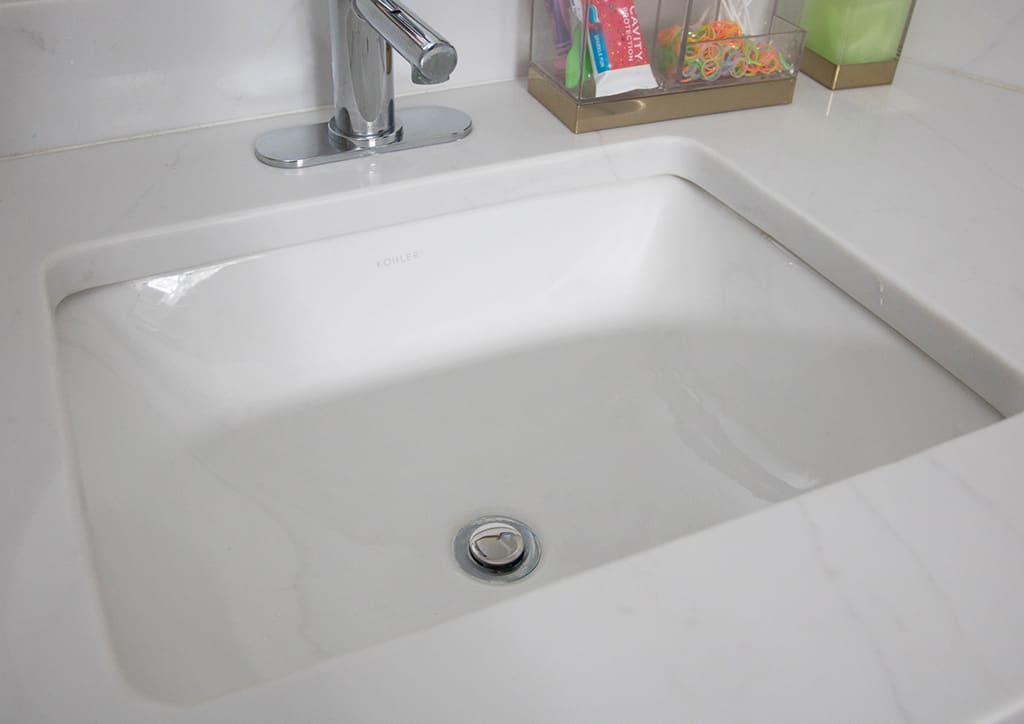 We knew we wanted a classic subway tile in the bath surround, but we decided to go with larger tiles, which was a mistake in my opinion.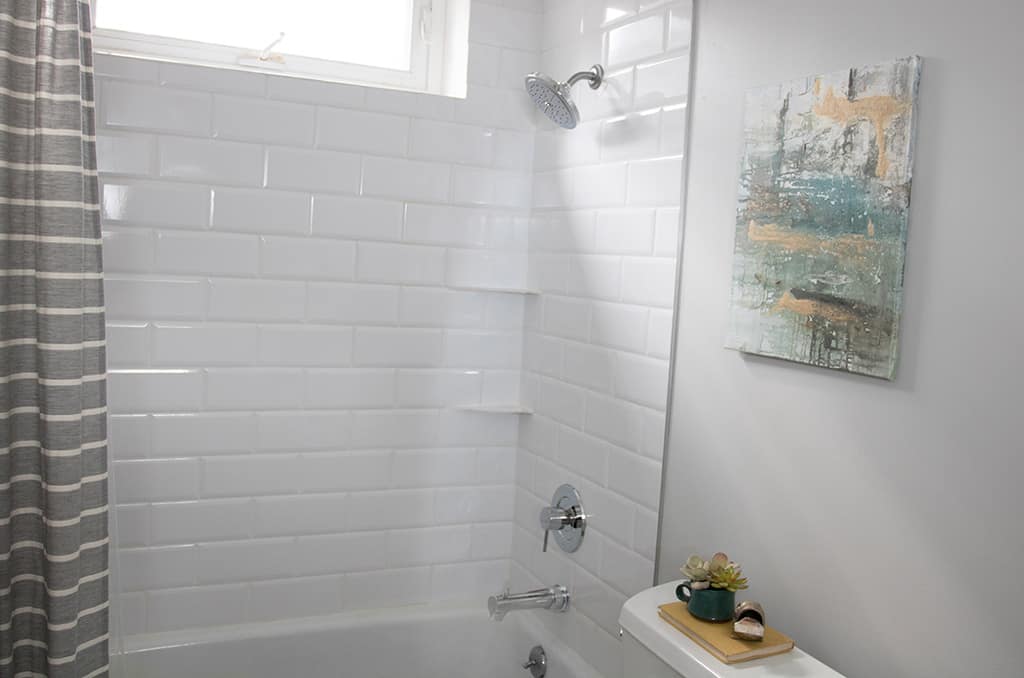 The smaller subway tiles would have looked more to scale with the smaller 13″ tall tub. Ouch! Not ideal, but still a huge improvement from the almond surround we had before.
We actually ordered simple subway tiles, but a more beveled tile was mistakingly delivered and installed before we inspected the delivery..oops! We actually like them, so it was a decently happy mistake.
We replaced our older toilet with a more efficient KOHLER one.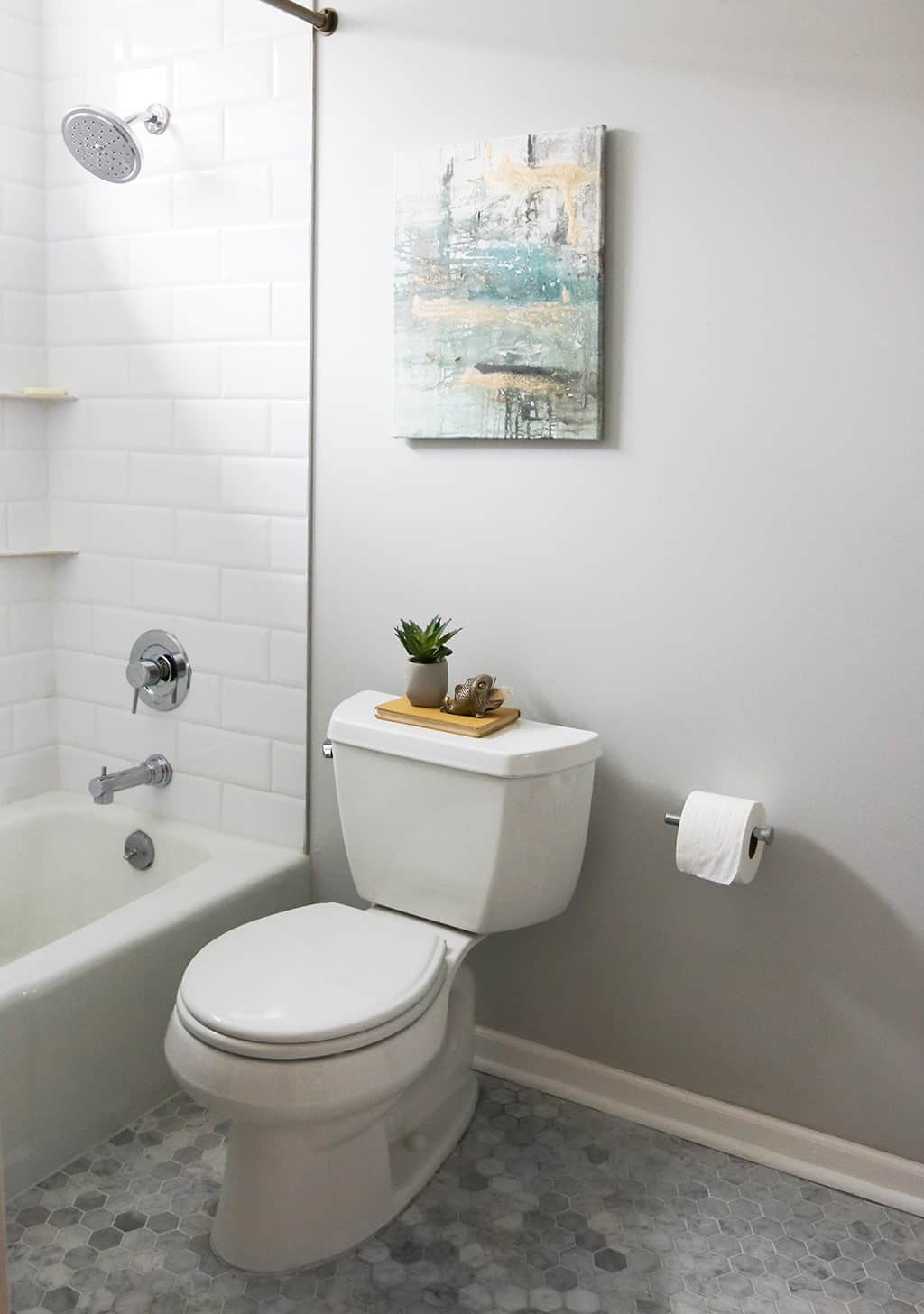 I made the abstract painting for the room and decorated the space using items from around the house.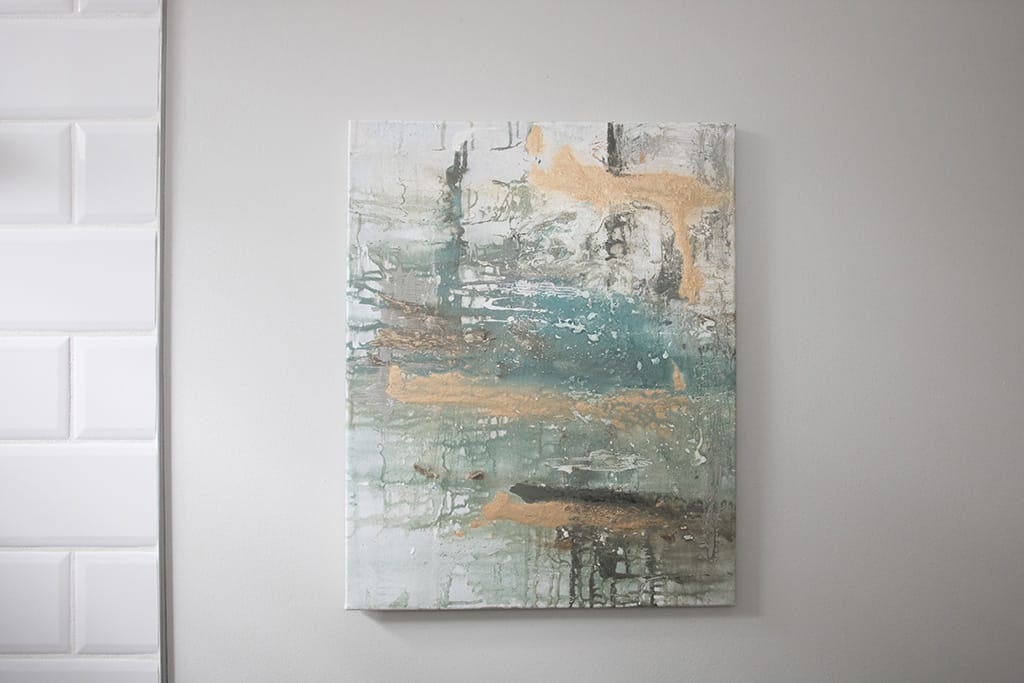 The Project 62 pendant light and mirror came from a clearance end cap at Target. Boom! I decided to mix polished chrome and brushed brass metals, and I love how they work together with the grey accents.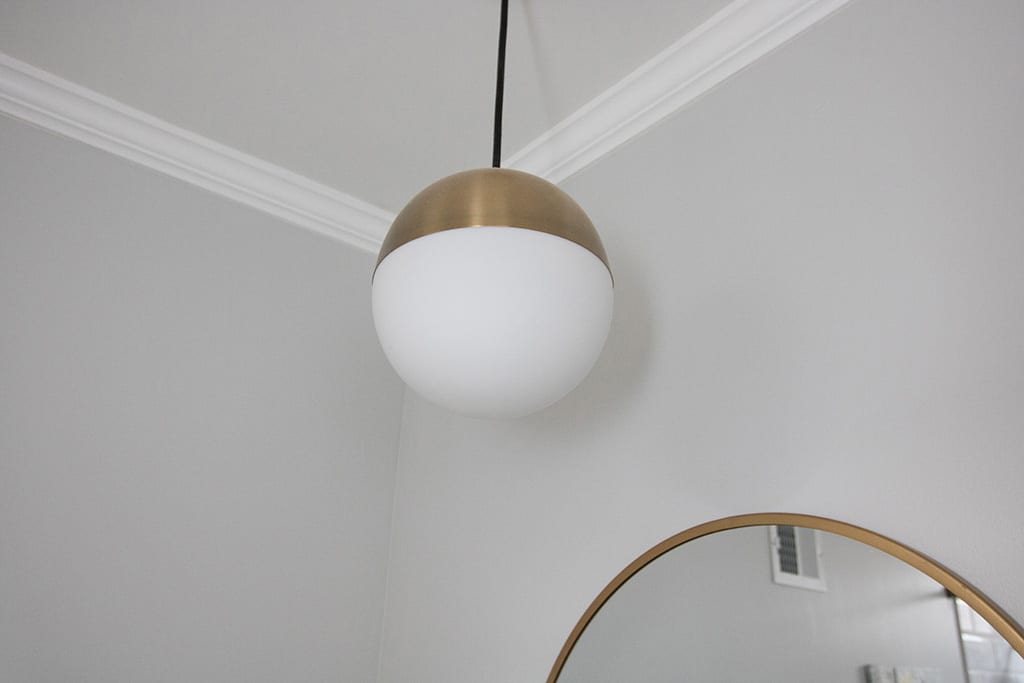 I ordered some coordinating super affordable brushed brass knobs pulls
from Amazon.
The shower curtain also came from Target— I love how simple and classic it is.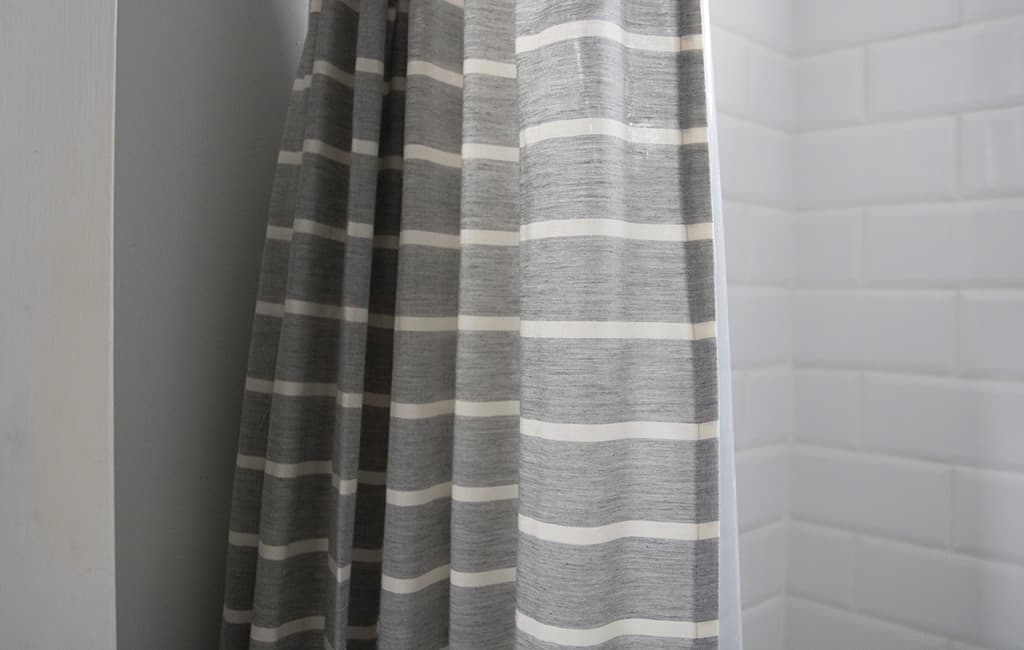 I found these vintage decor pieces form other rooms in the house. I like bringing in a little bit of character to a room—something no one else has.
And finally, here is a view from the hallway. We probably should have gone with a darker grout. Our chocolate lab really loves digging in the dirt, then laying on this floor. Delightful.
Please tell me how you clean your white grout, please! 🙂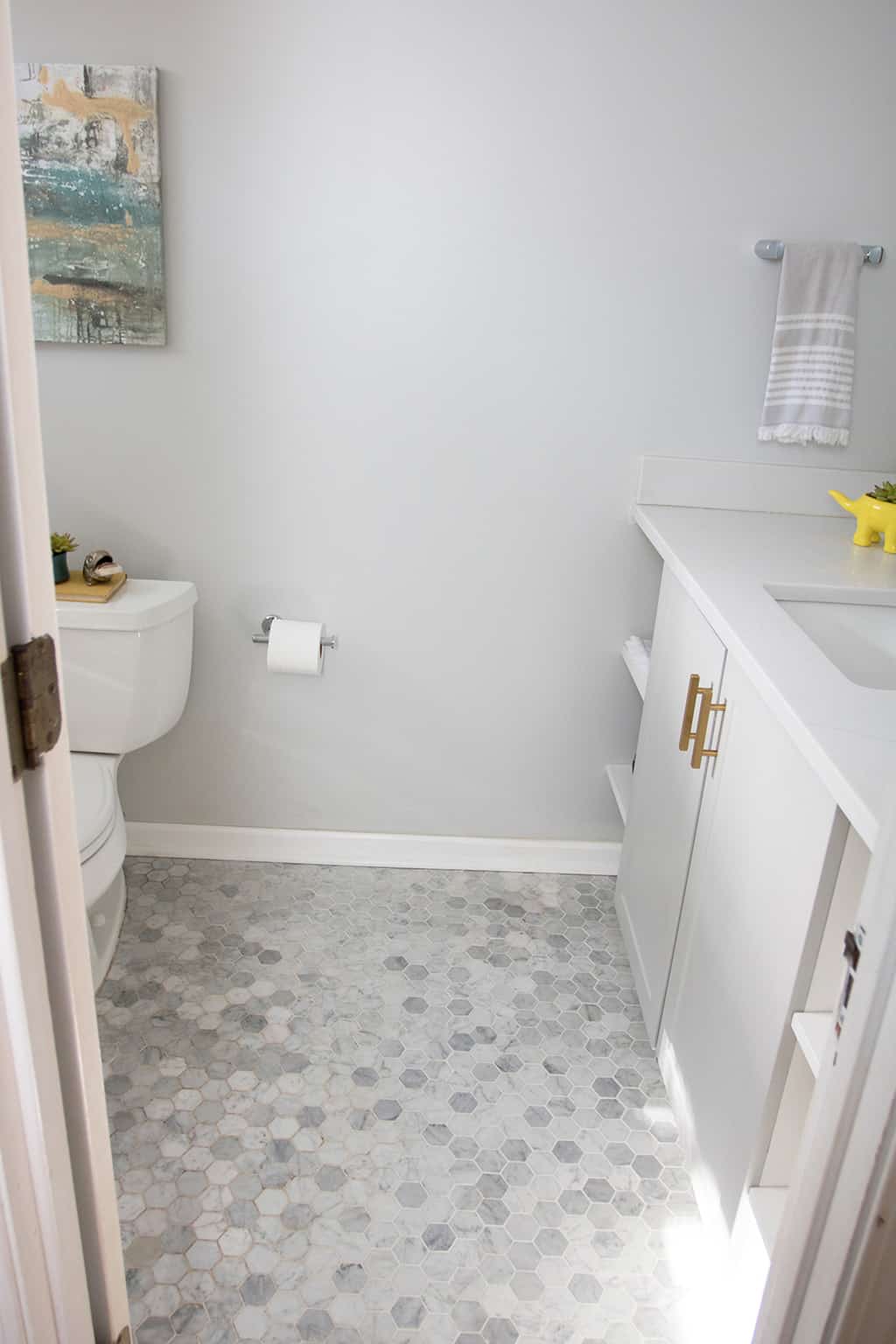 We absolutely love this bathroom turned out.
Staged photo for photos: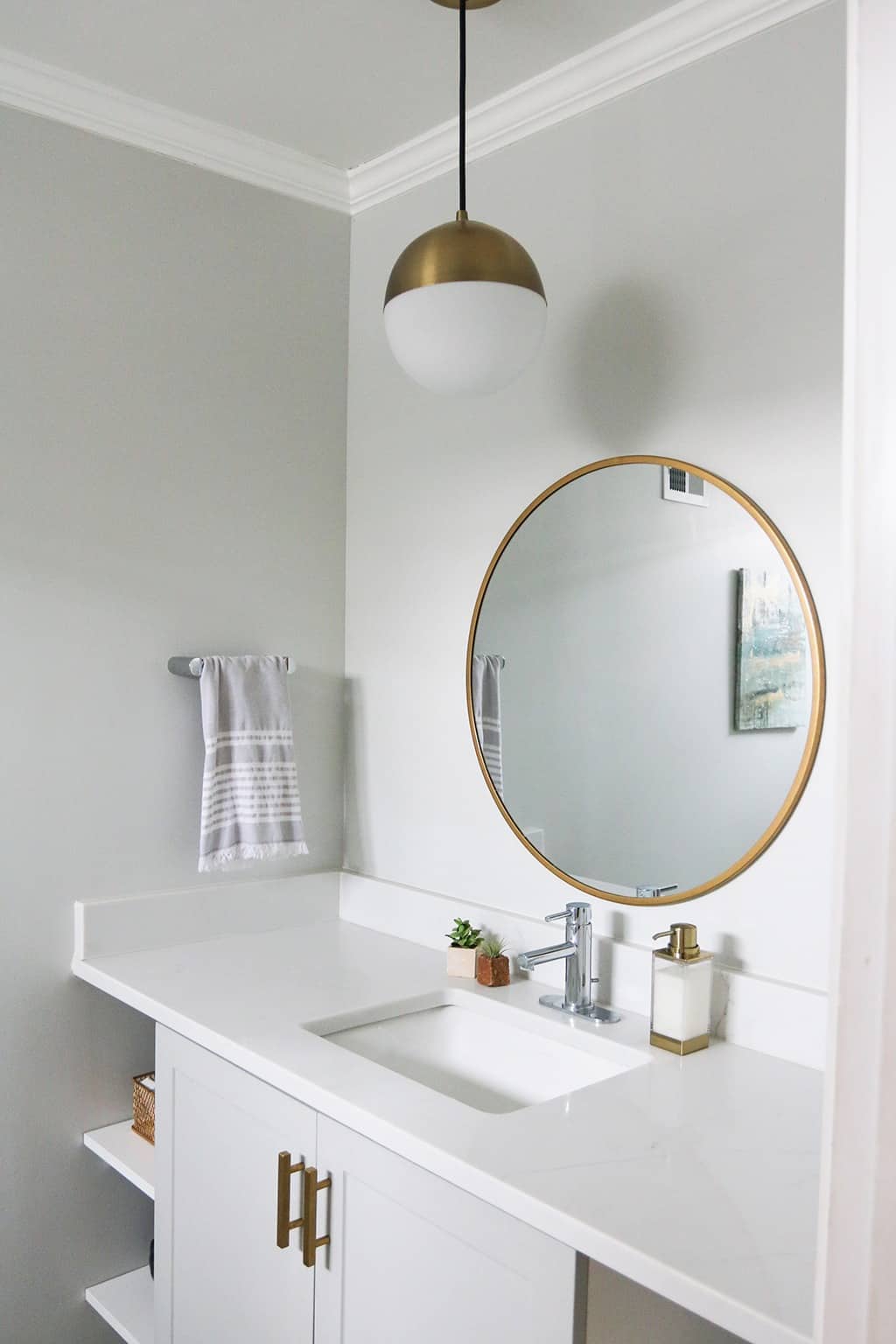 And reality after adding Viv's kid stuff back in. 🙂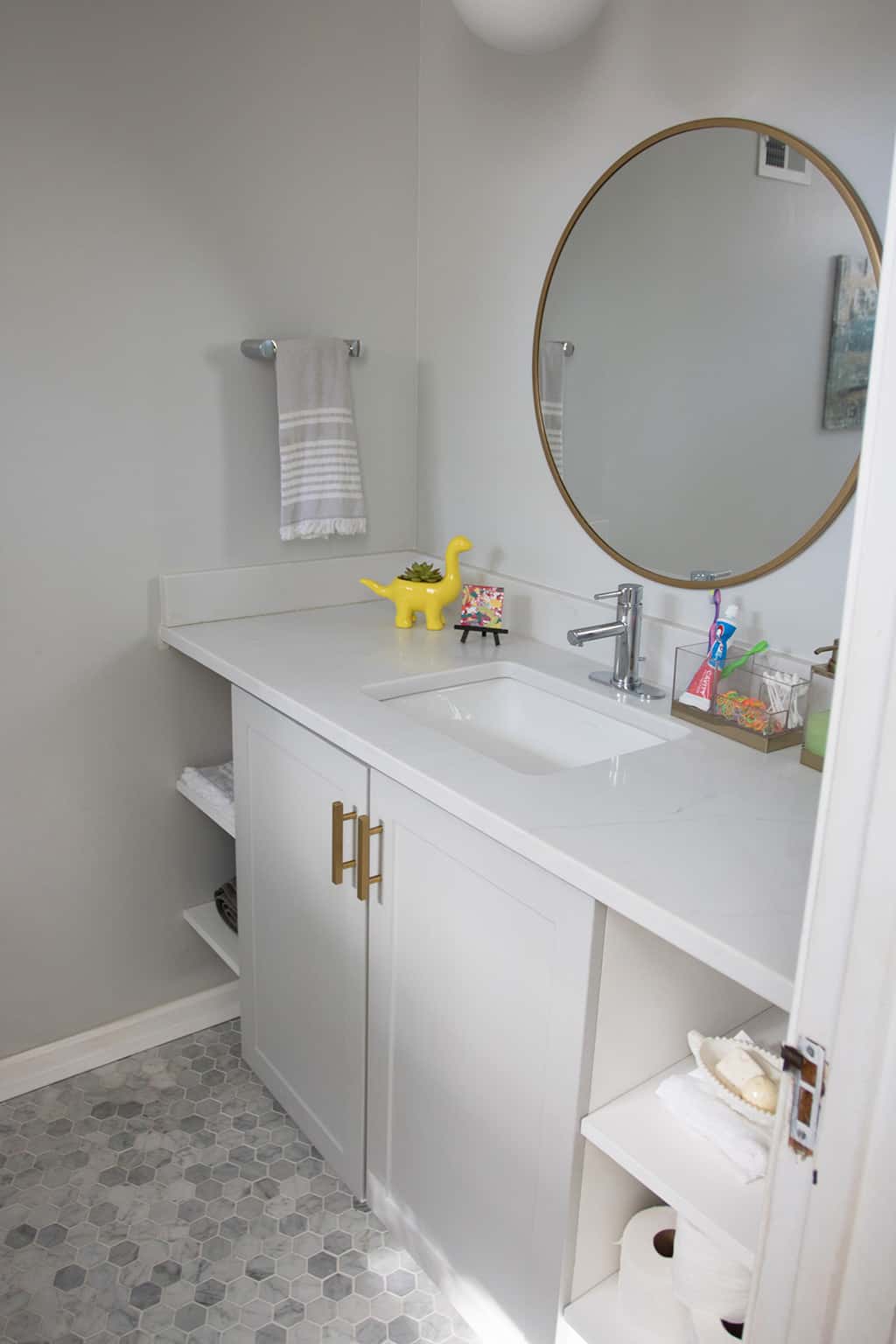 What do you think of our guest bathroom remodel? It's a pretty decent improvement in my opinion. We absolutely love this updated space.
I'd love to see your bathroom before and afters if you have any to share.
A big thank you to Kitchens and Baths by Briggs, Cabinets Quick, KOHLER, Moen, WORX tools, and Kings Construction for being so wonderful to work with. Without these amazing companies this remodel would not have been possible.
xoxo
Audrey
Pin for later