Our DIY kitchen remodel
In March of 2016 Ted and I set out on a mostly DIY kitchen remodel journey that would take more than two exhausting years to complete.
We bought our Leawood, Kansas fixer upper in August of 2015 for a steal, and wow, did (does) it need a TON of work.
We decided that we were up to the challenge, and slowly started to make the home our own. The biggest eye sore was the kitchen.
It was super old, dingy, and dated and very closed off to one corner of the house. The layout was less than ideal, and we really hated being in the space.
I'm going to take you through the process we experienced with lots of photos. Feel free to quickly scroll to the end if you get impatient, ha!
---
Here are some low resolution real estate photos, which make the space look better than it really is, ha. It almost feels charming. Nope.
We were really missing our previous house's kitchen. That Better Homes and Garden's featured kitchen "remodel" was a walk in the park compared to this beast, and only cost us $500.
We lived with the kitchen as is for 7 months before we decided to get going on our DIY kitchen remodel.
---
We had the remodel priced out through two well-known companies and the bids came in at around $50,000 – 60,000. Nope. Just. NOPE. We decided to save about $46,000 and do it ourselves. 🙂
---
Here are some photos of it being lived in. Note the gross countertop tile—the grout was painted black to cover the dinginess. The bricks on the wall in the bump out were faux, the cabinets were hanging by a string in most areas, the oven was original to the house, and there were 4 layers of different flooring. A real beaut!
We did find a Thermador dishwasher on clearance and added that to the ugly mix. The fridge came with us from our previous house and did a great job closing off the already closed off room.
(click any photo to enlarge)
On to demo day. Vivienne even got in on the action for a second.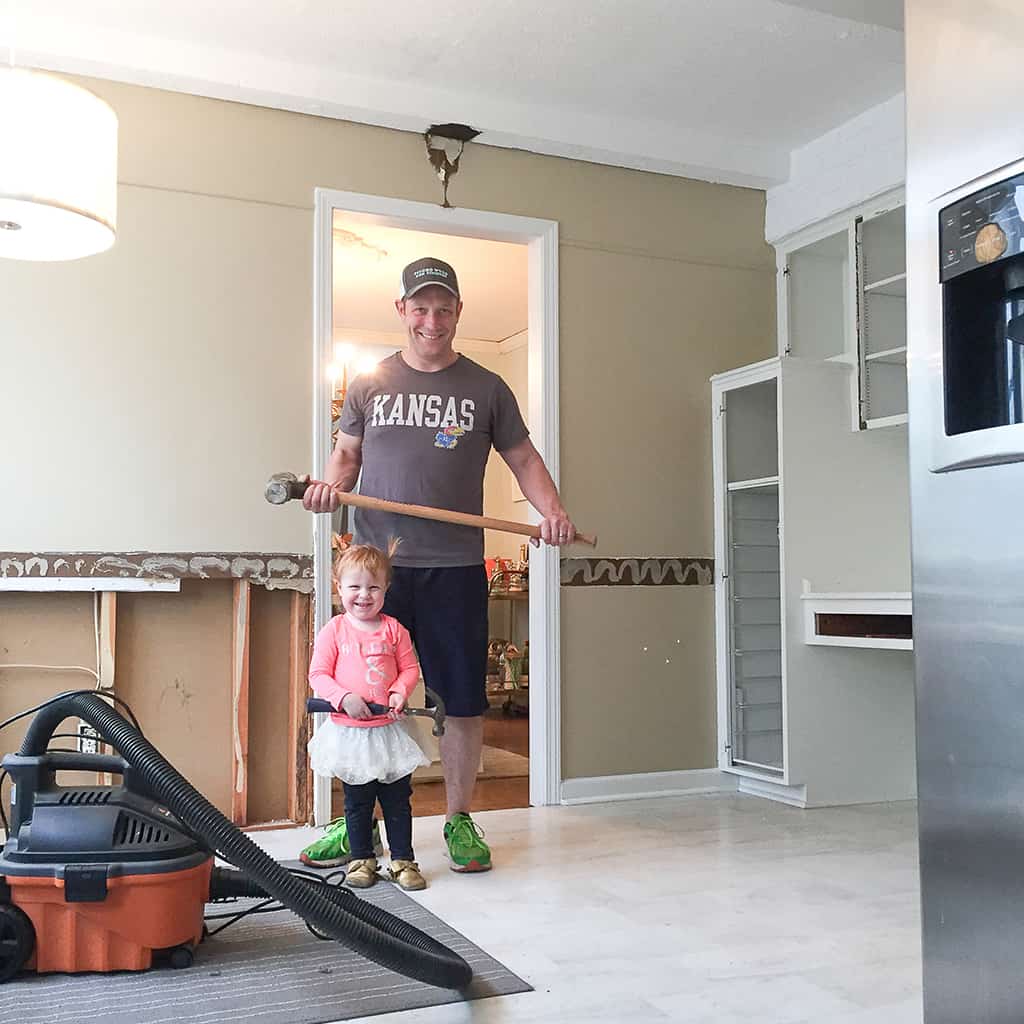 There was layer upon layer of countertops, walls, you name it. Digging out felt never-ending, but we trucked on.
It took us a week or two to do the complete demo, and Ted made many trips to the dump.
We didn't really have everything all planned out and ordered from IKEA yet (oops), so we lived with the gut for a month. That was a dumb idea, but we survived!
We removed one wall completely to open up the space to the future secondary living area.
And in a load bearing wall, we had a contractor friend of Ted come cut us a pass through window to brighten up the area. We didn't trust ourselves with the weight of the pass through project…literally.
Check out that wallpaper. And that electrical (don't worry it was not live, ha). And the ceiling is the cherry on top. Just fabulous.
We used our 1970's wet bar and half bathroom to wash dishes and to get water, and had a microwave in another room to cook our food. So fancy!
Here is our IKEA kitchen layout designer working her magic in our makeshift kitchen. And all of our plates and food scattered all over the place. OMG she had to be judging us soooo badly.
We hit a huge IKEA kitchen sale and also earned a very nice free gift card worth $3,000 due to a promotion, which helped a ton.
After two hours, our IKEA kitchen designer (click for more details on the process) helped us come up with the only option that would work for our weird layout.
We had to forego a pantry, which made me very sad because the pantry at our old house was huge, but we just couldn't make one work with all the windows and the new pass through.
We miss having one, but so far we have had plenty of storage in our regular cabinets.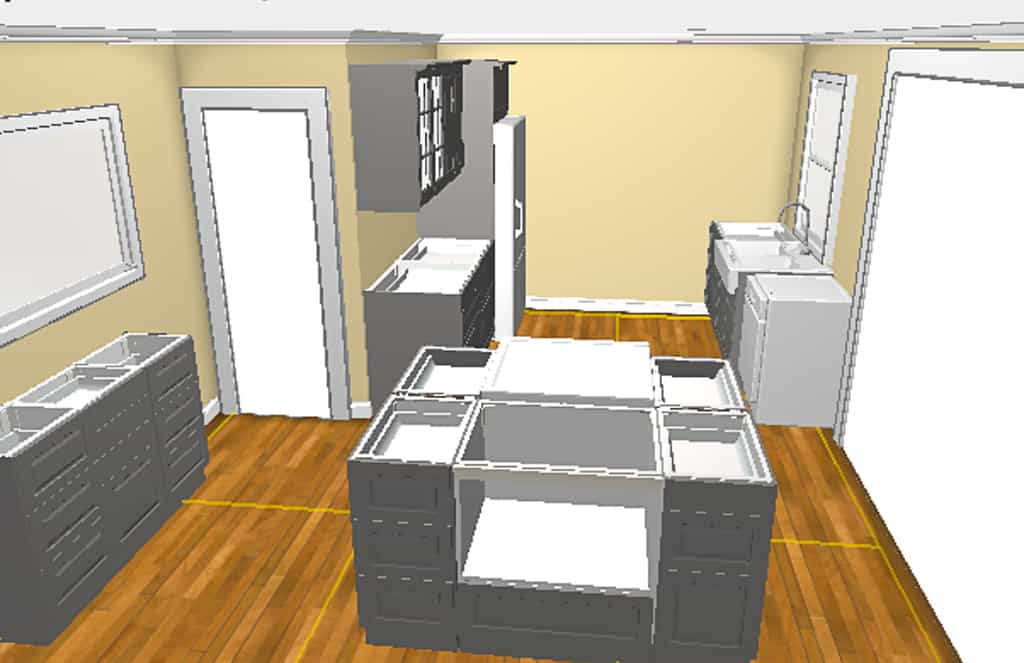 We finally got our cabinet and countertop install day figured out, so we had to finish the gut, put up sheet rock, sand, and mud—which happened the night before the install and made me crazy.
We then had to rip up the remaining layers of flooring into the midnight hour, but it got done.
This is one of my favorite memories right here.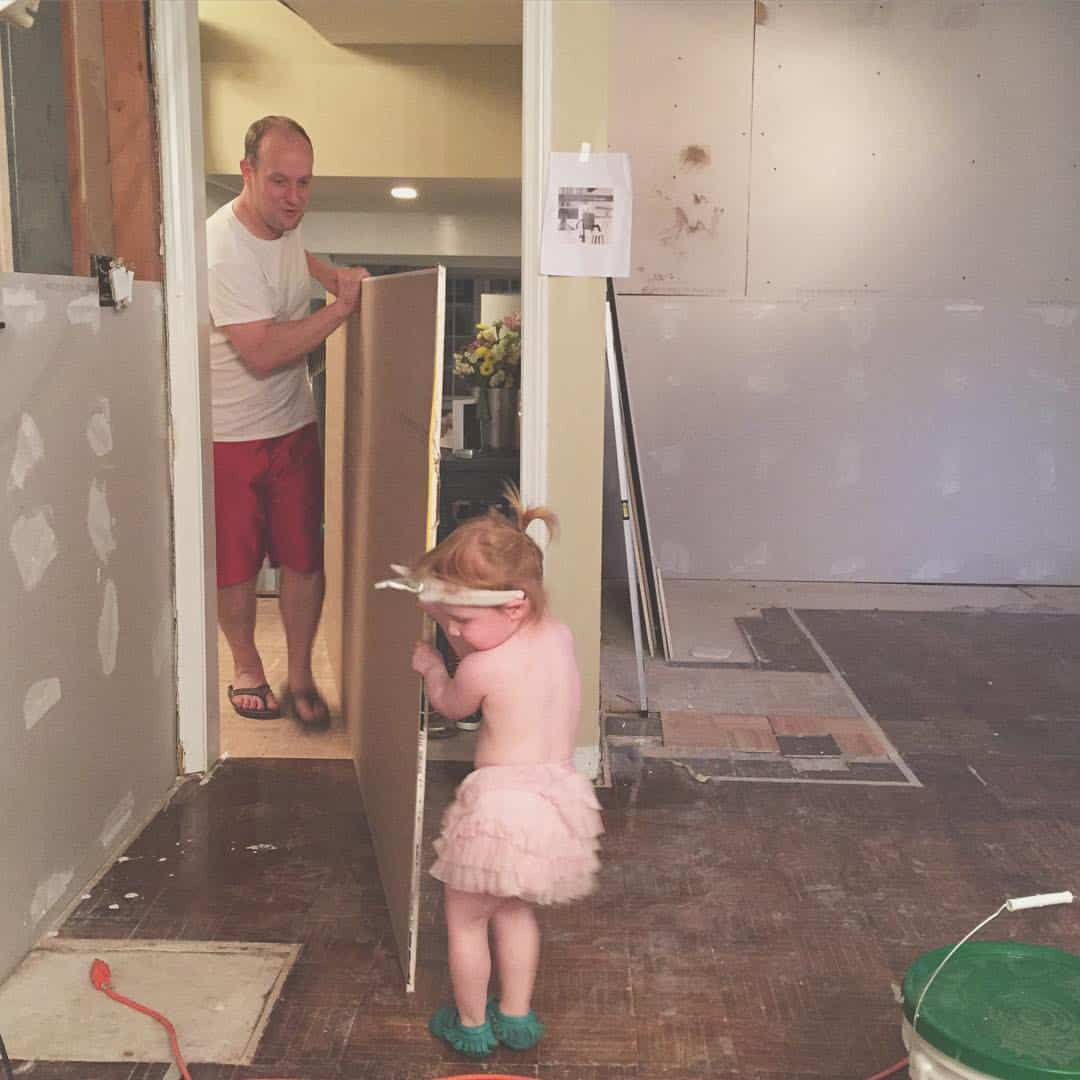 Our IKEA Sektion cabinets and Ceasarstone Frosty Carrina Quartz countertops were professionally installed, and then Ted installed the sink, dishwasher, faucets, plumbing, and eventually the floor to ceiling subway tiles.
We were finally able to somewhat function in the kitchen, but the place still looked like a total squatter dump. Thankfully we all have our tetanus shots.
We lived like this for way too long….seriously a year or more. Yes, a very long year+. It was so stressful, but we wanted to pay for the remodel in cash and had to space it out and continue to do most of the work ourselves in the little spare time we had.
Look at the mismatched and missing ceiling. Yikes!
We decided to finally hire an affordable and hardworking crew to come replace the ceiling.
It was worth it and made the room feel much closer to complete. If you are in Kansas City I highly recommend Luis at King Construction.
Over the next year Ted continued on the ceiling painting, subway tiling, leveled out the flooring (one part sloped due to a shoddy DIY bump out addition), hung trim around all windows, lighting, you name it.
Ted is seriously amazing, and so handy! We are so lucky that he was able to do so much in between working full-time and all the ultra marathon training.
He dreaded all of it, but did it anyway. I helped where I could—painting, demo, etc, but he carried most of the burden.
More time passed, and we finally finished the ceiling crown moulding and all the other finishing touches.
Oh, and we also had a complete home wood flooring replacement, which added to the chaos, but looks great now.
And finally.…now for the final DIY kitchen remodel reveal!
---
Here is the view from my home office/the small living area. Much more open!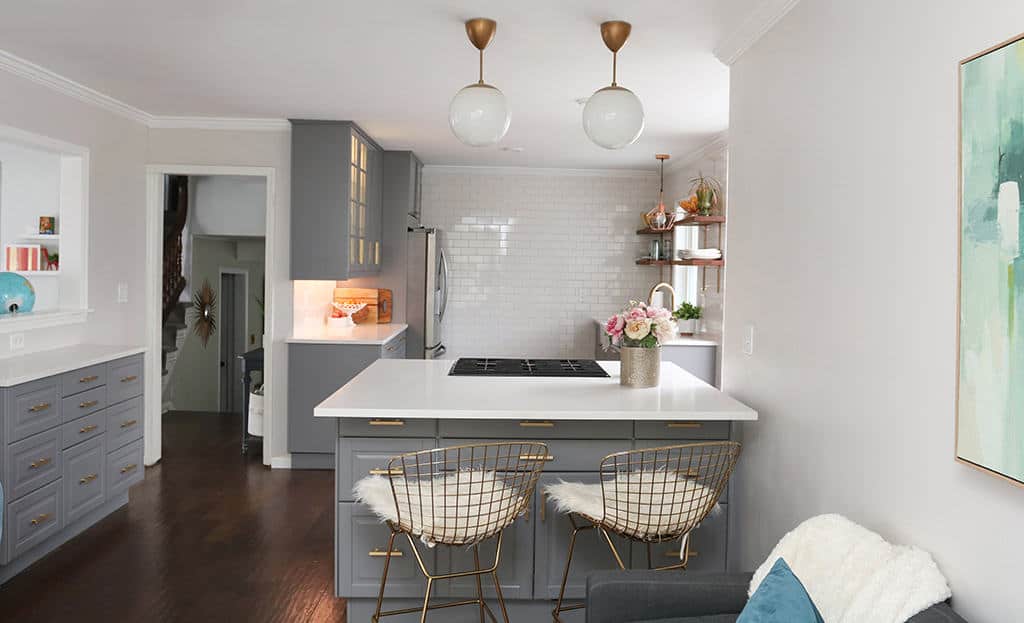 I LOVE the gold wire counter stools
. Those were a bit of a splurge, but add a modern touch to the space.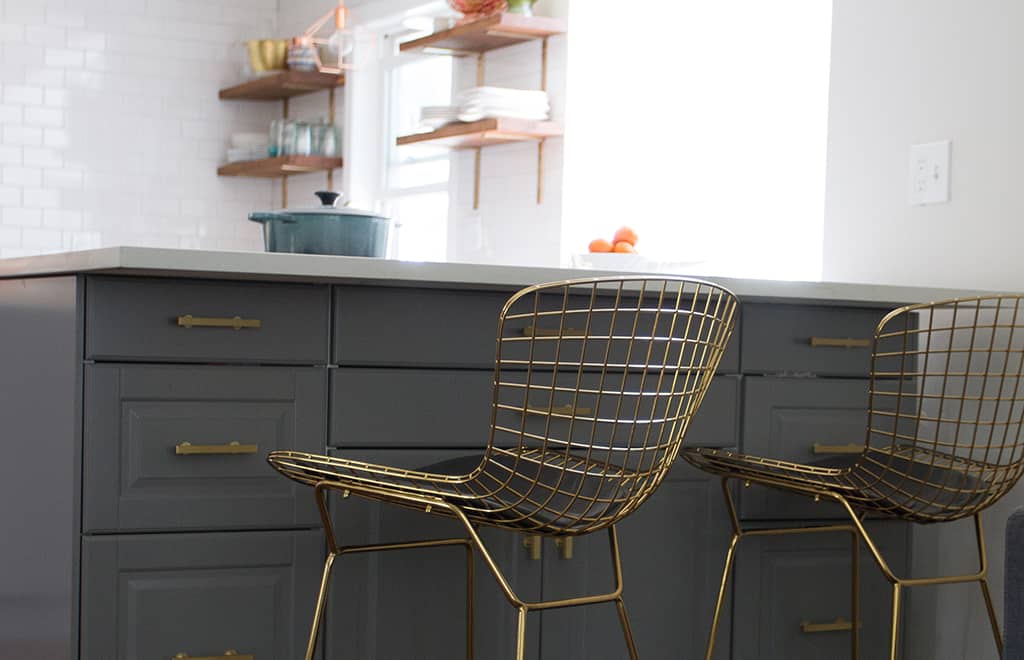 I wanted some higher end modern globe pendants, but had to stretch the small budget, so we decided to buy two pendants from IKEA and I sprayed them with brass spray paint.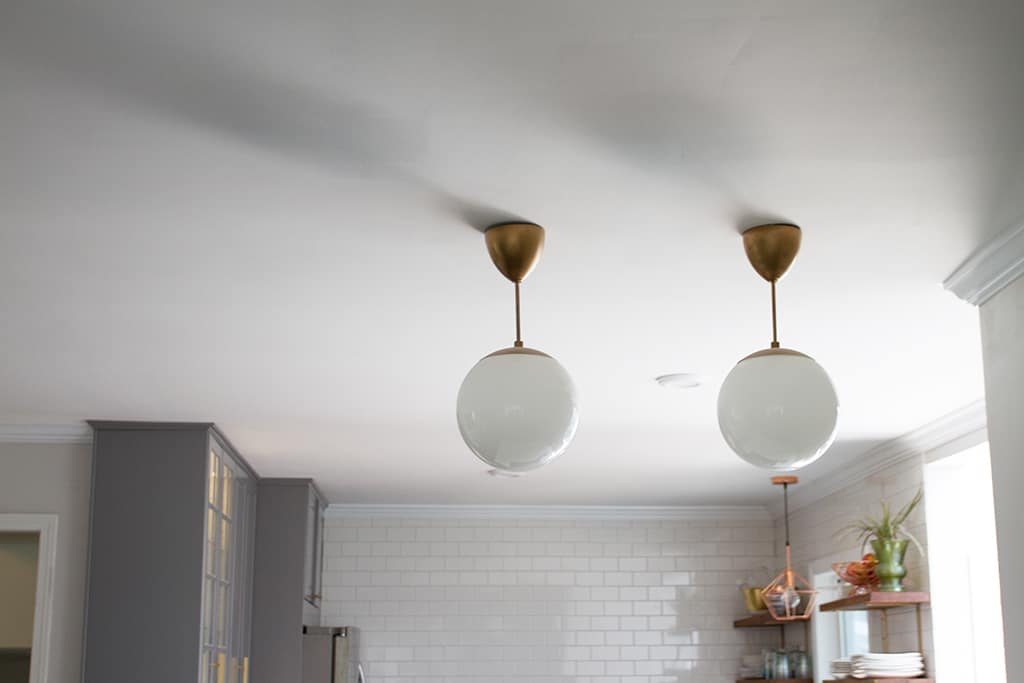 The view from the dining room doorway toward our DIY open shelving and island. The kitchen feels so much larger than it used to. Knocking down the wall made a huge difference.
And I love the way the subway tile sparkles. One of my very favorite details!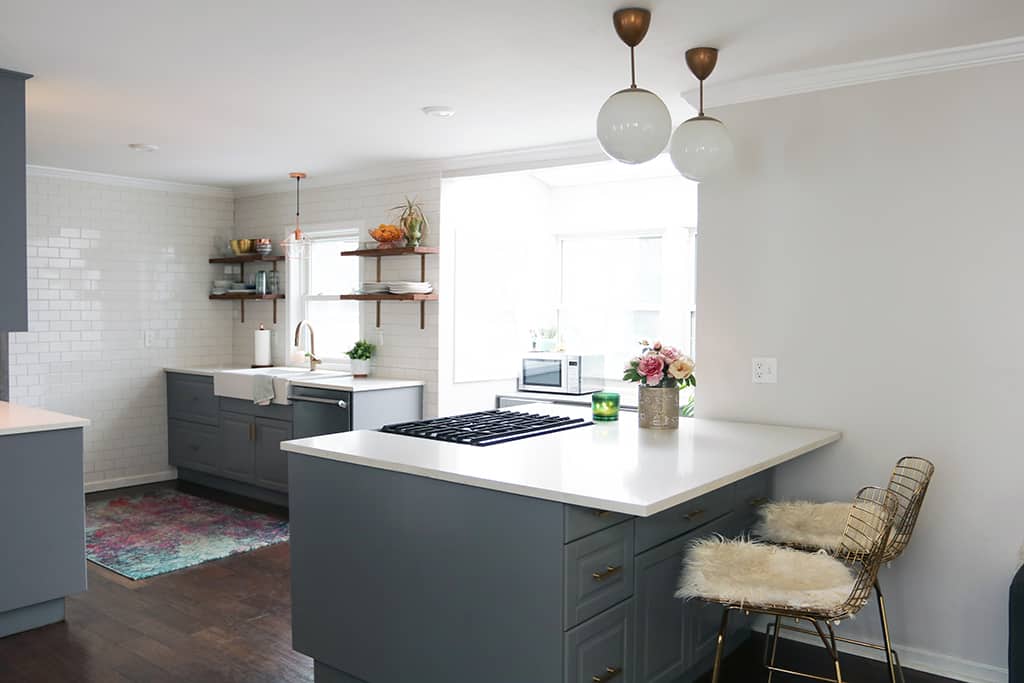 A better view of the colorful rug. I adore the pop of color it provides, and own three more for the adjoining rooms.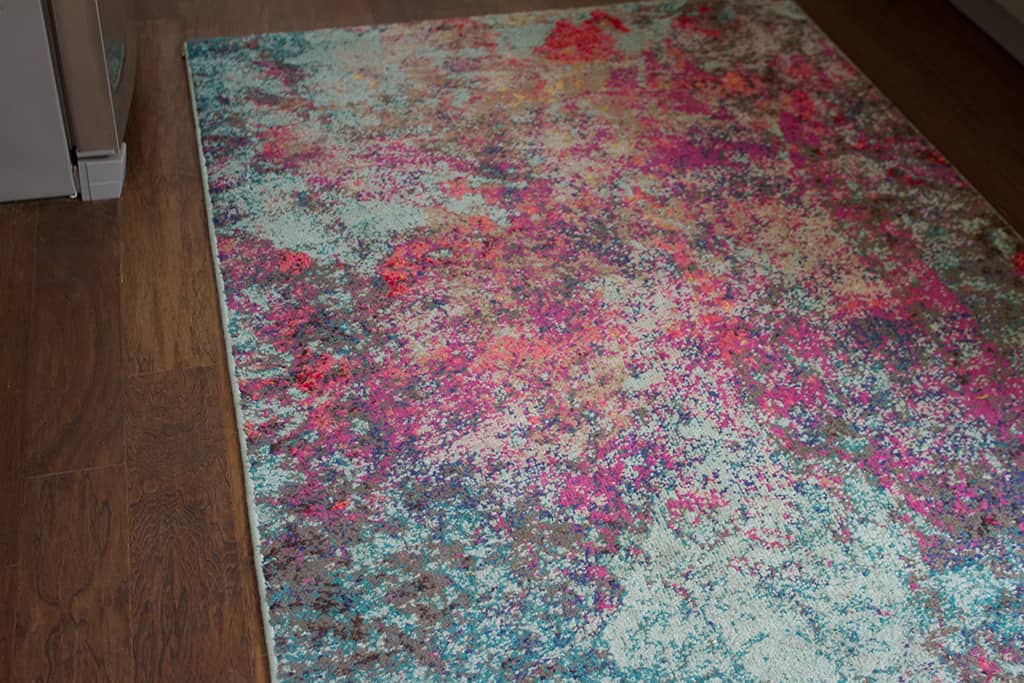 I decided to mix up the pendant light over the sink.
This copper geometric pendant
ties in perfectly with the one hanging above our dining room table, which makes it work in this space.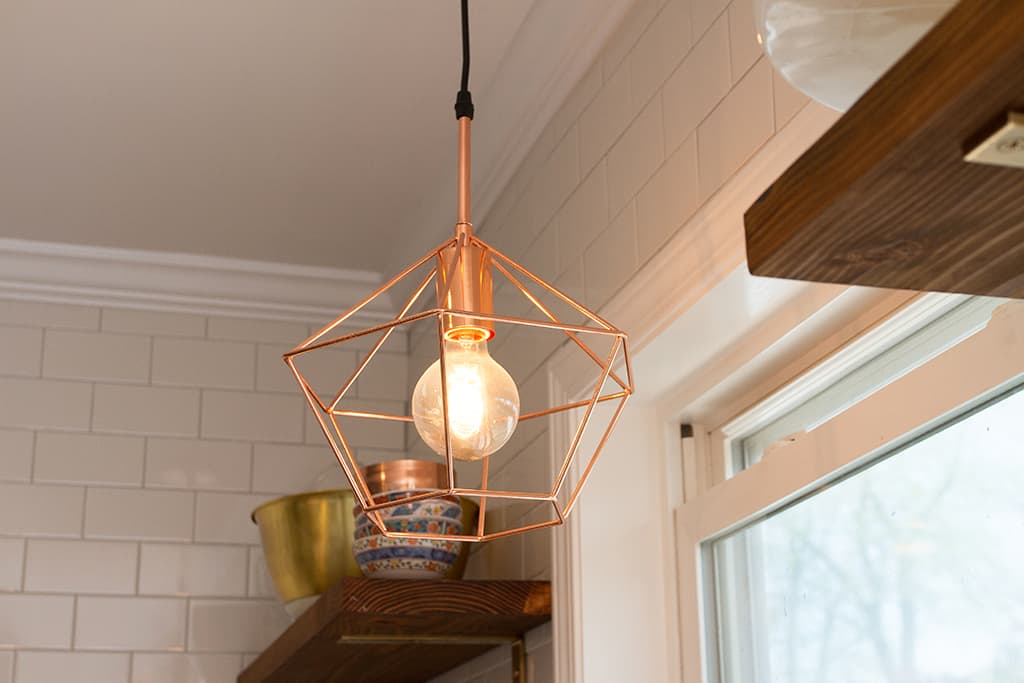 Here's the view of our dining room and the coordinating copper pendant
.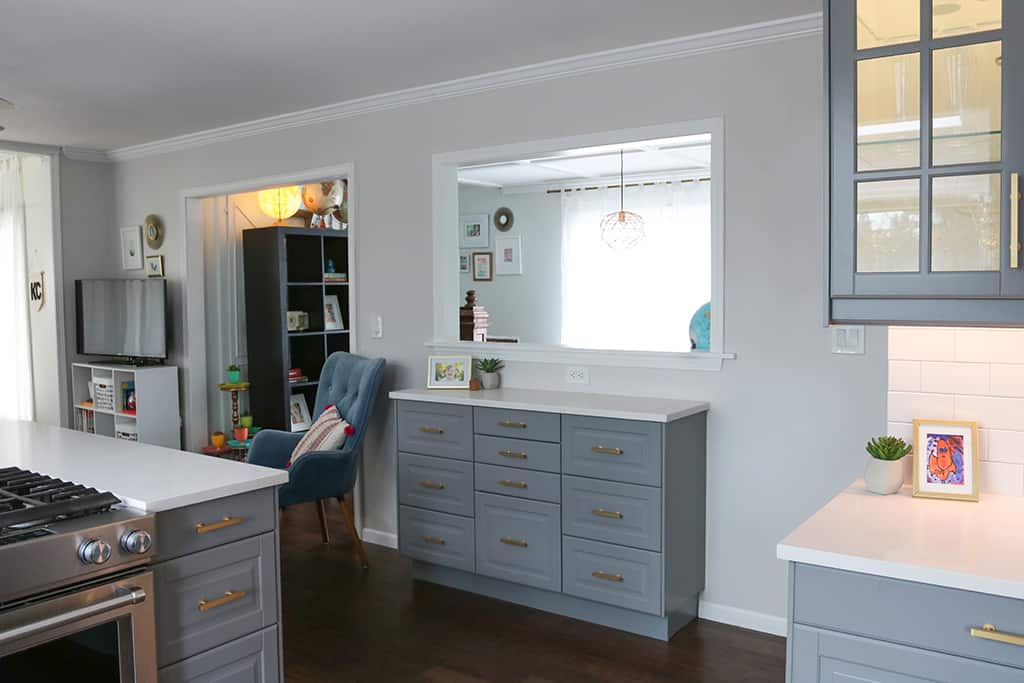 I adore the solid brass cabinet pulls
, which were also a splurge, but so worth it.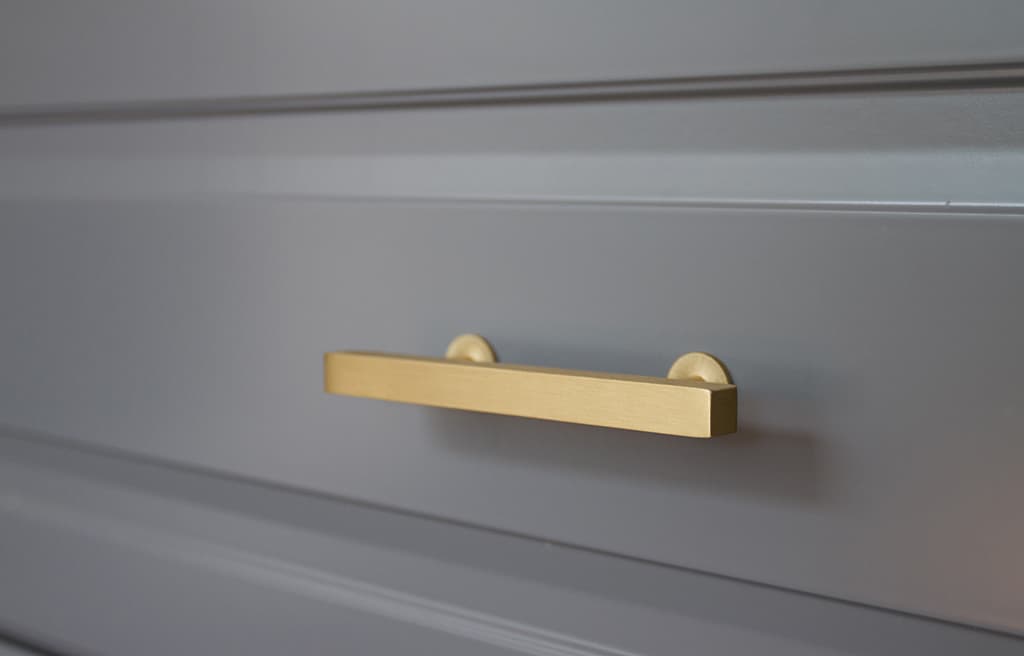 We also spent a little extra on our upper cabinets since we only had to buy two sets of of them.
I love the height and added storage. I also love that we did one glass display cabinet. It brightens up that side of the room and adds some more sparkle.
We had to replace our old fridge after it died on us last summer.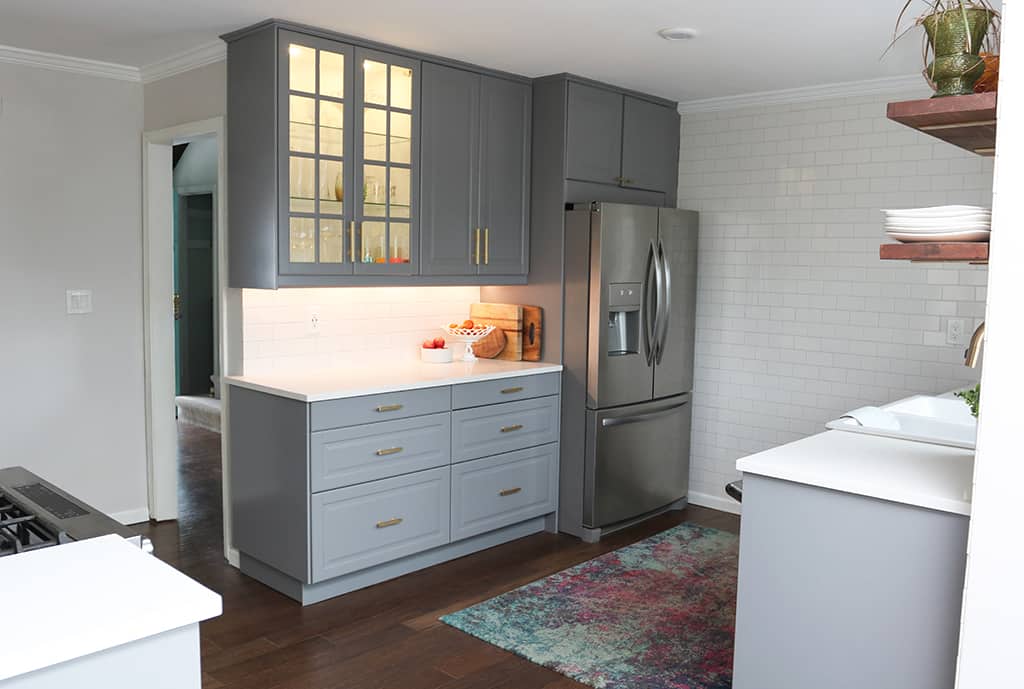 Now the view toward the bump out, which we are using for our microwave and hidden trash and recycling storage. I love having the pull out trash cabinets!
The door to the right goes to a screened in porch, which would actually make a killer pantry, but maybe down the road. I'll share a photo of it at the end of this post.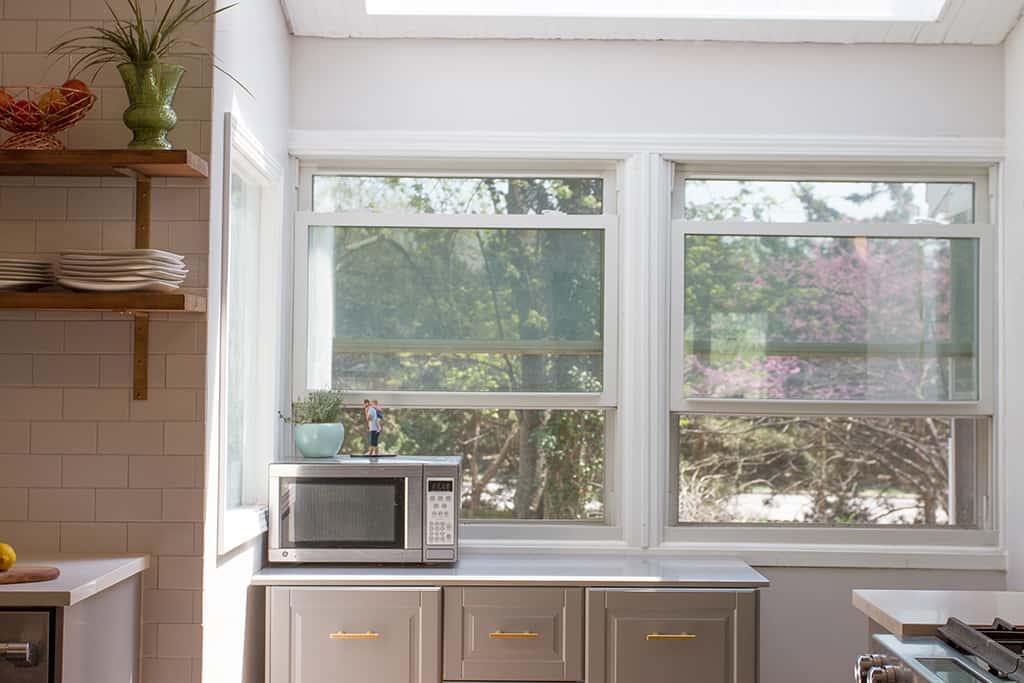 Now we face the island and the smaller secondary living room and home office. I like having the kitchen open to a living area so we can hang out with Ted while he cooks for us (yes, I'm double lucky).
We love our island and gas range. It was the very first purchase we made for the kitchen.
We opted to skip the vent fan and haven't needed one, thankfully.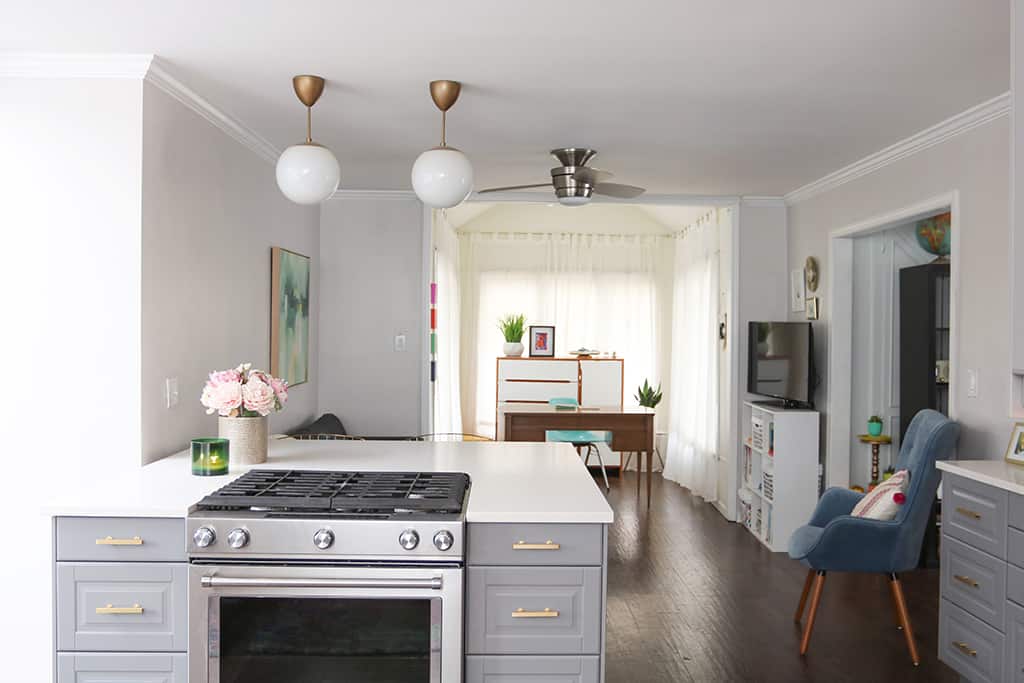 I cannot remember the paint color I used…sorry! It's obviously just a light grey/white shade, which helps brighten the room.
The mid-century modern desk is my favorite trash neighborhood pile find of all time.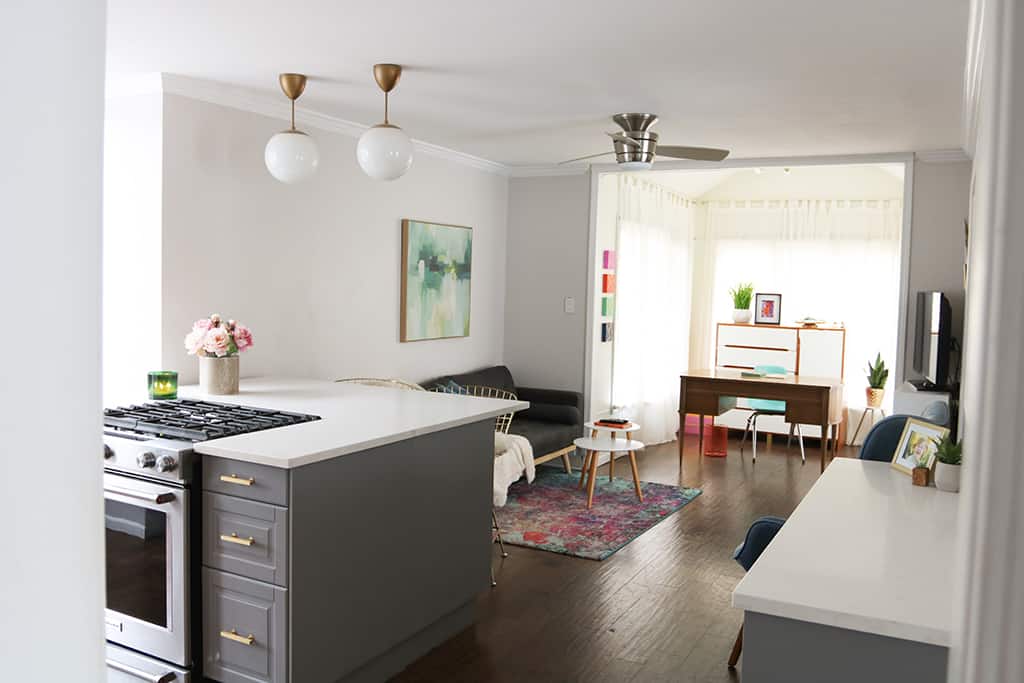 Now we make our way back to the open shelving area. My favorite section—our DIY open shelving.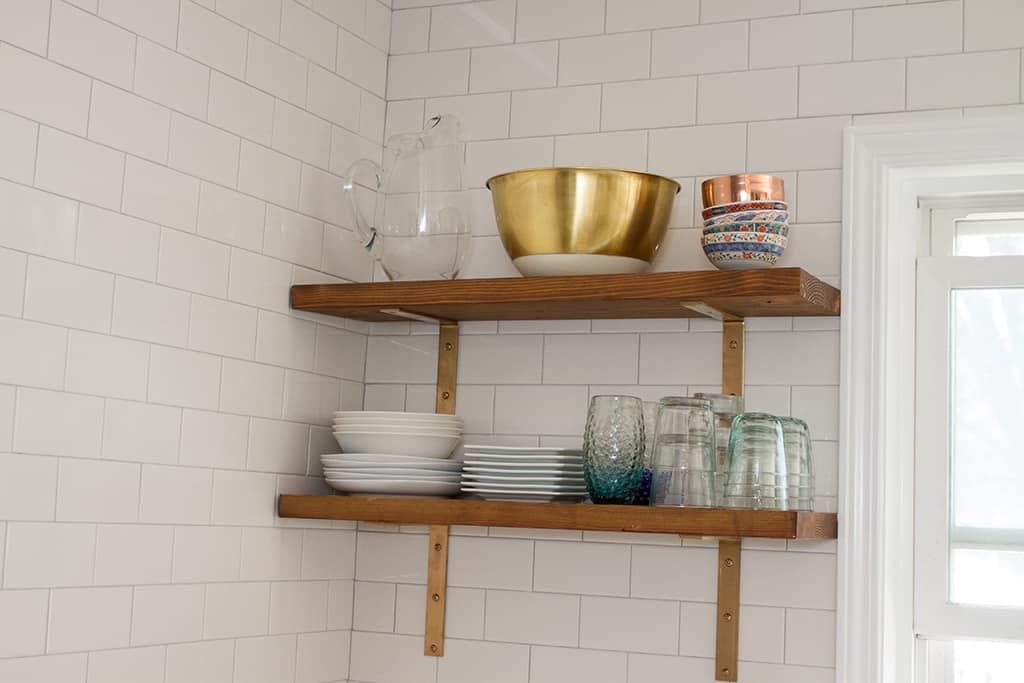 The shelves are holding up beautifully, and I love that they add some warmth and character to the room.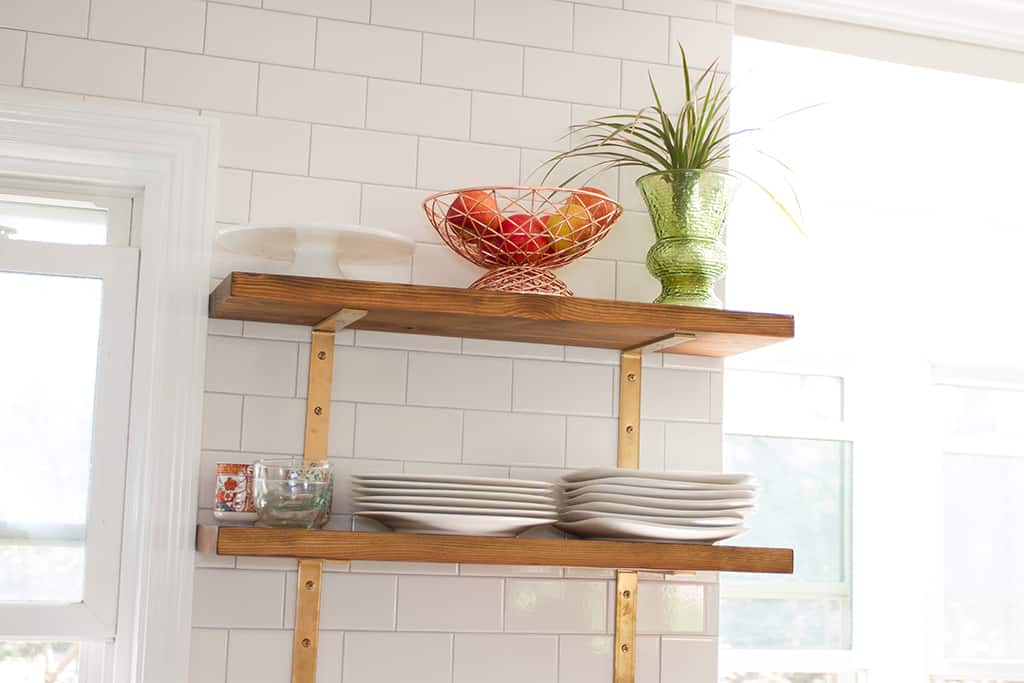 The Delta brass faucet
ties into the room well and was actually pretty affordable. We also got the coordinating stopper
and strainer
.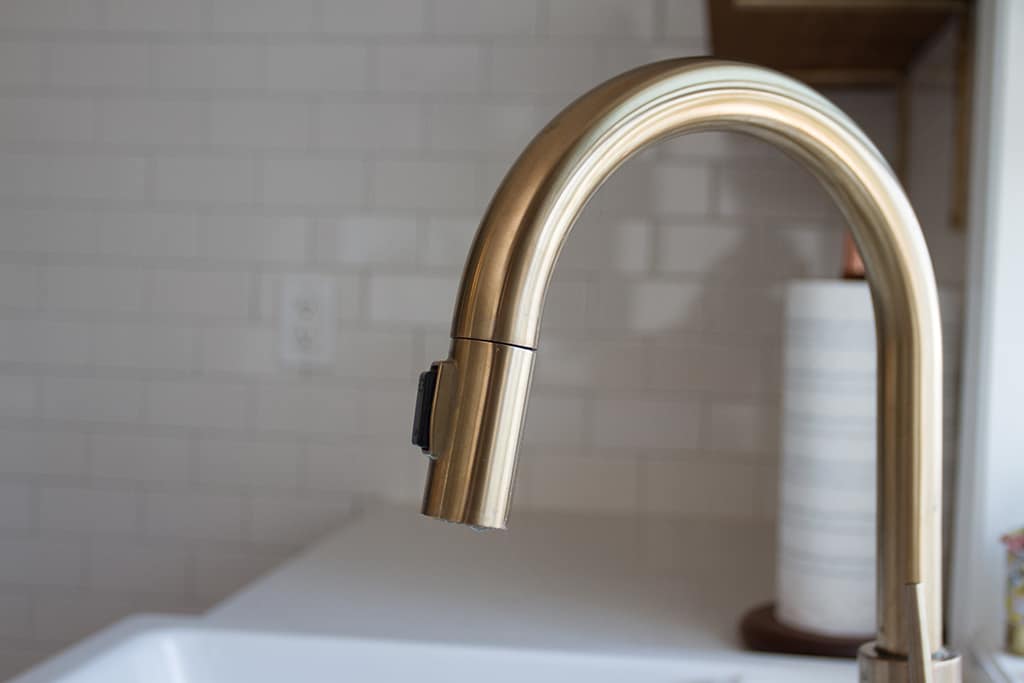 And here's a look in the adjoining screen porch that I updated last spring. A blog post will be coming on that project soon.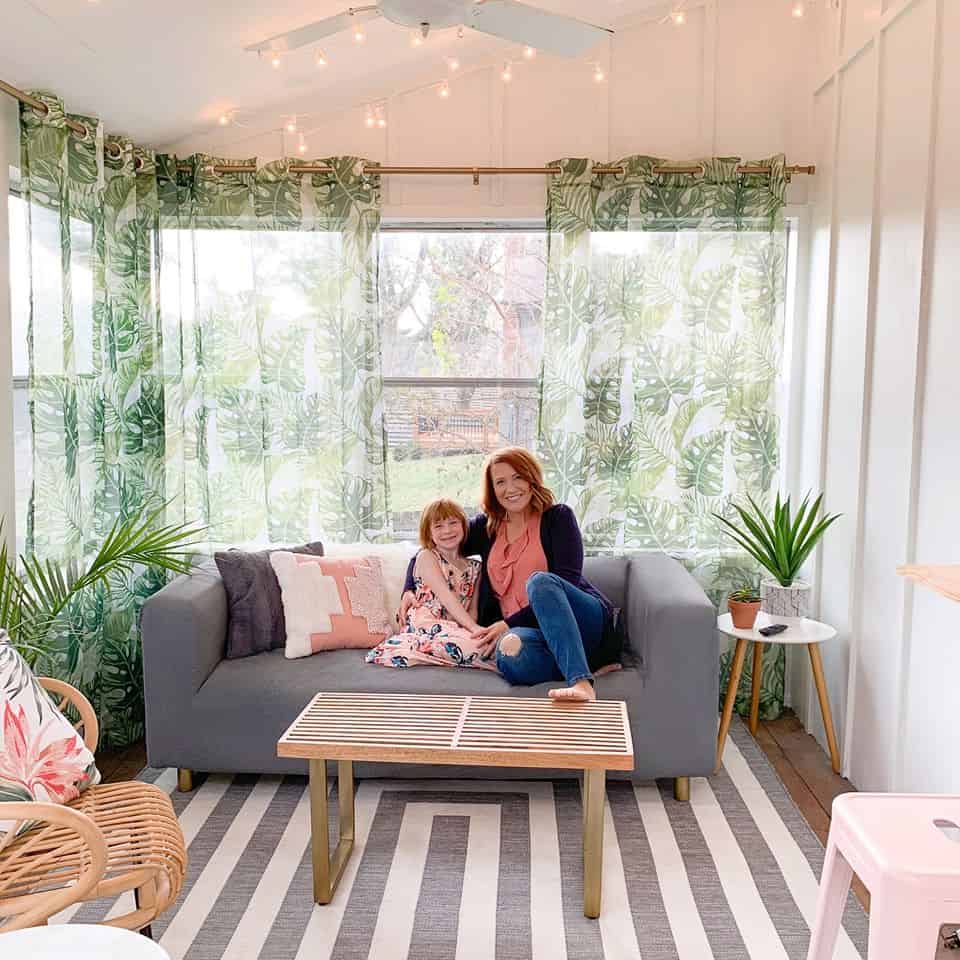 That completes the DIY kitchen remodel tour I've been waiting to take you on for more than 2 years!
All in we spent about $14,000 on our DIY kitchen remodel.
MUCH better than the quoted $50-60,000— and we have lots of blood, sweat, and tears to look back on and laugh.
Ted jokes that he is surprised we are still married after all of that craziness. I should also mention that during this DIY kitchen remodel we did about 10 other house projects.
Two of them being a complete master bathroom and guest bathroom gut and remodel.
Anyone else ever done (or doing) a do it yourself kitchen remodel? I'd love to see your photos and hope yours took much less time than ours, ha!
Please tag me in your photos via Insta, Twitter, or Facebook photos. And I'm always so very grateful when you Pin my work as well.
xoxo
Audrey
PPS. Budget Dumpster shares some good tips on how to remodel a kitchen on a small budget if you want to check that out! The article also features a tip from me from our previous kitchen update.
PPPS. This post mostly contains Amazon affiliate links, which I get a small kick back on when a purchase is made. As always, all opinions are 100% accurate and my own.
---
Pin it!

You might also like!