This Father's Day I busted out my Cricut Joy and accessories and made my dad some personalized gifts! Follow along as I show you how to make some cool infusible ink coasters, a shirt, and a coffee mug.
Cricut can help you make personalized gifts that are thoughtful and meaningful. And their machines, and Smart Materials are so easy to use – win-win!
DIY personalized Father's Day coasters
Gather your supplies!
– Cricut ceramic coaster blanks
– Infusible Ink in your favorite colors and patterns
– Cricut Joy (or any Cricut cutting machine)
– Cricut EasyPress 2
– EasyPress mat
– Design Space
– Cricut Access
– Infusible ink pens and markers
– Heat resistant tape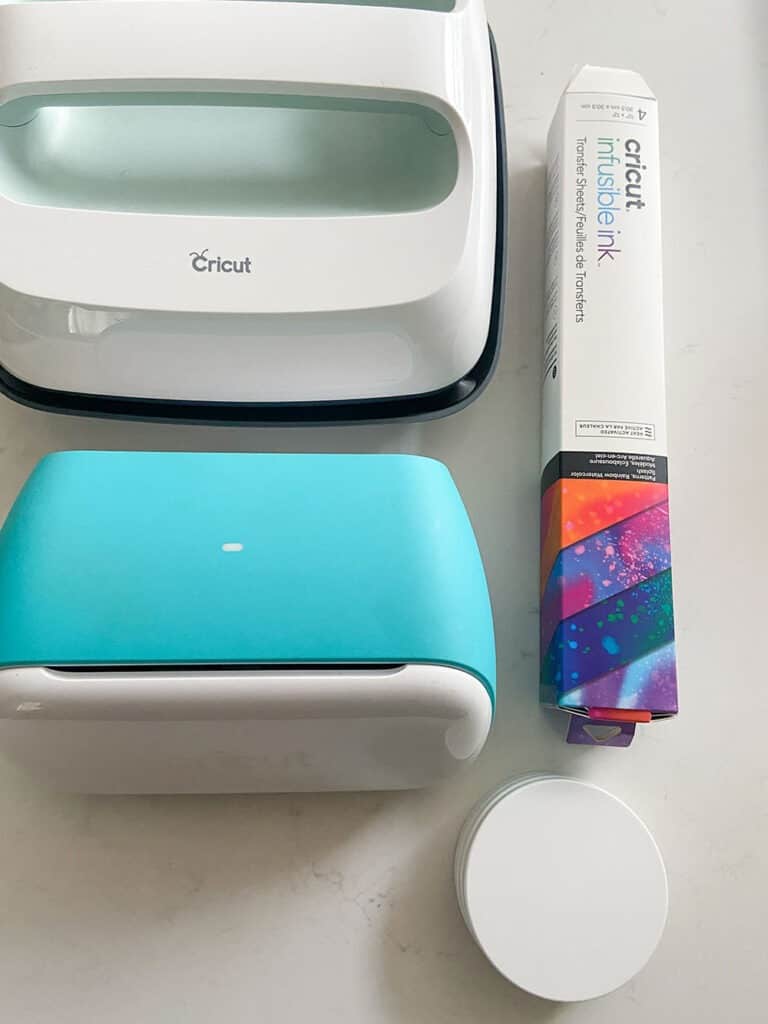 I have had these coaster blanks for a year and have been so excited to finally use them. I figured Father's Day was the best time to try them.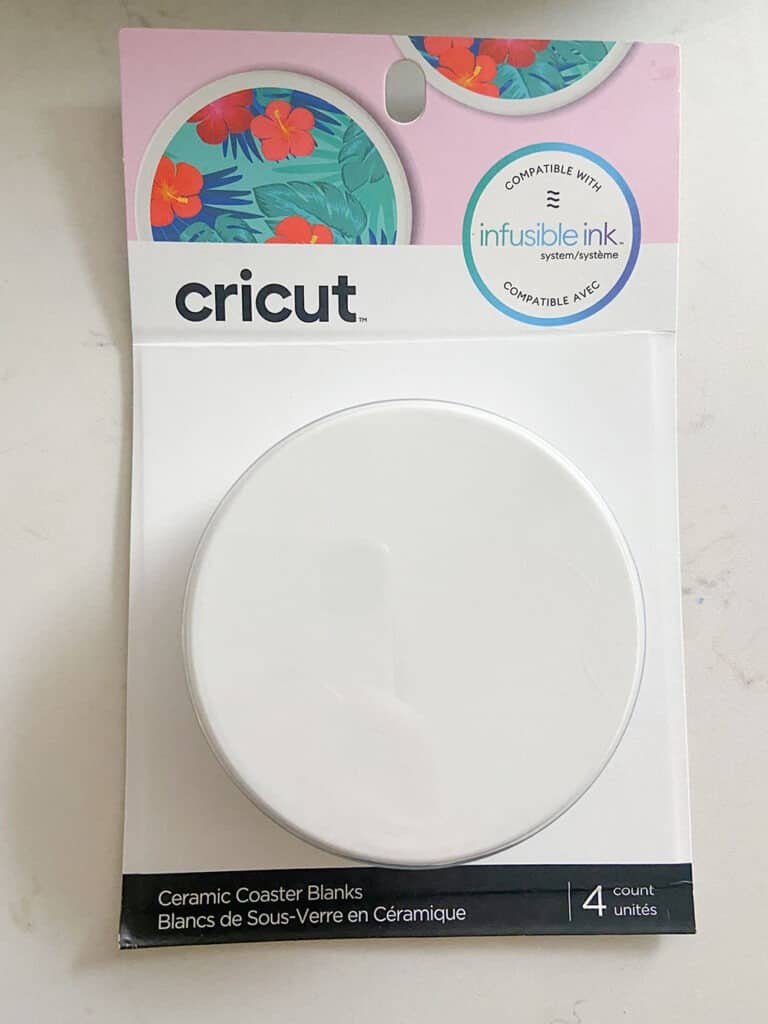 Off to my Cricut Joy and Design Space I went! My dad loves the color orange, so I decided to make him a coaster from an infusible ink sheet I had on hand.
After typing his nickname and sizing it on a circle the size of the coaster, I welded them together, mirrored my image, and got to cutting.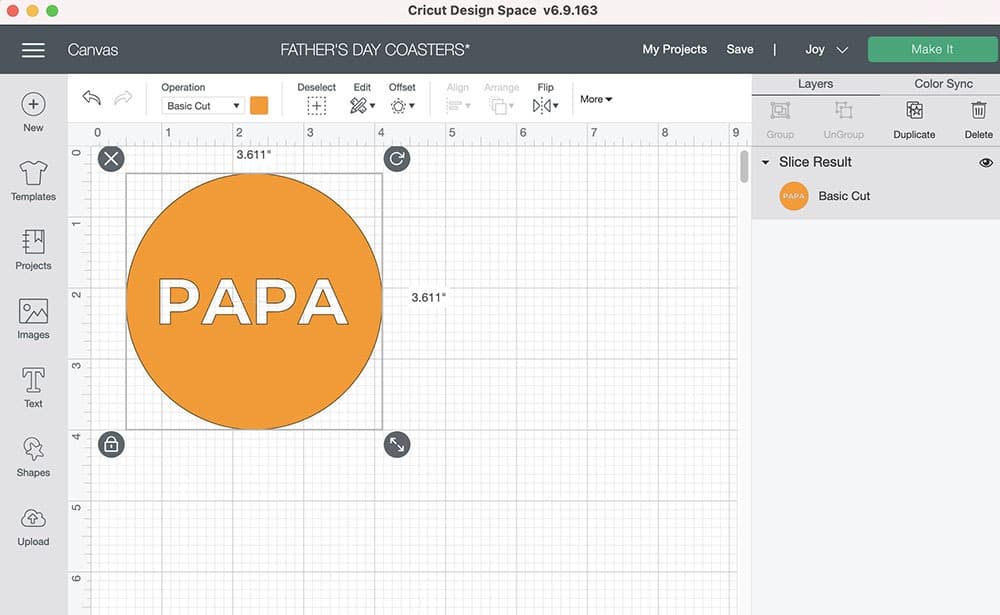 This step only took a minute or so – such a simple design!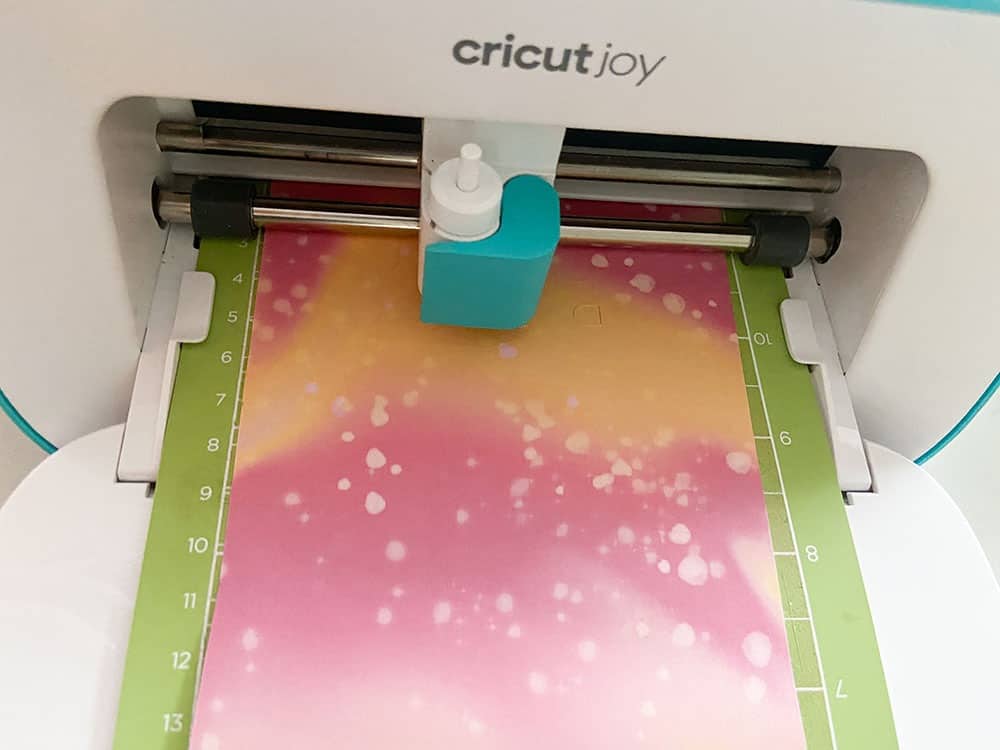 I used my weeding tool to weed away the excess and my design was ready to be infused onto the coaster.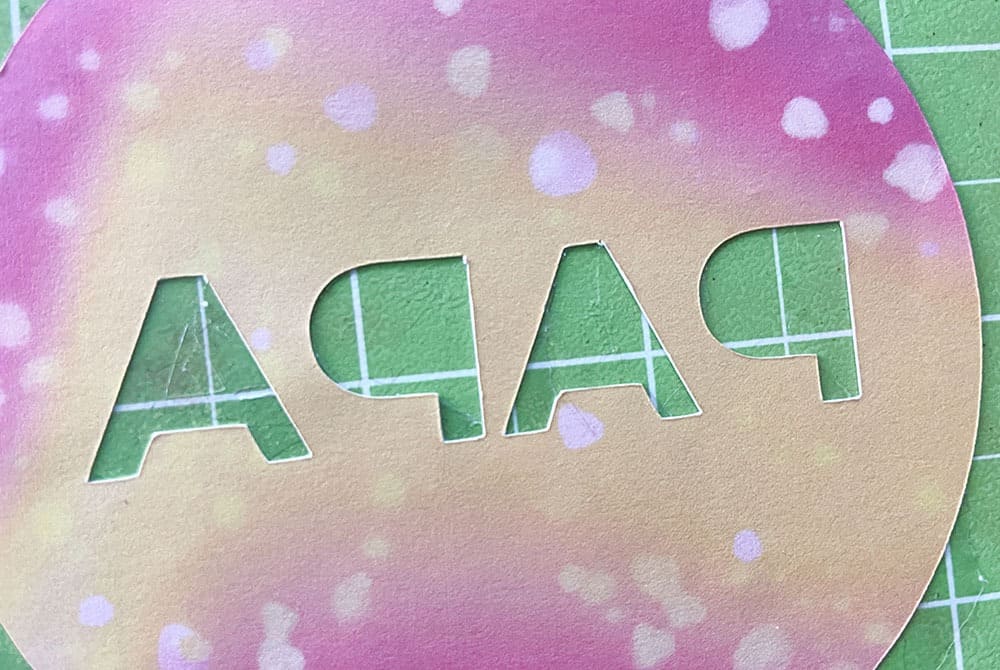 The infusible inks come with some butcher paper, which I placed over the mat to protect it.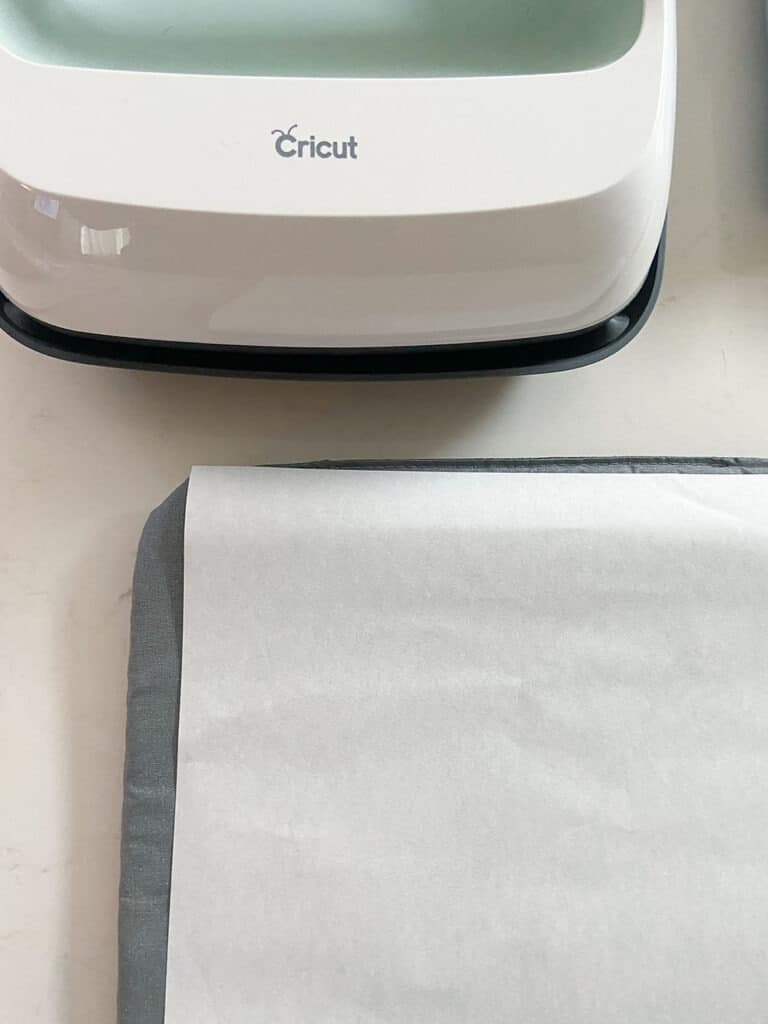 Then I taped the infusible ink to the coaster shiny side up, which is the side that will show. The matte side will be facing down on your surface once the coaster is completed and in use.
I flipped the coaster matte side up again. NOTE, the press should go on the matte side during the infusion process, never the shiny side!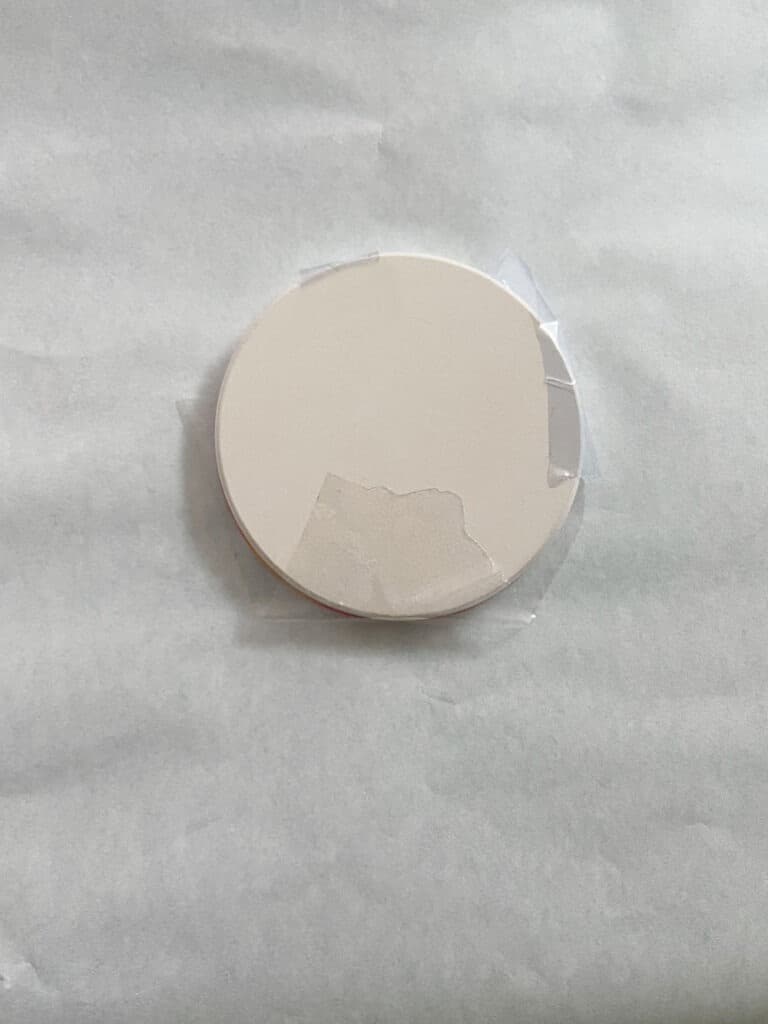 I followed the information provided on the Cricut heat guide and figured out that I'd need to set the EasyPress to 400 degrees and 240 seconds. After a few minutes the press was heated and ready!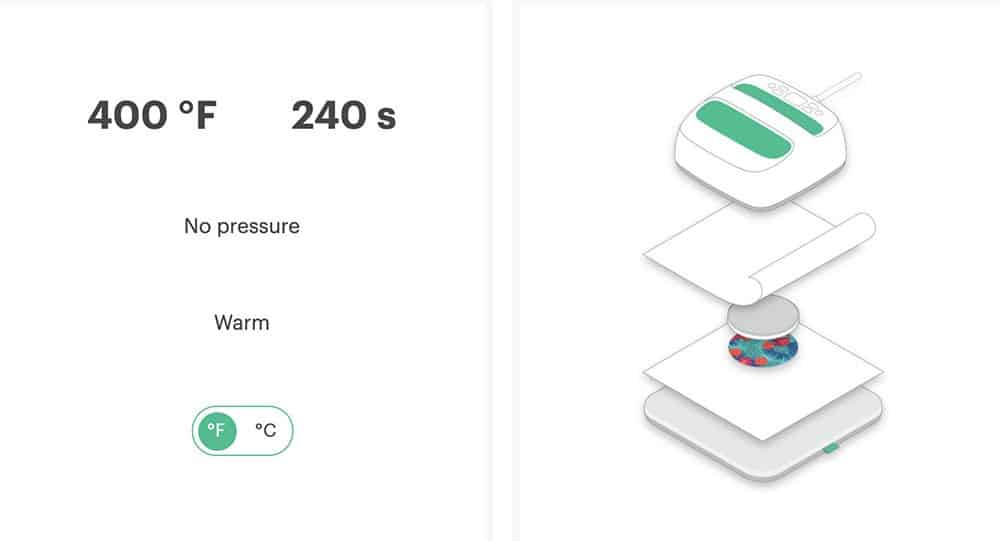 It was time to EasyPress the design onto the mug!
I added a sheet of butcher paper on top of the matte side of the coaster for extra protection, then placed the EasyPress right on top of the butcher paper. The press timer started and after 240 seconds it was ready to start the cooling process.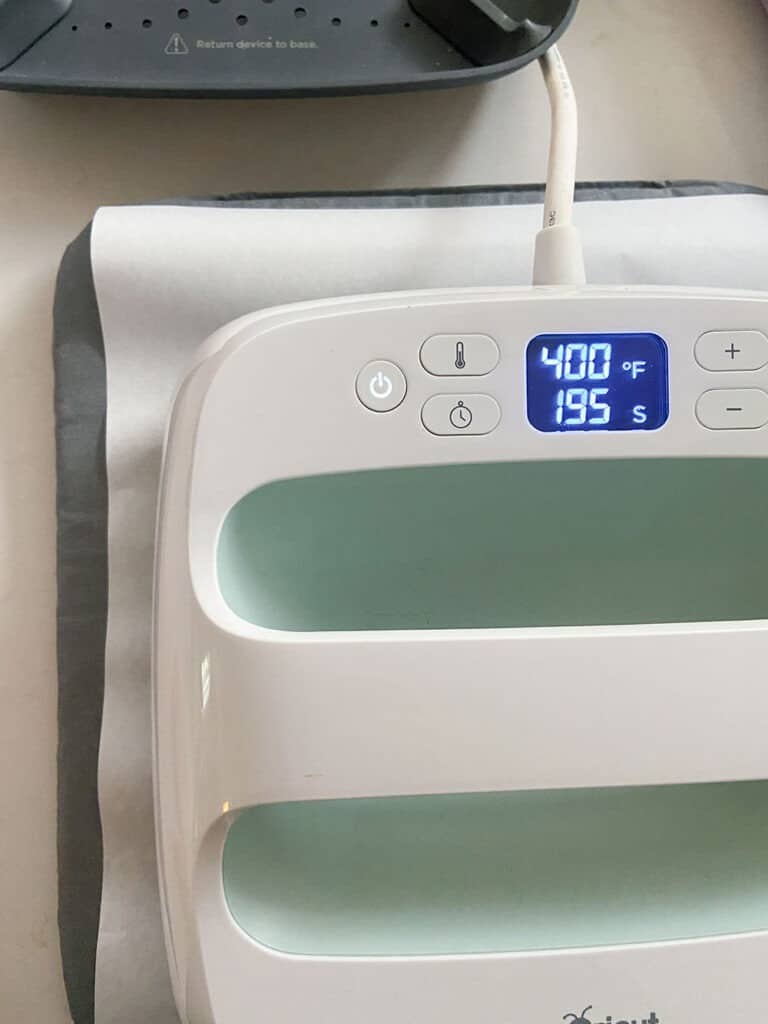 Once cool, I gently peeled away the infusible sheet to reveal a beautiful and vibrant design!
As I said earlier, my dad loves the color orange, and hopefully he is ok with the pink accents too. 🙂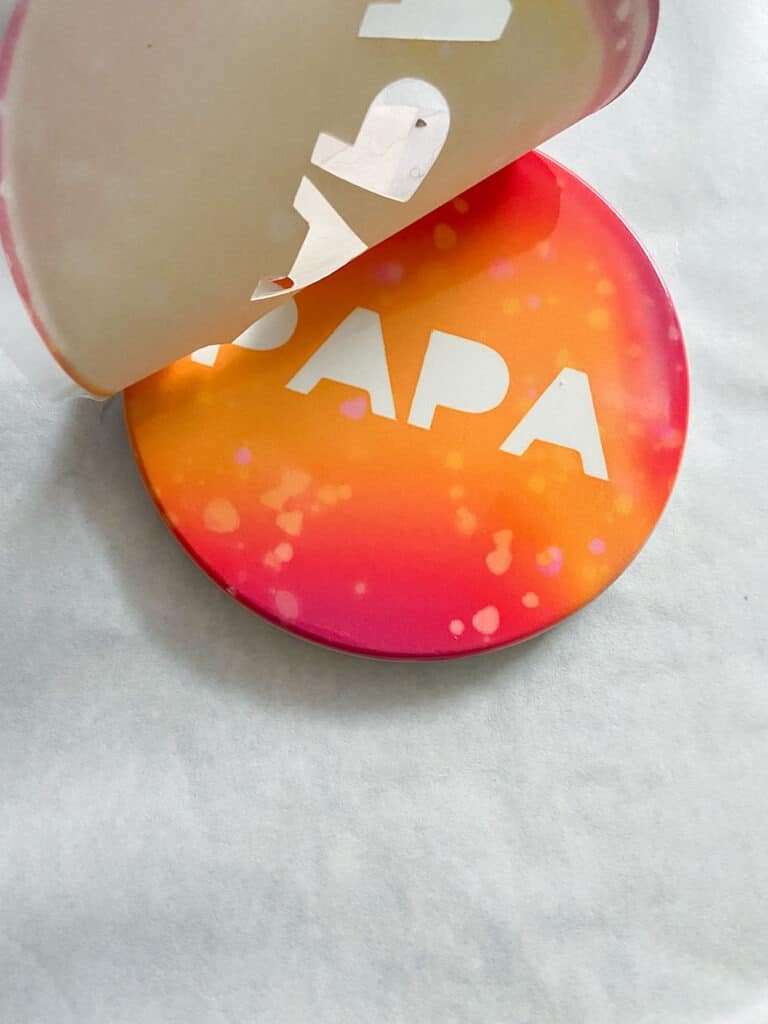 I think the coaster turned out great and I just can't get over how vibrant the colors are!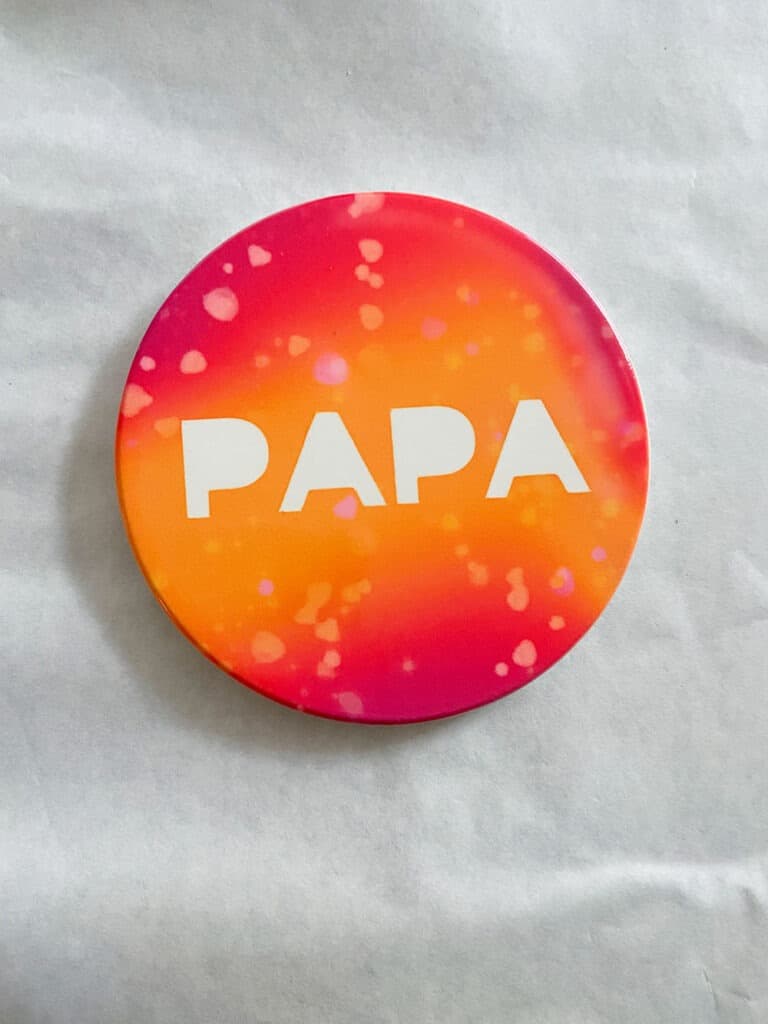 Time for one more coaster, this time using infusible ink markers.
I had never used my many Infusible ink markers either, so it was tie to fix that!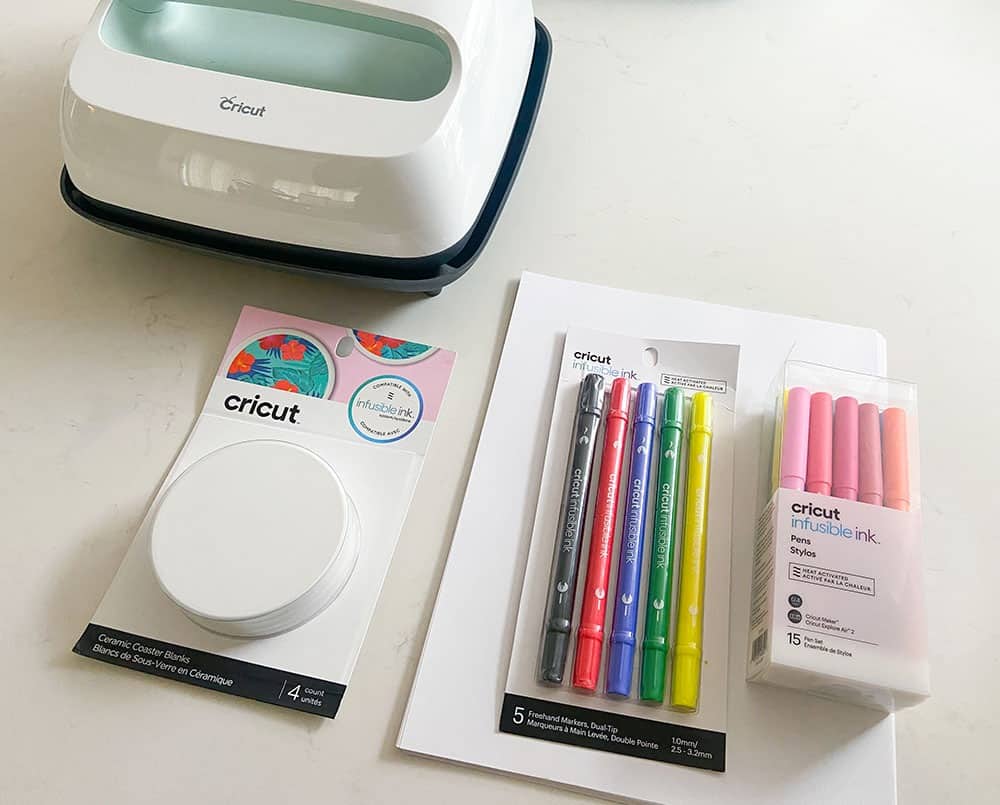 Vivi picked out her favorite colors and got to work drawing a lot of ideas out onto copy paper. I traced the coaster with a pencil onto the paper for her art guides.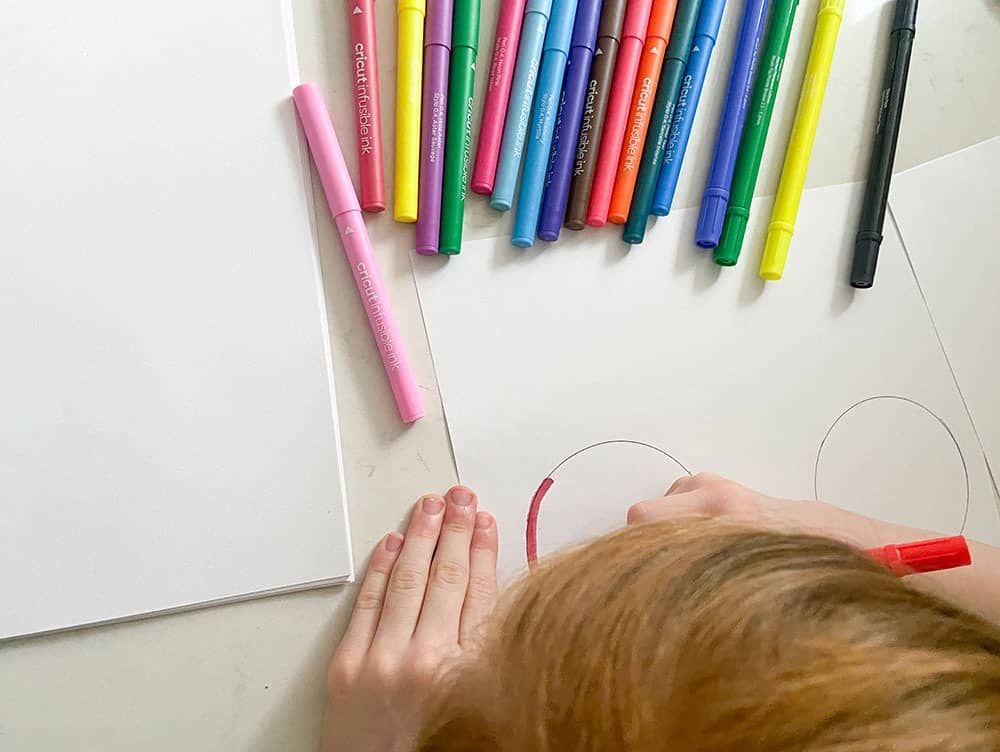 After a handful of design ideas, she settled on a cute little inside joke that reminds her of Papa (and Nana's) house.
They have a toy hauler camper that is bright orange, and every tie we pull into their long driveway and drive by the camper, she yells "vacaaaaation!." I was so impressed she came up with that all on her own, ha.
Also I adore her misspelling of "vacation." 🙂
She finished her design, added the text, and I totally forgot that the images must be mirrored before EasyPressing to the coaster. Oops! Off I went pressing the image onto the coaster, and once it was done I realized my mistake.
See the backwards text in the coaster below? Yep, that's a big oops!
I decided to flip the copy paper over and trace directly over her art work with the markers on the backside.
Please note, in the future I will have her draw the art in pencil and then we will flip the art and color it all in on the backside. I was determined to make this one work, and I like to share my mistakes to help others avoid the same issues. 🙂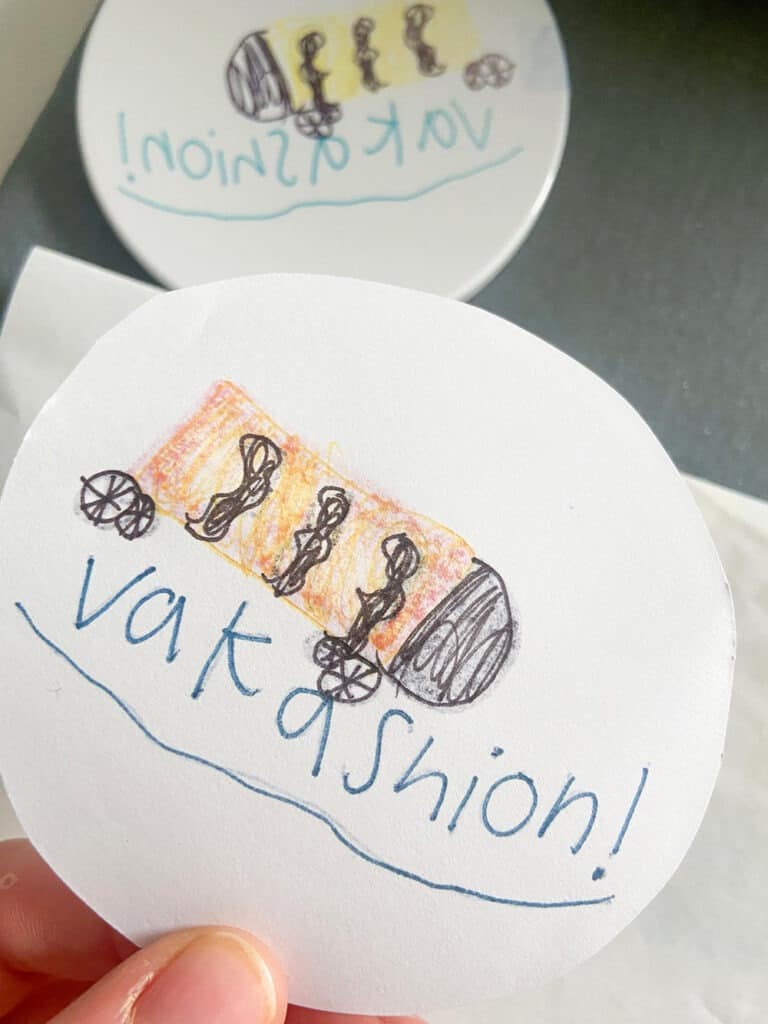 After the newly mirrored artwork was taped onto the shiny side of the coaster and protected with parchment, I heat pressed it on using the same settings (400 degrees/240 seconds).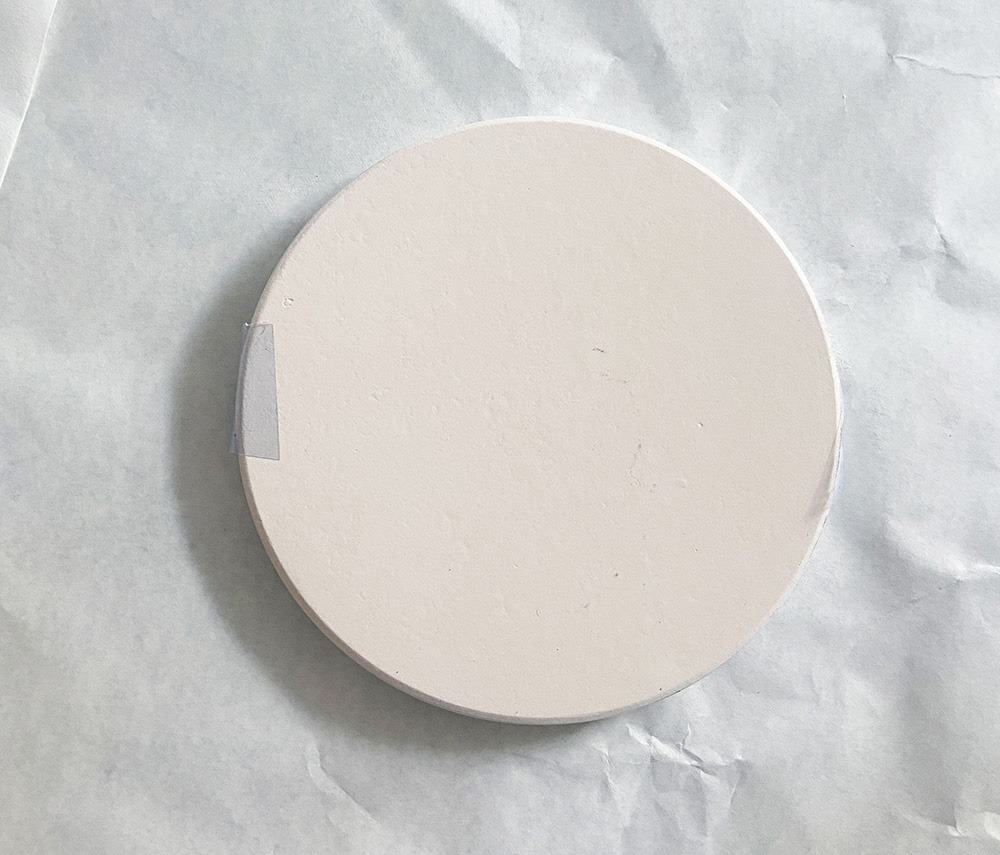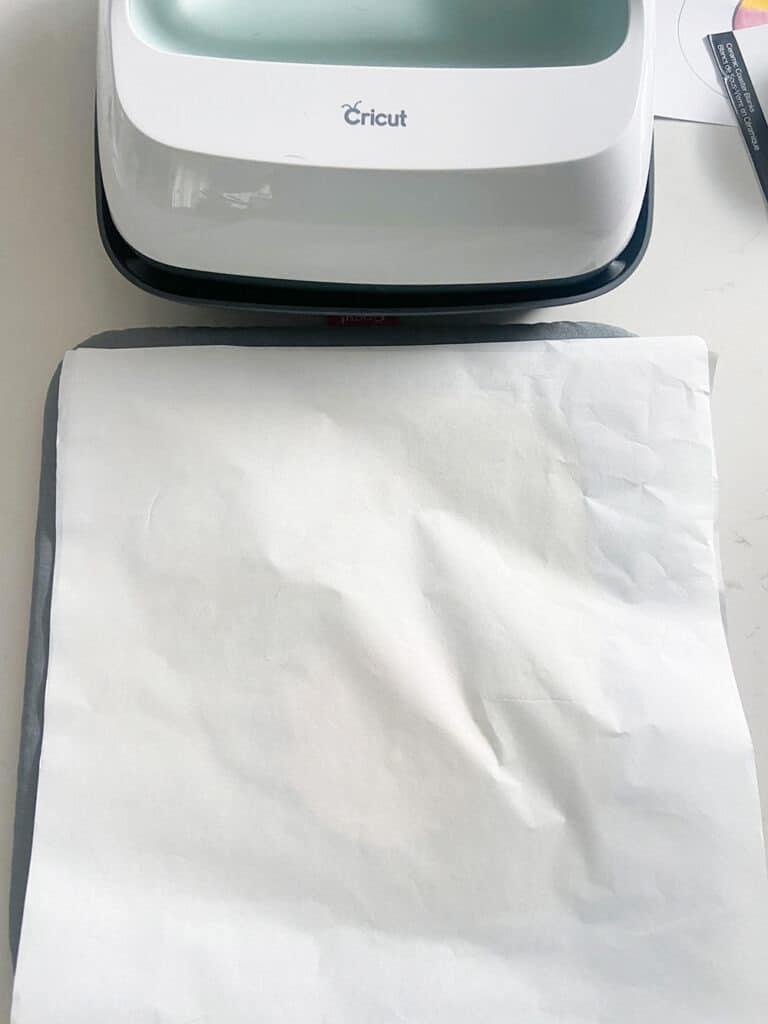 The coaster cooled and I peeled away the paper revealing our design. The design wasn't as crisp as it would have been if we would have properly set it up mirrored in the first place, but it turned out pretty good for a re-do!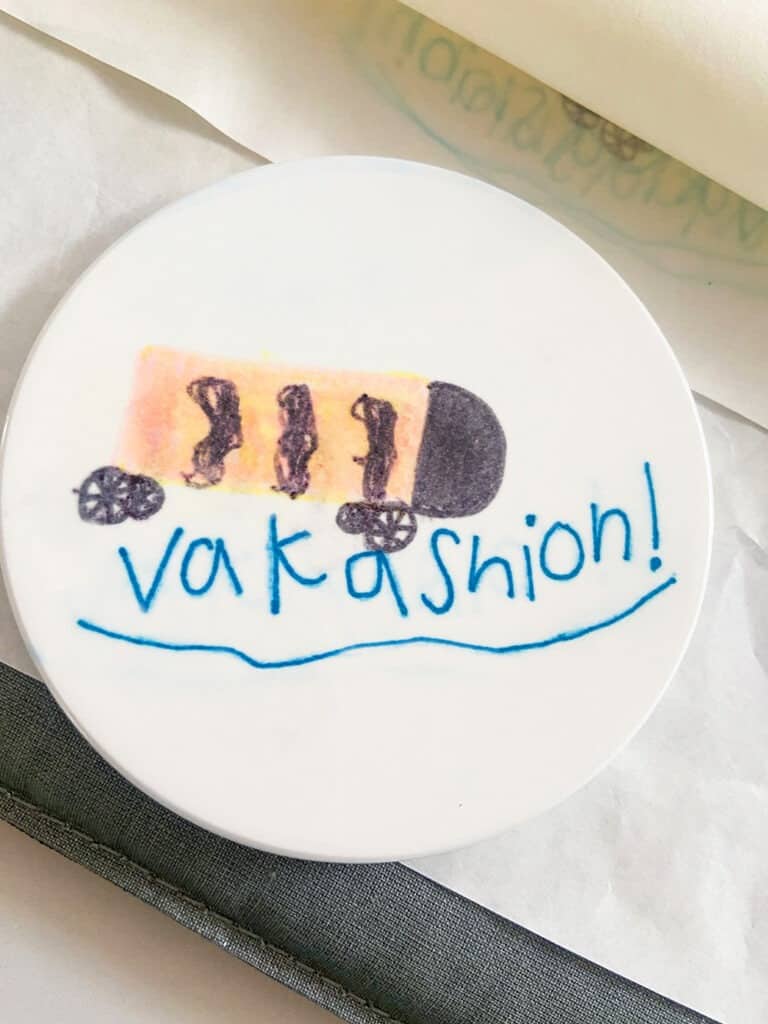 I like how different each Father's Day coaster is! We plan on making a couple more following the same steps.
Here's a look at how they both turned out.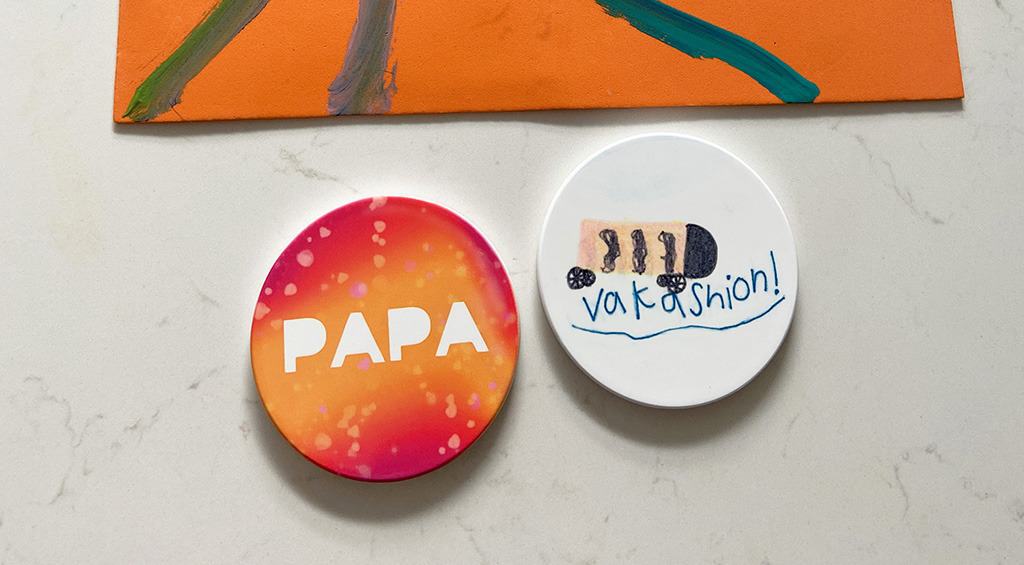 Vivi also made a painting for her Papa, which I love – also in orange, ha!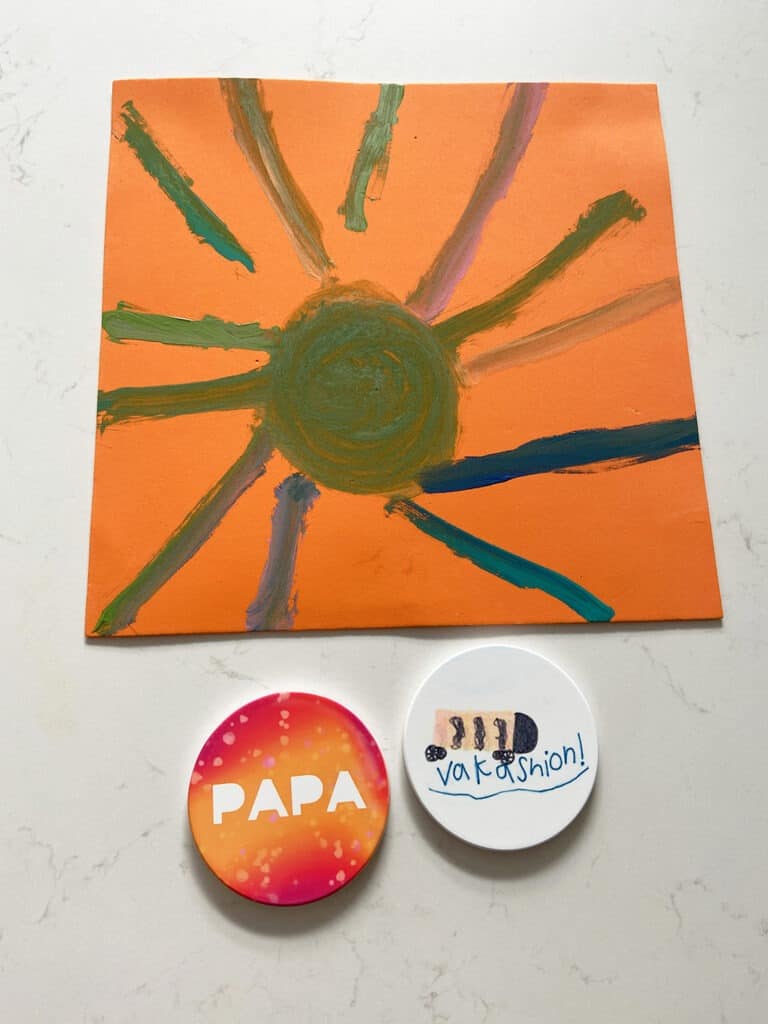 Next up is a simple Father's Day shirt!
Gather your supplies!
– Cricut apparel blank (compatible with Infusible Ink)
– Cricut Smart Iron-On vinyl in various colors
– OR Infusible Ink in your favorite colors and patterns
– Cricut Joy (or any Cricut cutting machine)
– Cricut EasyPress 2
– EasyPress mat
– Design Space
I was excited to try out the t-shirt blanks to make my dad a super simple, but personalized shirt.
These blanks are awesome because they work with vinyl or infusible inks. I decided to use iron on for this shirt.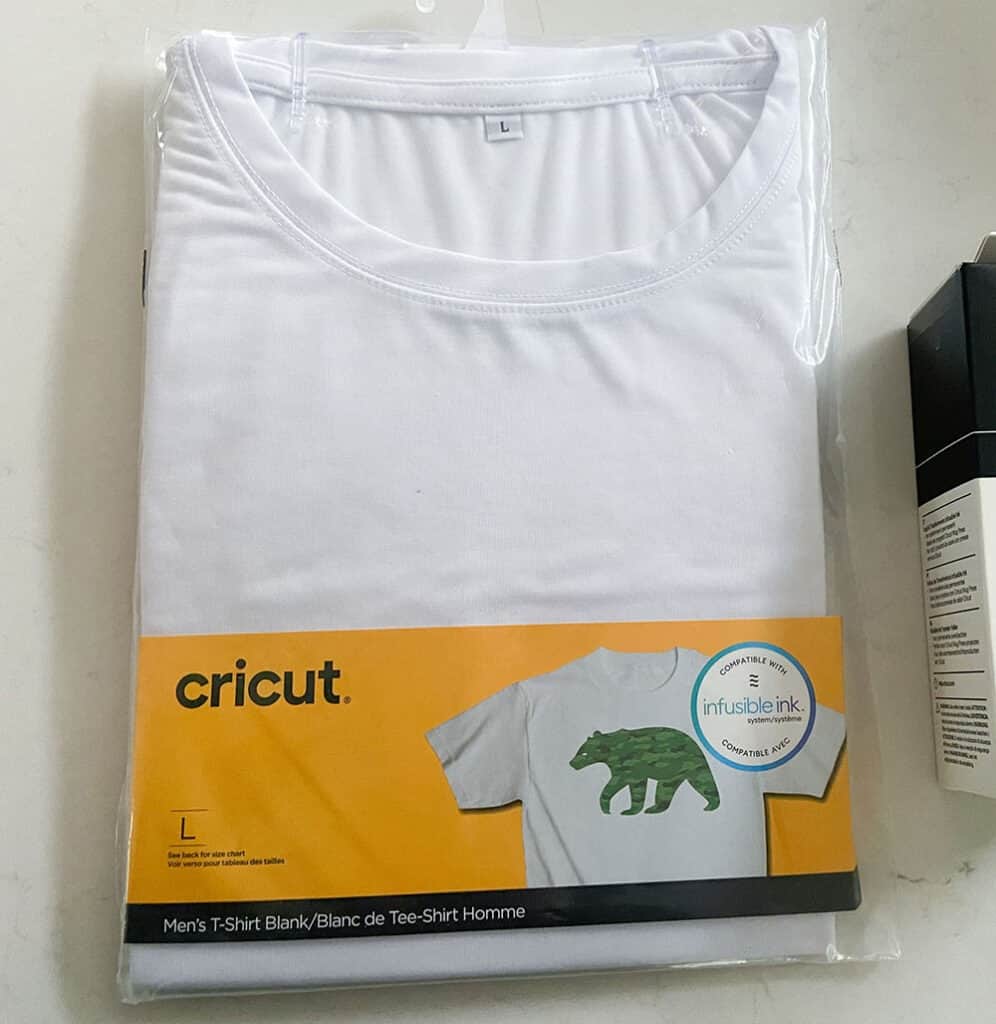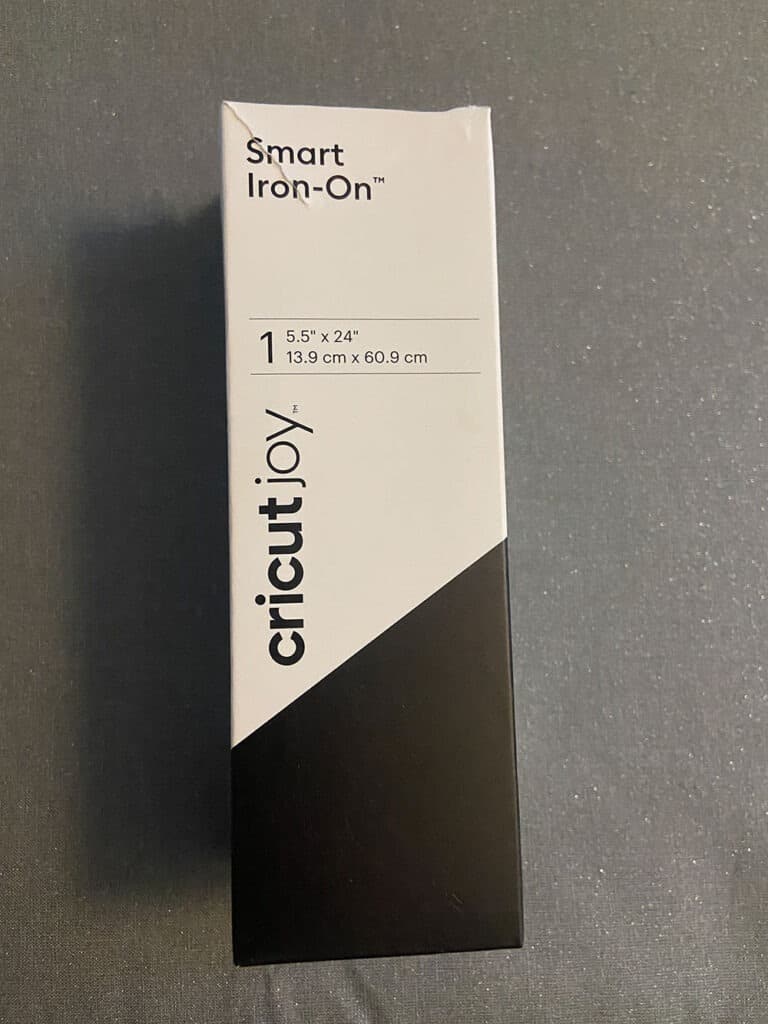 To Design Space I went, and I created a very simple design that reads "PAPA, established 2001" to commemorate the first time he became a Papa to my oldest niece.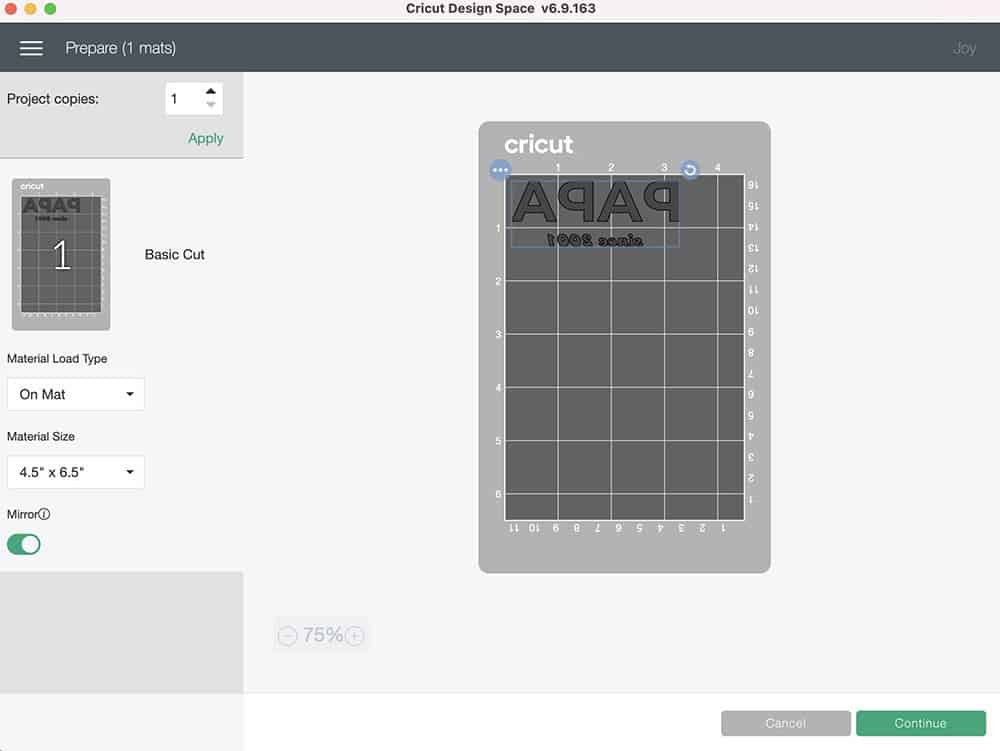 After the design was mirrored, I used my Joy to cut it.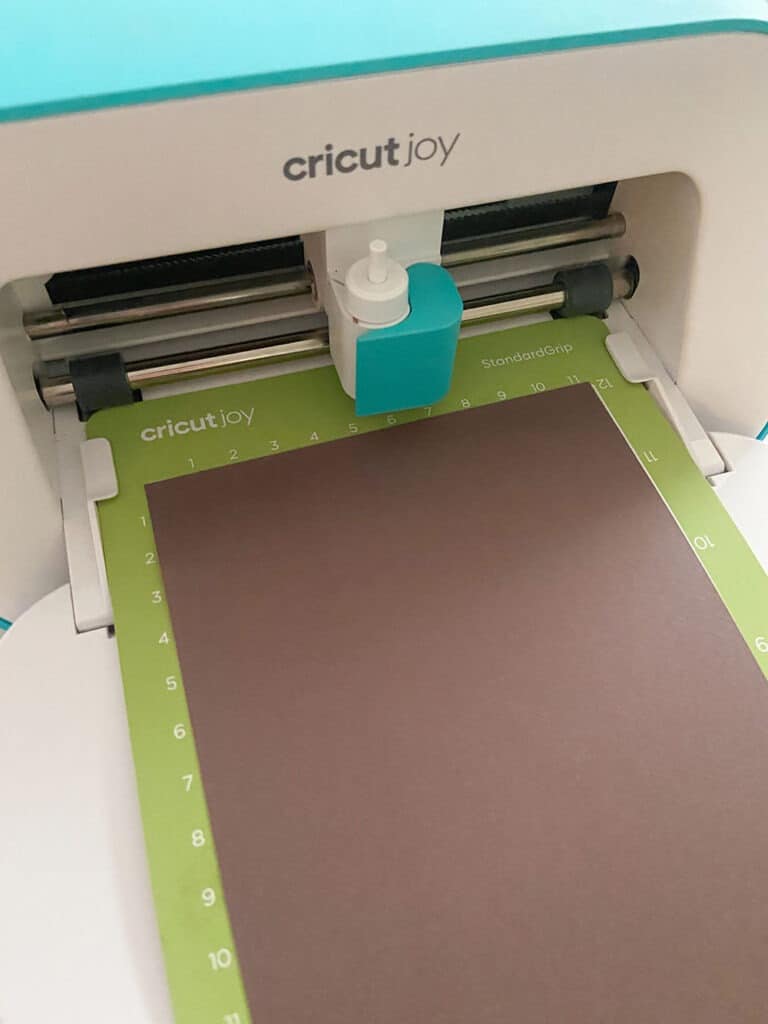 And then I quickly weeded away the excess.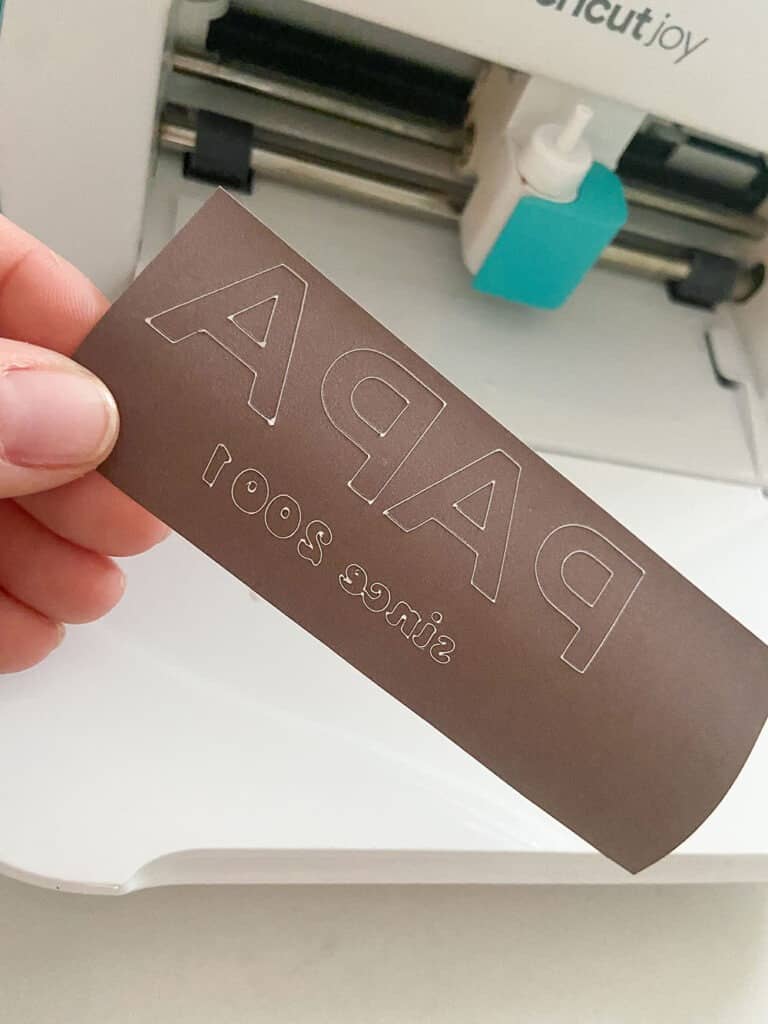 I heated up my EasyPress 2 to 315 degrees while I placed the design onto the t-shirt.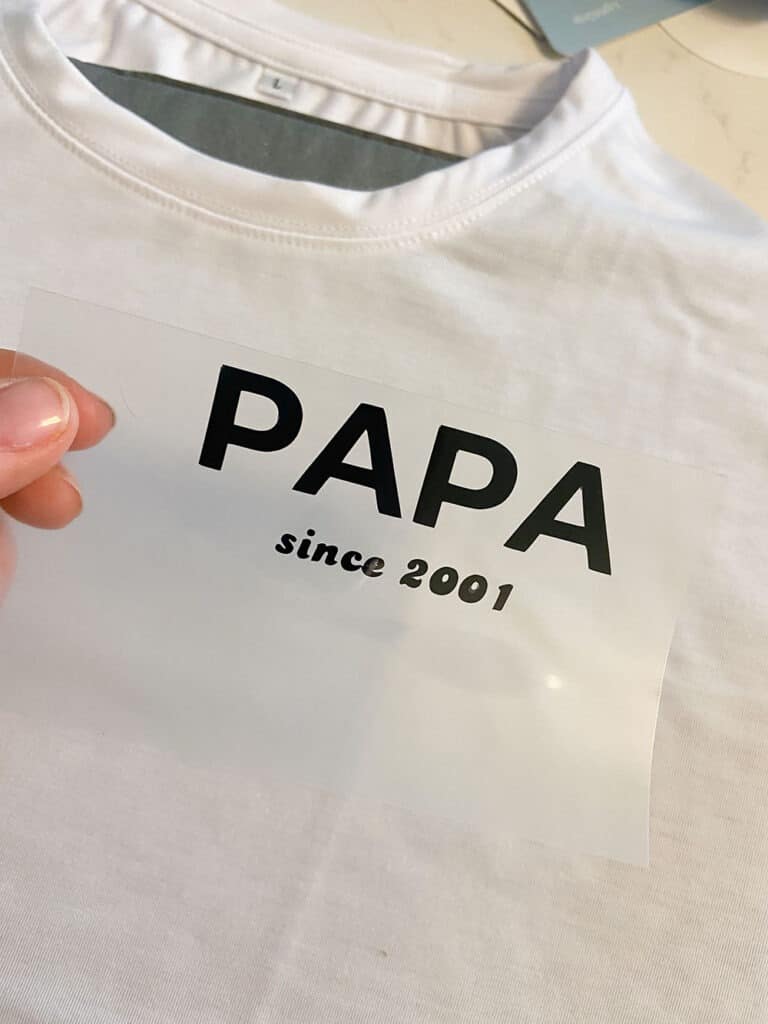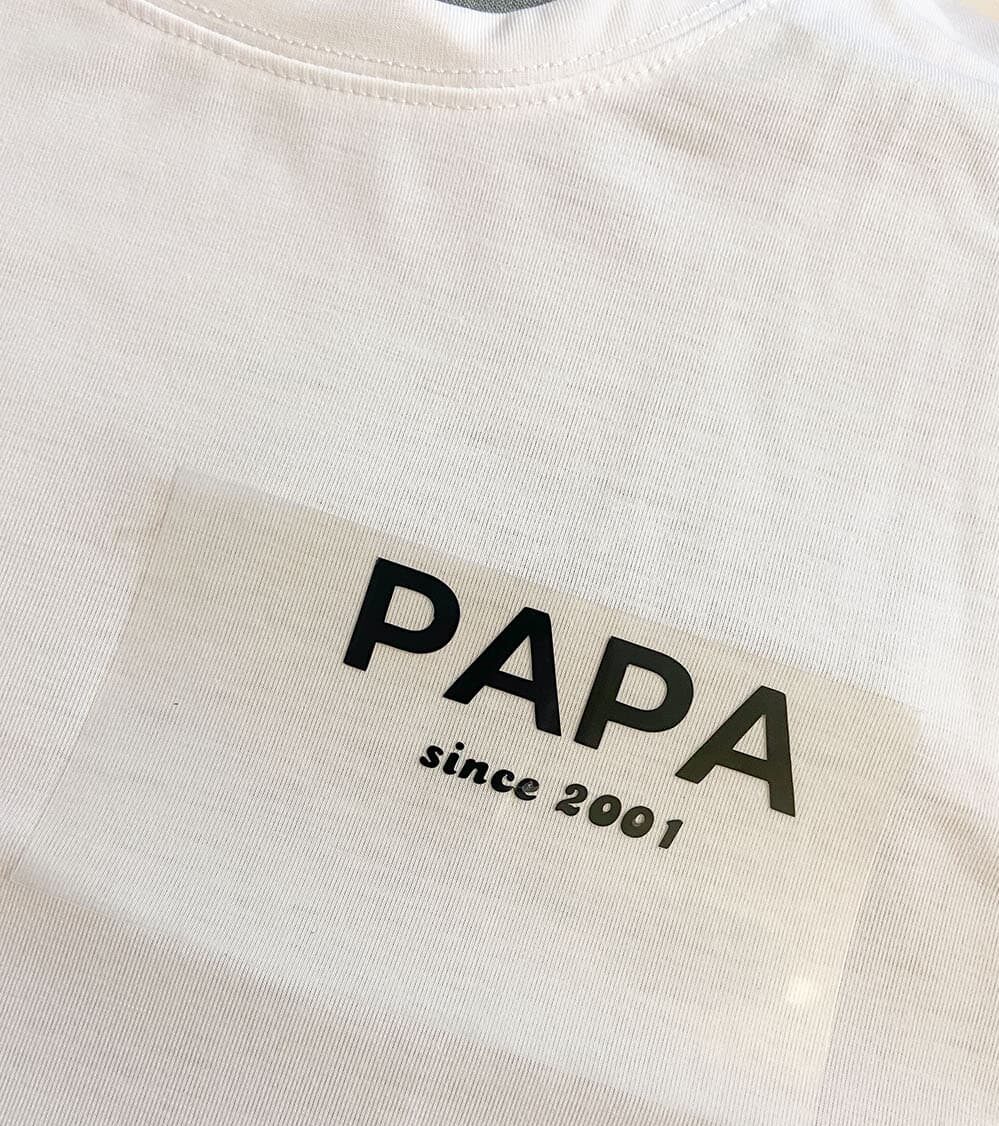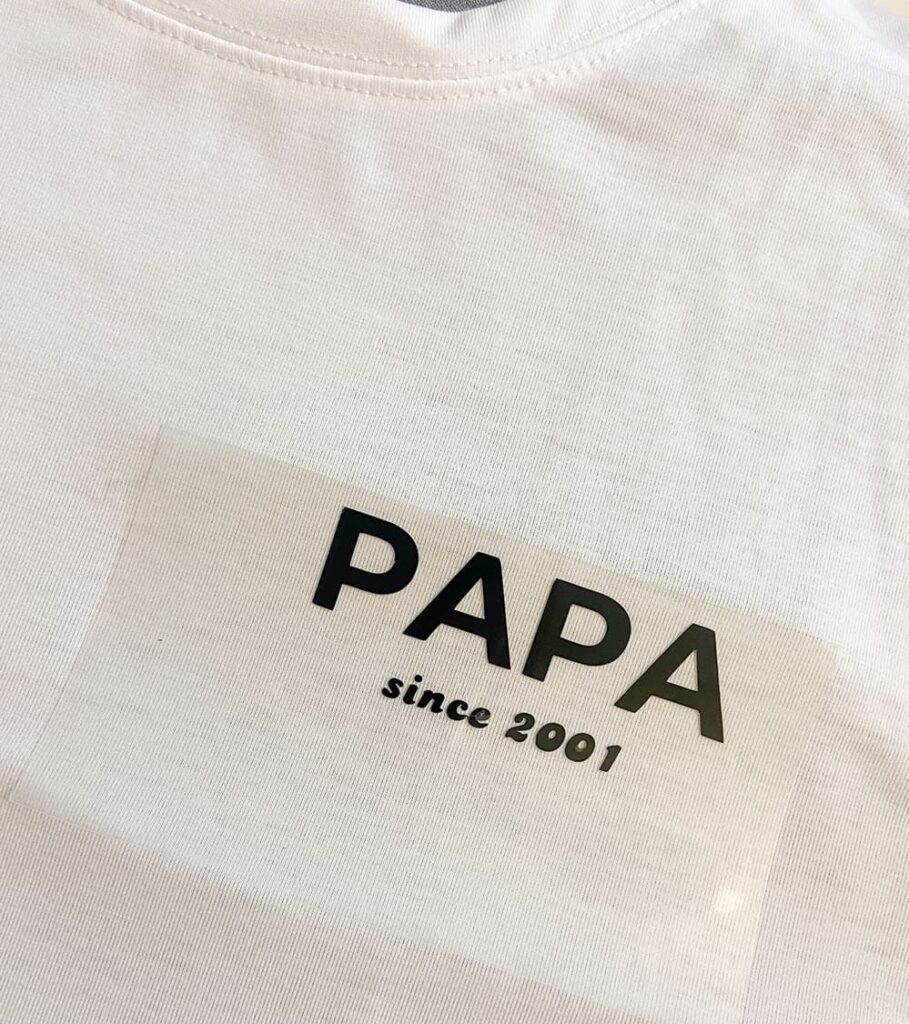 Once the press was up to temp, I placed it over my design and waited 30 seconds before it was adhered.
After it cooled down, I gently peeled away the film revealing a super simple and subtle personalized t-shirt!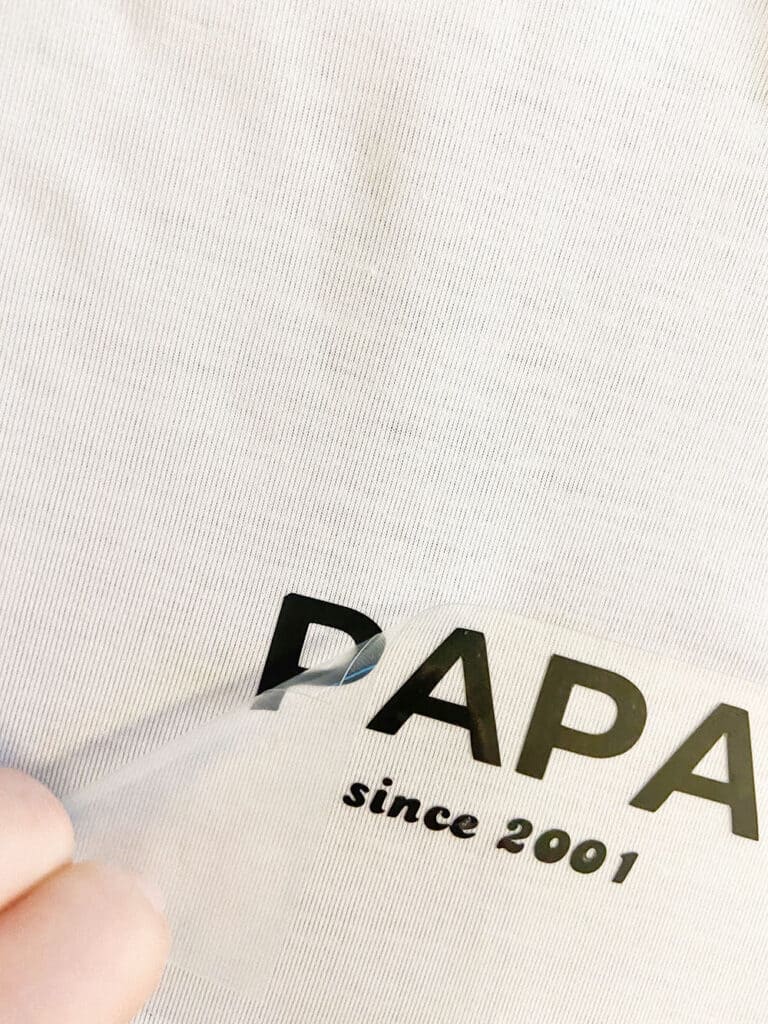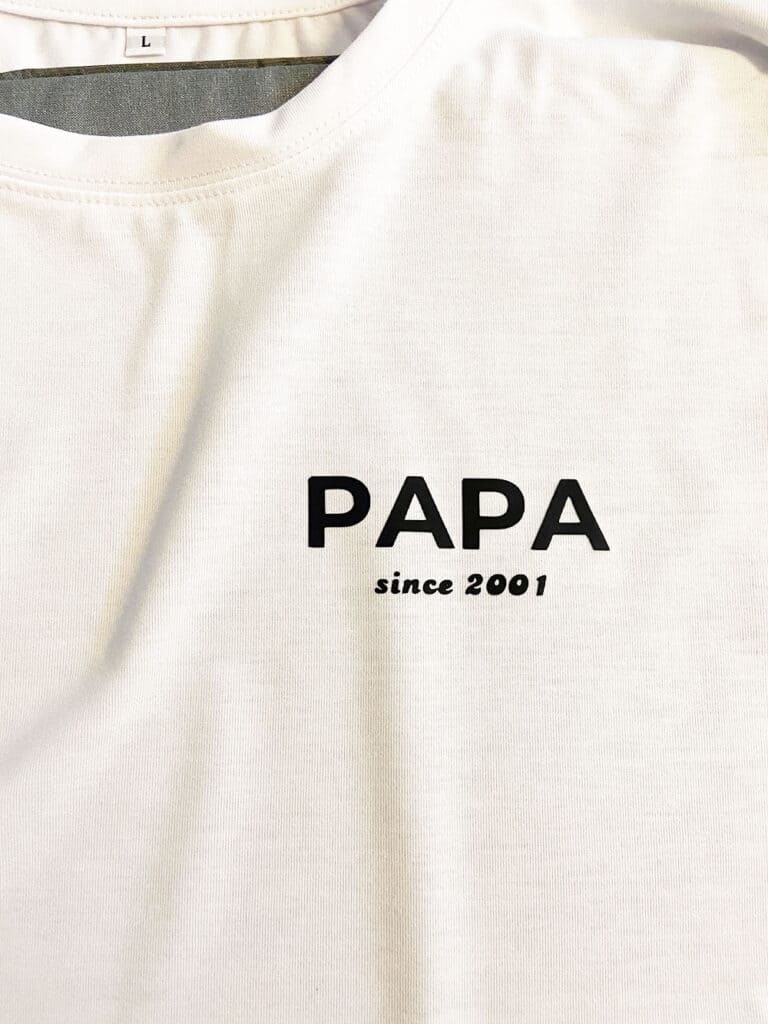 I hope he likes it!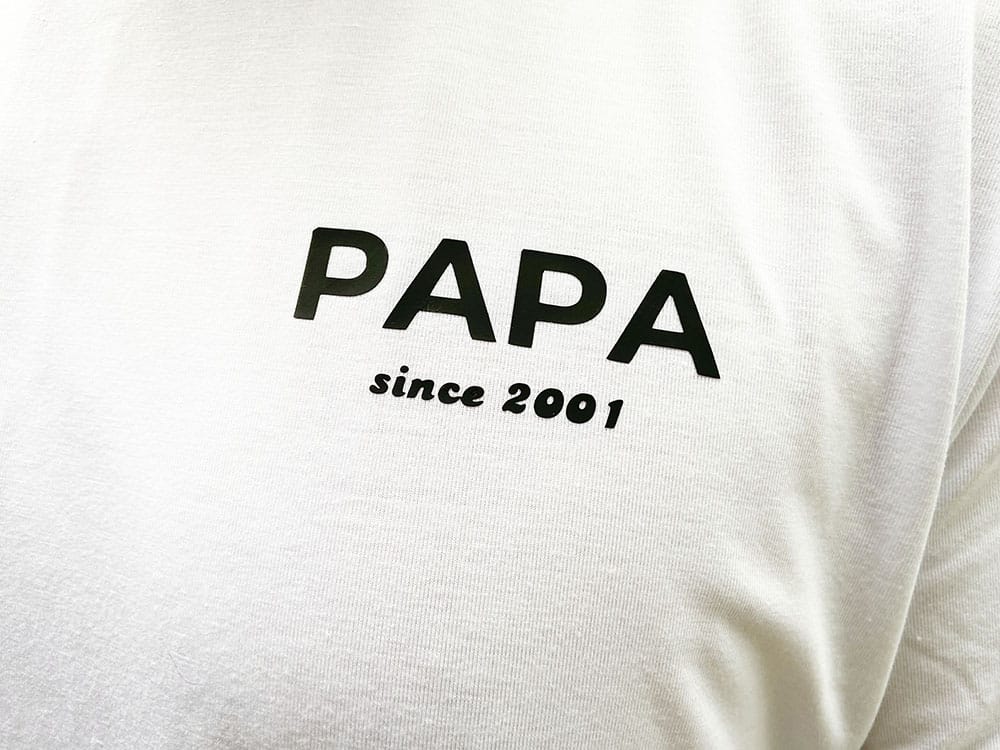 Finally, I decided to make my dad the exact same mug that I made my mom for Mother's Day, just with "PAPA" instead of "NANA." It'll be fun for them to have a matching set.
Gather your supplies!
– Cricut Mug Press
– Cricut ceramic mug blanks (large or small size)
– Infusible Ink in your favorite colors and patterns
– Cricut Joy (or any Cricut cutting machine)
– Basic Tool Set
– Design Space
– Cricut Access
– Heat resistant tape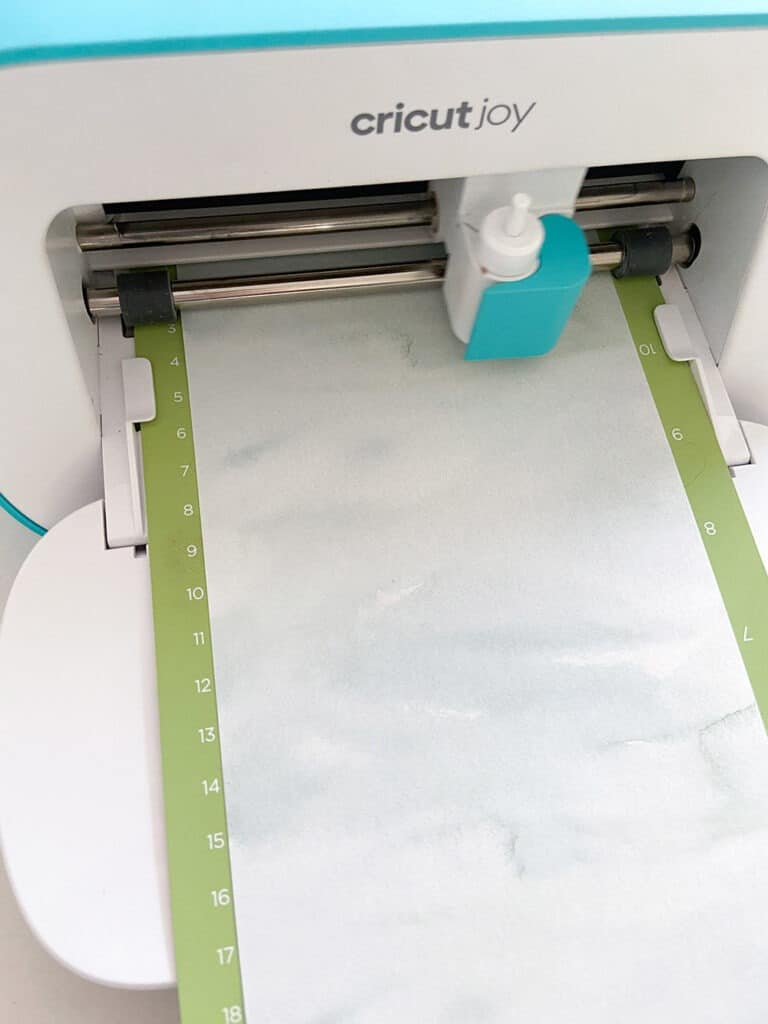 Get the full step-by-step tutorial on the entire mug making process, and learn all about the super cool Cricut Mug Press.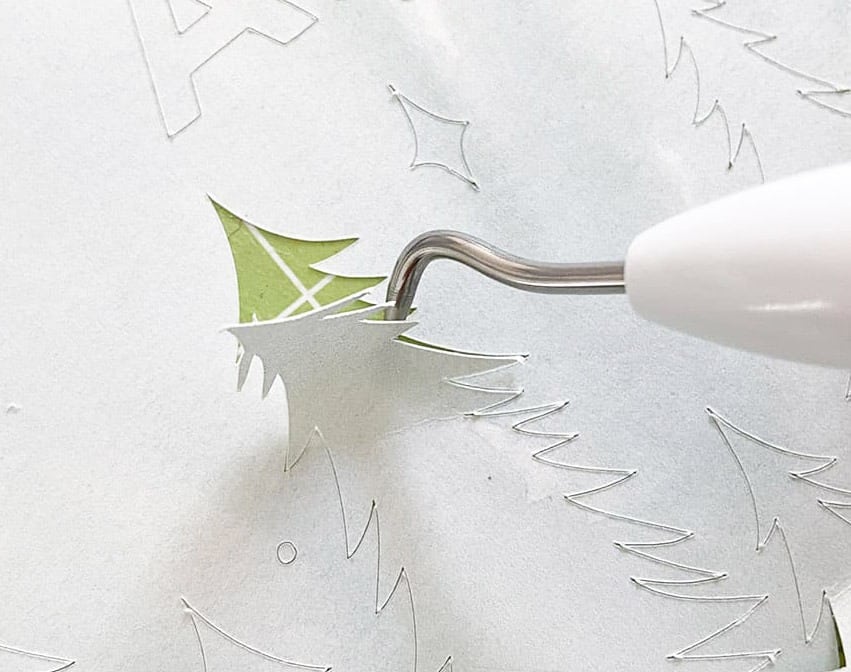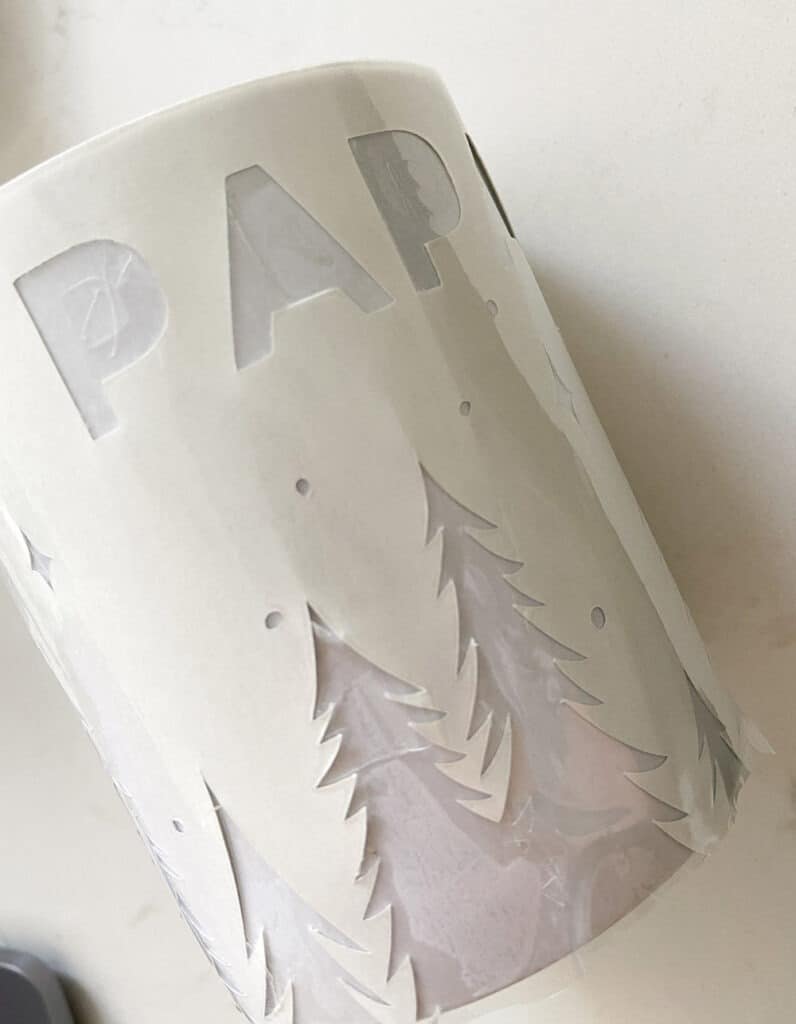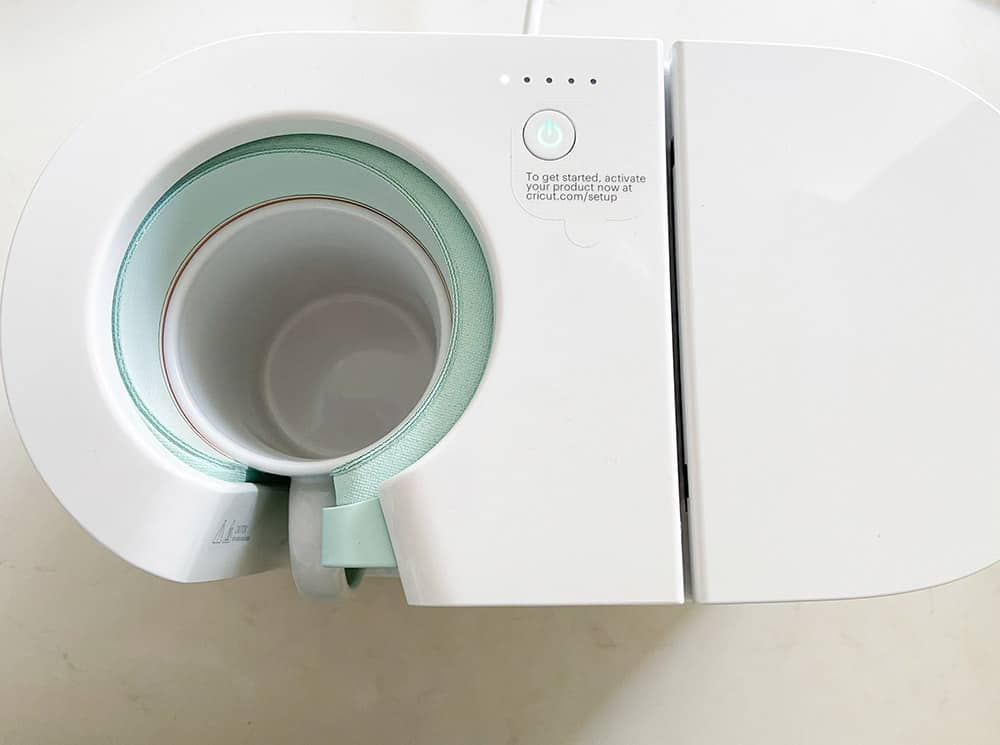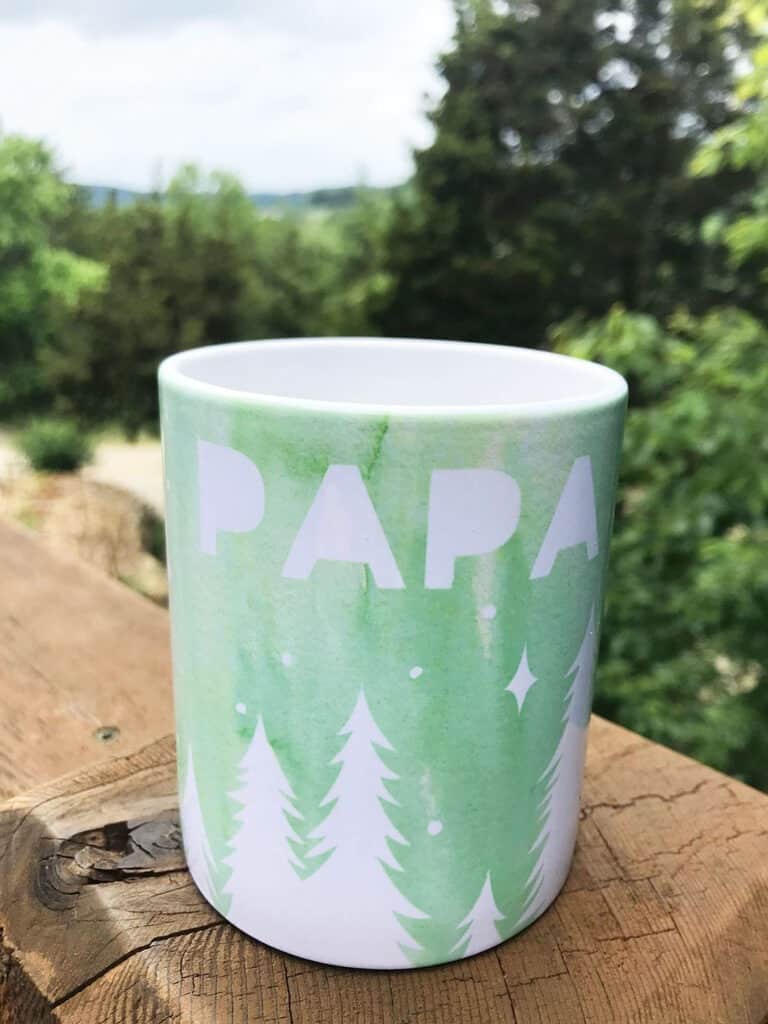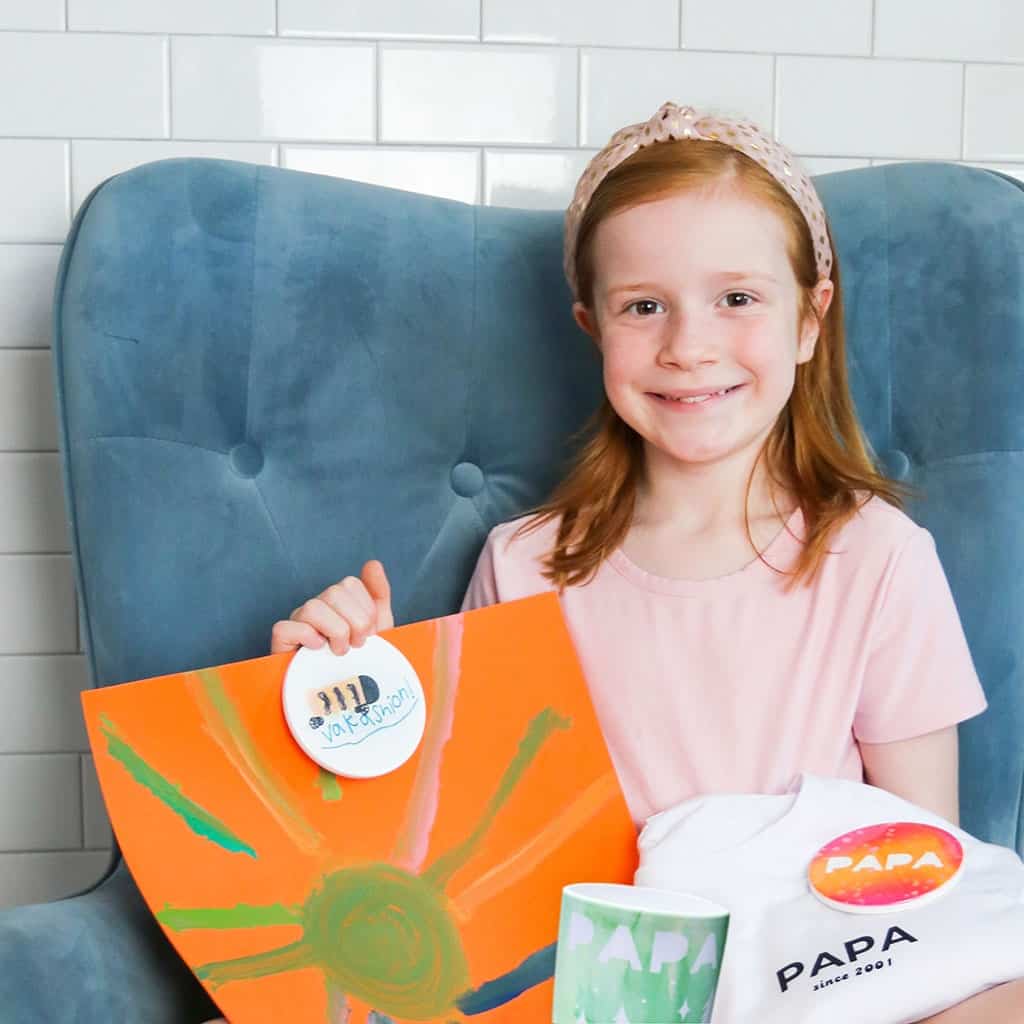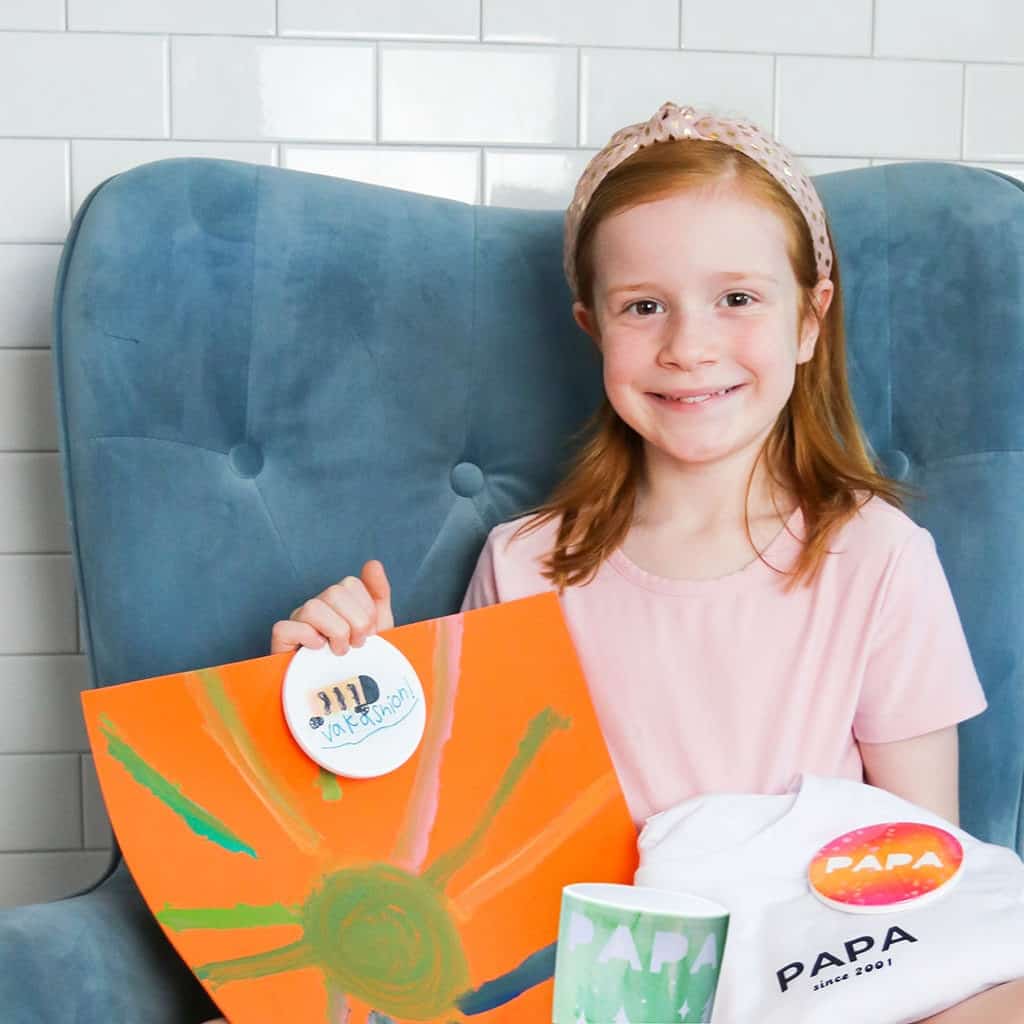 We had so much fun making personalized Father's Day gifts with my Cricut Joy, EasyPress 2, and Mug Press.
And I love how many different types of designs you can create using all of the fun accessories and materials. Cricut seriously is the BEST – I highly recommend!
I've blogged about my love for Cricut many times, and it's probably pretty obvious that I'm a huge fan and truly love their products. This is a sponsored post, but all opinions and projects are 100% my own.
xoxo
Audrey
Pin these Father's Day DIY gift ideas for later!