I didn't think I'd have time to make this happen, but I'm so excited to share my 2019 holiday home tour with you!

I loved doing the instagram story tour last Friday with some other amazing bloggers I met at Haven Conference, and took advantage of the clean house for photos the following morning. I love being able to do that!
As some of you know, we bought our fixer upper as-is in August of 2015 and have been working our tails off updating it DIY style for the last five years. She's come a long way I must say!
Let's get going, shall we? I'll start in the entryway taking you throughout the house and will end outdoors.
The entryway
As you walk in you see a table with lots of bottle brush trees from various places (but mostly the Target dollar spot over the years). I also found a cute gold house from Home Goods a couple weeks ago to add to the mix (here is a white one you could spray paint gold if you wish).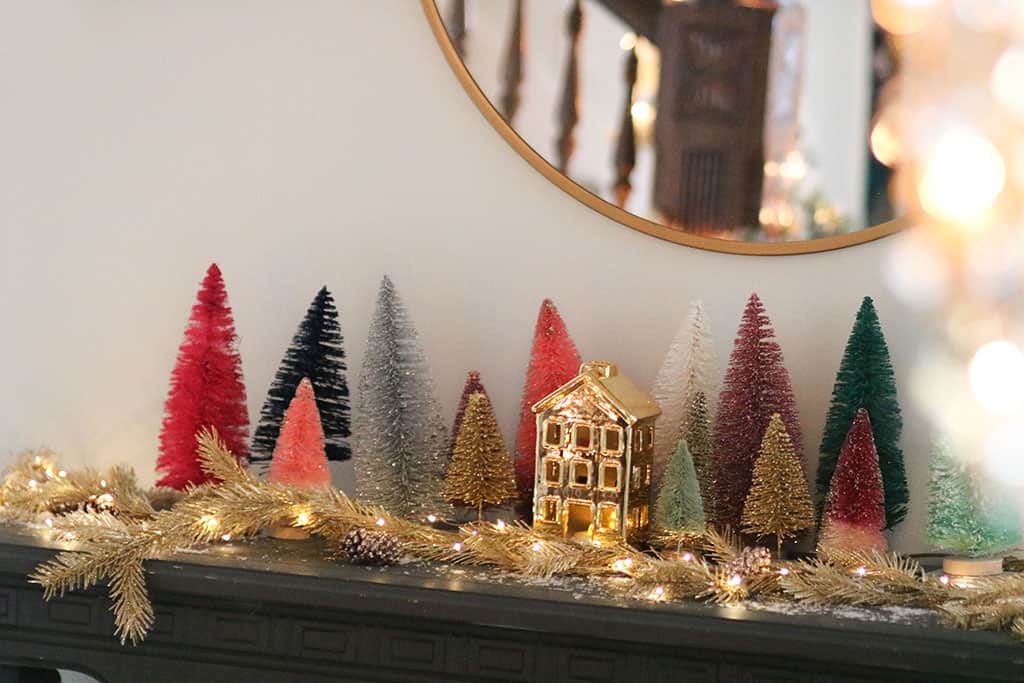 I think this collection will be growing quite a bit for years to come.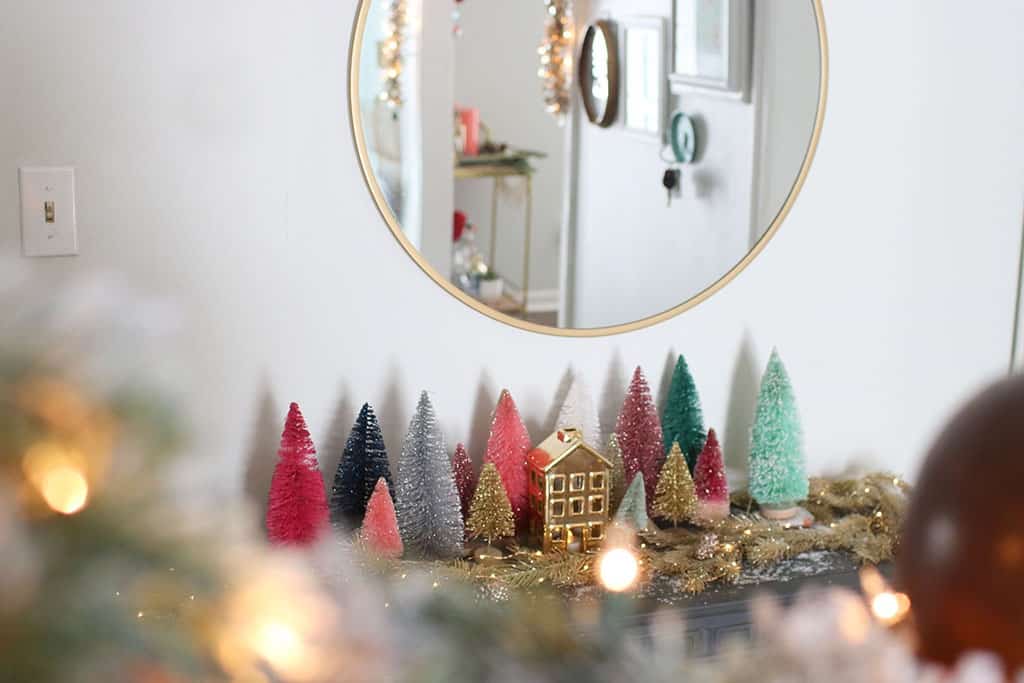 To the right is our dining room, which I converted from a sitting room after the big 2 year DIY kitchen remodel project.
I added some gold sparkly garland mixed with some lights and ornaments to the doorway as well as the curtain rod (another gold garland option option).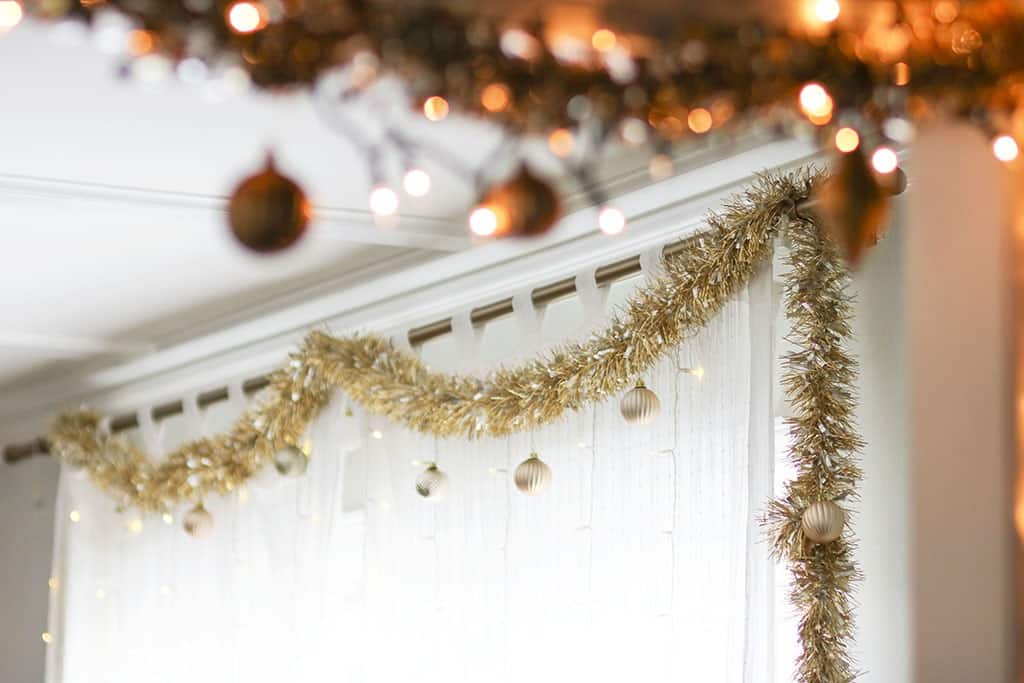 Here's a beautiful gold pine garland option.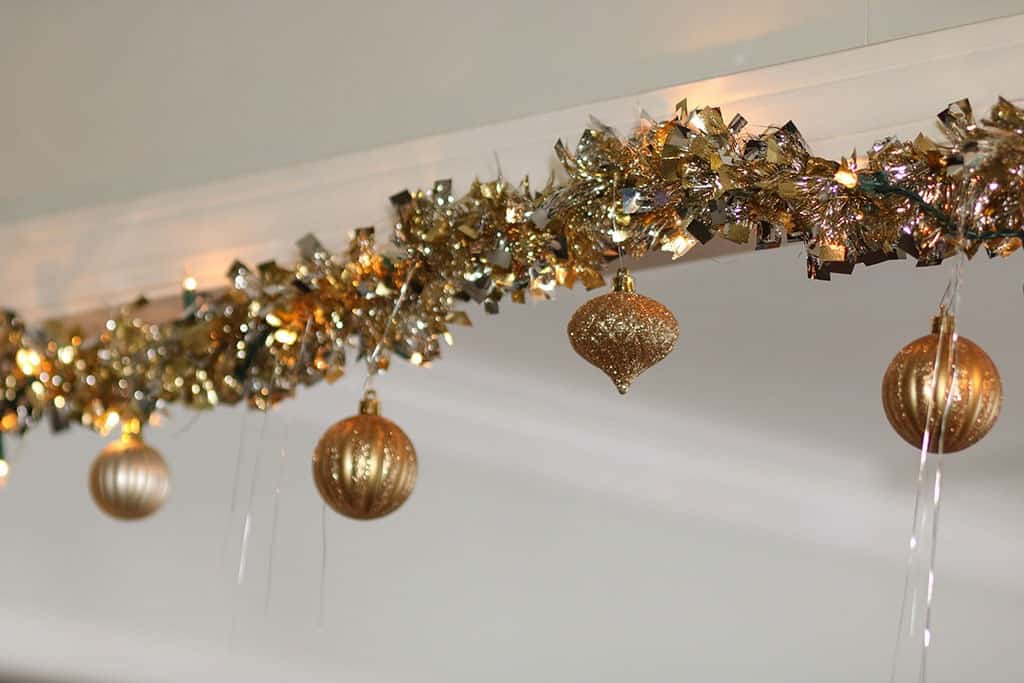 Here's a zoomed out look.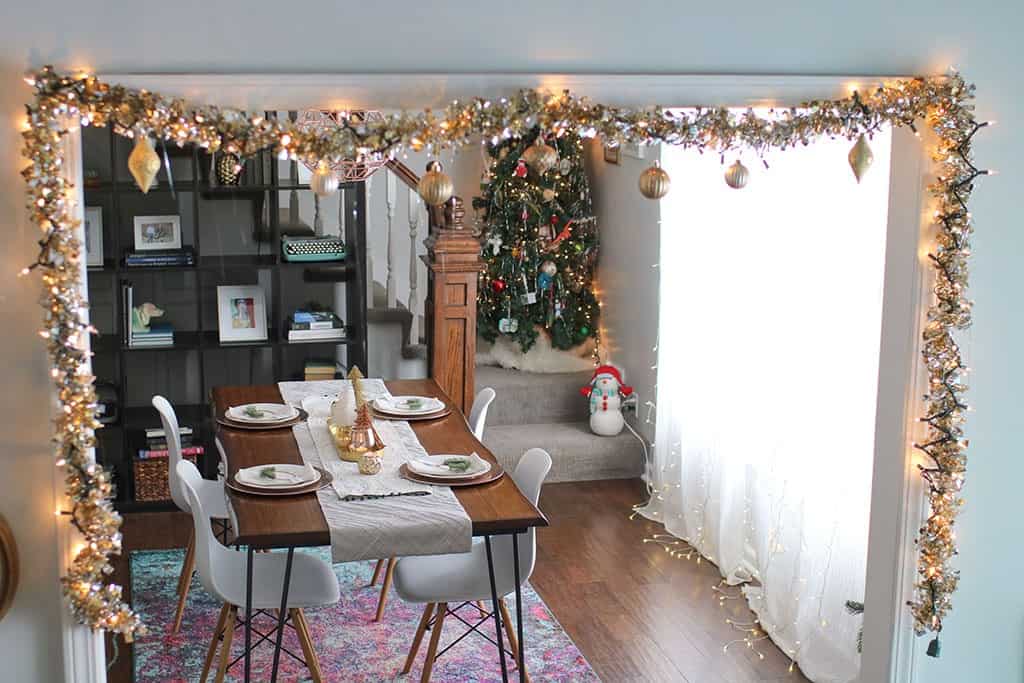 The lights on the curtains are absolutely magical at night and are the best $15 ish Amazon purchase I've ever made in this 2019 holiday home tour.
I hate taking them down each season.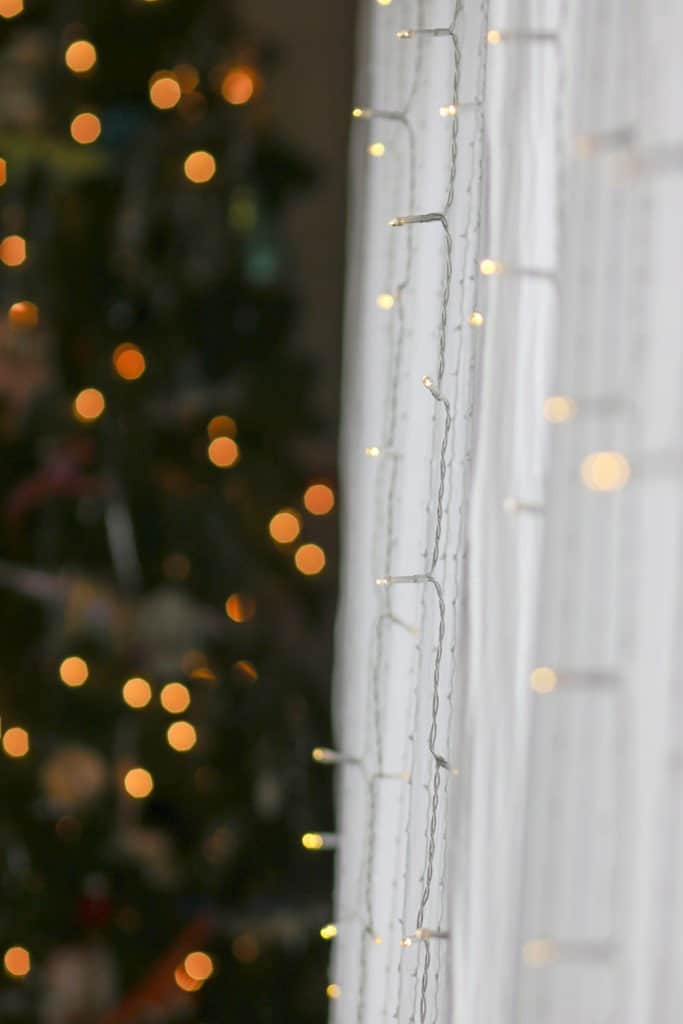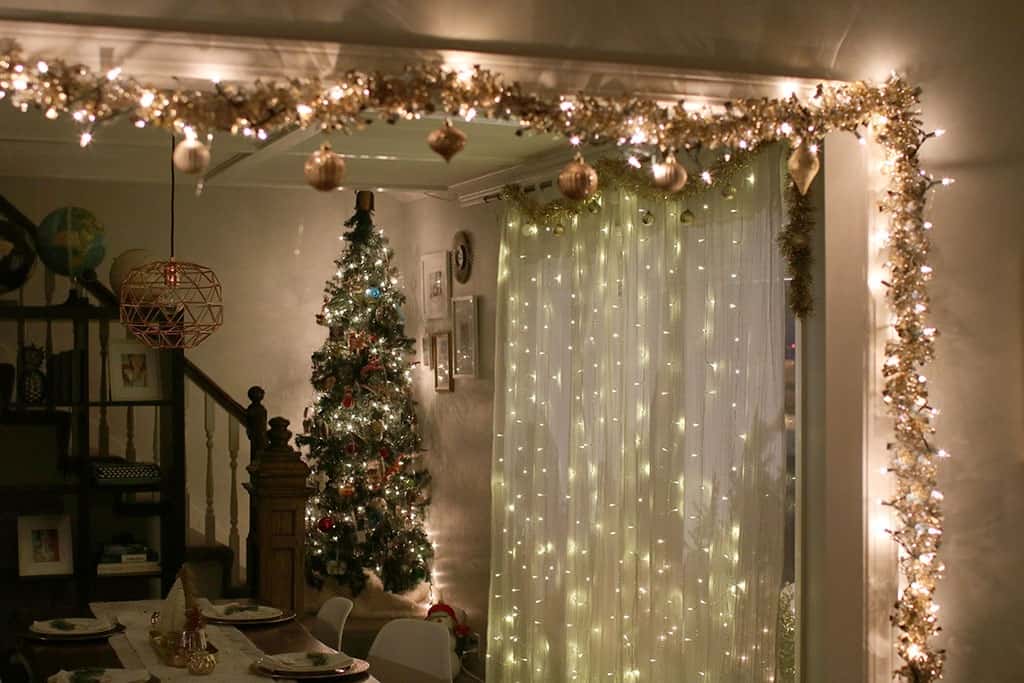 I wrapped one flocked garland around the stairway bannister for some added glow.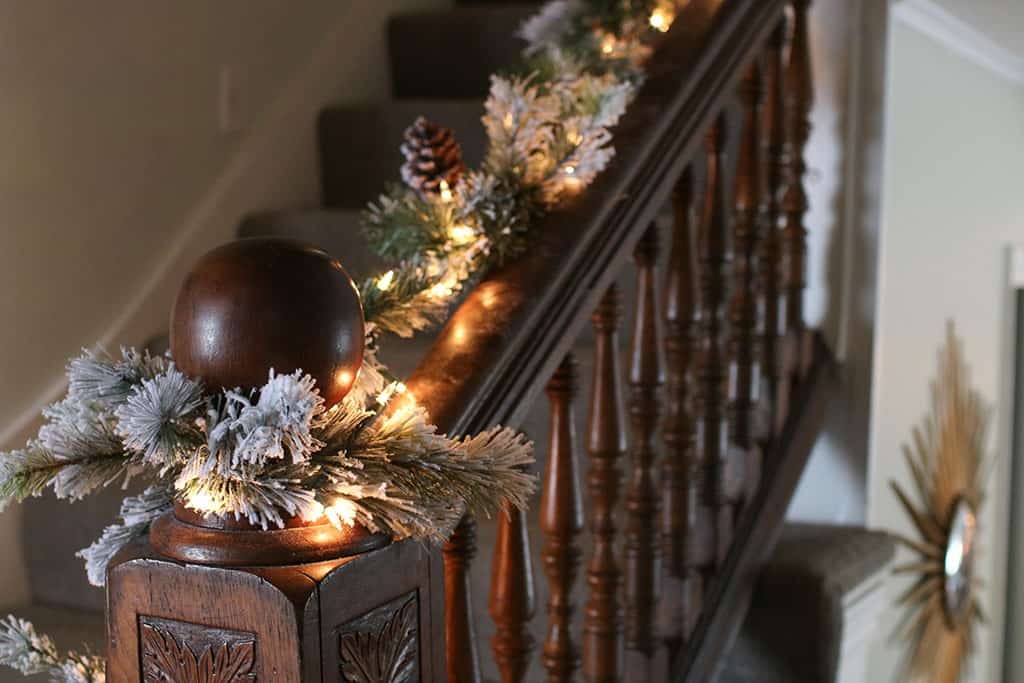 To the left is a look up the main staircase to our landing, which houses a small lit tree on a family heirloom under a gallery wall and thrift store art light.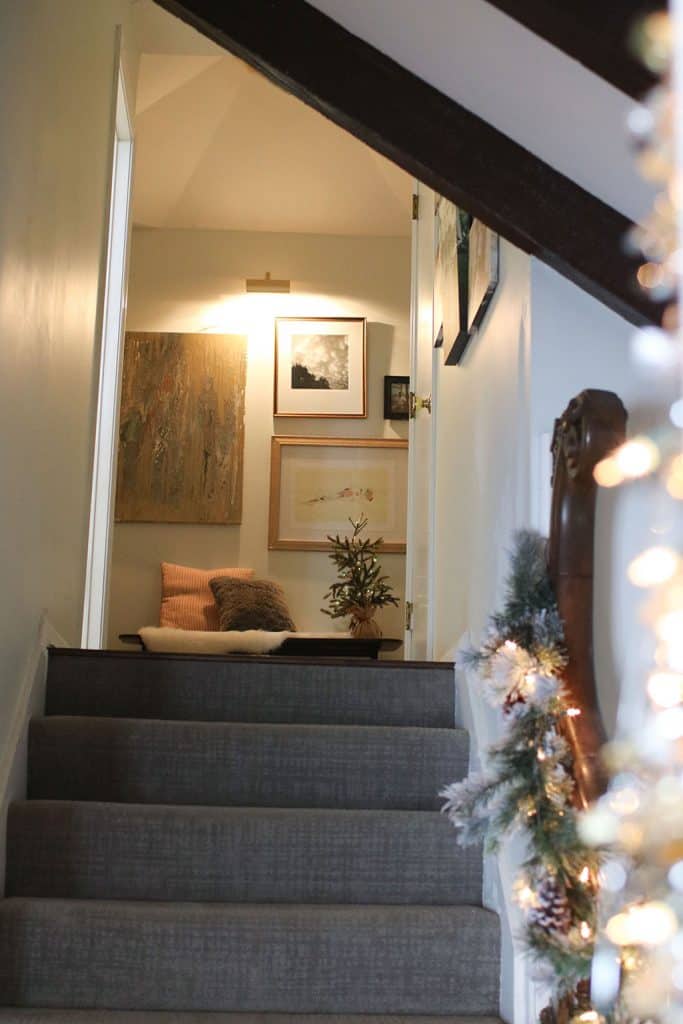 And a closer look.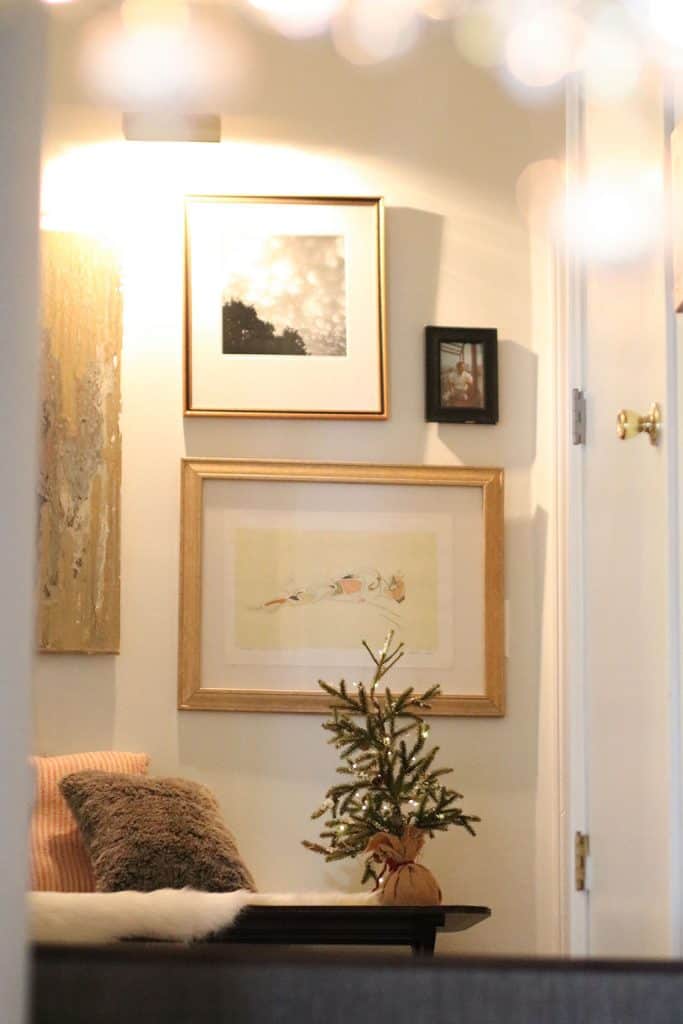 The dining room
Since we've already had a peek at the dining room, let's head over there.
We have our skinny tree in this room, which showcases our fun kid and dinosaur ornaments. The topper is Sharp Tooth from the Pizza Hut Land Before Time hand puppets, ha! We're classy like that. 🙂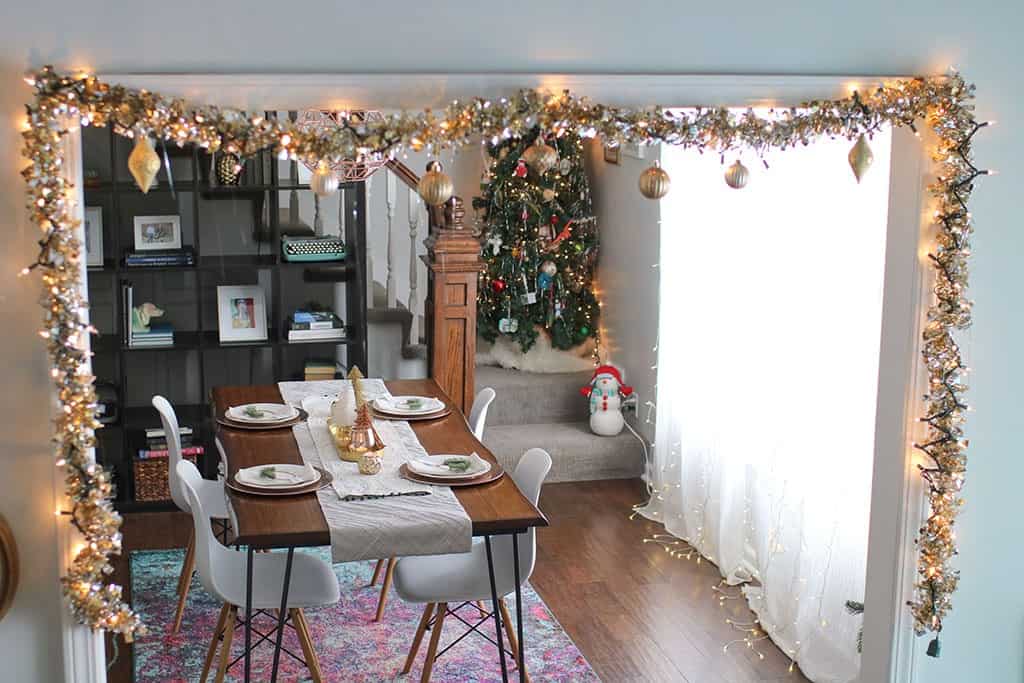 Our kiddo asked to pose by the tree post bath and I would never say no to that. She's a big fan of this gaudy and fun tree. It sits on the rarely used attic staircase.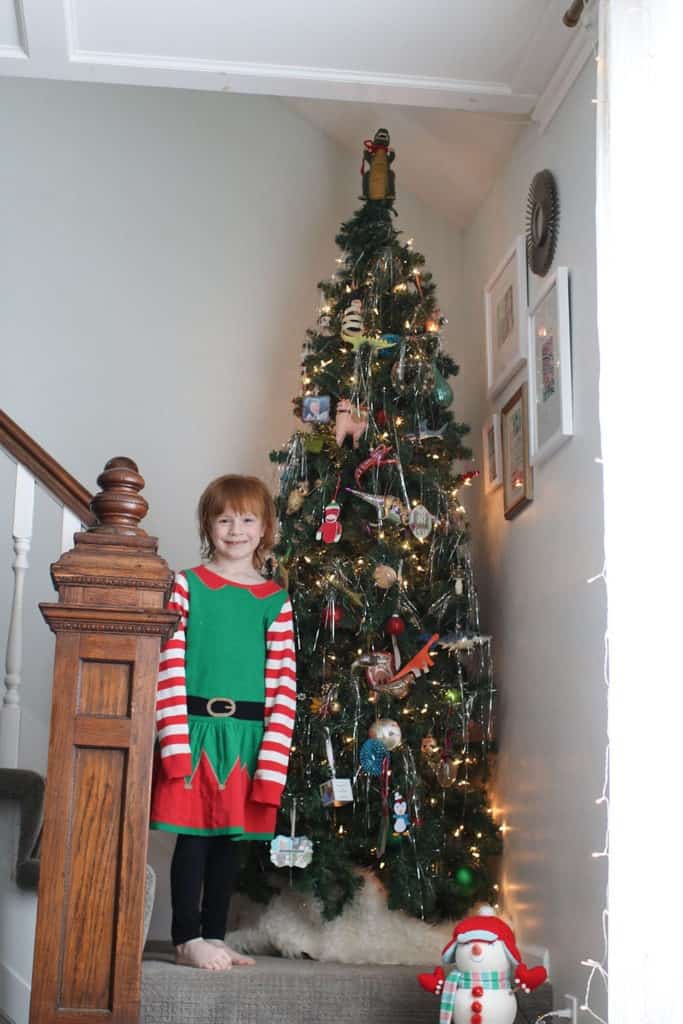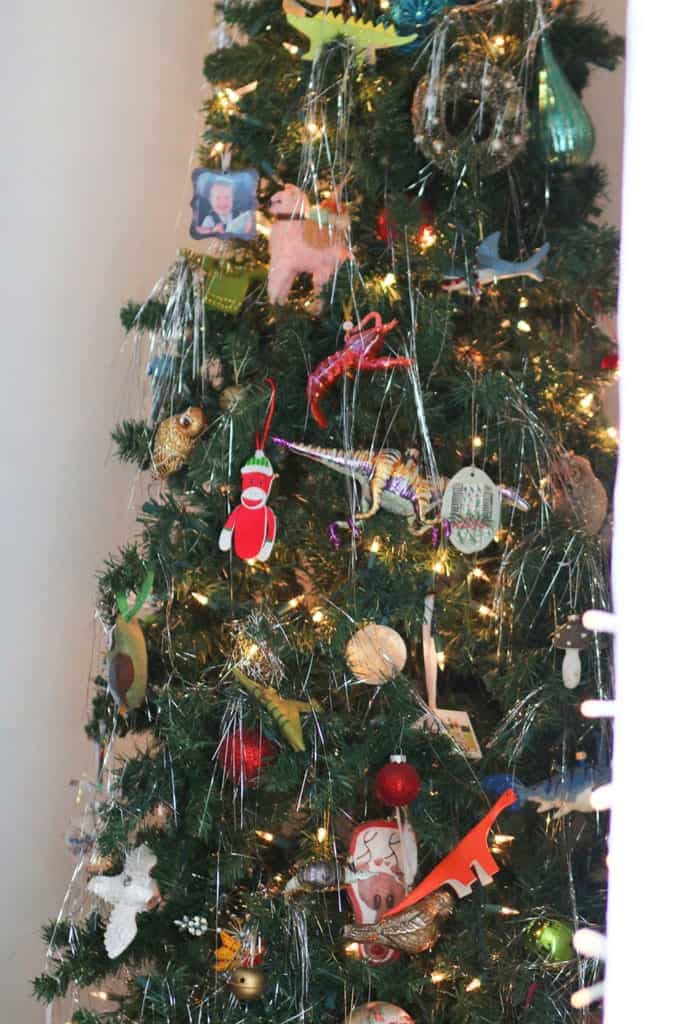 I went ahead and mostly set up the table for our holiday dinner to see how it would look, and so far I'm pretty happy with it.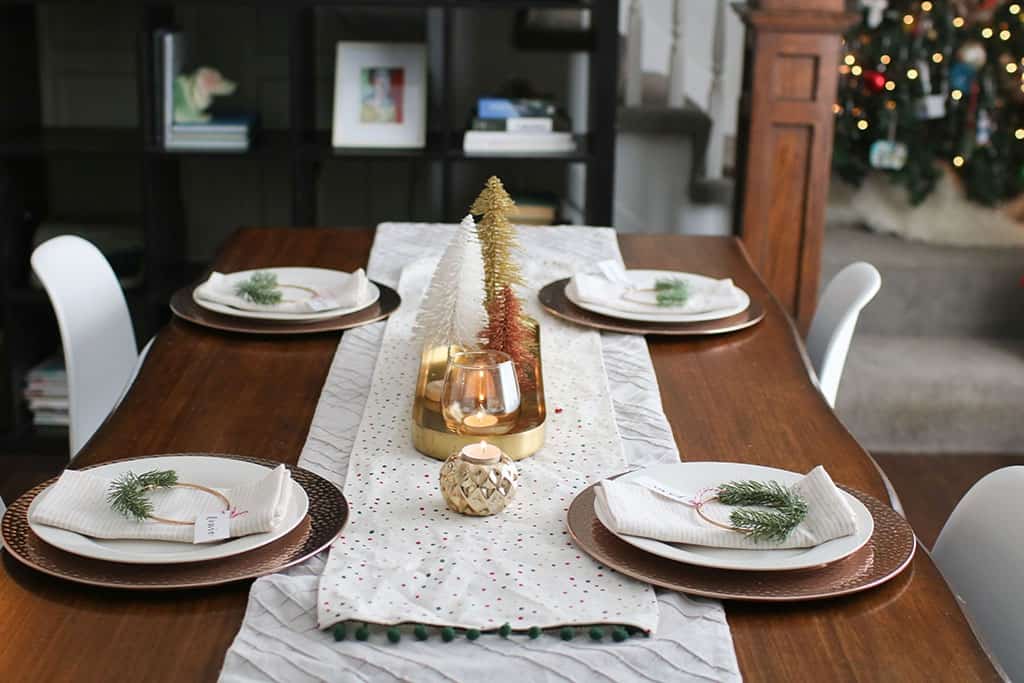 The larger table runner is from Home Goods a few years ago, and the smaller runner is from the Target dollar spot recently (was a gift from my sister -in-law Rebecca). I love it!
I love layering runners in different sizes.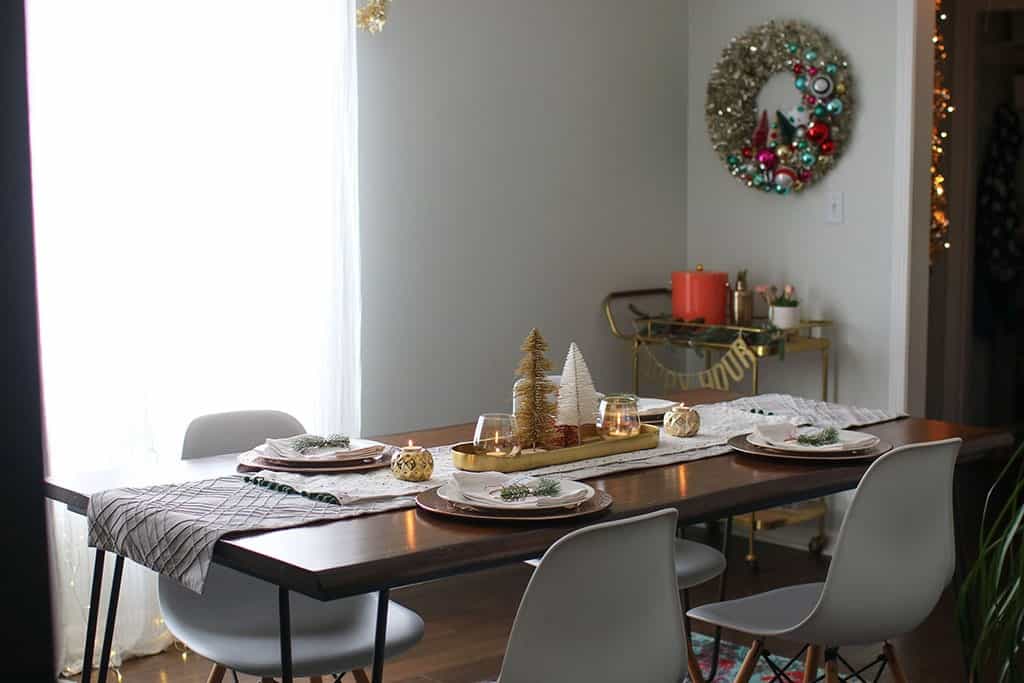 I found a set of four pretty copper chargers at Home Goods, and they were really affordable and add an extra needed element to the table. Here are some similar ones.
The trees and gold tray are from Target and the candle holders and tea lights are from Dollar Tree from a few years ago (link to a similar tray).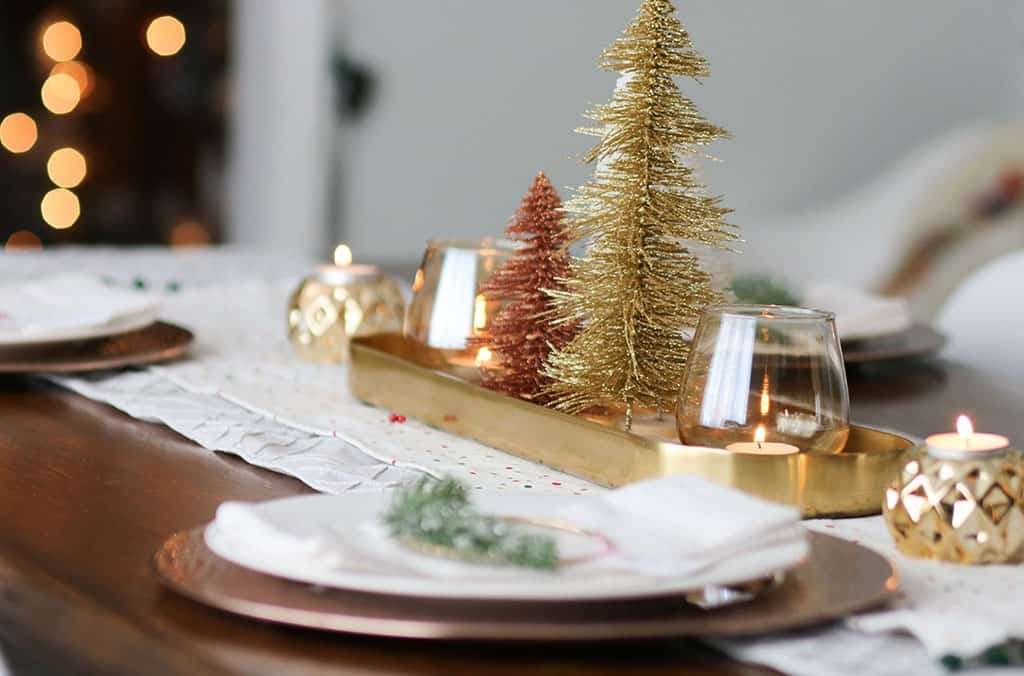 Do you like the simple modern place card and wreath? I have a super easy tutorial here.
They work well for decor and also serve as a nice favor to send home with your guests after a holiday dinner.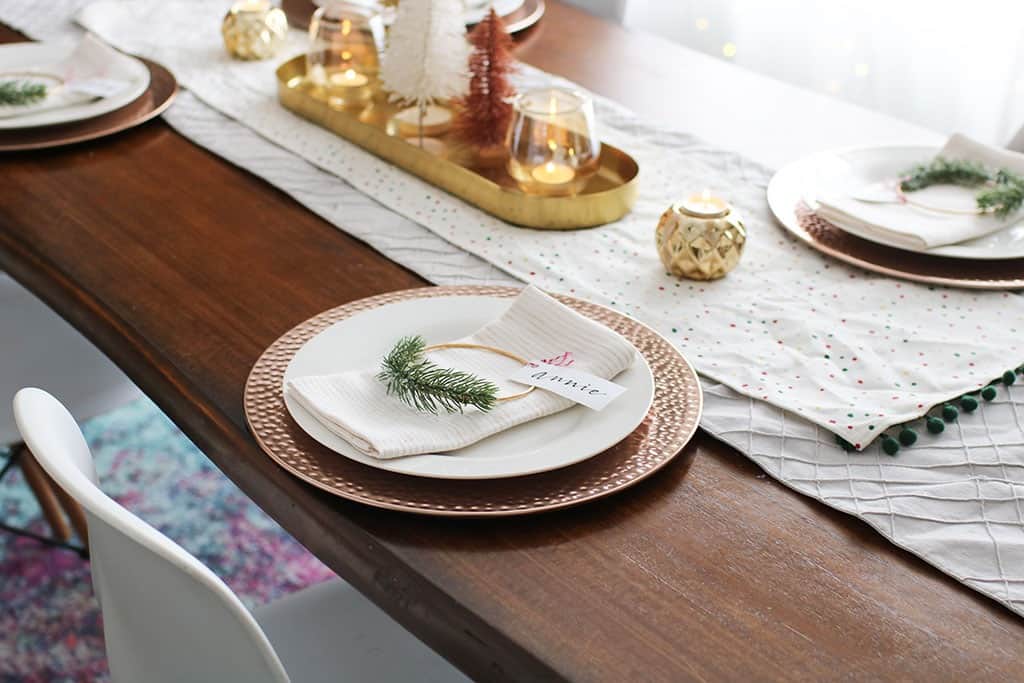 Here's a look at the bar cart all decorated for the holidays. The wreath is from Costco last year. I always love adding a few holiday decor items to the bar cart each season.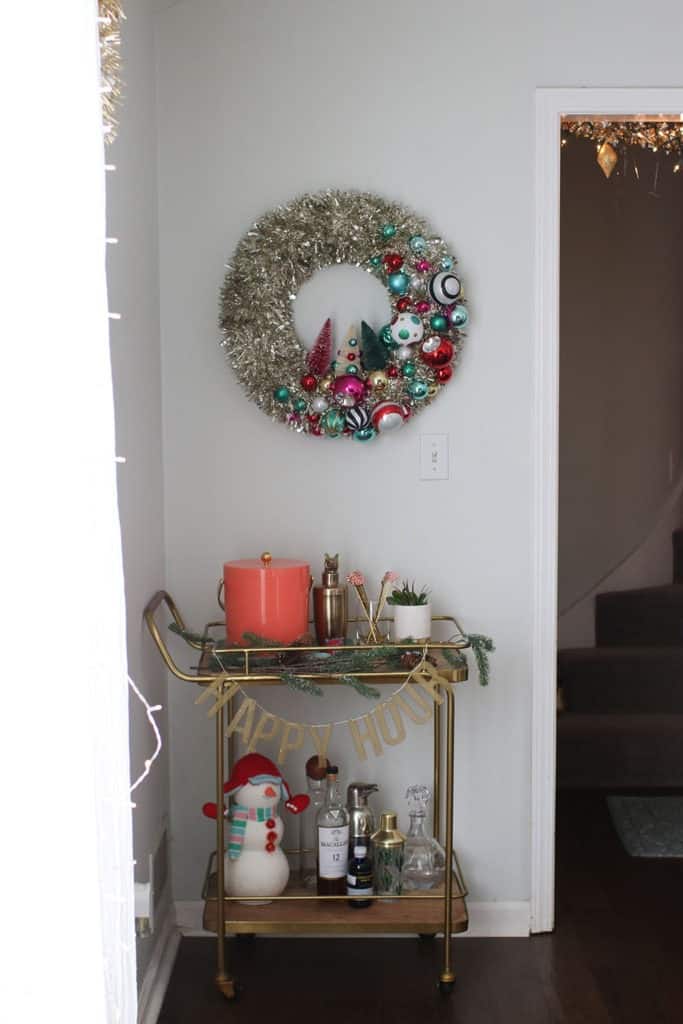 Details are my jam and love these brand new, in packaging peppermint cocktail stirrers that I got for a steal at Scraps KC, my favorite local creative refuse organization that supports the homeless while keeping waste out of landfills.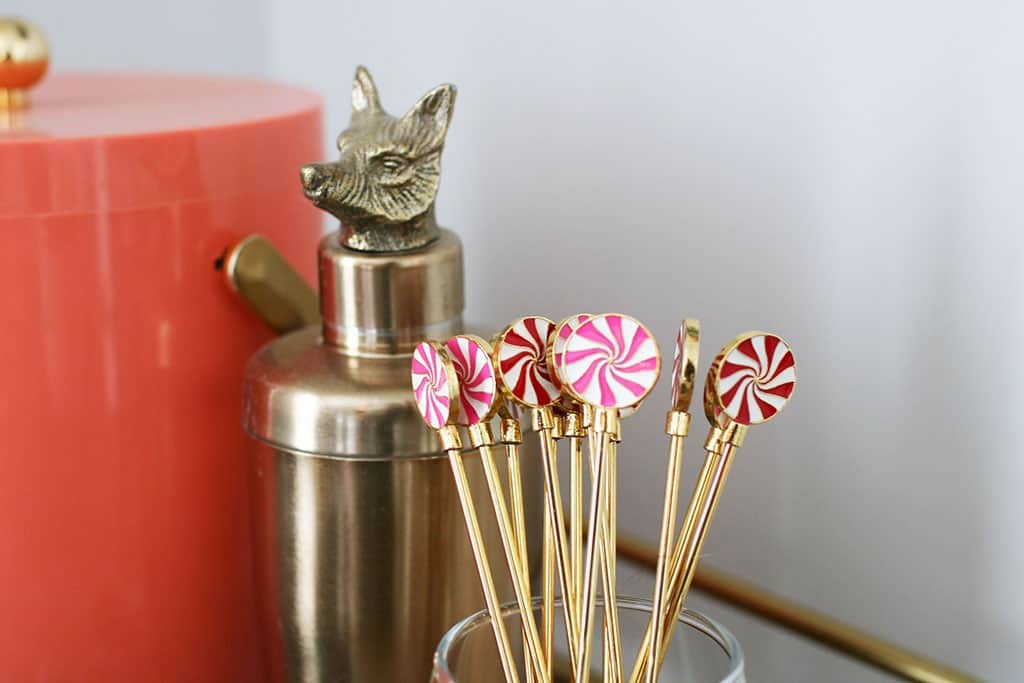 Here's a zoomed in look at the vintage buffet table overlooking the kitchen pass through window. I decided to add my DIY terrariums here for some extra festivity.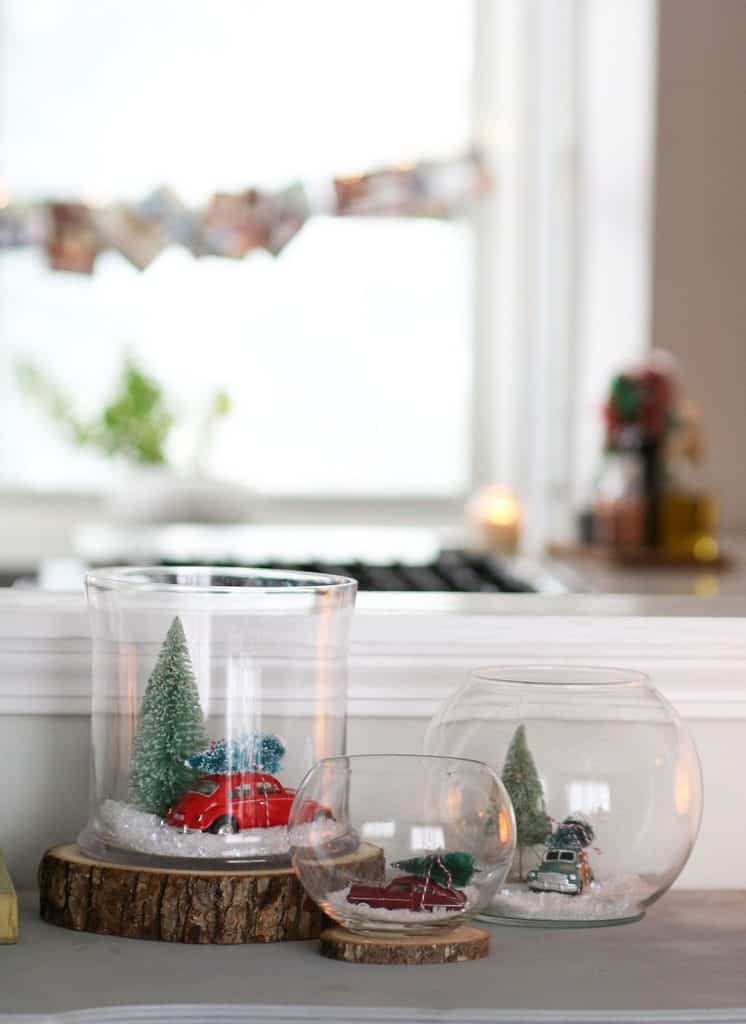 I got this vintage Santa pillow from my Grandma when I was two and have held onto it ever since. I love it and it makes an appearance each year!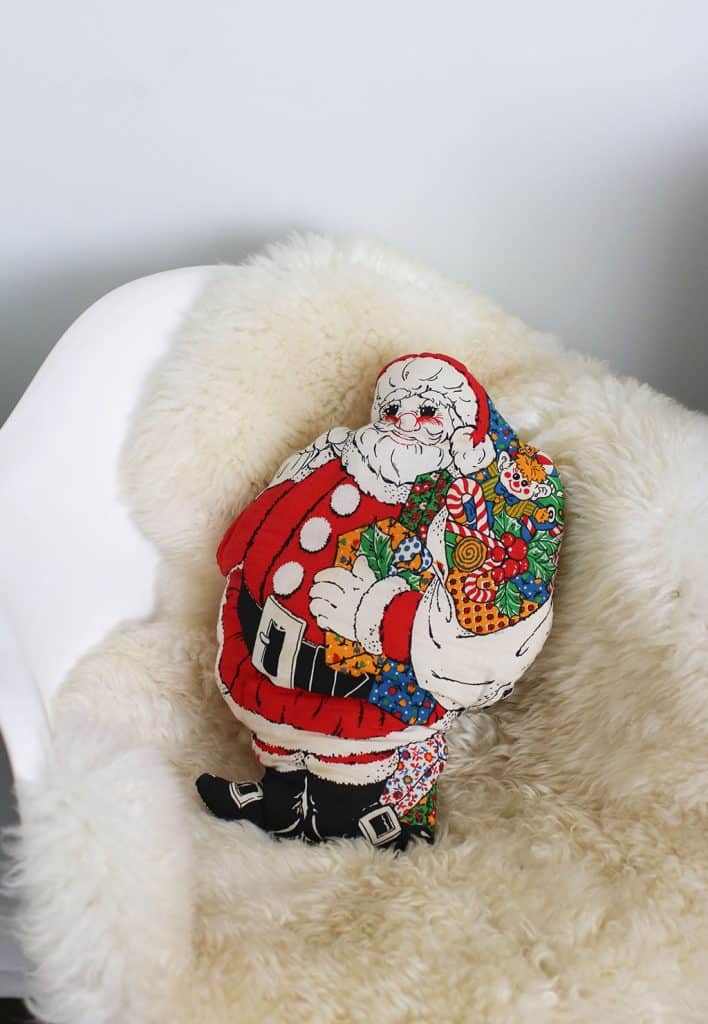 Next on the 2019 holiday home tour: The living room
Time to head down the entry hallway to the main living room, where I do most of my decorating.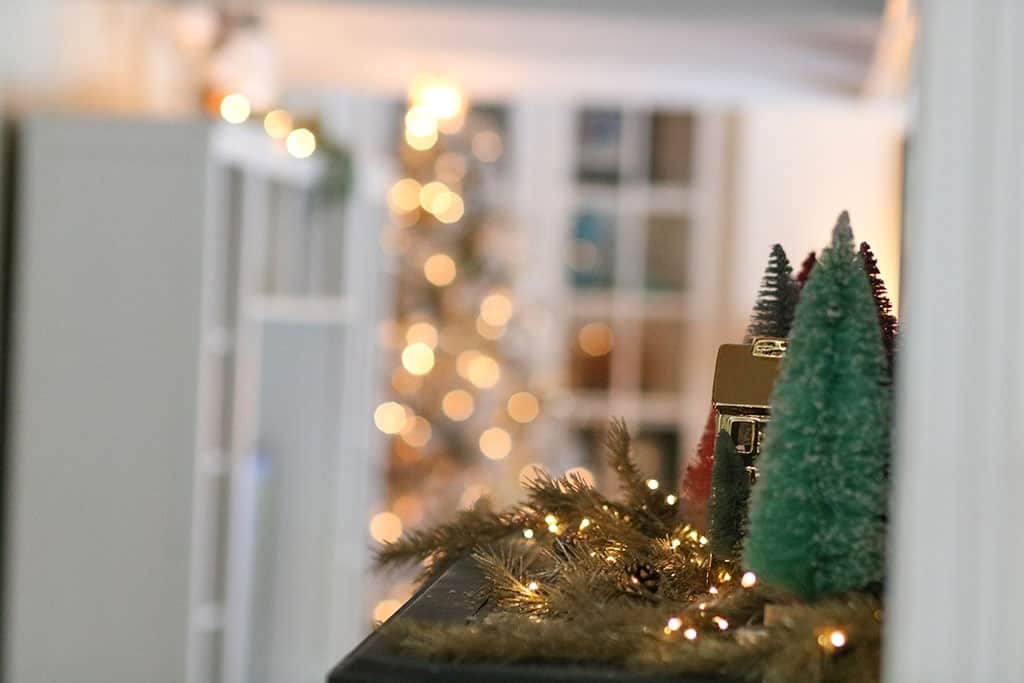 I added some glassware from our DIY $5000 wedding candy bar to the top of the entertainment center and filled with faux snow and bottle brush trees with some lights and greenery from Michael's in front.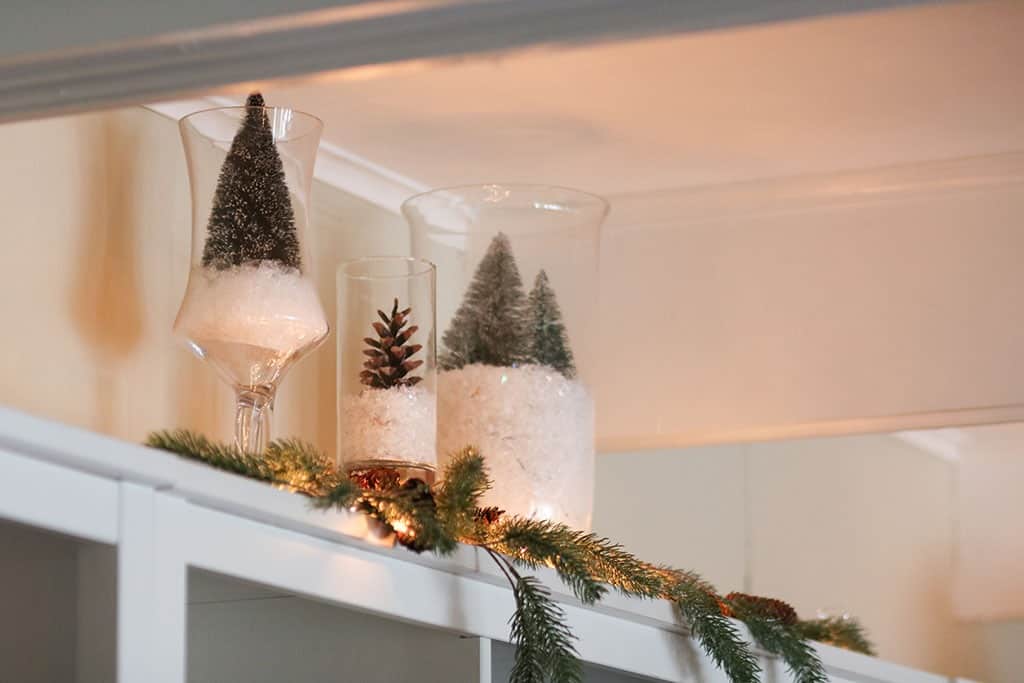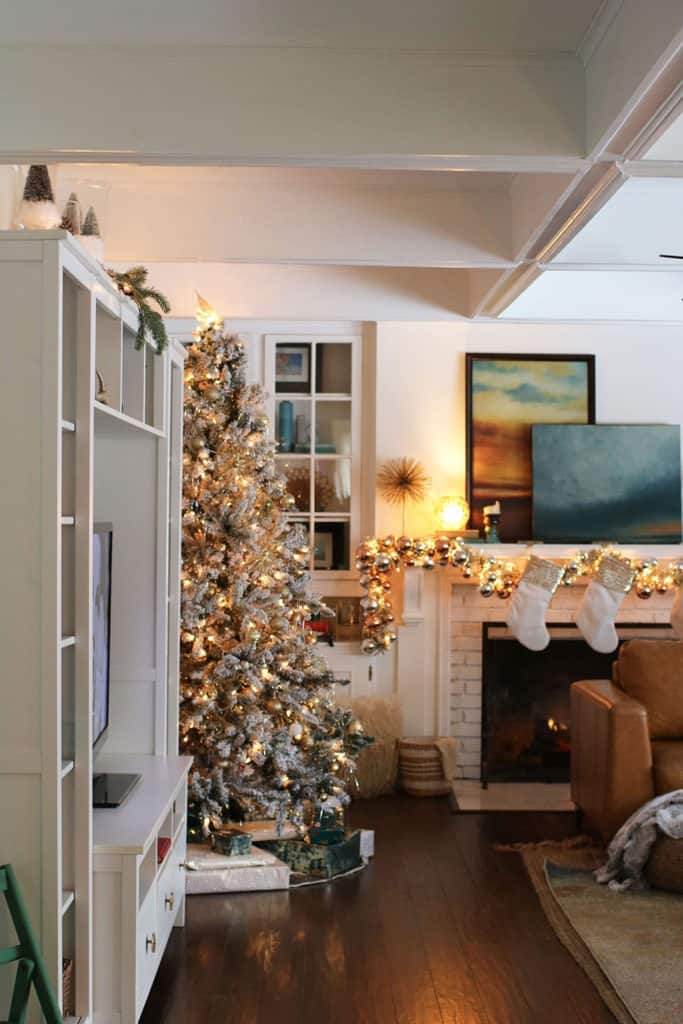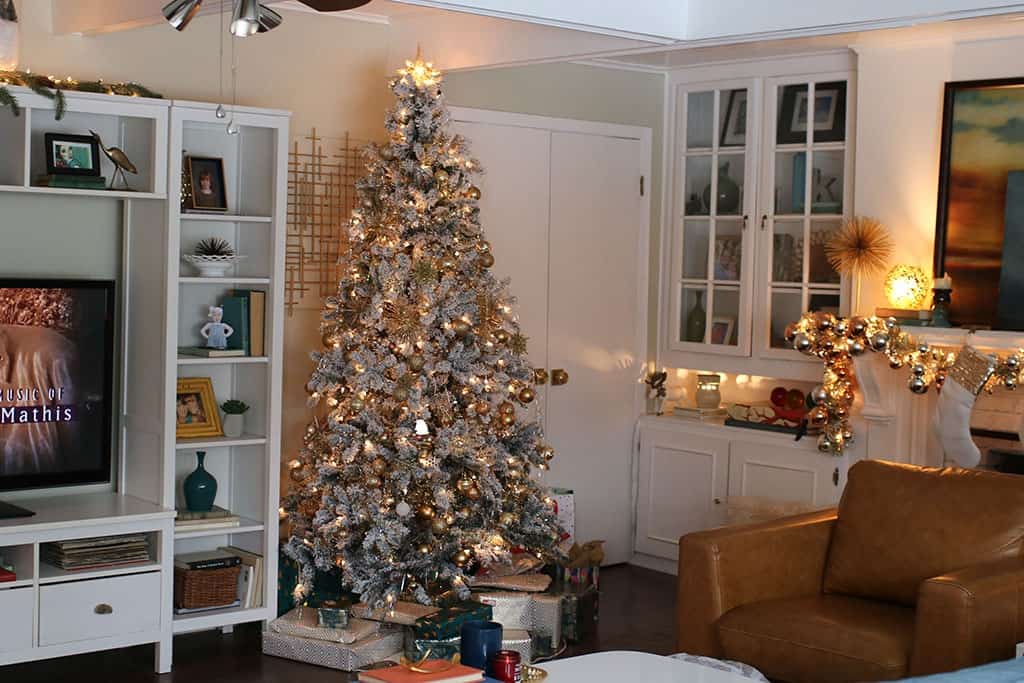 I got my wrapping paper from Walmart this year and the tree skirt was from Michaels clearance last season.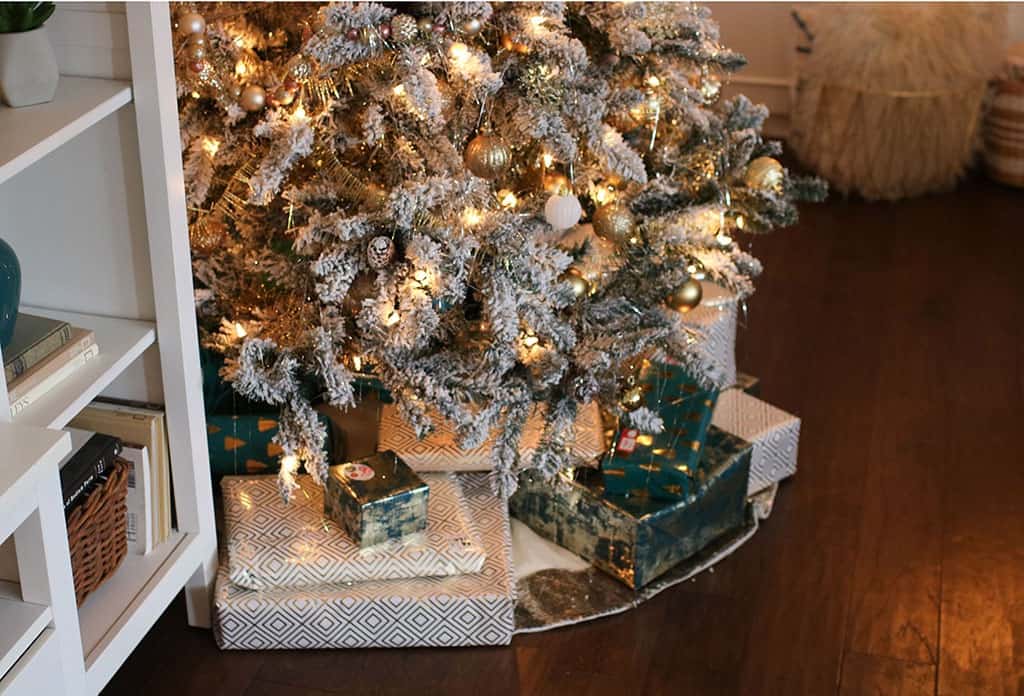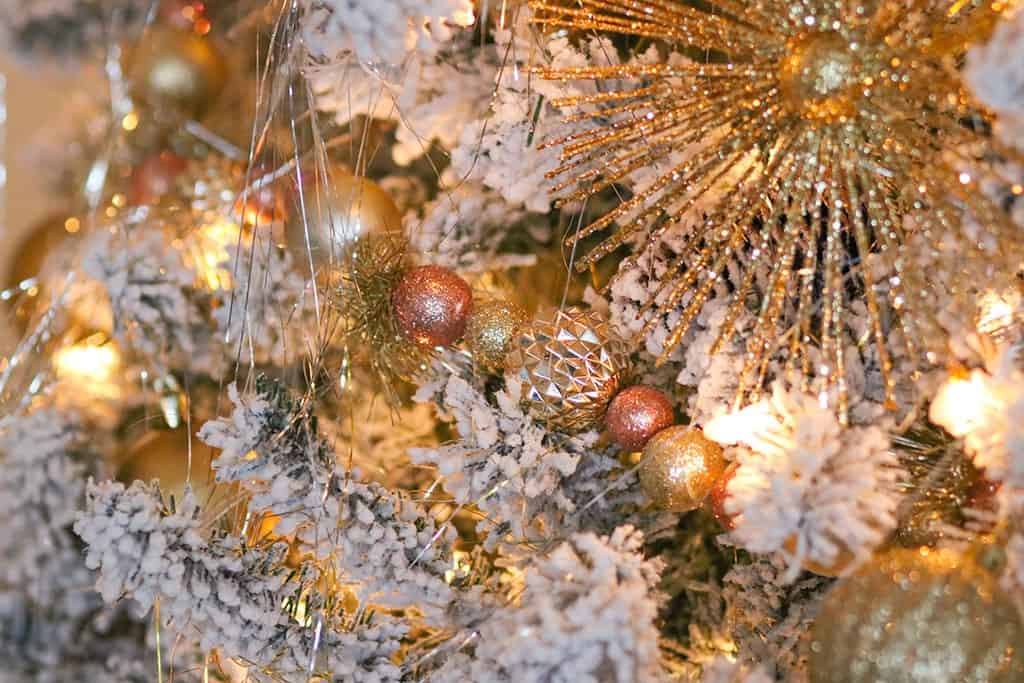 I got most of my ornaments from Old Time Pottery, Michaels, and Target last year. It's a mix.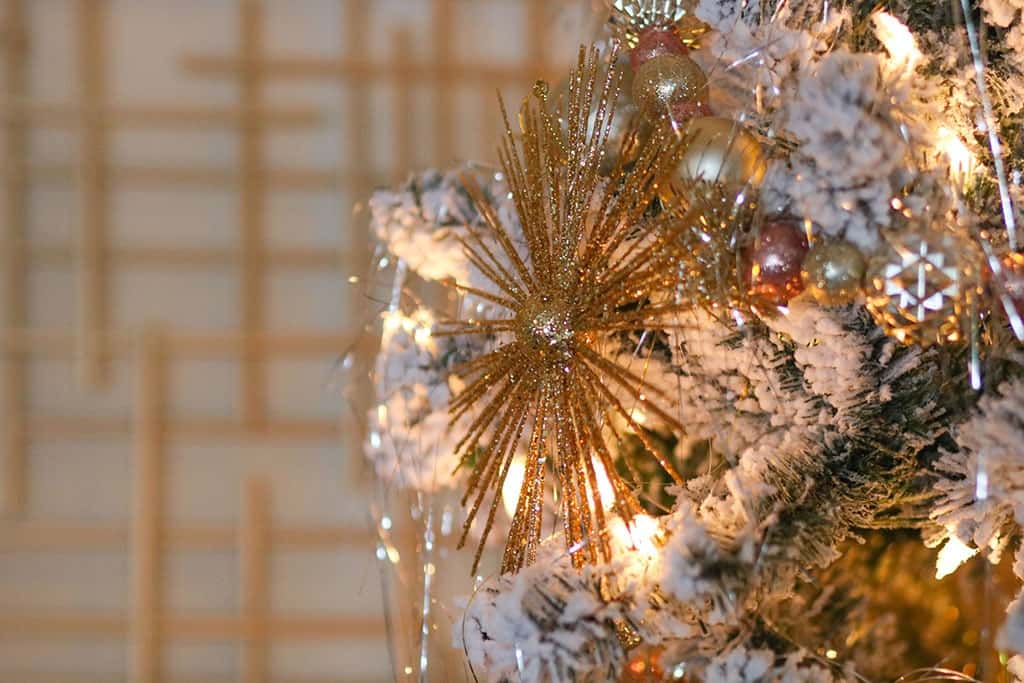 I hung two strands of metallic bulb garland to the mantel (from Michael's) and mixed it with gold sparkle garland and lights. All I used to hang them were three thumb tacks.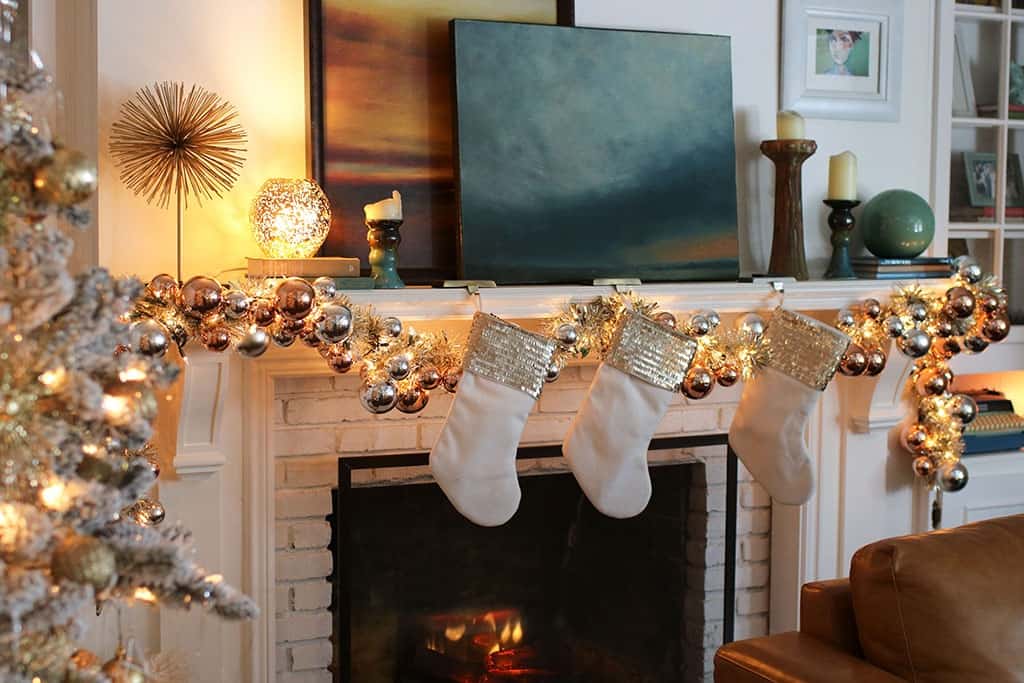 The stockings are from Michael's and I got them on 80% off clearance last year. They match our tree skirt, which also came from last year's end of season clearance. I love a deal.
Here is a similar garland but with much smaller gold bulbs.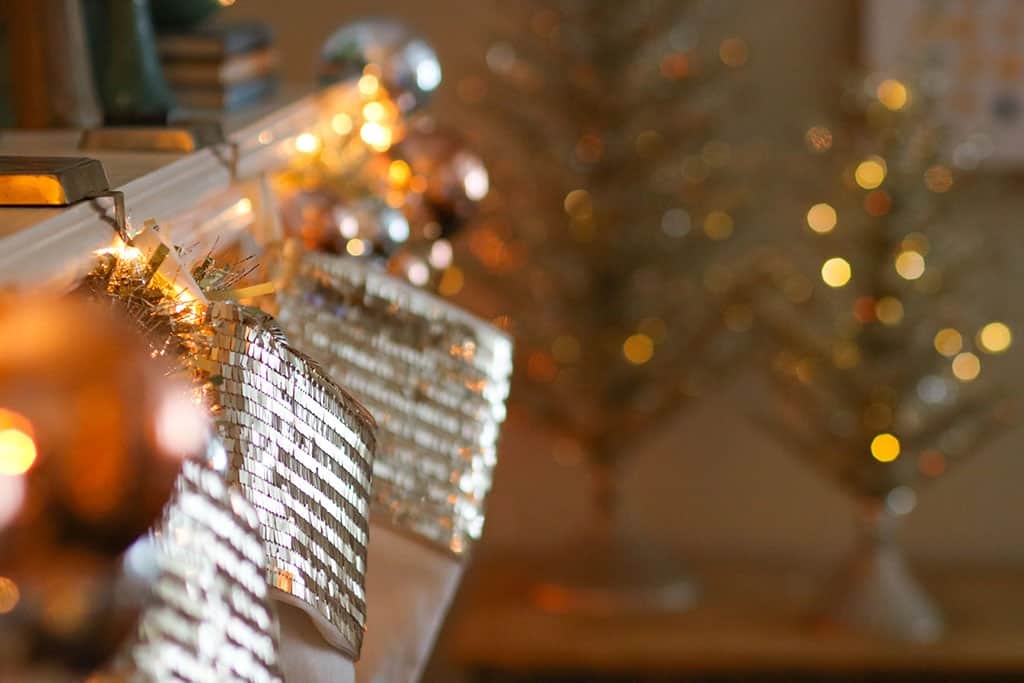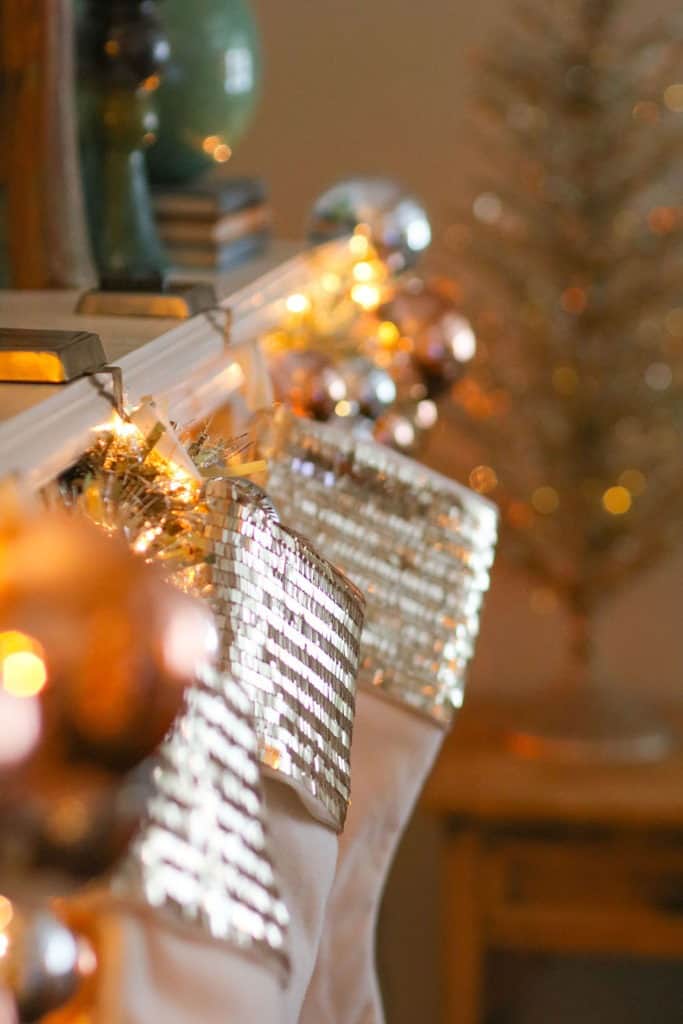 I got these two gold trees from Target Opal House last year on clearance and added some fairy lights to them for a nice glow. I love the sparkle they add to the corner of the room.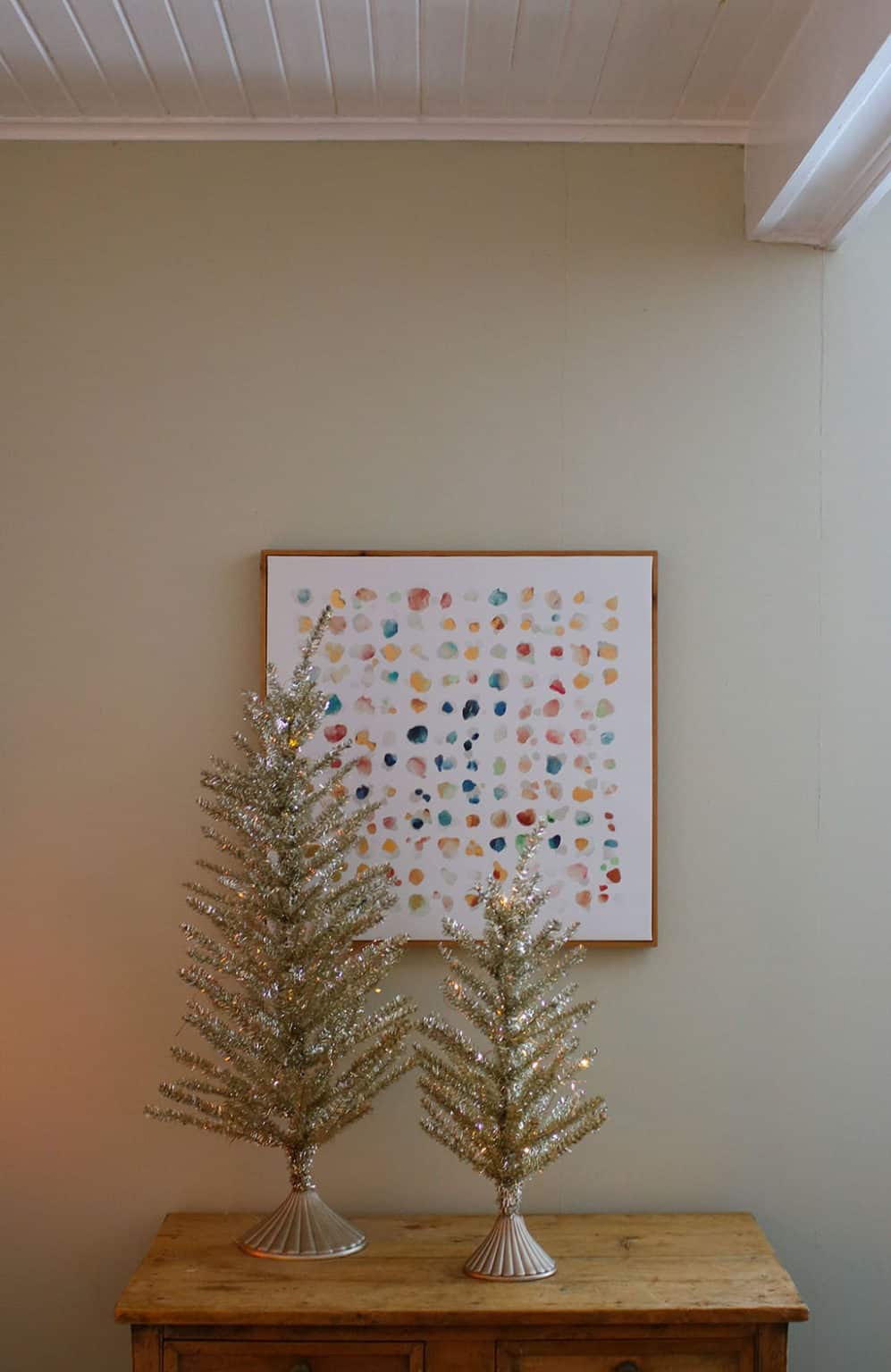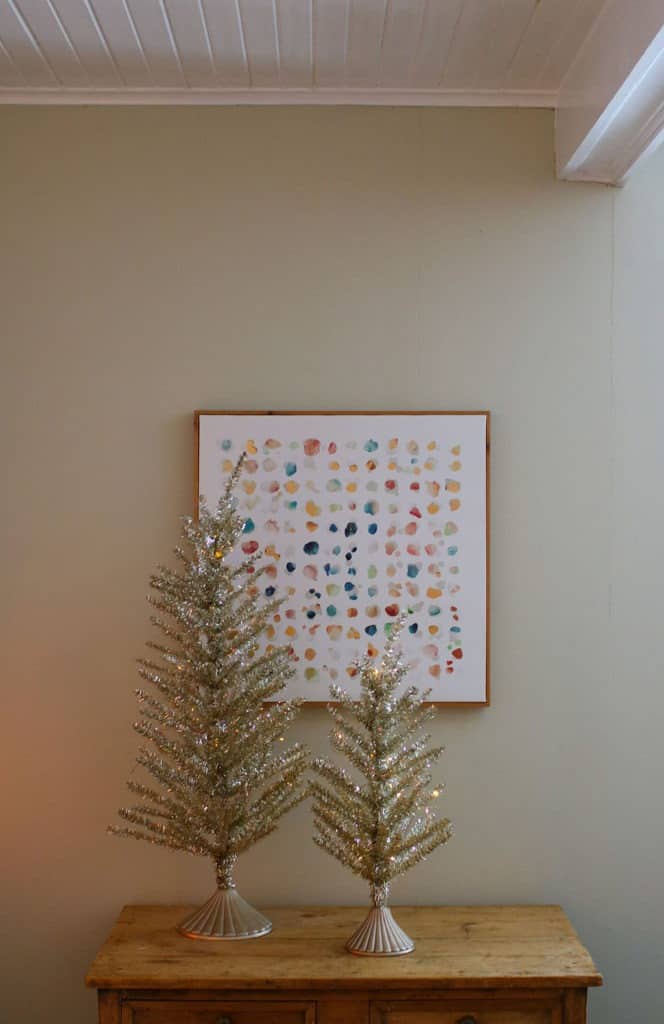 I even decorated our old, dated wet bar with some holiday cheer.
I plan on updating this space with some new hardware, faucets, countertop, sink, and backsplash soon, but for now we will appreciate the vintage look.
The vintage chair and foot stool belonged to Ted's late father from the 70s, but anyone who's interested can find a similar option here.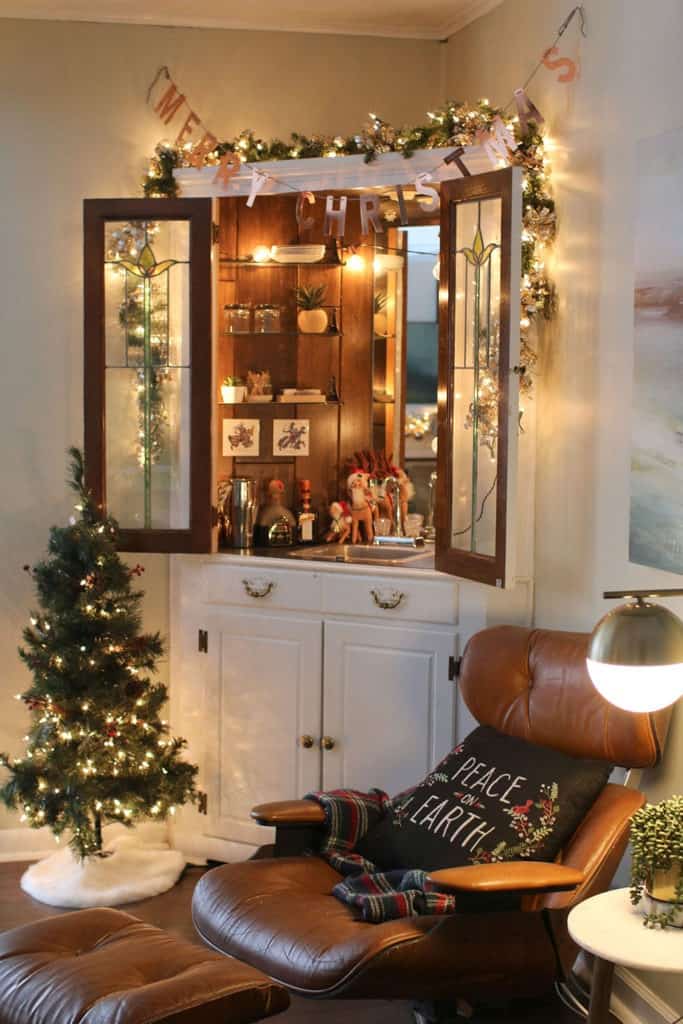 The "Merry Christmas" banner was from Target a few yeas ago, and the pillow came from Old Time Pottery last year and was about $10. The marble table is from Target and is so high quality.
The kitchen
Let's head back upstairs to the kitchen, which I decorated ever so minimally.
The coffee bar houses a mini tree I got from World Market on clearance last year, and I adore my Santa mug that I bought years ago.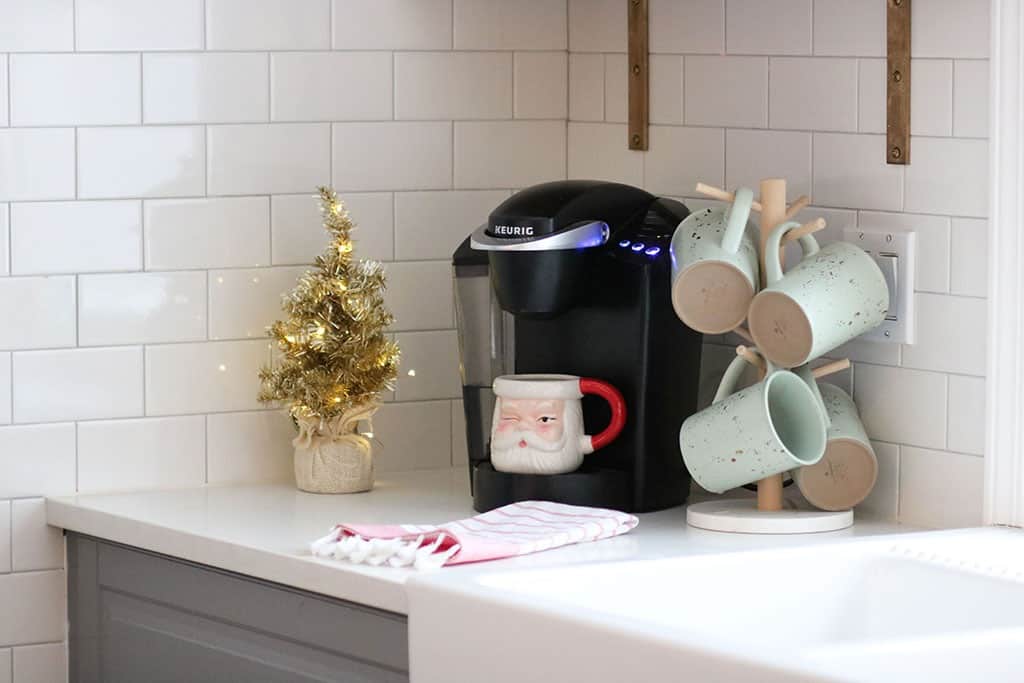 On the island I put some plastic ornaments in a glass cloche and paired it with our spice cutting board from World Market. I always have a Henro Company soy candle burning. Smells so good!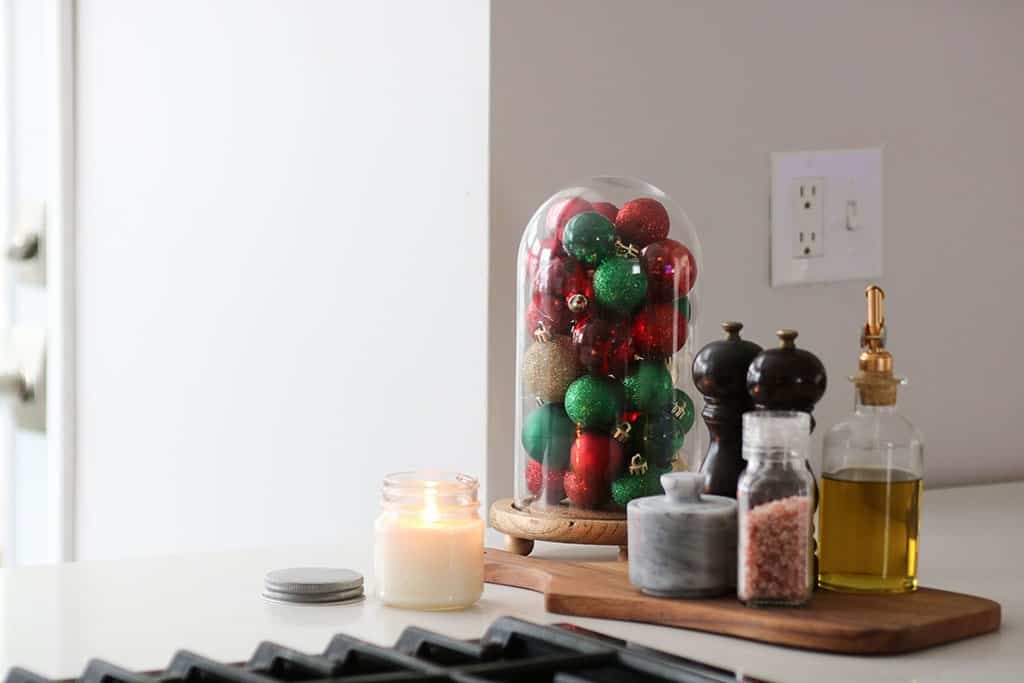 We hang our holiday cards from a long fairy light strand with clips in front of the windows.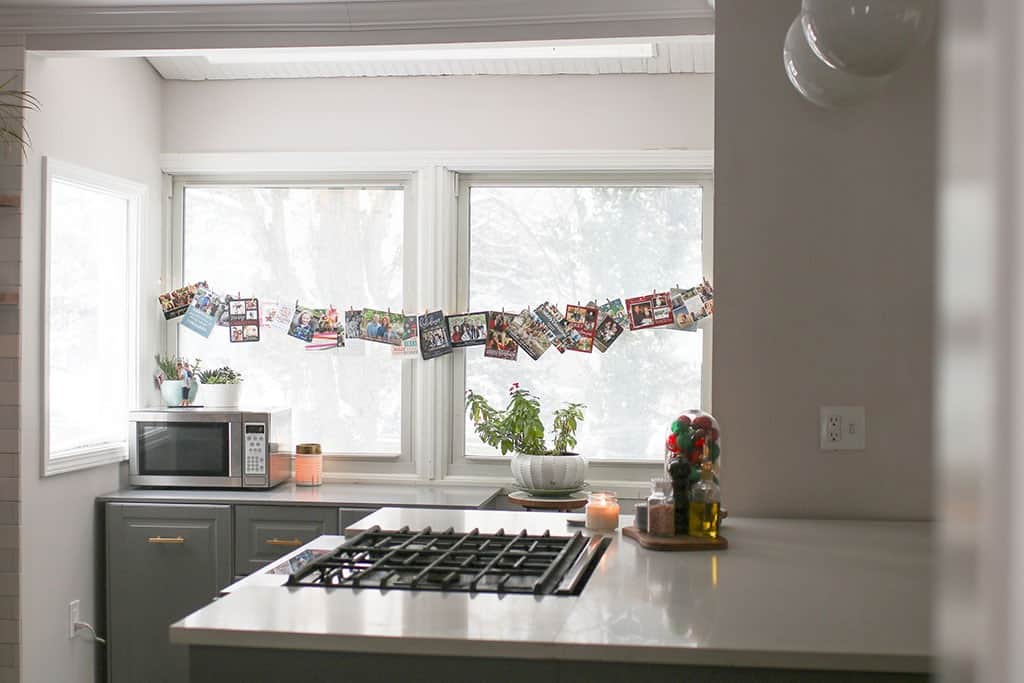 I love displaying out cards on this strand. So festive and out in the open to remind us of our close friends and family throughout the holiday season.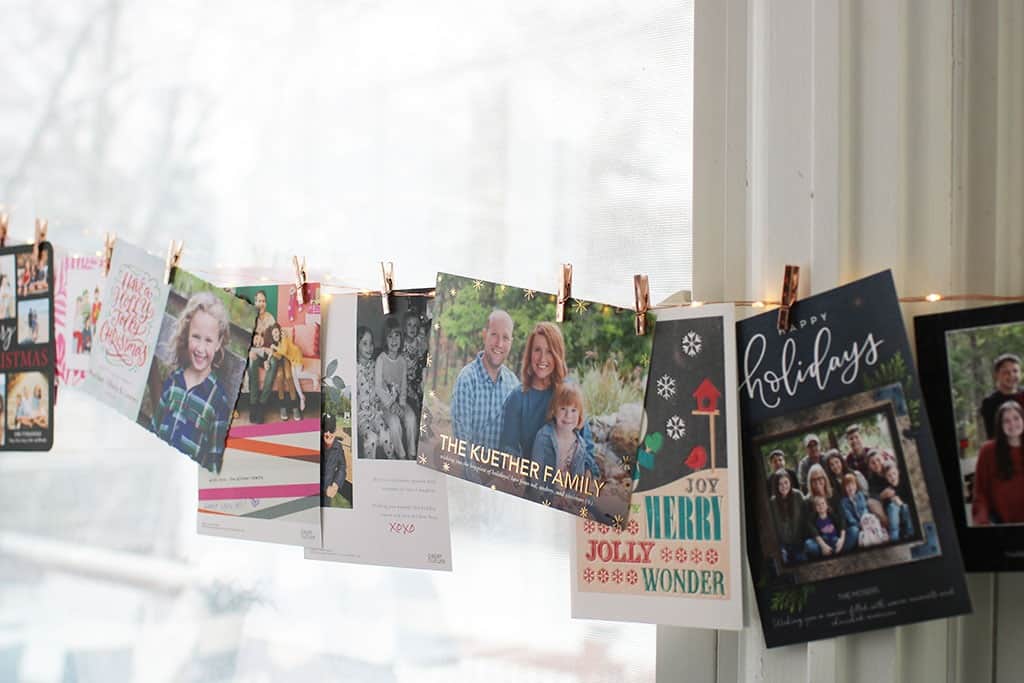 I also added another cloche with some faux greenery and a family photo on the countertops. Just a small bit of festivity.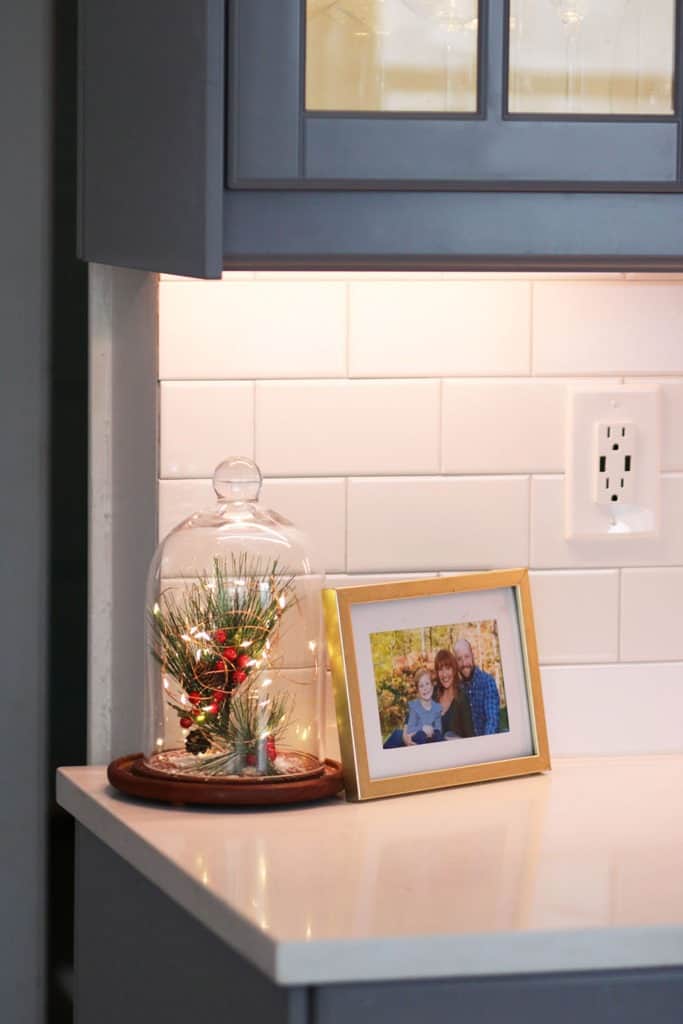 The home office
While in the kitchen, let's hop over to the adjoining home office nook. I didn't do much in this space besides add a couple fun Target Dollar Spot pillows and my DIY terrariums.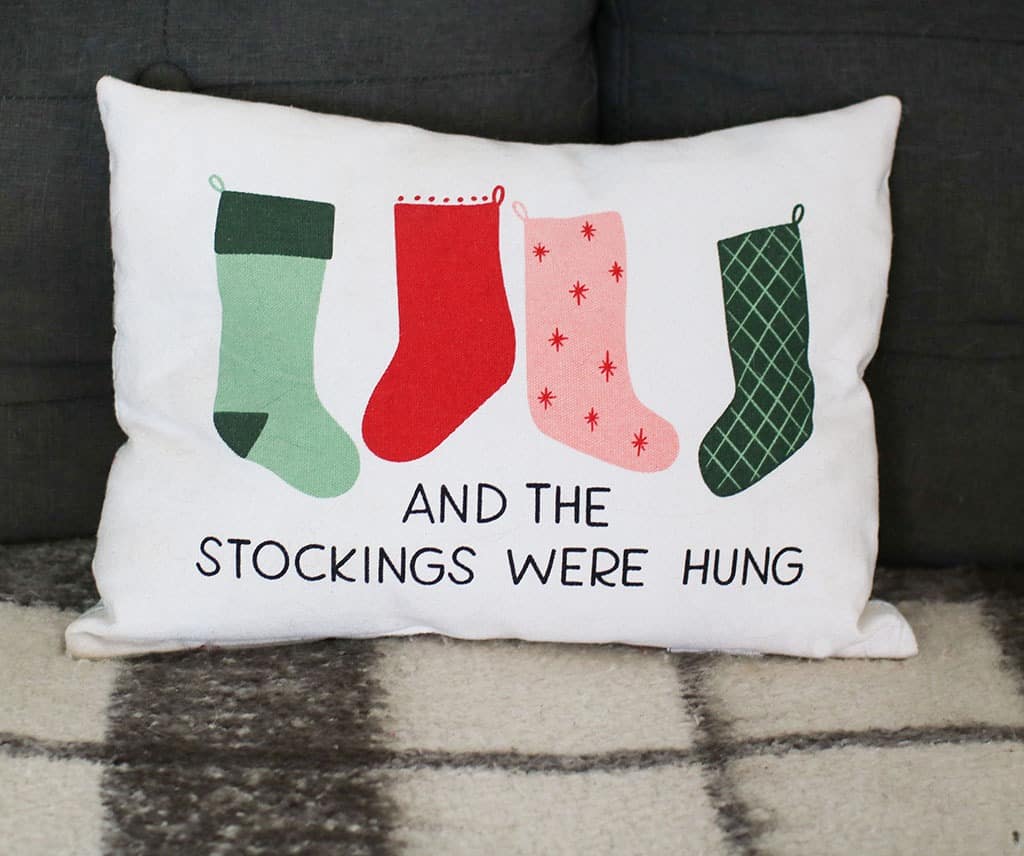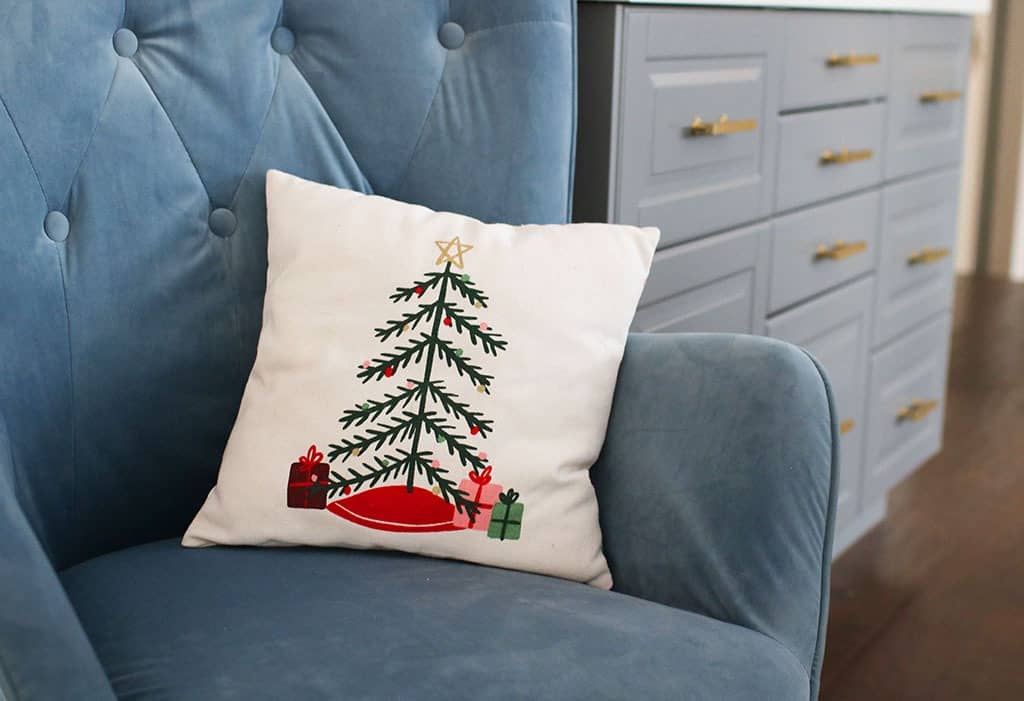 I love adding my easy DIY vintage cars and bottle brush trees to the mix to make things even more festive!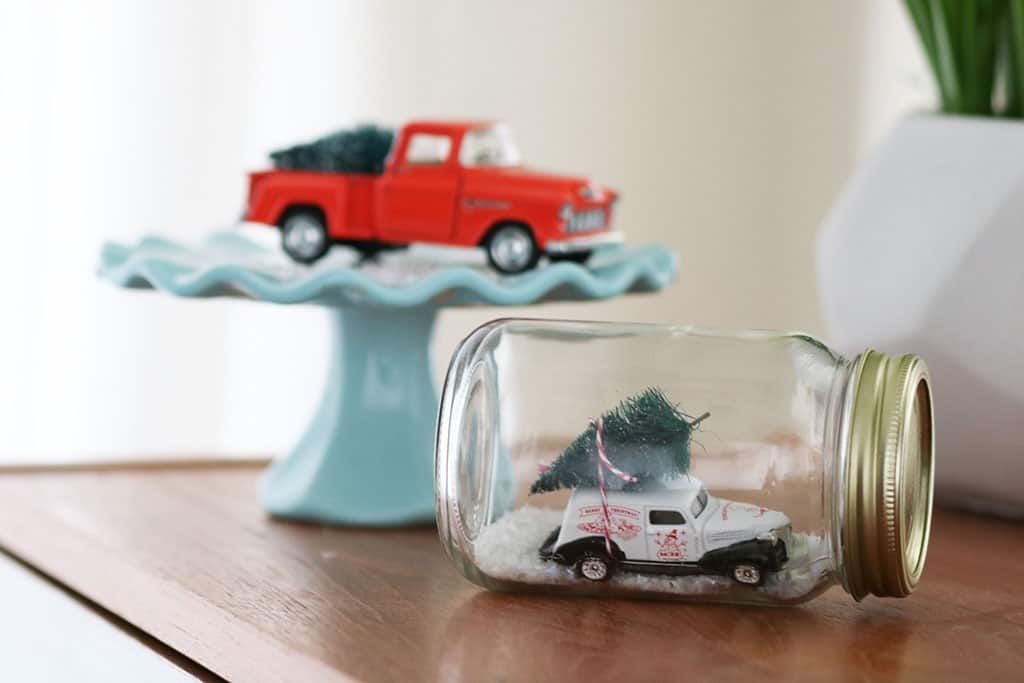 The bathrooms
Now that we've made our way through the main level, lets head through the minimally decorated bathrooms shall we?
Here's a look at the simple setup I have in our half bathroom/ laundry room.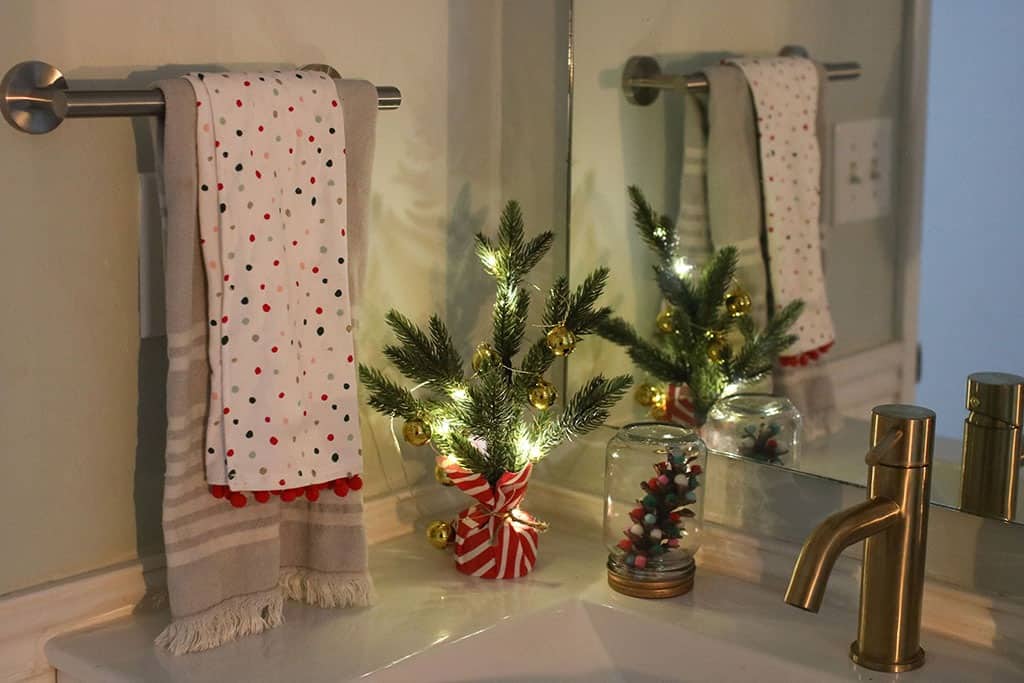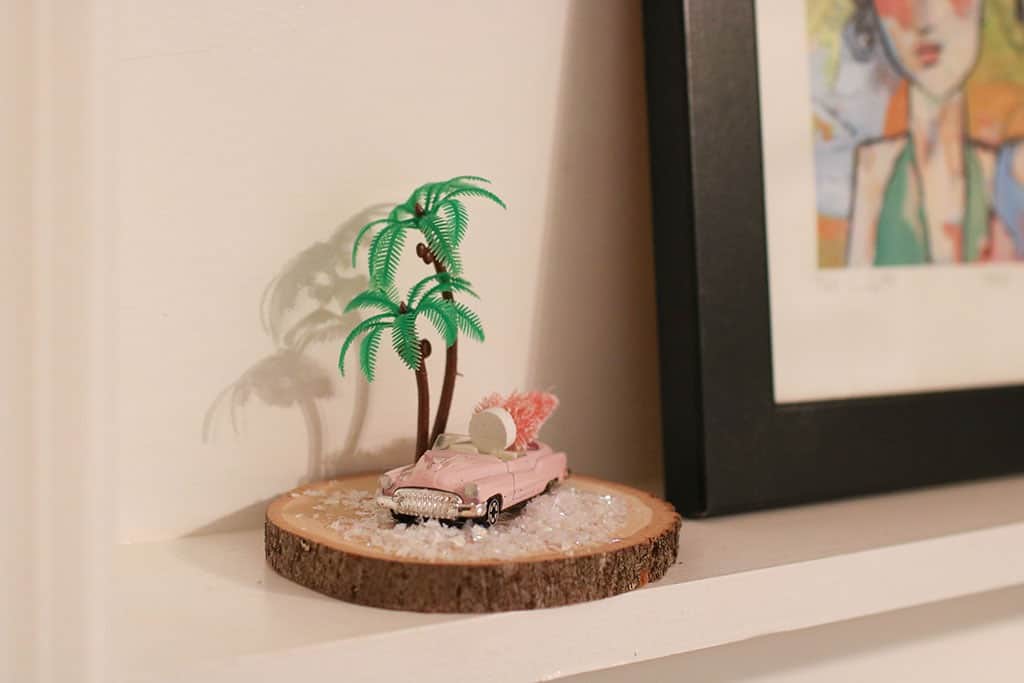 And the guest bathroom I added a $5 tree from Target with some dollar spot bell lights.
I made the DIY snow globes for my latest HomeTalk TV spot, which I'll link after it goes live on December 20.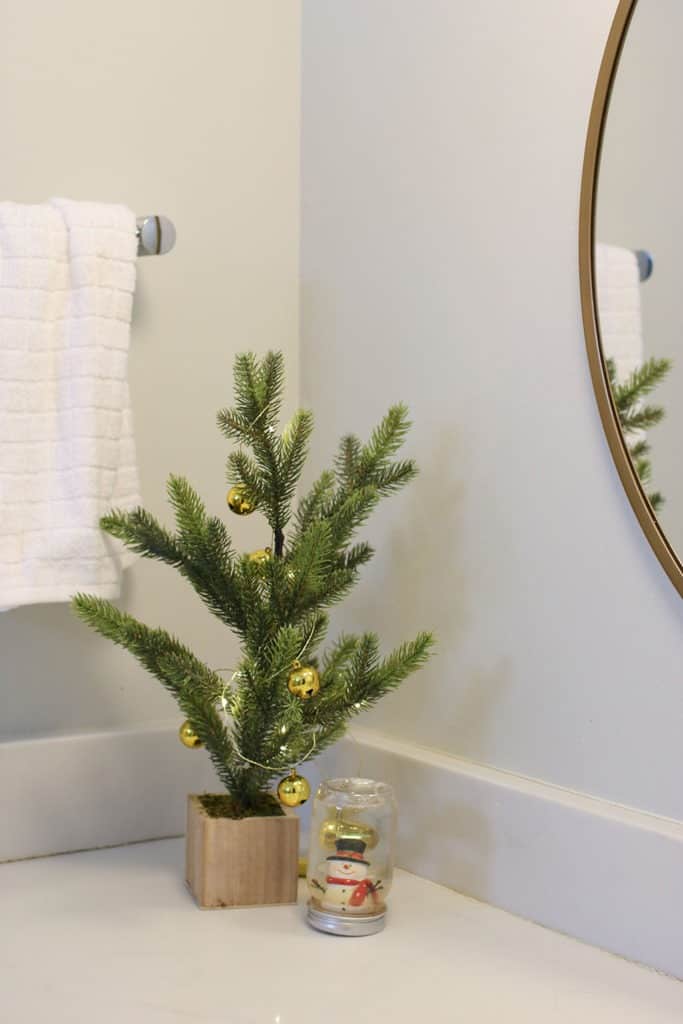 Here's a look at our master bathroom, which also houses two $5 Target trees with bell lighting and a Dollar Spot hand towel.
Just a little bit of festivity in each bathroom goes a long way. 🙂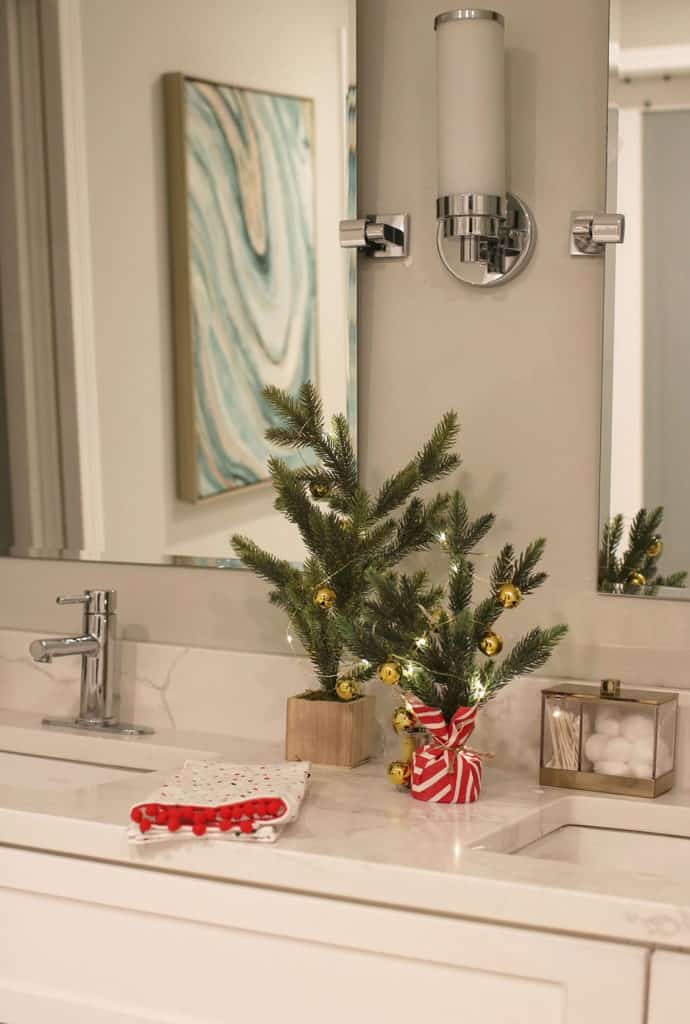 Last on the stop is our sun porch
I completely redid this space last April DIY style and a mont ago Ted built a DIY bar top.
I'll be blogging the before and after of this space soon, but for now here's a look at the couple gold Opal House trees from Target in the corner for a touch of festivity!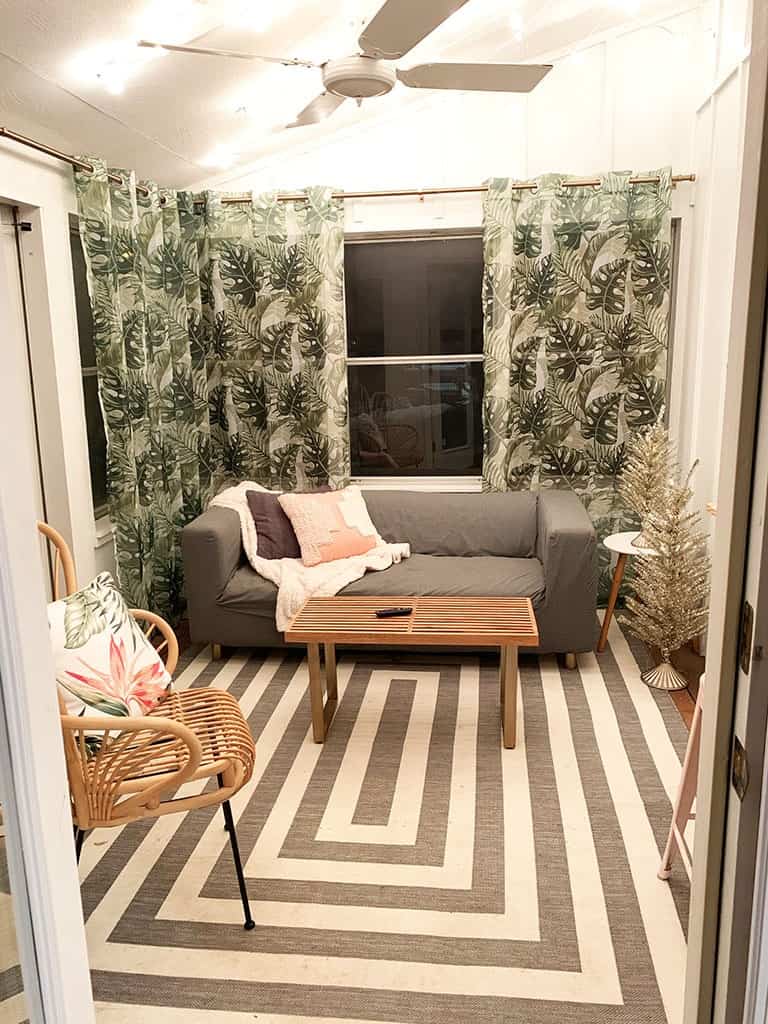 And a quick look at the exterior is a must!
Here's a part of our house at night after a big snow. Yes, that's an observatory on top of the house. You can check it out in the home tour tab.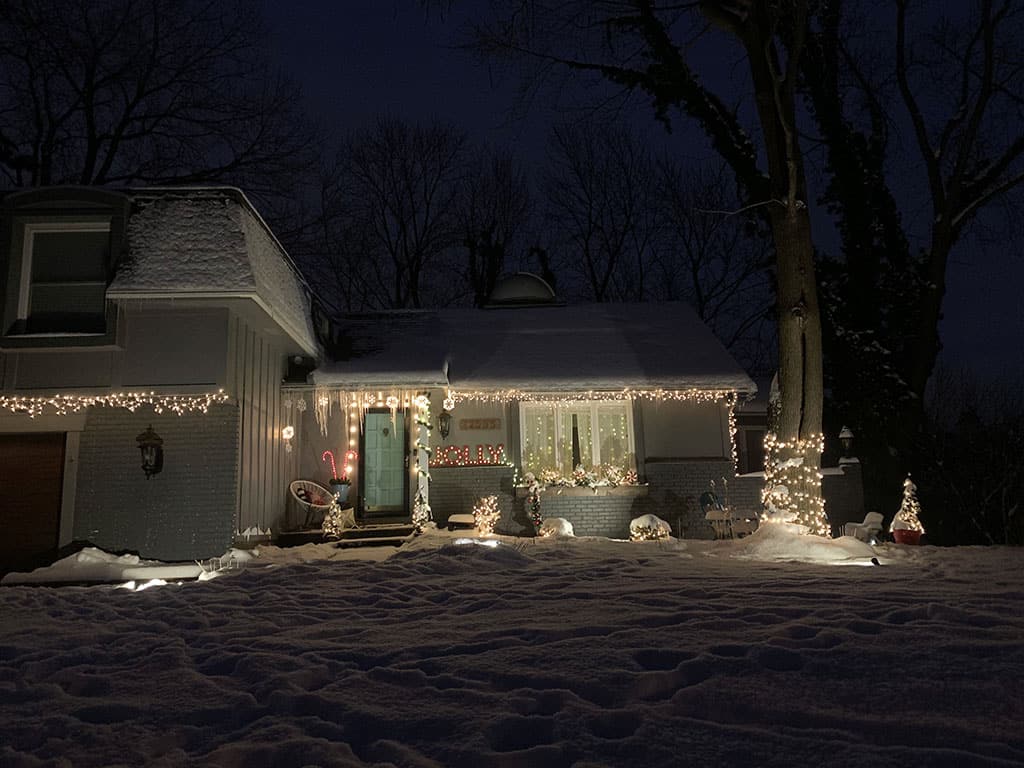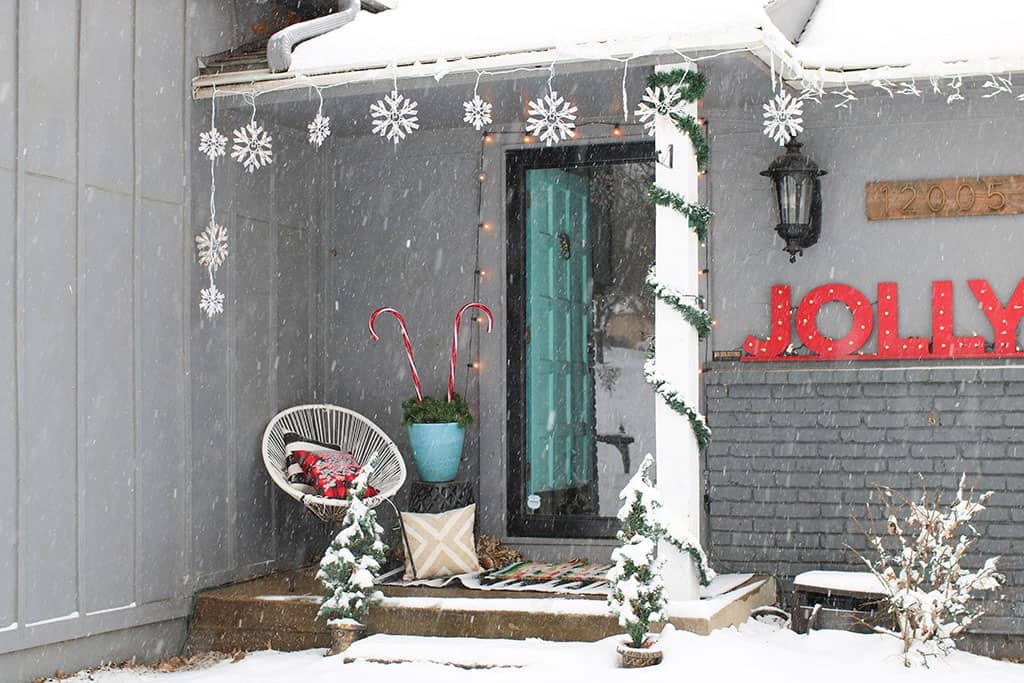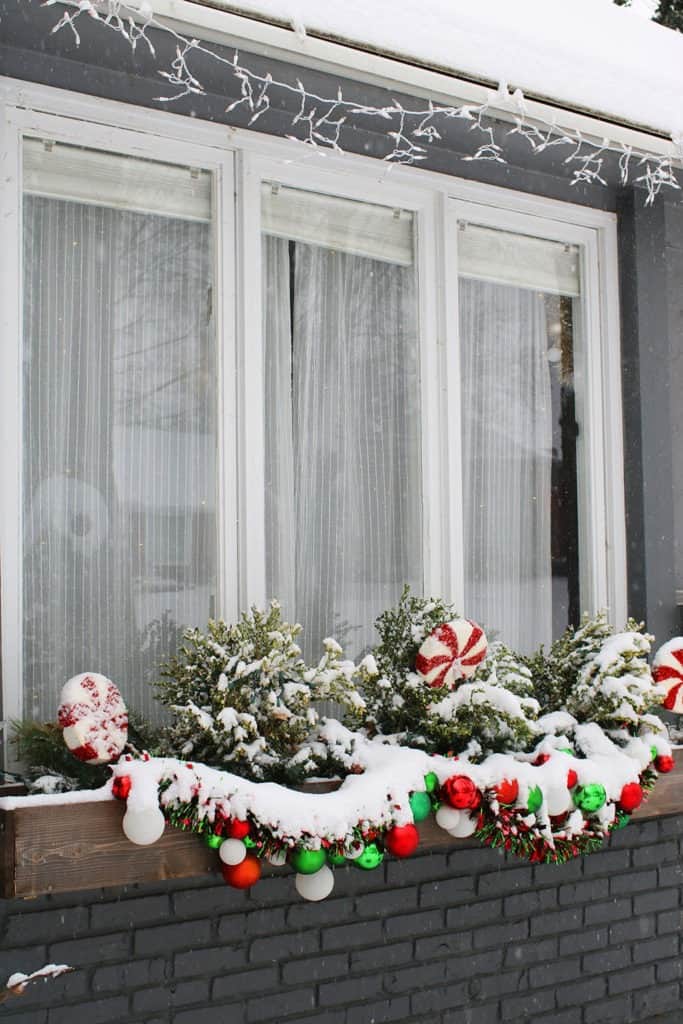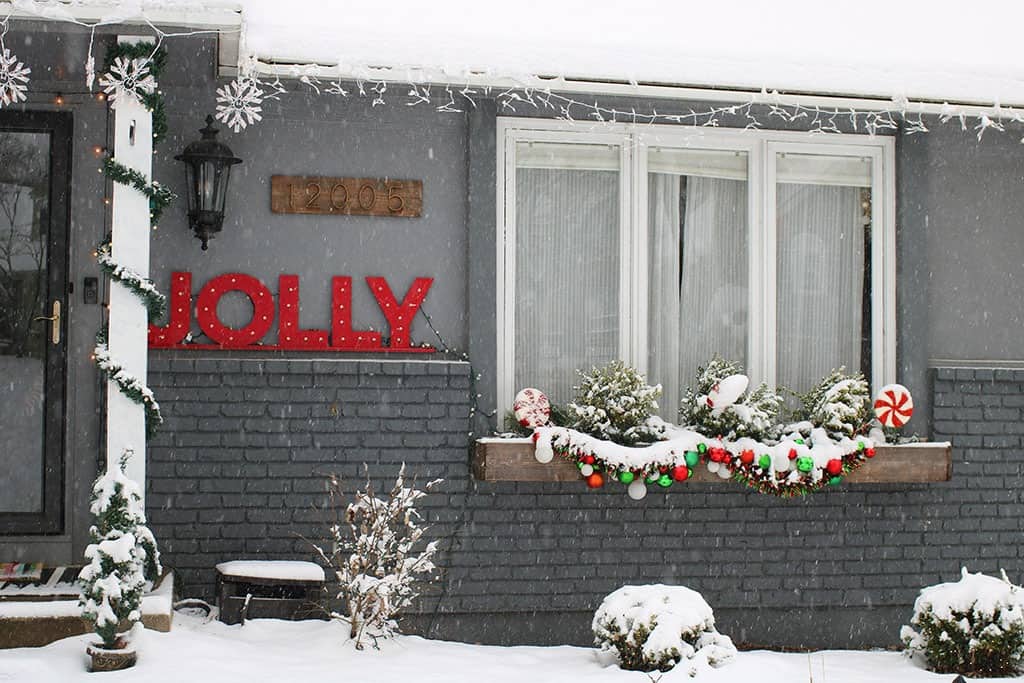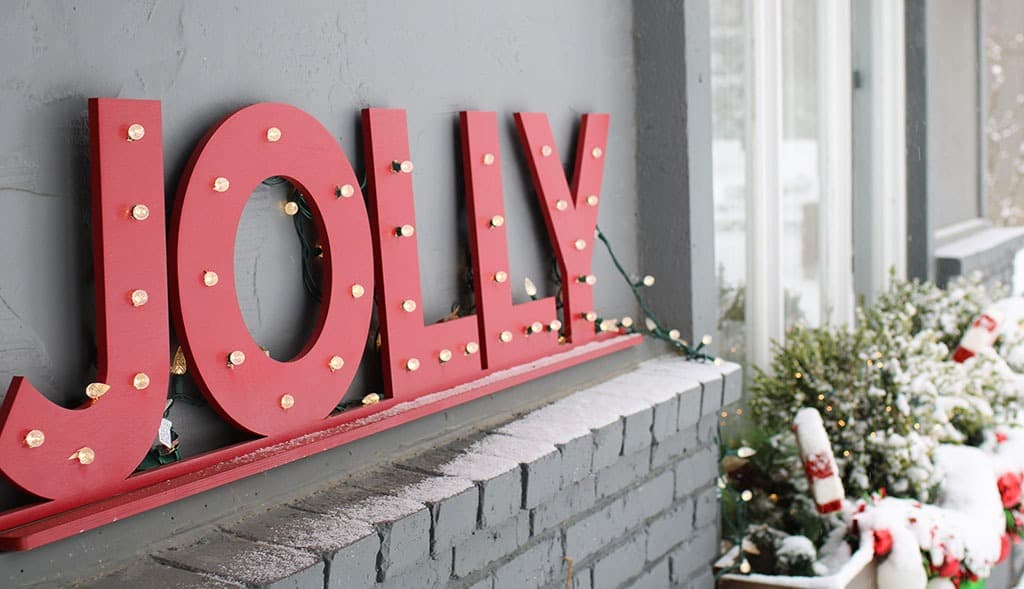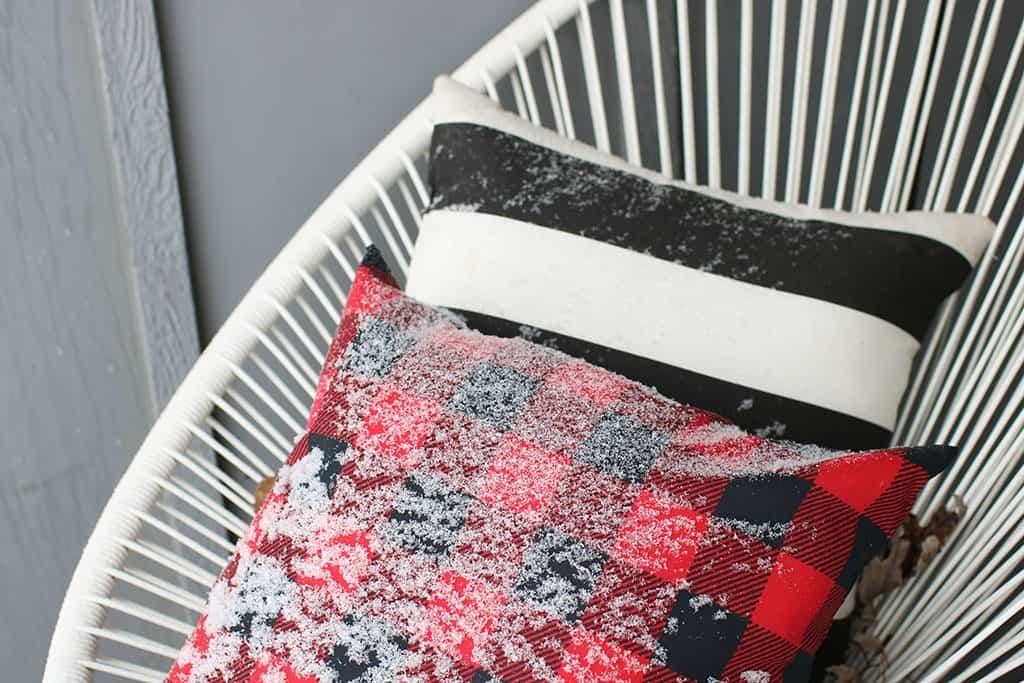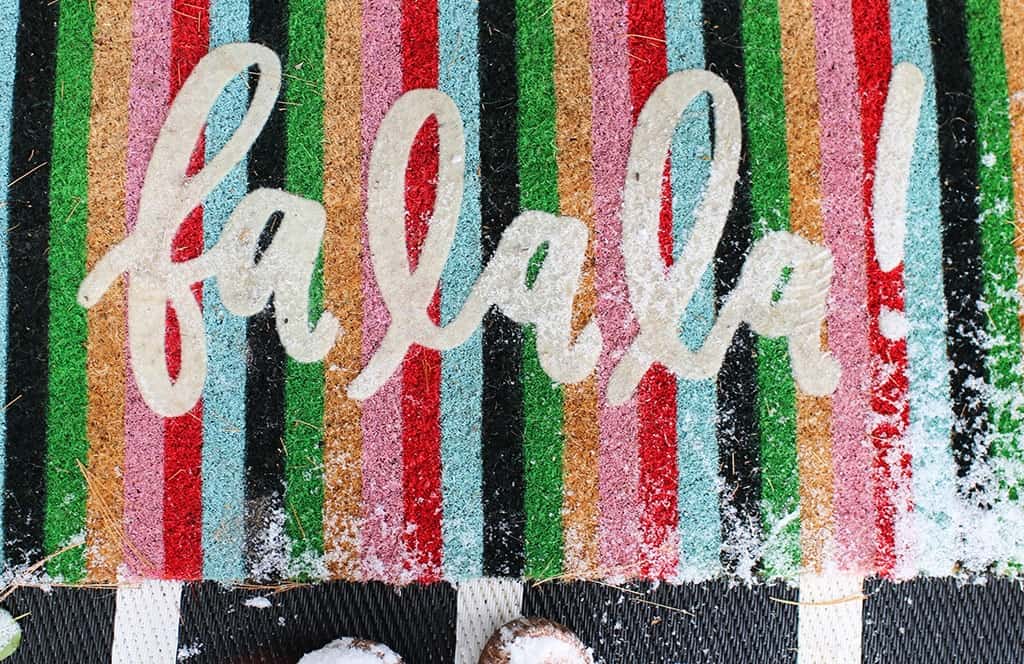 Our outdoor cabana also looks a bit festive! Yes, I know I need to get the curtains and umbrella back to storage, ha.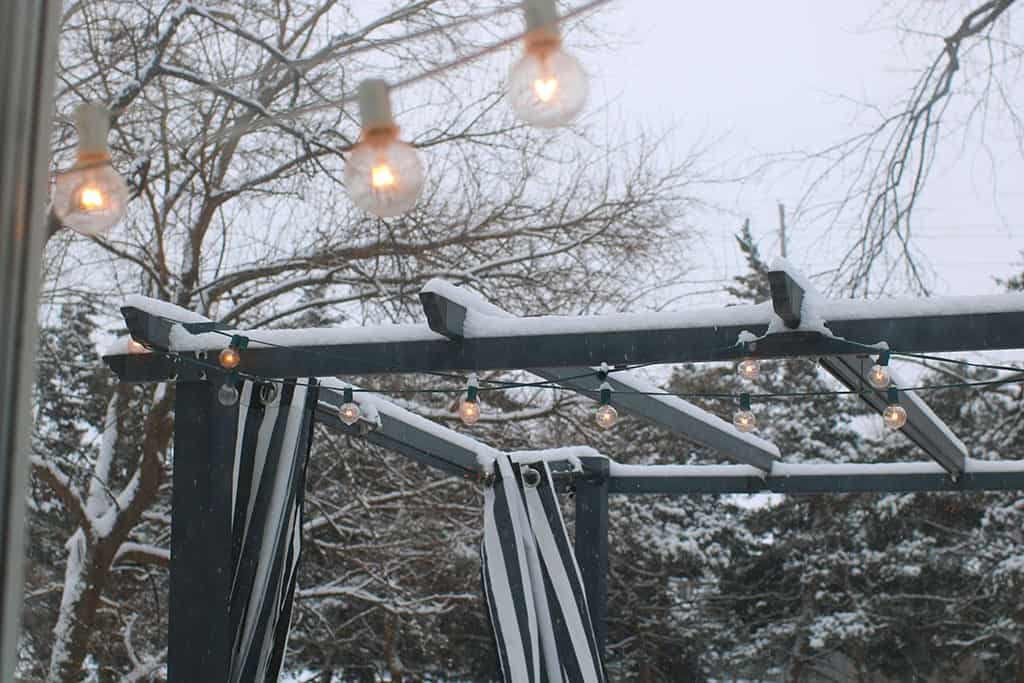 That's it! Thanks for joining me on this festive 2019 holiday home tour. Happy holidays to you all!
xoxo
Audrey
She went really simple this year with real greenery and it's gorgeous!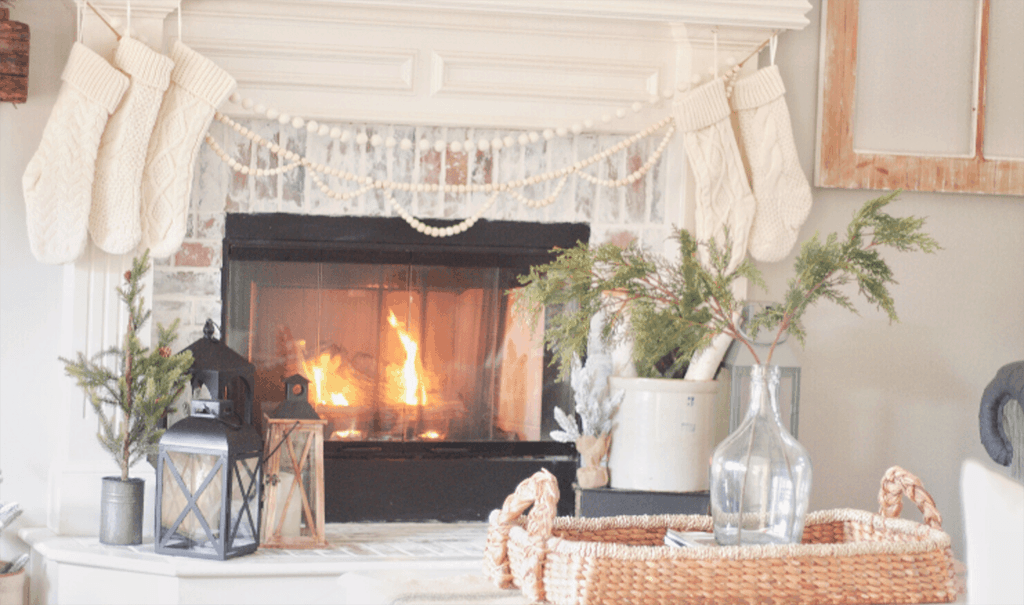 ---
You might also like my free holiday art printables! So many options for any style!