It's been a little while since I've done an (in process) home tour, so I figured today was the day to show you one of our guest rooms. Make sure you scroll all the way down to the end because I'm showing a before and after of a nightstand that I painted using Dixie Belle chalk paint. It makes a big statement in the room.
I haven't done anything to this room besides decorate at this point. I actually like the grey paint color, and also enjoy the crown moulding. I think I want to remove the ornate designs on the window boxes, and we will also be replacing the flooring once we bite the bullet and update all the wood in this house to a nicer wood (we're currently working with a ton of parquet, and laminate in this room).
And here we go…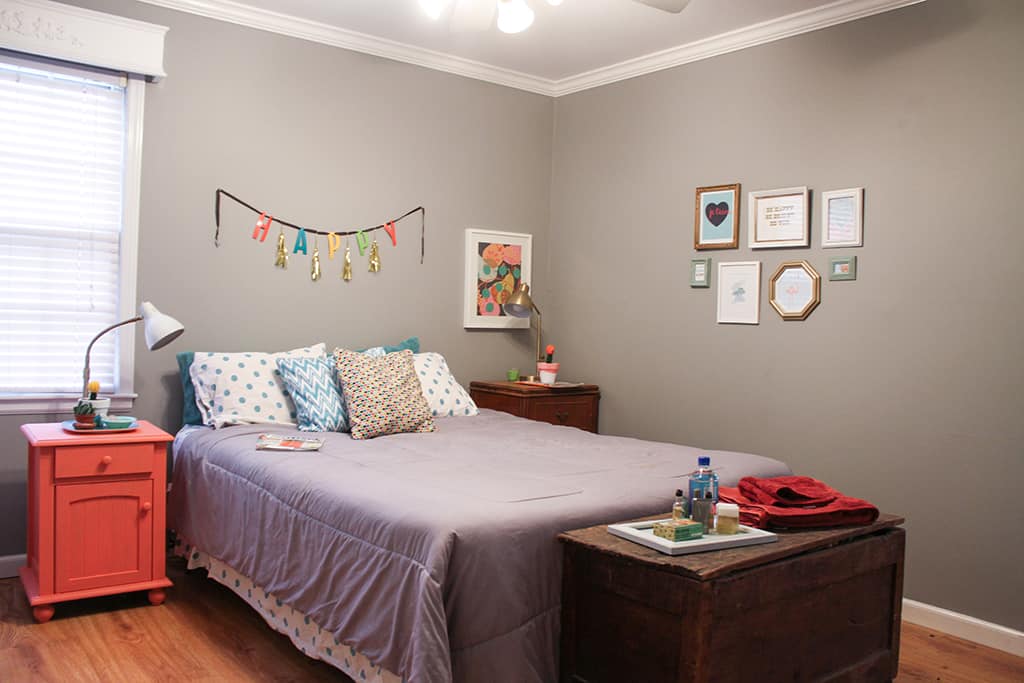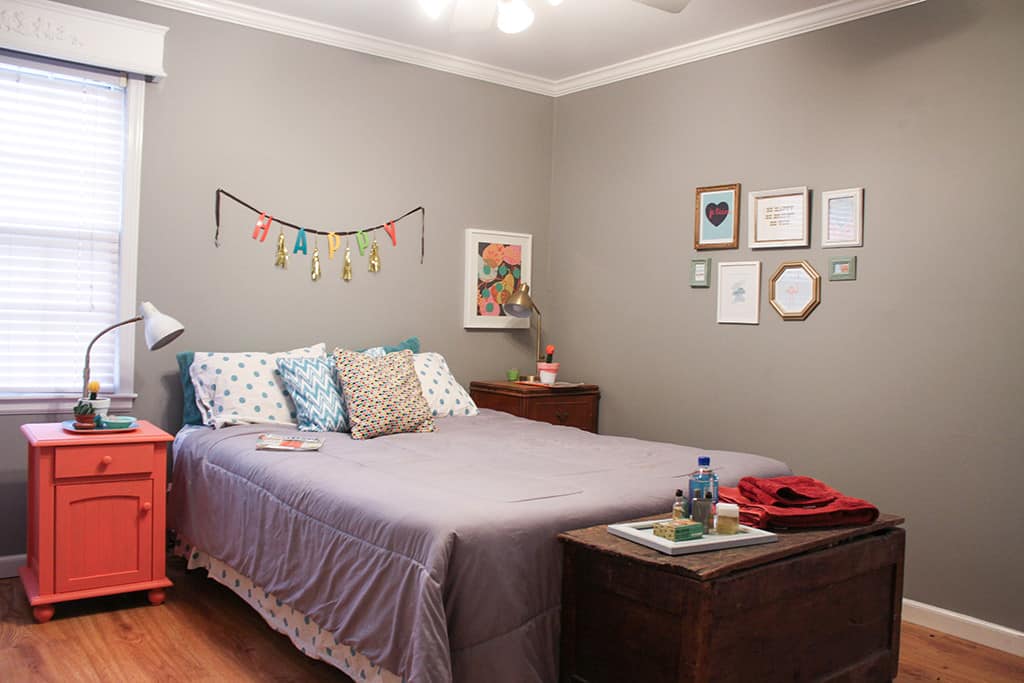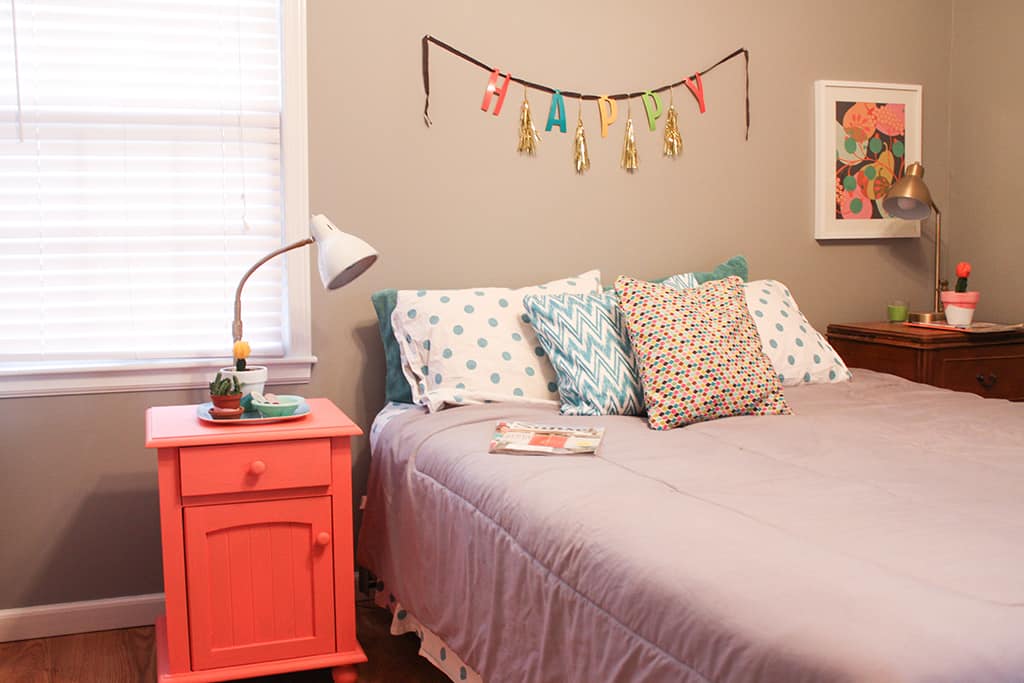 I hung my Oh Joy! for Target Happy banner above the bed, and absolutely love it. It brings a super inexpensive punch of color, and is a bit unexpected. I made the two smaller pillows as well as the planters.
The print to the right is IKEA. I love how colorful it is, and the other one it came with is on the other side of the room.
The polka dot sheets are from Garnet Hill, and were a gift from my mother-in-law.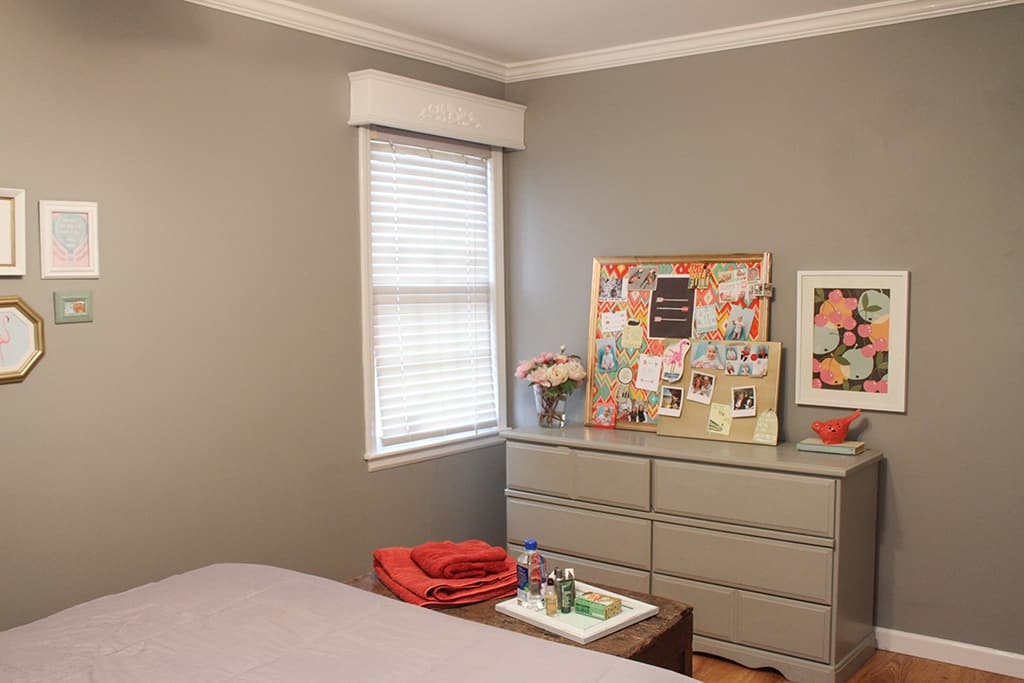 To add a welcoming touch, I like to leave towels, toiletries, and water for guests.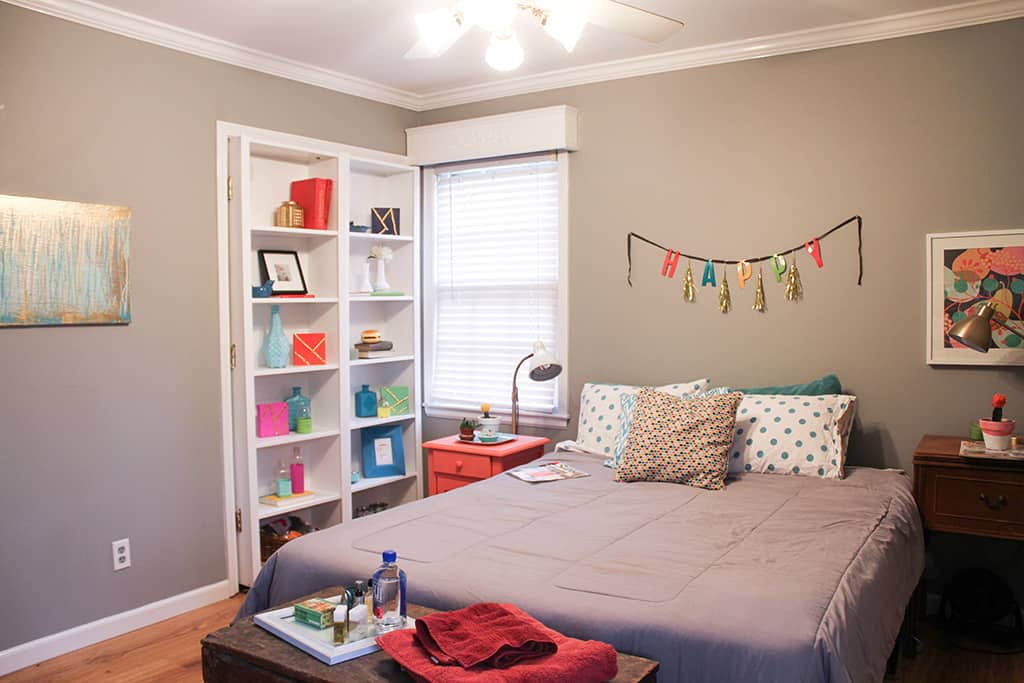 That bookcase is really a closet with a small secret passage to the other guest room. Gotta love all the quirks in this house, haha! I didn't spend much time styling the shelves, but plan on redoing them when I find some spare time (which seems like never, ha.)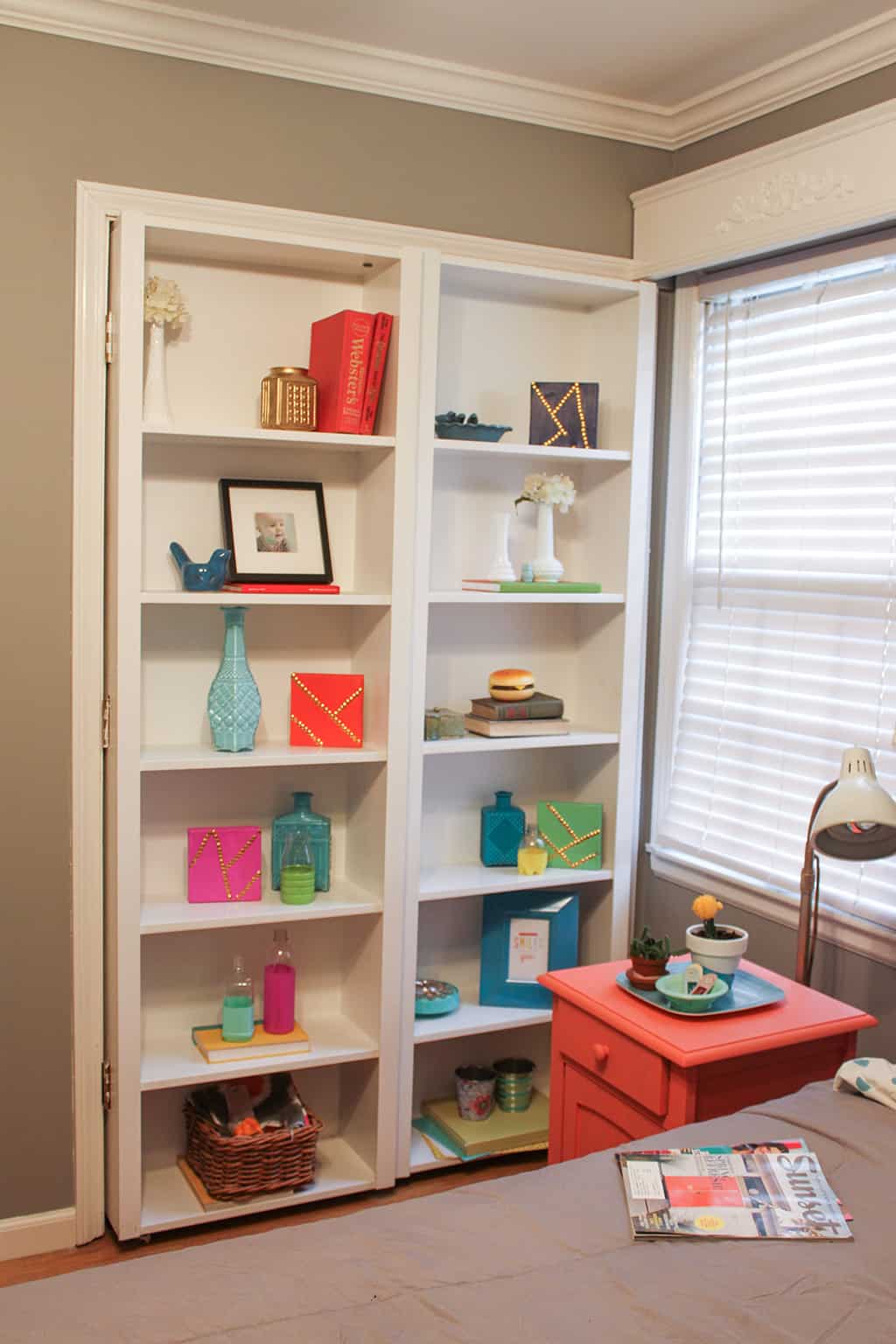 I made the gold and aqua paint drop painting. It was super easy, and only took about 10 minutes. Look for a complete tutorial on that around March 23. 🙂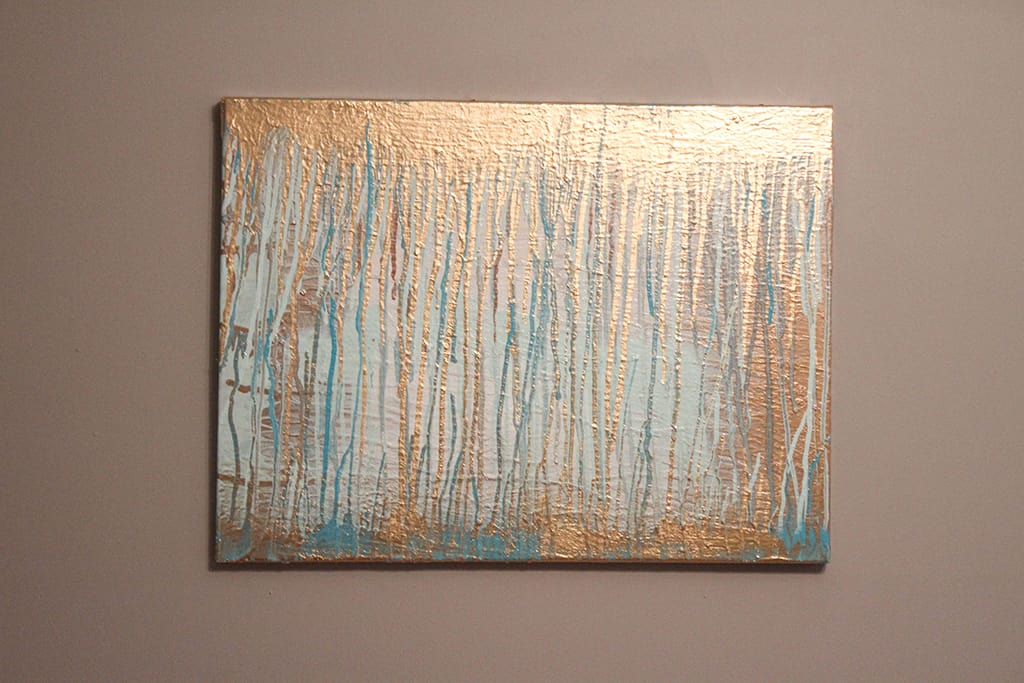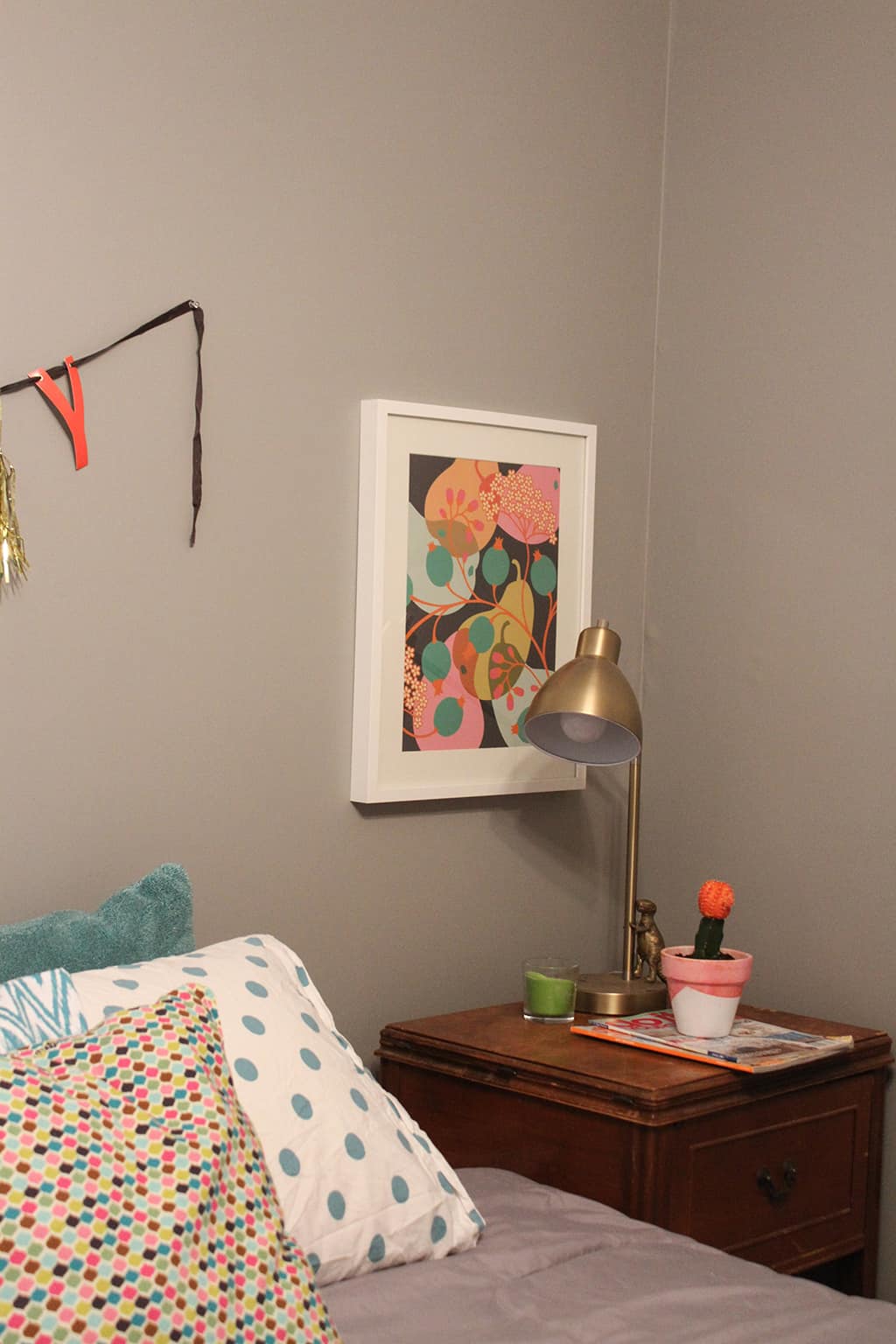 I love my gold lamp from Target. I added a bronze dinosaur to the base for a little fun.
I'm using my great grandma's old sewing table as a nightstand. I'm debating on whether I should paint it a fun color….what would you do?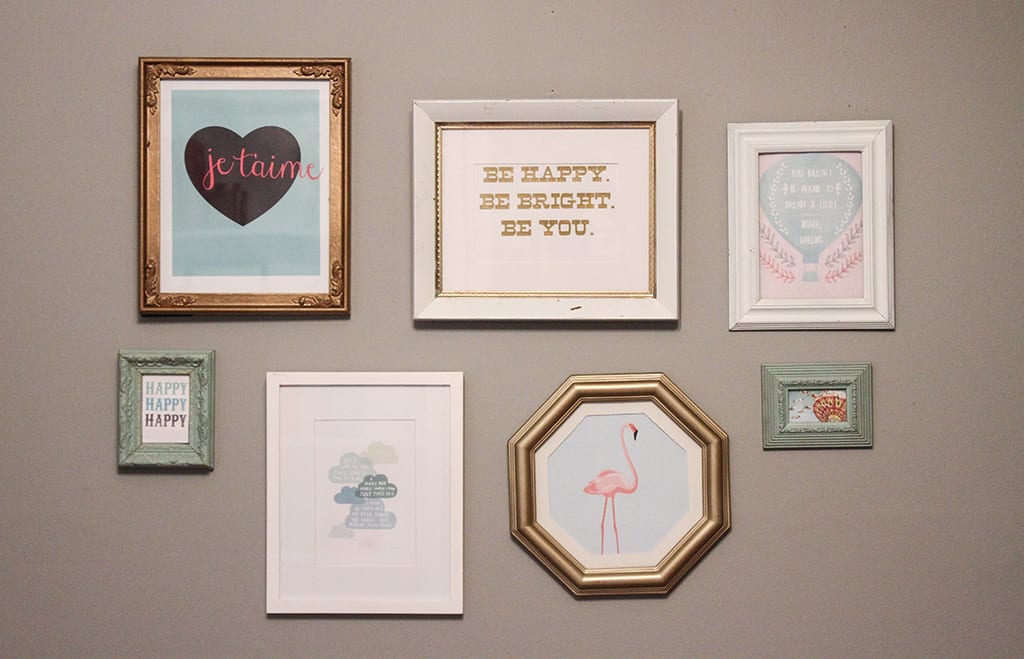 And here's a little gallery wall I created using prints from Vivi's nursery in our previous house. My next project is to make the same shelves from her last room, and to hang all of her art. Some of these pieces might migrate over there at that time.
And that brings us to my lil DIY nightstand update.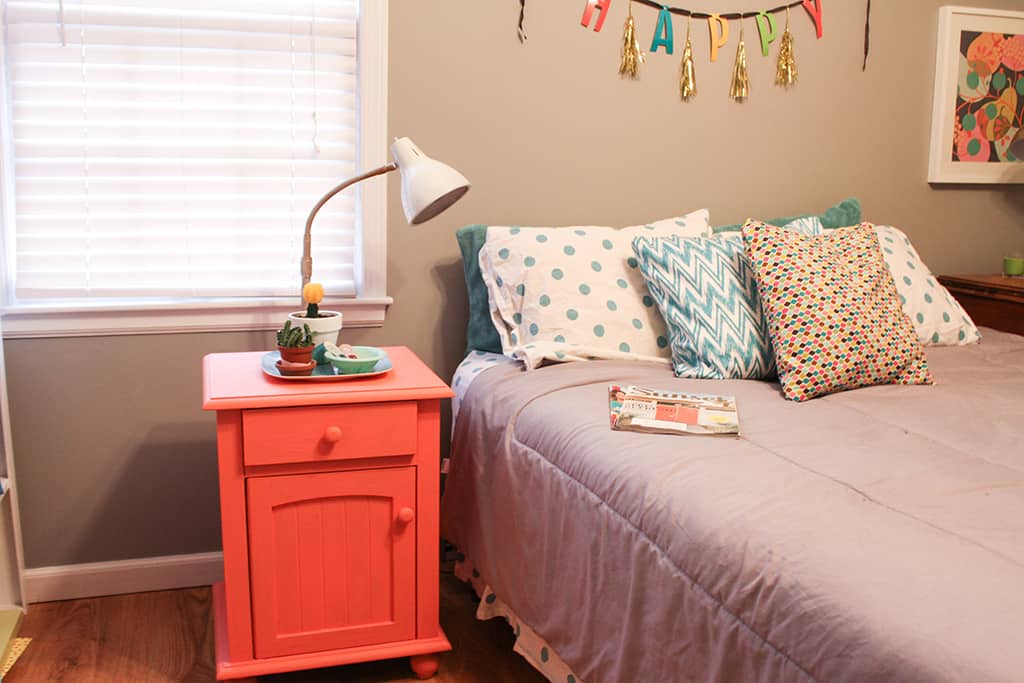 I love chalk paint. The color choices are wonderful, and not having to sand before you paint is everything.
I tried out Dixie Belle chalk paint in Flamingo. I mean, the name alone sold me! I am obsessed with flamingos after all.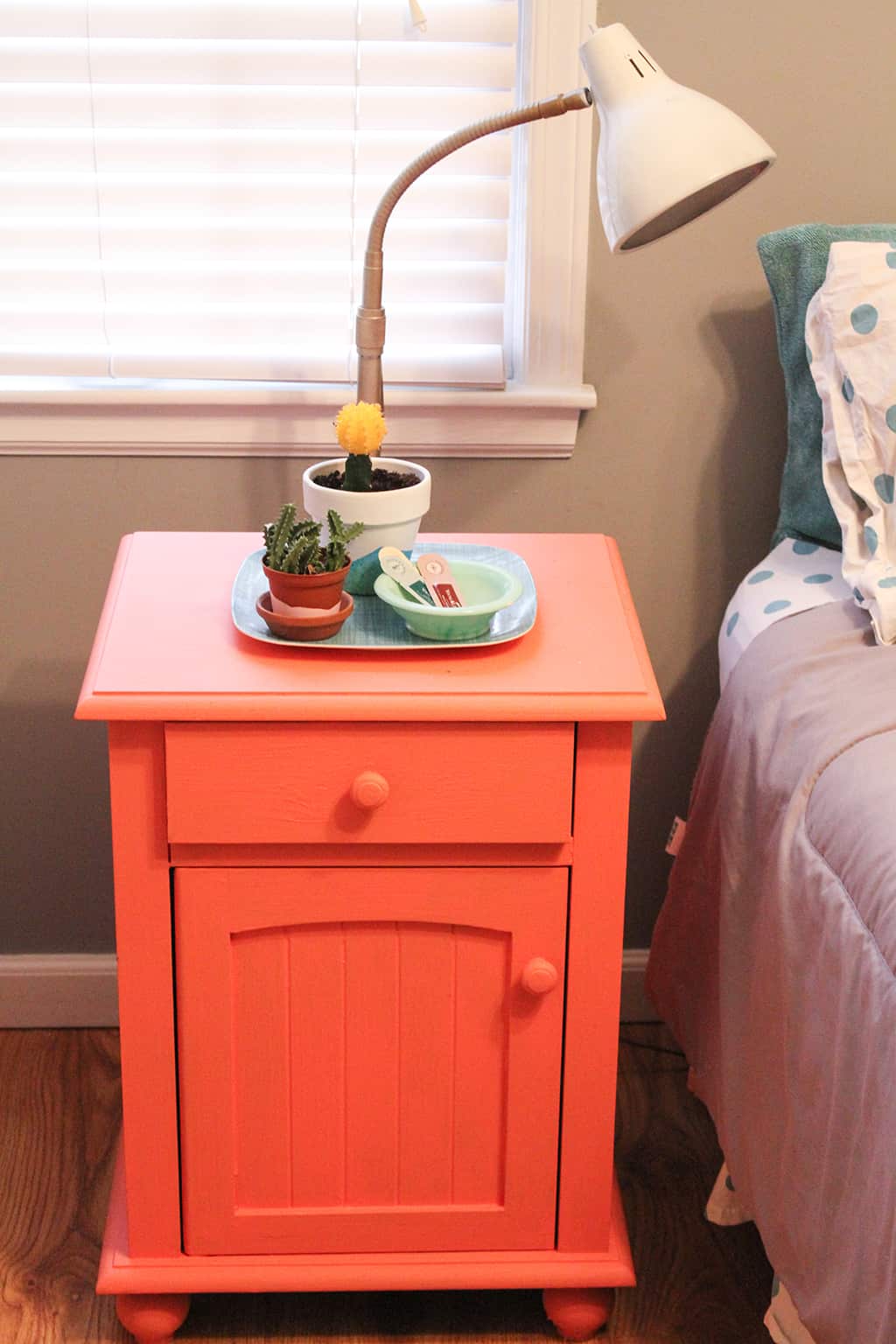 Here' s the before…dark and dreary.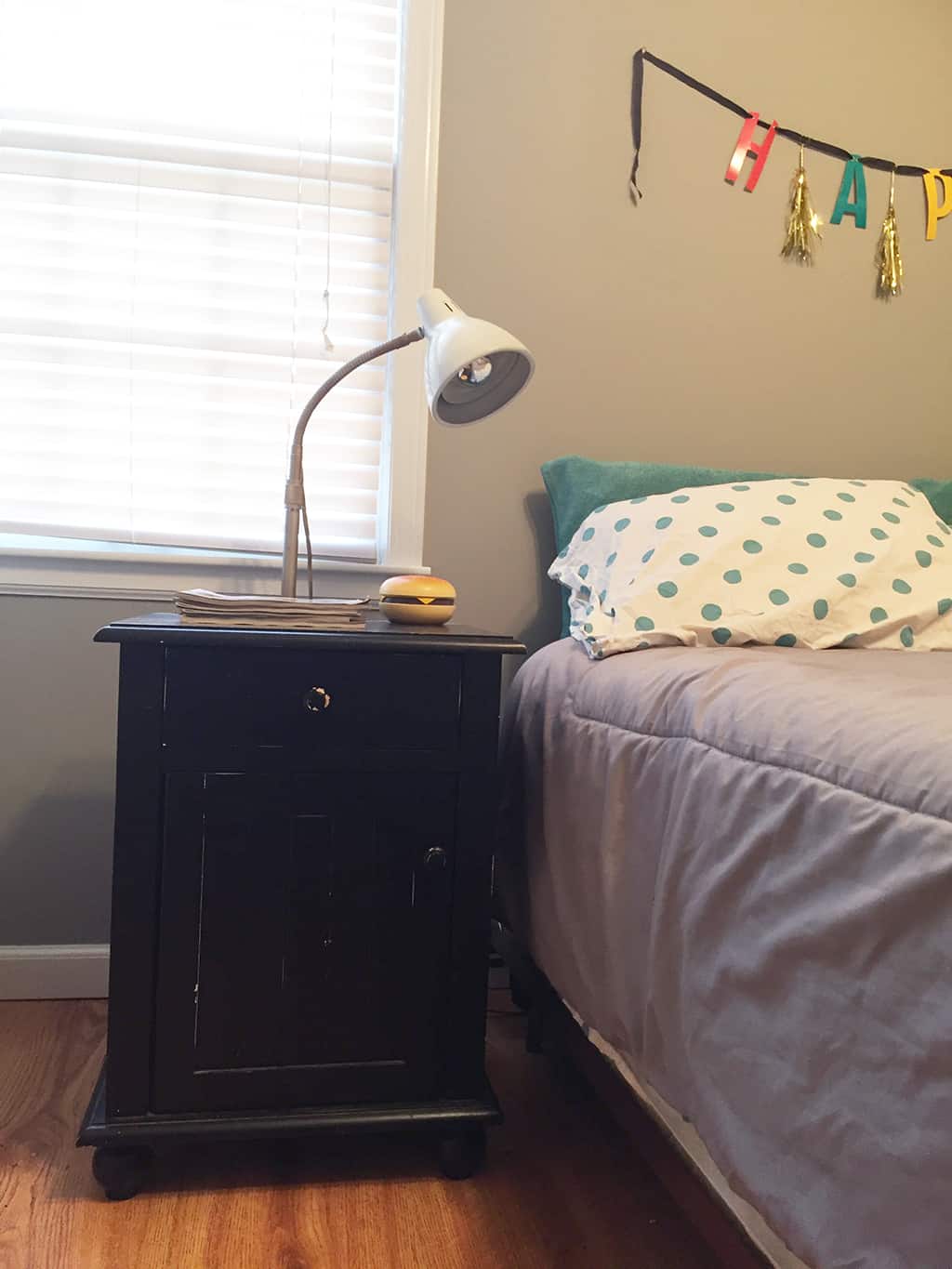 And here are the easy steps I took to paint it. As I mentioned before, I didn't have to sand, which is awesome. I simply wiped it down and painted two coats.
It dries very quickly, and covers well. You'll definitely want to do two coats for even coverage. I painted the insides an aqua color called The Gulf. It adds a fun pop of color. I love Dixie Belle paint, and will definitely be using this paint on some other projects around the house. I still have Limeade to try.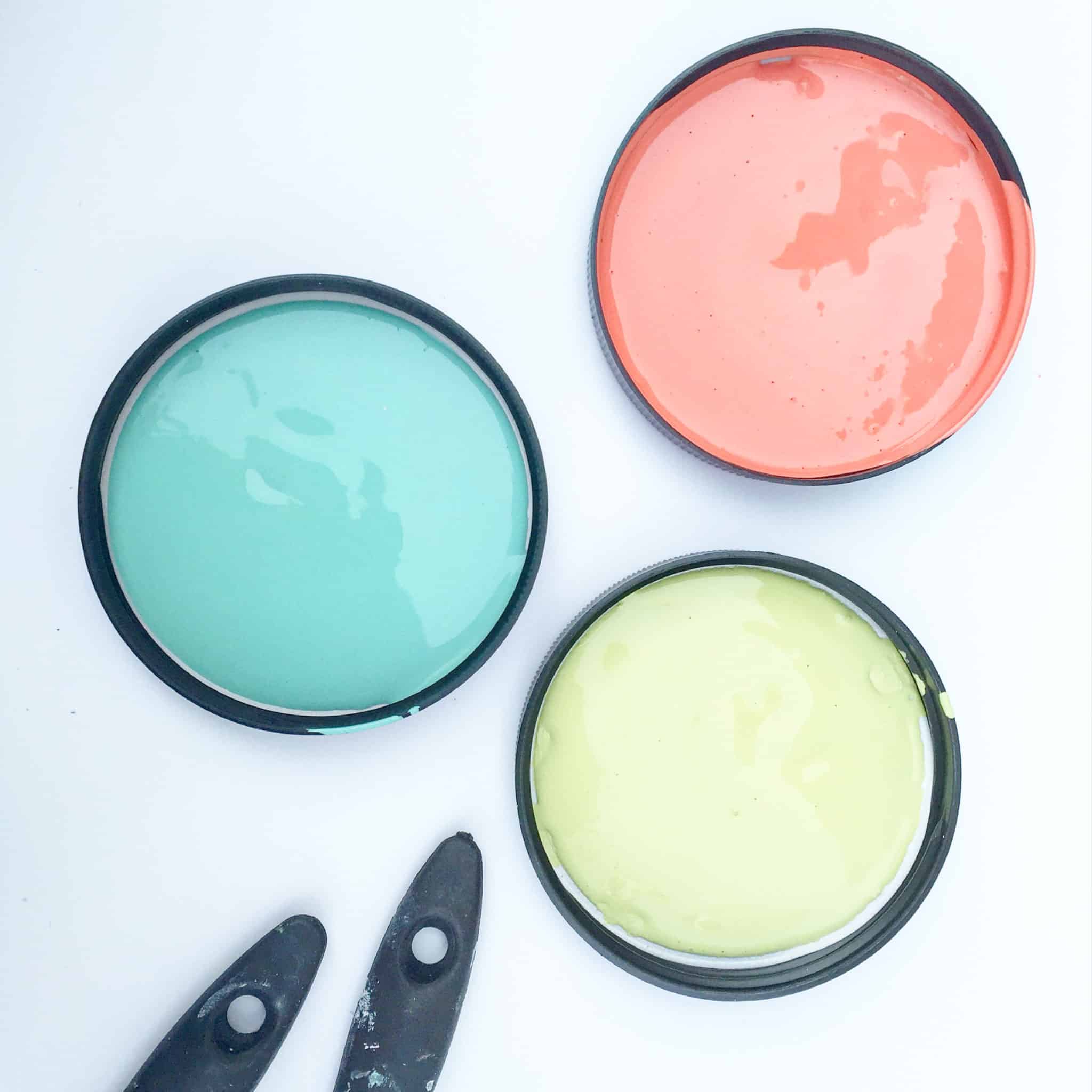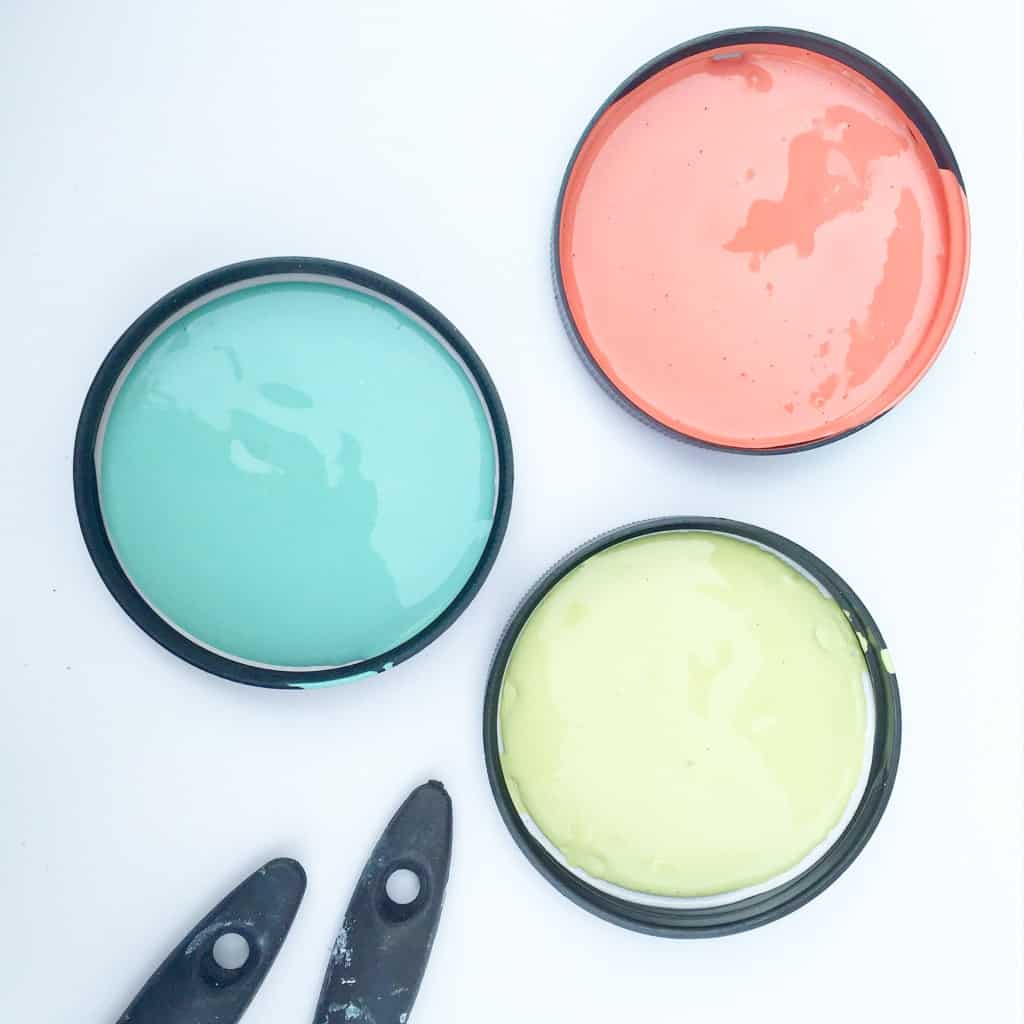 Are you a fan of chalk paint? If so, have you ever tried Dixie Belle? I'd love to hear about it. 🙂
Thanks for taking the tour!
xoxo
Audrey