This is a sponsored post written by me on behalf of CORT for IZEA. All opinions are 100% mine.
Have you ever been to CORT Clearance Center? I'll be honest, I've driven by the Kansas City location many times over the years and have always been curious, but have never been until this weekend. I have to say…I'm very impressed and am so glad I stopped by!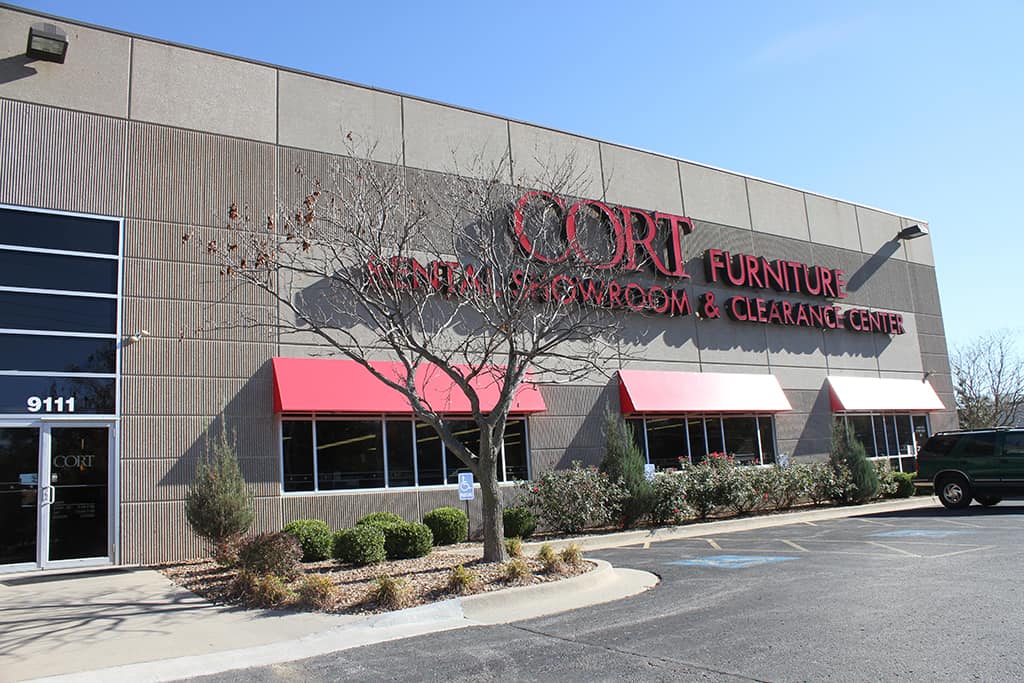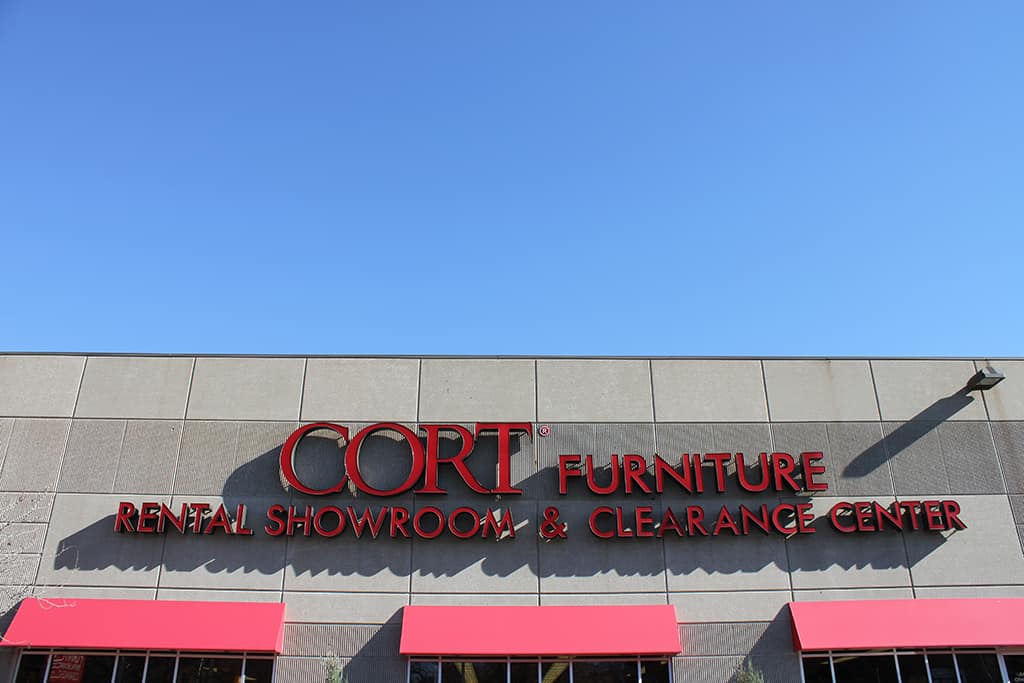 With my camera in hand, Vivienne and I took a tour through the entire store (and warehouse) with a very friendly and helpful store manager. He explained to me what sets CORT discount furniture apart from the many other furniture stores:
CORT Clearance Centers offer affordable, premium quality furniture at up to 70% off MSRP.

CORT offers a full range of residential furniture (living room, bedroom, dining room) as well as office furniture and accessories.

CORT's furniture is affordable – but it's not cheap. Their furniture quality is higher than other discount brands; more durable fabric, robust stitching, real wood instead of particle board, etc.

CORT's furniture can last a lifetime, and you don't have to break the bank to get it. Plus, you get extra discounts when you buy in sets or "home to go" packages – this is a great investment for people who want to build or upgrade a home that will be comfortable and welcoming to friends and family.
I love that they guarantee that if any product is found to be defective within 90 days of purchase they will repair or replace it. They even offer a 14 day money back guarantee. If you decide a couch isn't the right color (for example), you can simply return it for a refund…no questions asked. How awesome is that?
---
Ok onto the photo tour…
I have to start off with my most favorite find of the day…a beautiful and well-made modern turquoise couch that I can't stop thinking about. It would look so good in our upstairs seating area right off the kitchen. And that rug is amazing too. I'll take both. 🙂
Vivi's favorite find by far was this super cute bedroom set. She started off entering the store very tired and in a pretty grouchy mood, but the manager offered her water bottle and a sucker, and that helped cheer her up. The minute she saw this bed she got so excited! She has a queen sized bed at home, but assured me she wants this bed instead, ha!
She also really enjoyed stumbling upon a toy chest near the bedroom set, and I had a tough time pulling her away. Oh, to be young and that easily amused again!
Anyone on the hunt for office furniture? I didn't realize that CORT Clearance Center carries so many desks and chairs. They're really good quality, and available in many different styles. Vivi and I favored this set (all the heart eyes).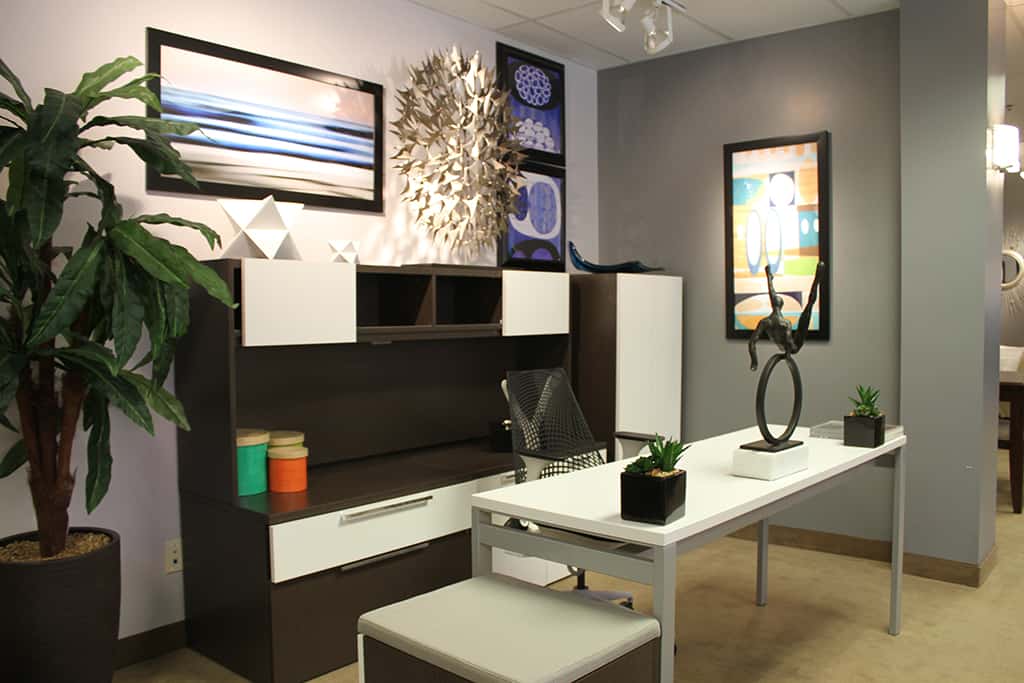 I love the sleek, modern look. Vivi mostly enjoys the colorful storage containers and spinning in the office chair.
So many to choose from in different finishes and styles, and the price is nice!
There are some nice looking living room sets grouped throughout the store, and I'm really impressed by quite a few area rugs.
I really love the pop of color these yellow chairs could bring into a dining room, and this dresser has a mid-century modern feel to it. So cool!
After my showroom tour the store manager offered to take us back to the warehouse for a quick tour. There are so many furniture pieces in storage all the way up to the ceiling. I wasn't expecting them to have that much in stock. He showed me the loading dock where they prepare their deliveries as well as the inspection and cleaning center.
---
That concludes my photo tour.
To recap here are the biggest takeaways I learned from my visit to CORT Clearance Center:
The furniture found at CORT is affordable but not cheap.
CORT's furniture offerings are high in quality
Extra discounts are available if you buy sets or "home to go" packages.
CORT Certified: CORT guarantees that if any product is found to be defective within 90 days of purchase they will repair or replace it.
---
What do ya think—are you curious like I was? I highly recommend you stopping by if you live anywhere near one.
Find your local clearance center.
Excuse me while I go back to purchase the area rug and couch…..
xoxo
Audrey