This is a Sponsored post written by me on behalf of Gallo Family Vineyards. All opinions are 100% mine.
This evening, in honor of National Moscato Day, I invited a couple of great friends over for some girl talk and Gallo Family Vineyard's Moscato. We had a fun time catching up over some refreshing Moscato.
We had such a great time together that we decided to do it again next Friday evening over some Moscato cocktails.
Wine cocktails are becoming very popular and are so easy to make. Moscato's sweet and fruitful flavors make a nice and unexpected base for cocktails.
We are going to try this recipe for Moscato Punch:
Ingredients
2 bottles Moscato wine
1 pink lemonade frozen concentrate
1 cup Sprite Zero
Fresh raspberries
Instructions
In a pitcher, add wine, pink lemonade, and Sprite Zero
Stir
Add fresh raspberries to the pitcher
Pour punch into glasses with ice
Add fresh raspberries to the top of each glass
Enjoy
After your cocktails are mixed, hop online and Moscatofy Yourself with this website quiz.
Gallo Family Vineyards Moscato is available for $4.99/750 ml bottle at local wine retailers and grocers nationwide, as well as online through The Barrel Room. To find a store near you, click here.
Did you know that May 9 is National Moscato Day, an annual holiday dedicated to enjoying this deliciously sweet wine varietal?
Join the Gallo Family Vineyards National Moscato Day Twitter party and virtual live toast on May 9th at 7 p.m. EST. No invitation needed, just tag #MoscatoDay and @GalloFamily in your posts.
Here are all of the Details:
– May 9, 2014
– 7 p.m. EST / 4 p.m. PT
– Host and Co-Host: @copykatrecipes and @ModernDayMoms
– Prizes: 5 $100 Visa Gift Cards
– Hashtag: #MoscatoDay
– Must attend the party to win, winners will be announced throughout the party.
– RSVP here: http://www.copykat.com/2014/05/02/pina-colada-moscato-wine-cocktail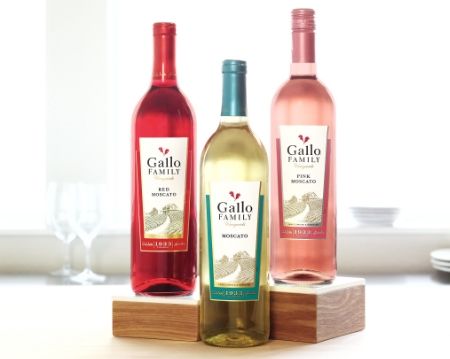 More info:
Gallo Family Vineyards Website
Follow @GalloFamily on Twitter
Save your Gallo Family Vineyards corks to help raise up to $50,000 for the Meals on Wheels Association of America
You must be 21 years or older to drink alcoholic beverages and as always, please remember to drink responsibly.