Are you doing some fall decorating and looking for some easy ideas that make your home feel extra cozy? I've got you covered.
My go-to fall decorations always consist of plug-in fairy lights and faux pumpkins. Then I like to add in candles, plants, wood slices, trays, and anything with mood lighting.
Our fall entryway
As you walk into our home, you're immediately welcomed with a plethora of pumpkins and fairy lights.
I like to start with a table runner that I've had for years, then stack the pumpkins. Then I lean them on each other for an organic look, and cover them in a 33′ strand of plug-in fairy lights for a touch of hygge.
The baskets on the base of the table are perfect for storing blankets and seasonal pillows and soften the area up quite a bit. Tip: I hide shoes, hats, and other items under the blankets to minimize visible clutter.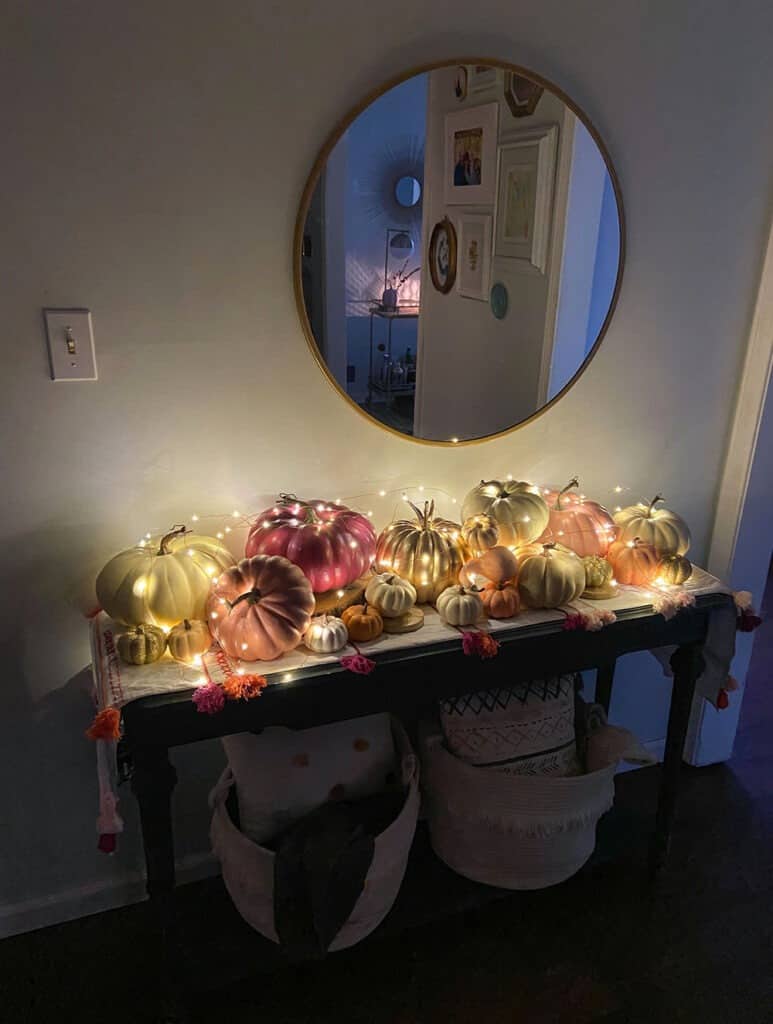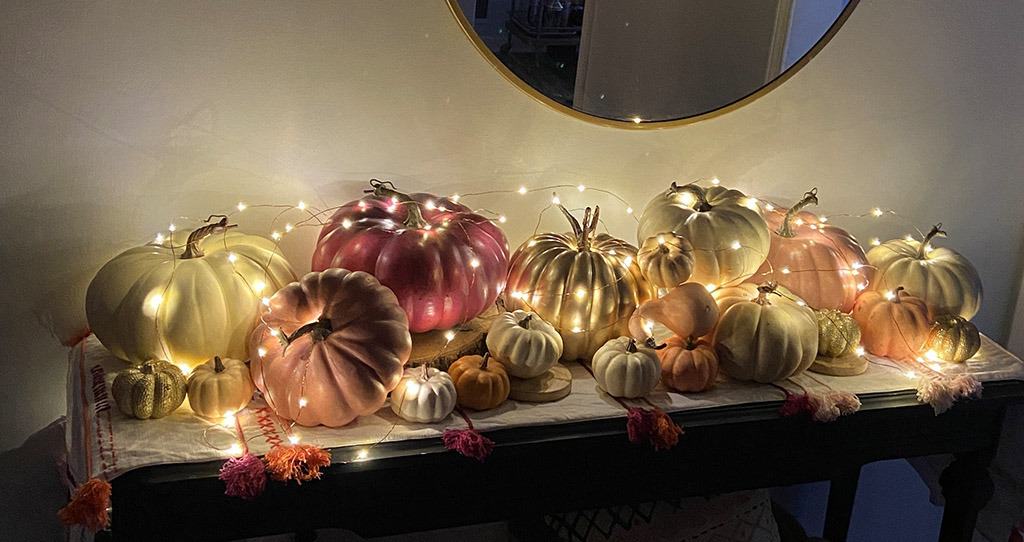 Our cozy fall dining room
Right off the entry way is a dining room that I love to decorate for the seasons. The beautiful live edge table was gifted to use from an amazing local company. My mother-in-law gifted me the elongated gold tray for my birthday, and it fits the table length perfectly.
I added four candles that I got from the Target Dollar Spot years ago, and a few faux creamy blush pumpkins.
In the background on my favorite bar cart ever is another faux pumpkin from the Target Dollar Spot, and bouquet of dried flowers from a local shop. I love the light that my go-to wax warmer scatters on the wall (I have three of them throughout the house). Mine has been sold out for awhile, but I found a similar one.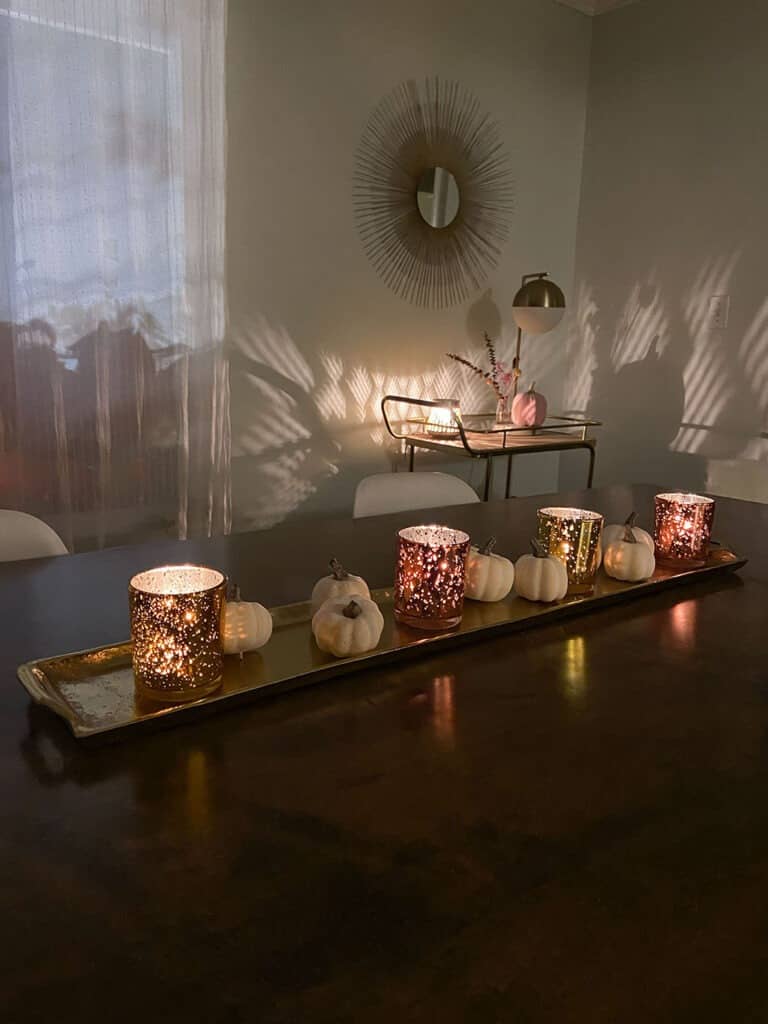 A closer look at the bar cart corner.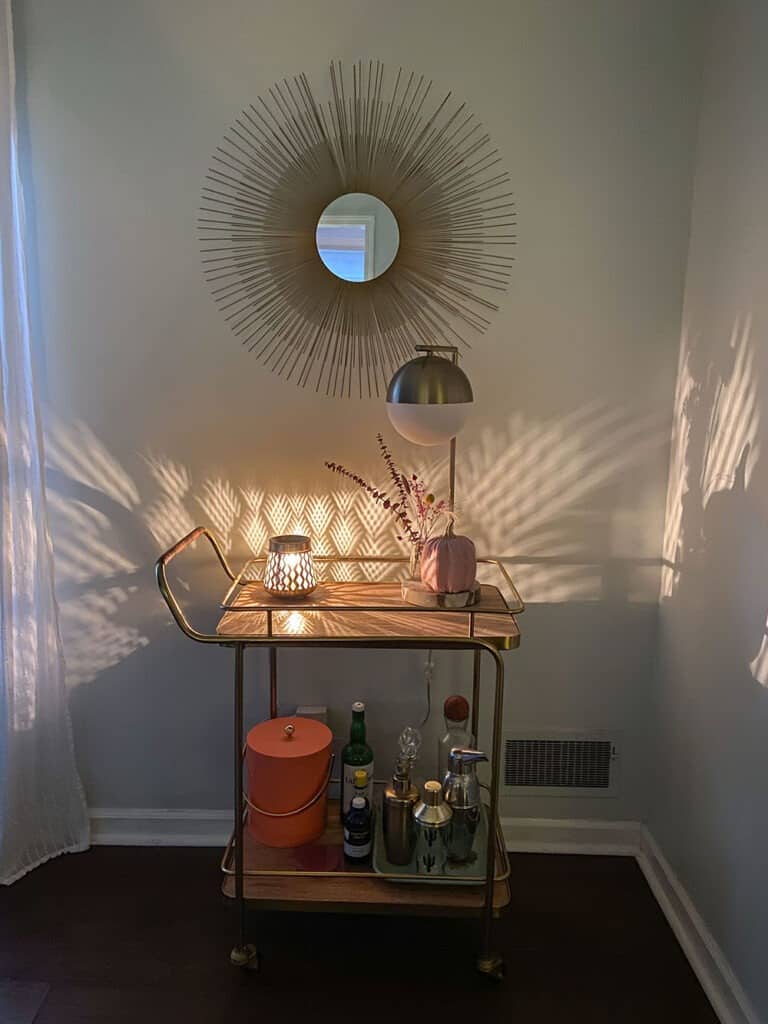 This area just makes me smile. The gold lamp with a marble base is from Target clearance a few years ago, and the sunburst mirror was a wedding gift 11 years ago.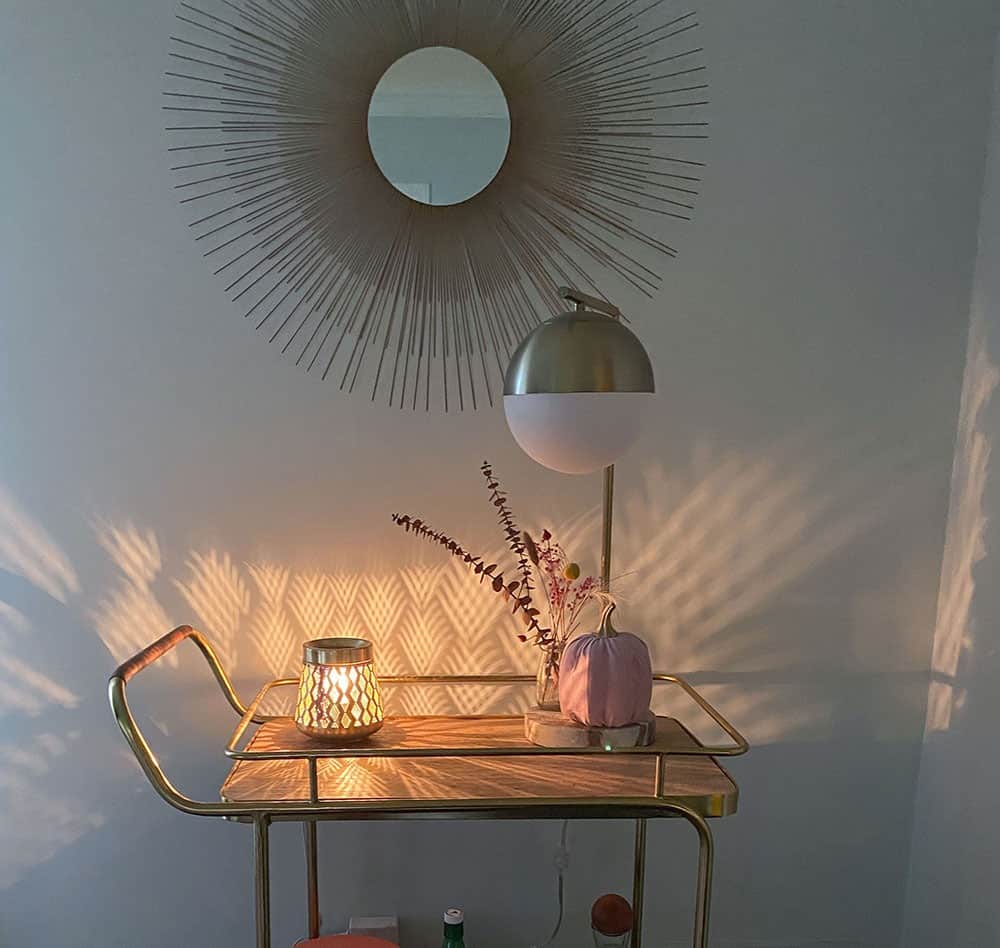 Again, the scattered light is amazinggg!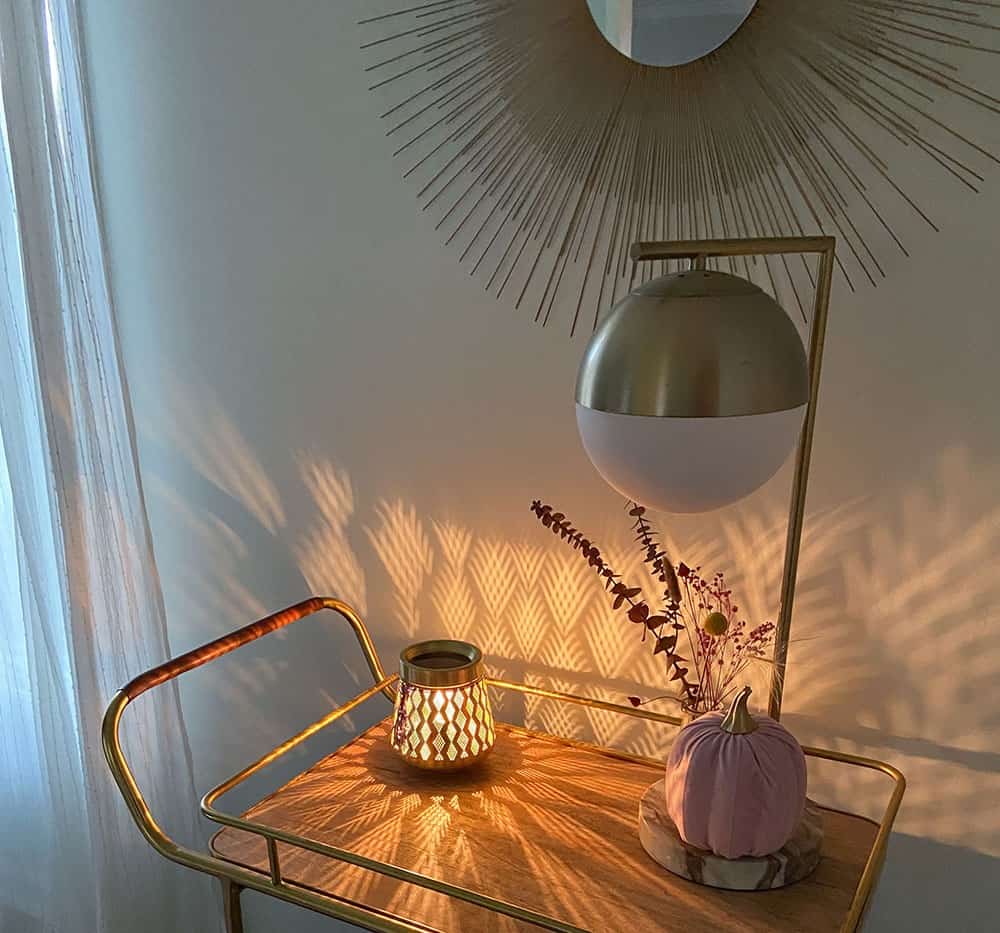 More dining room decorations
On or vintage cabinet, I like to add a combination of objects. I started with the two white glass light up pumpkins I've had for 10 years (similar option), then I build around them with smaller faux pumpkins and cloches with faux plants.
The gold metal pumpkin on a glass candle holder is one of my favorite parts (found at Home Goods a couple years ago). These mini gold light up pumpkins are beautiful too, and here is another option. Of course, the plug-in fairy lights come next.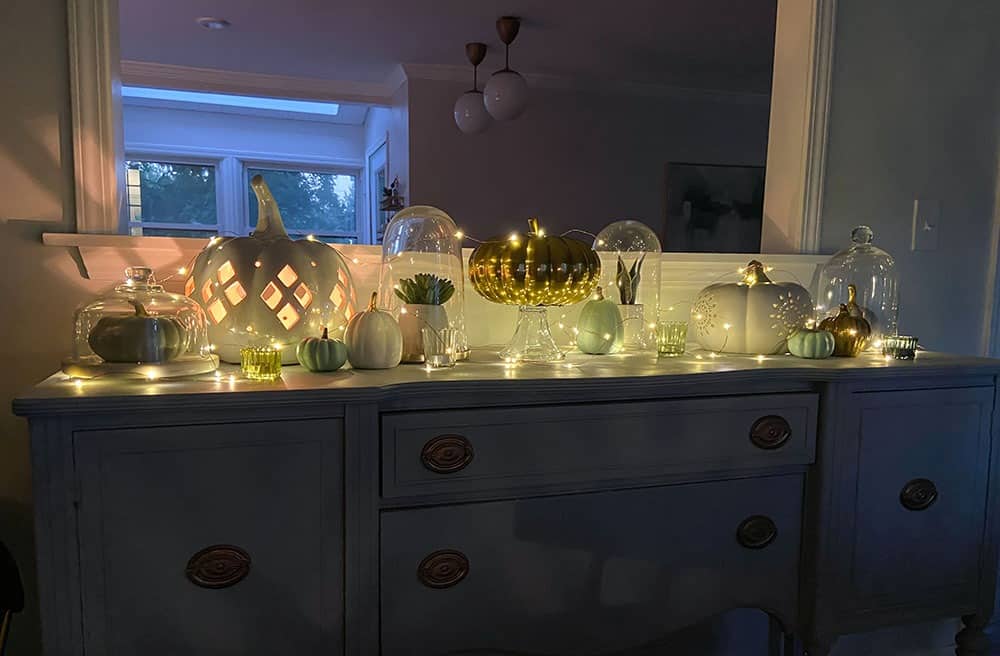 I have a lot of fun decorating this area for the Christmas holiday too.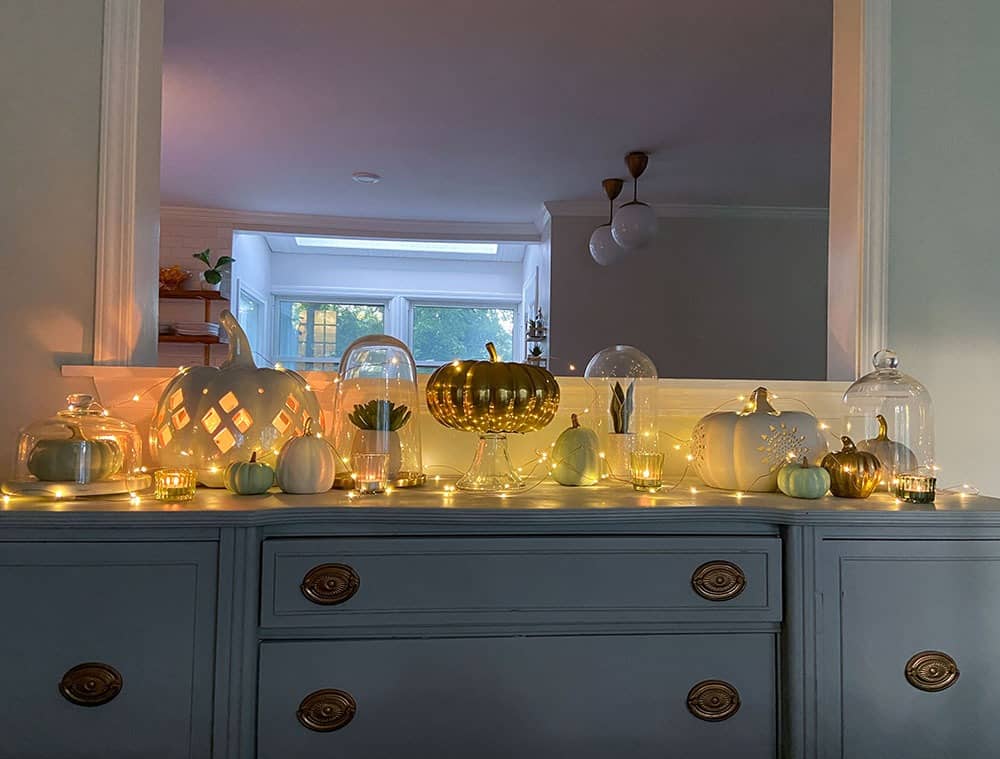 I forgot to light the candle votives, but they put off a cool warm glow too.
Fall decorating in the living room
Our last stop on my cozy fall decor tour is our fireplace in the lower living room.
We recently remodeled our fireplace DIY style and removed two creepy faces from it. You have to see the before, haha!
In the fall I like to add a bunch of mini ceramic pumpkins (from the Dollar Spot last year — similar option 1, option 2).
And next up, you guessed it — plug-in fairy lights. All the other mantel art and accessories are between six and 11 years old.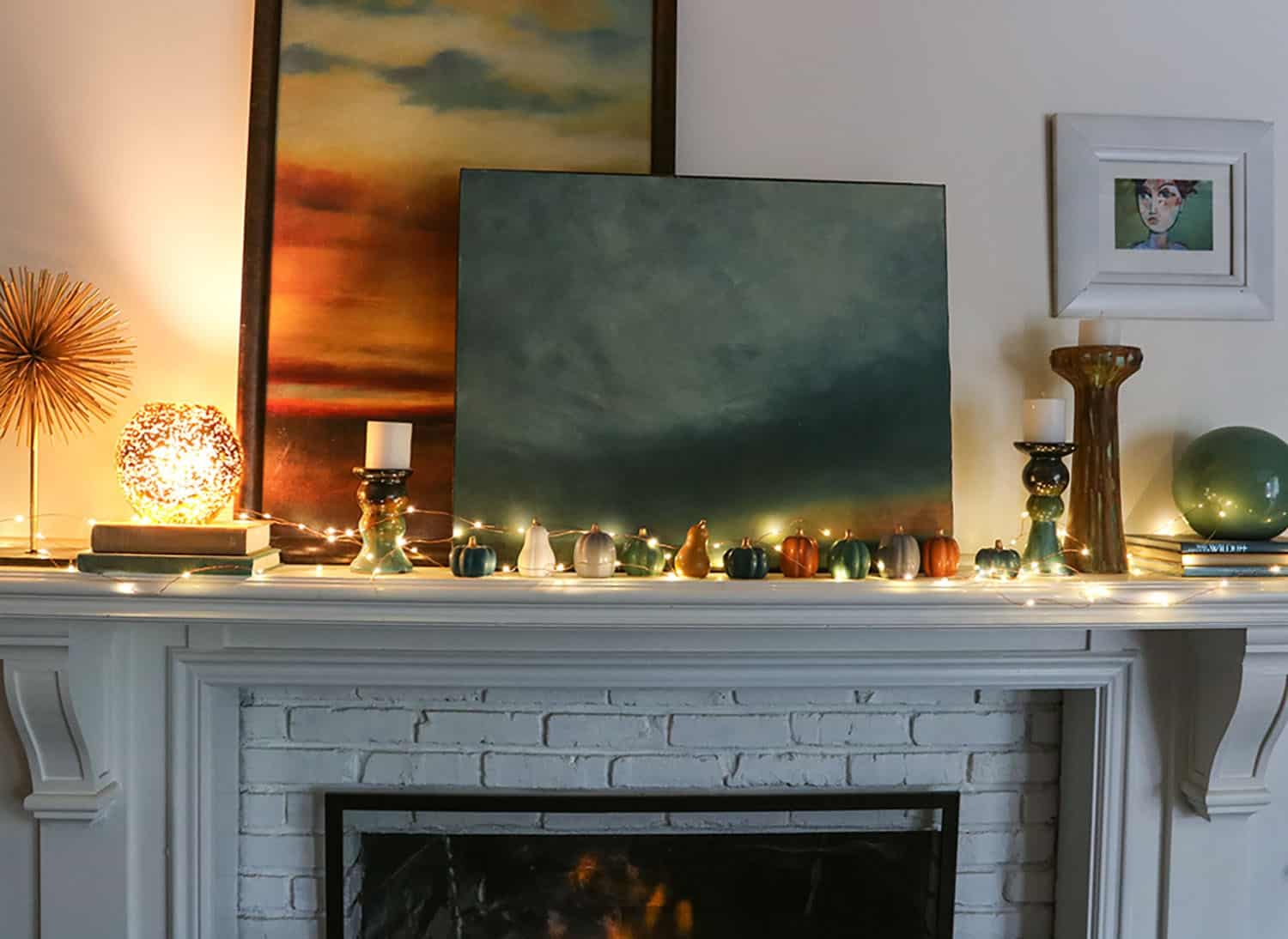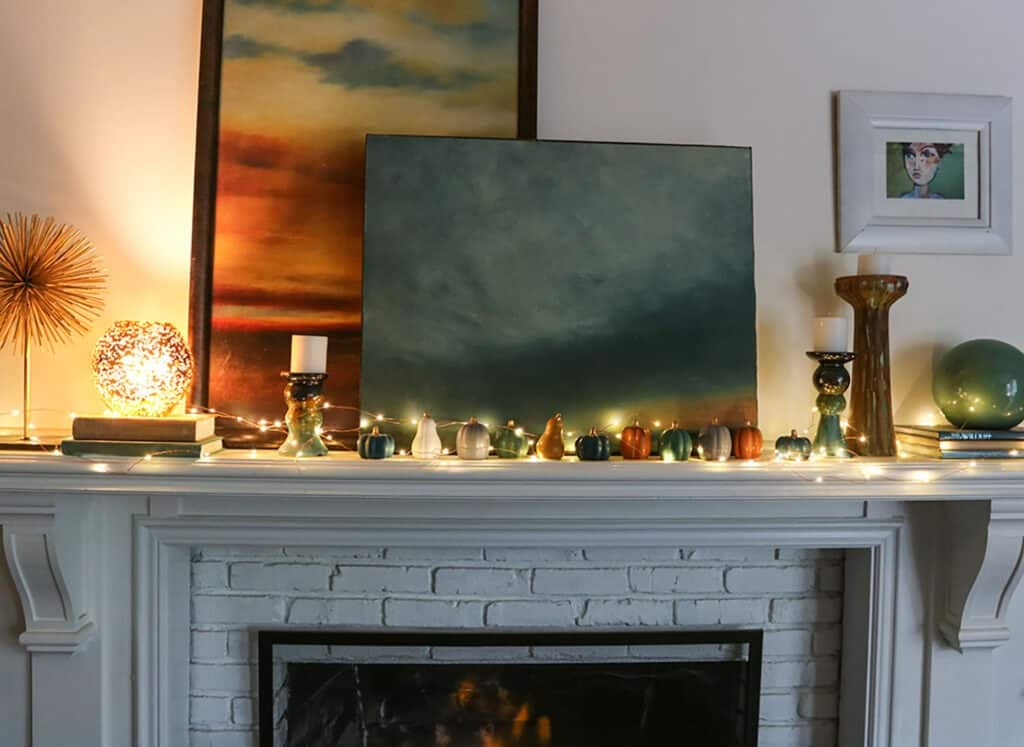 I love how they coordinate with the art and accessories so well.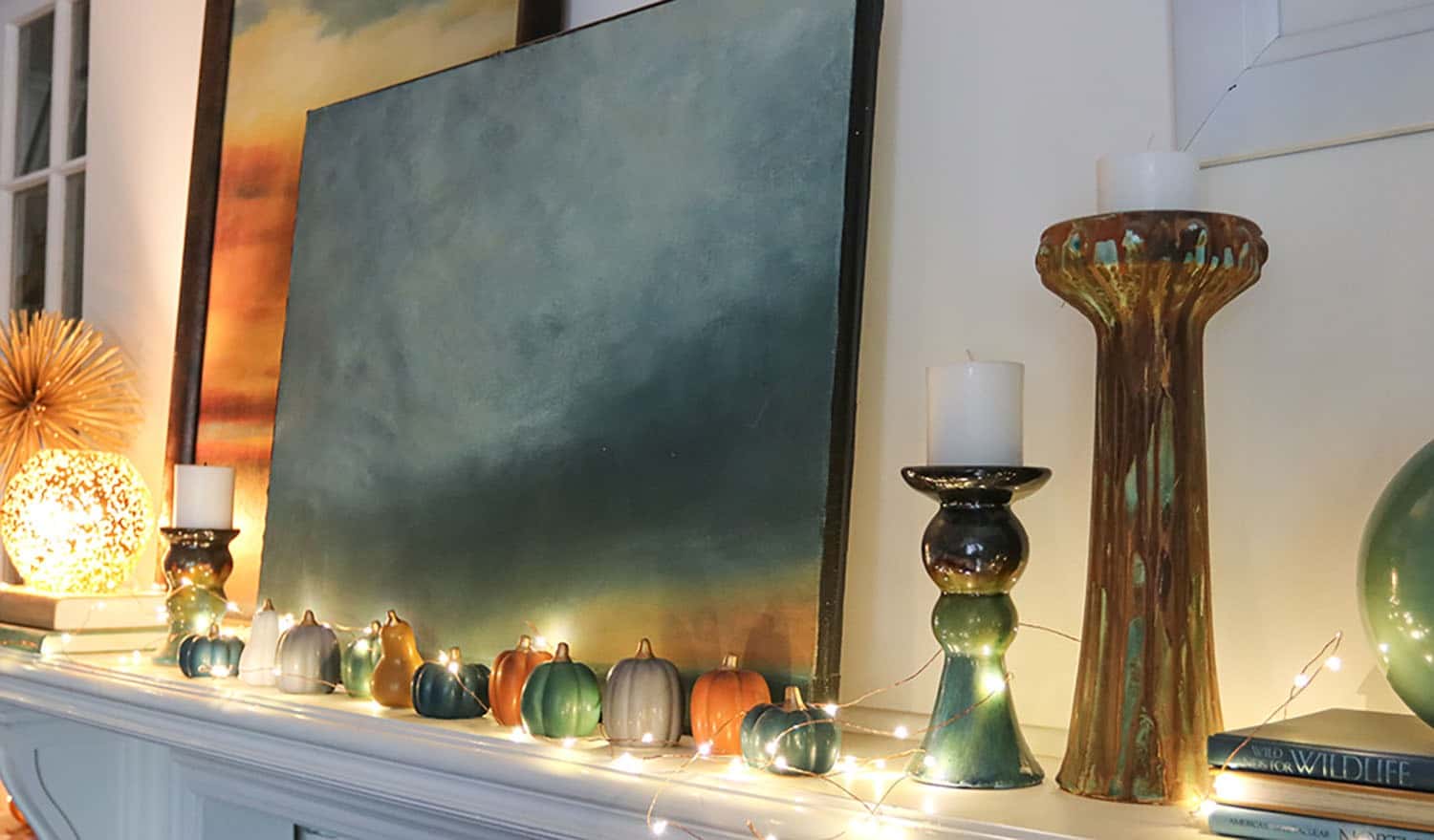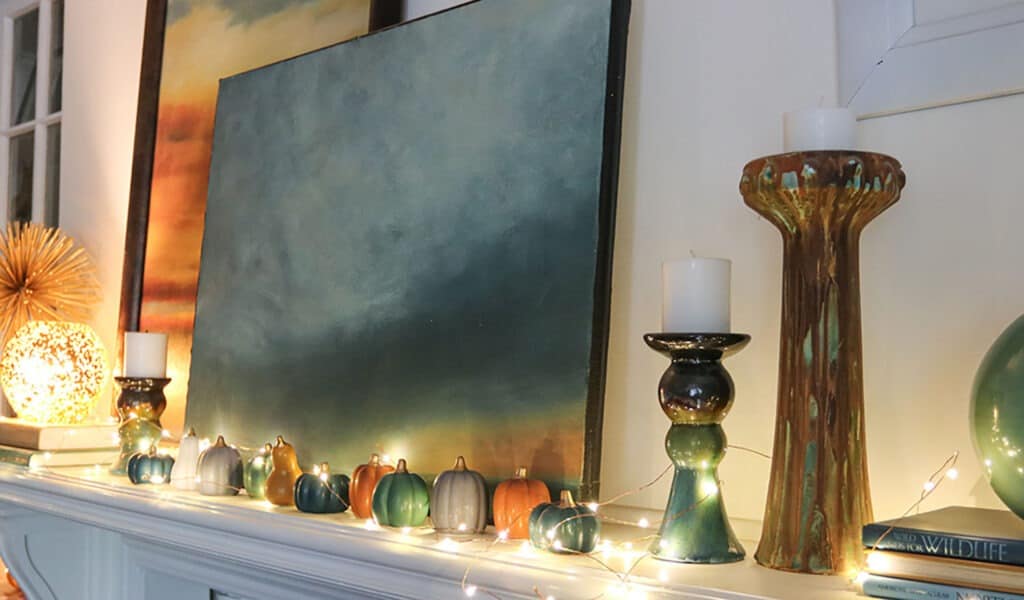 A closer look.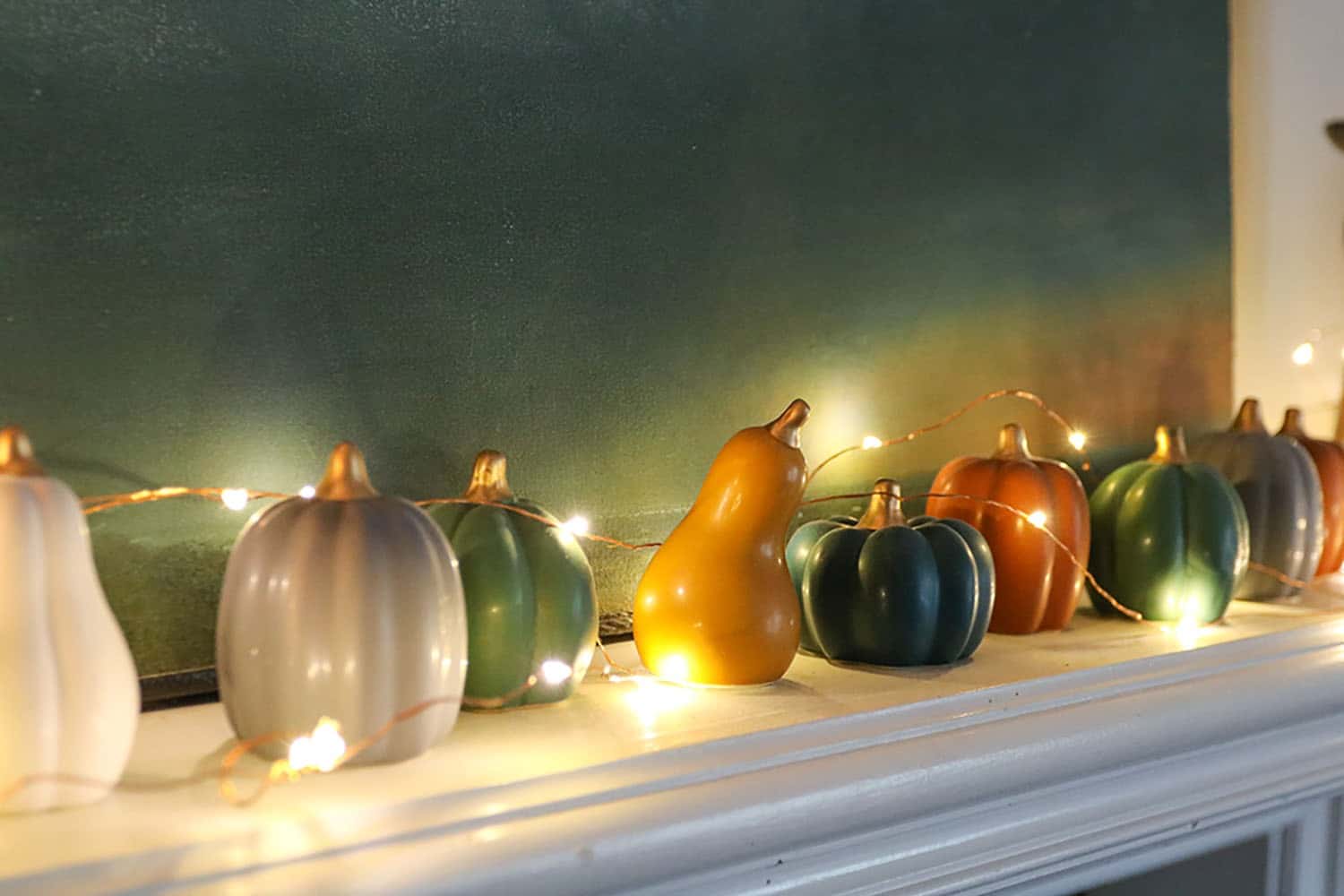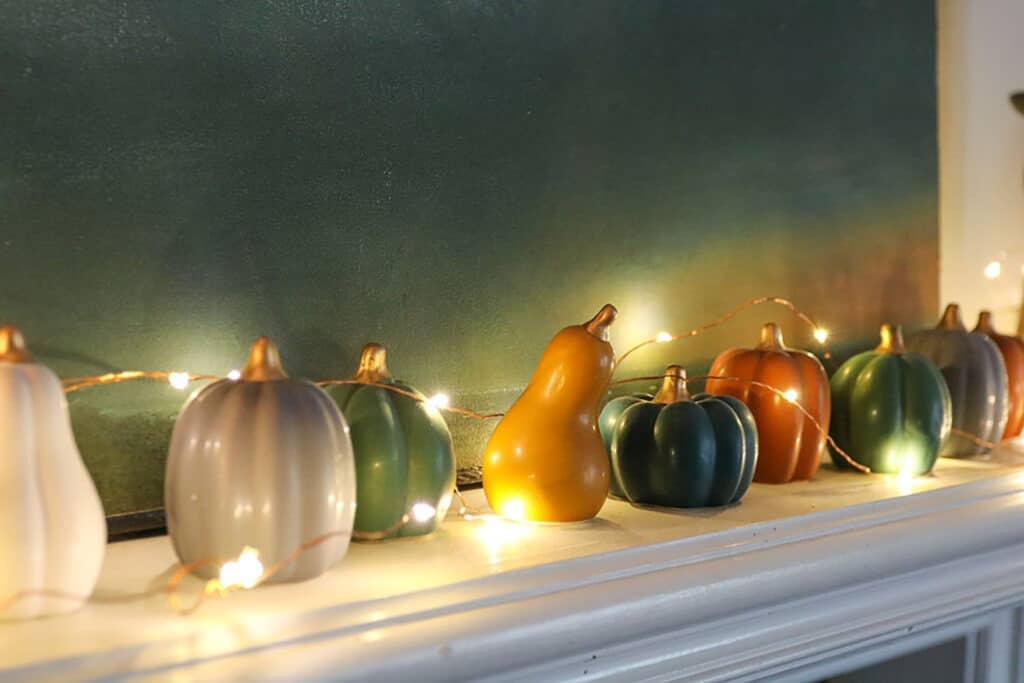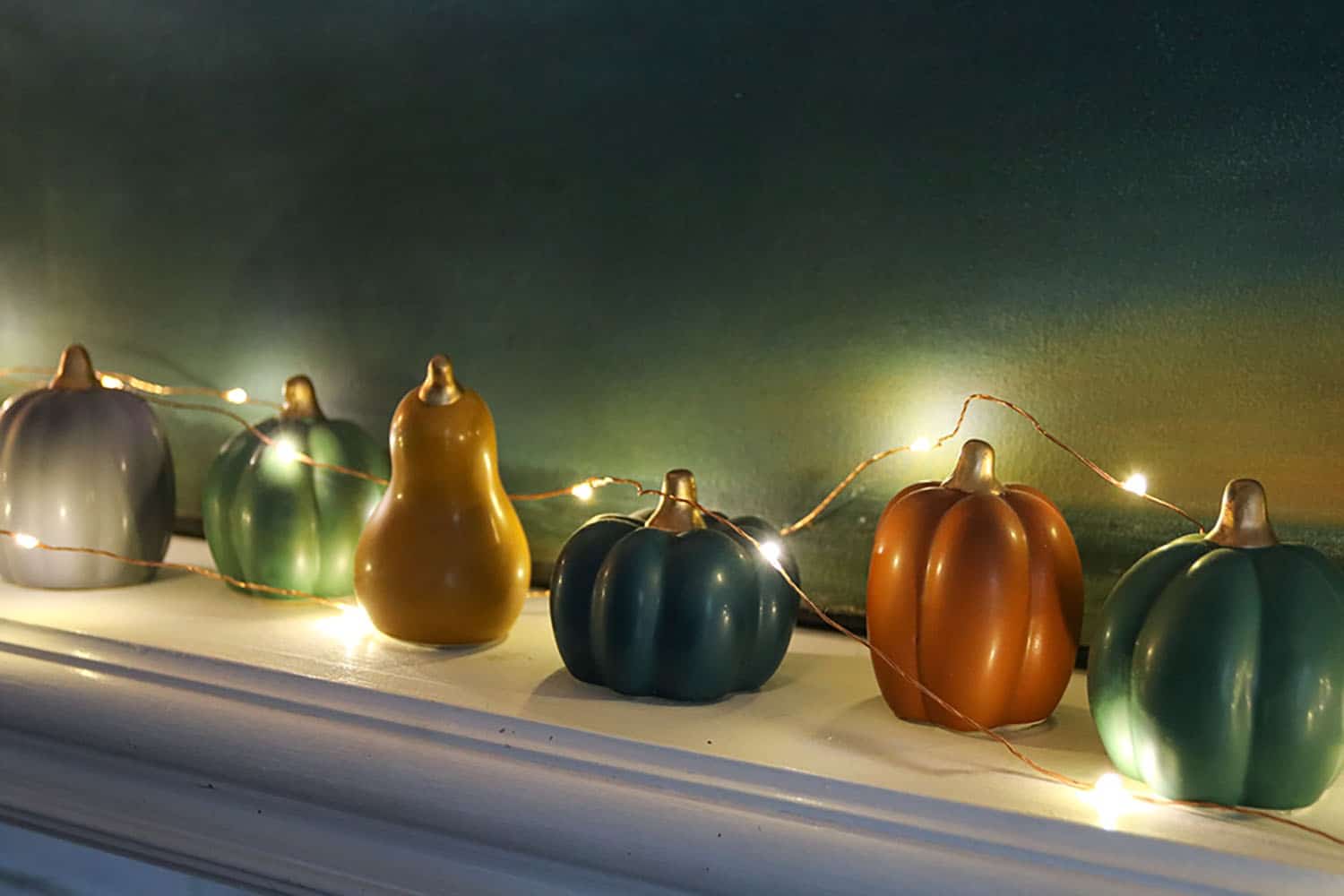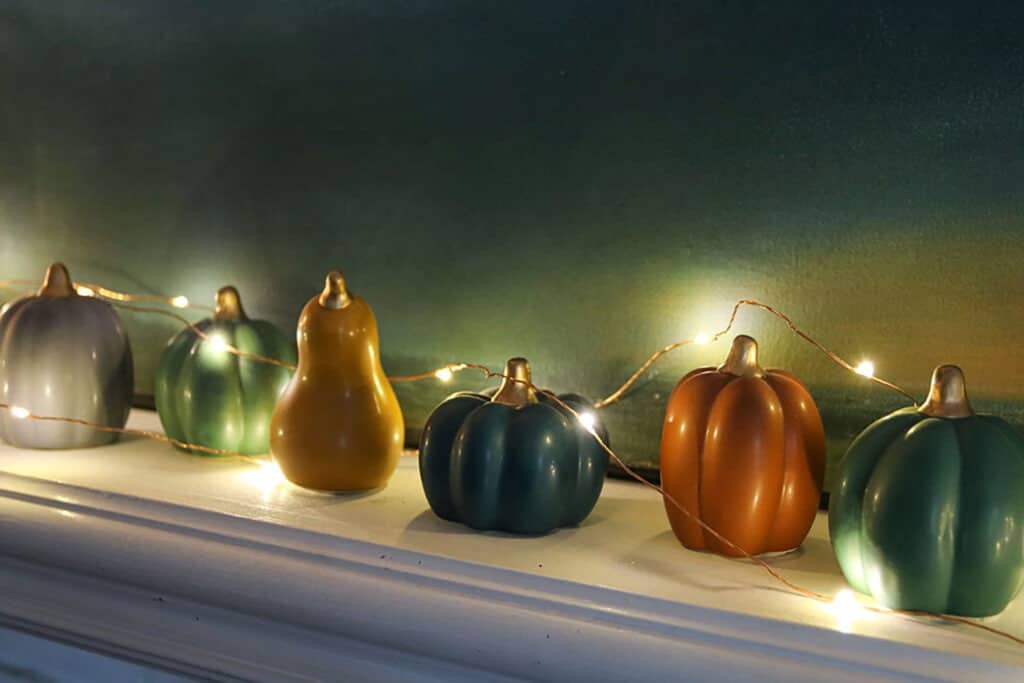 I hope I inspired you with some ideas for your indoor fall decorating!
xoxo
Audrey
P.S. Want to see how I decorate our porch and window boxes for fall? Head to this post.
I use four sets of the indoor/outdoor plug-in fairy lights. outside too. They are simply amazing!