Bellagio Italy on Lake Como is a gorgeous postcard-like destination that's a must-see in my opinion. Below I'm breaking down all the details on our two day visit.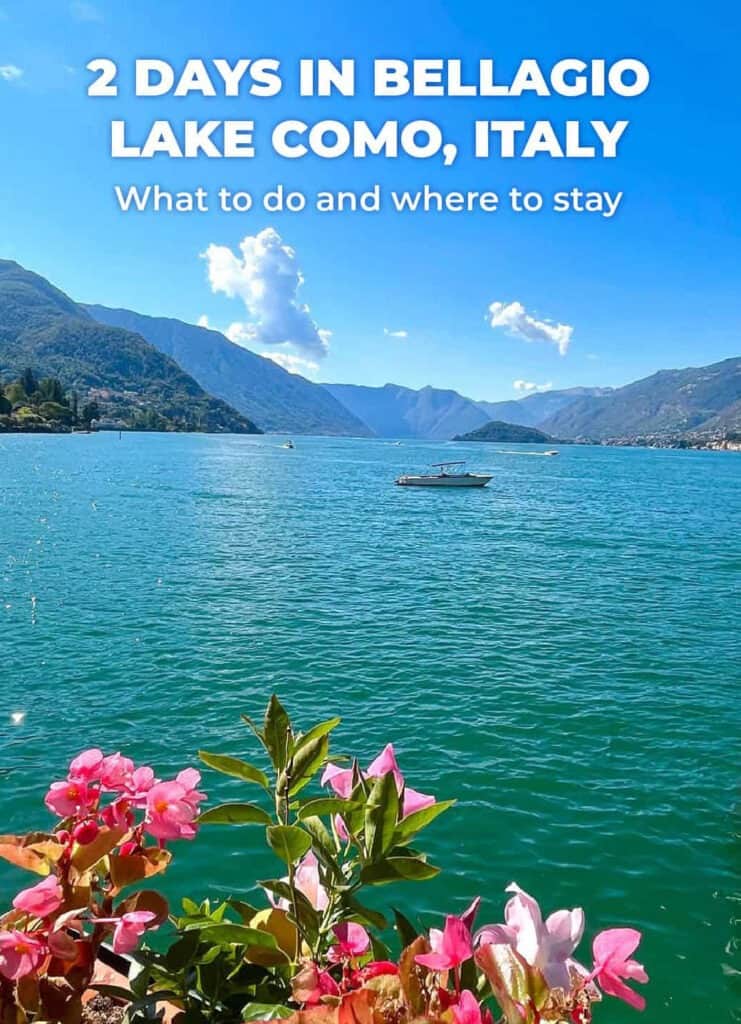 Last summer my husband Ted and I started planning an affordable European trip, and we decided that the first stop would be Bellagio – Lake Como.
BTW, we were determined to stay under $5,500 all-in for flights, hotels, food, drink and excursions, and I'm happy to report that we did!
One way to travel for less is to sign up for a Chase Sapphire reward card and use the rewards to travel for free or at a discount. I highly recommend the Chase Sapphire card, which has covered the cost of our larger trips since we got the card in 2019. We use it for almost every purchase possible and just make sure to pay it off in full each month.
I'd seen videos, photos, and heard about Lake Como over the years, and knew that it had to be one of our first stops on our adults-only anniversary trip.
We only had a short 10 days to spend on our European adventure (actually 8, since we were losing 2 days to long flights), but still wanted to pack a lot in visiting three countries – Italy, Switzerland, and France (then back to Switzerland).
Oh, and we both did the whole trip with one medium size travel backpack each so we could travel more easily via trains and busses. I overpacked mine and also had a laptop, so mine wasn't as comfortable as Ted's. When we do a trip like that again we'll probably use our hiking backpacks with better hip support, etc.
Travel details
First, we flew United Airlines into Milan, Italy (MXP) from Kansas City, Missouri on a Wednesday with a layover stop at the Newark, New Jersey airport.
Around 9 am on a Thursday we arrived to Milan very tired, but full of excitement for our upcoming travels.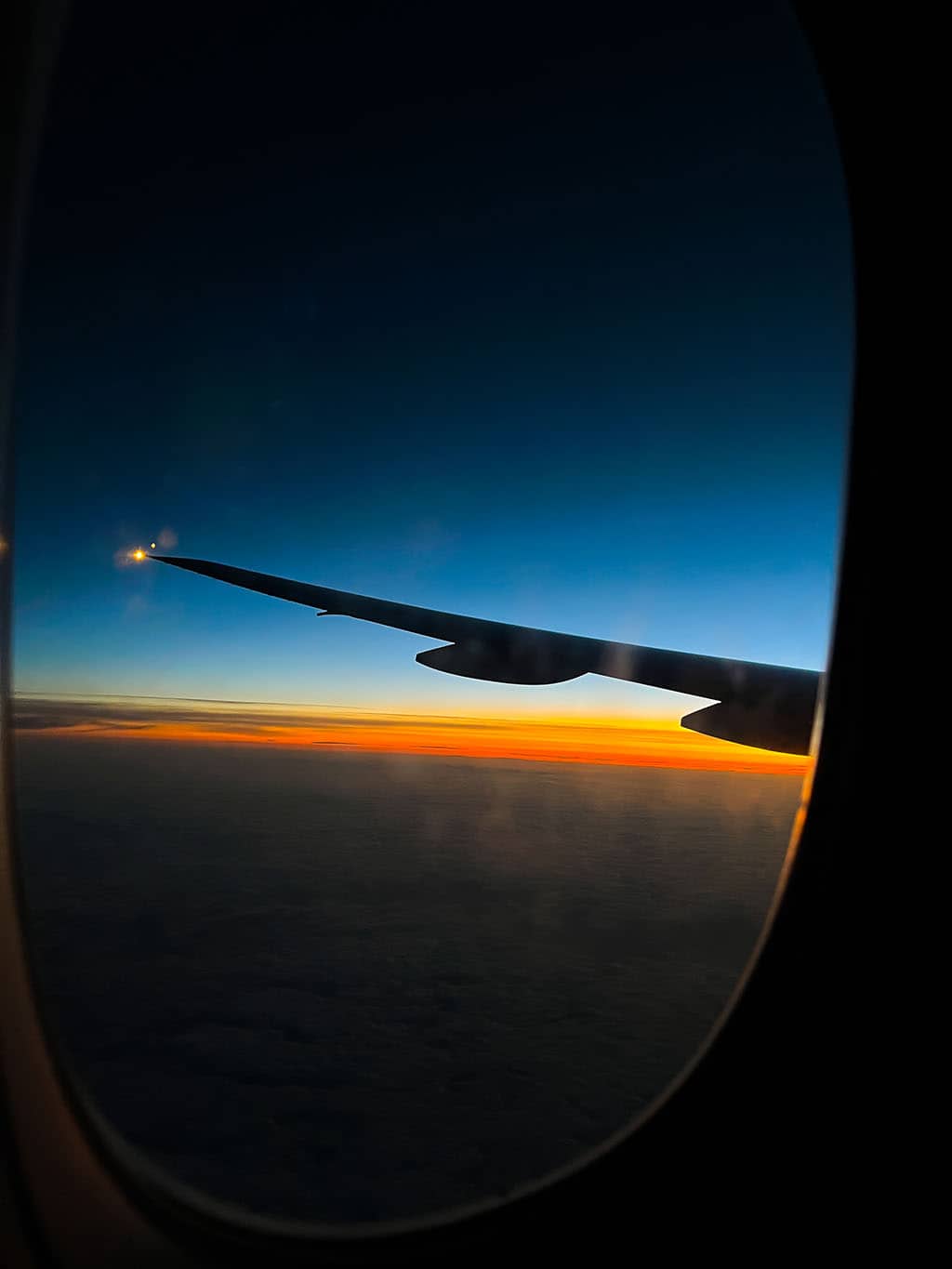 Purchasing train tickets
It took a little extra time to find the train station at the airport, but once we did, it was pretty easy to purchase the correct train tickets. So grateful for the helpful ticketing agents who all spoke English.
We purchased two tickets from MXP to the Milano Centrale Railway Station via the Trenord Line. From there we waited an hour or so, and finally got on a second train direct to Verenna, Italy – Varenna Esino Station. Total cost of those four tickets for those two legs was 40€. I posted images of our tickets below in case they help anyone with planning. Before our trip I would have loved to have the exact train info for our trip.
TIP: We always looked for the station employees in the neon "ask me" vests to confirm all tickets before we purchased just to ensure we purchased the correct tickets. They were all very friendly, helpful, and spoke English, which was very appreciated.
The train ride was beautiful, but we do wish we could have sat on the side of the train closest to the lake. In about an hour we arrived to the very small Varenna Esino Station, where we disembarked and walked a few blocks to the Verenna Ferry.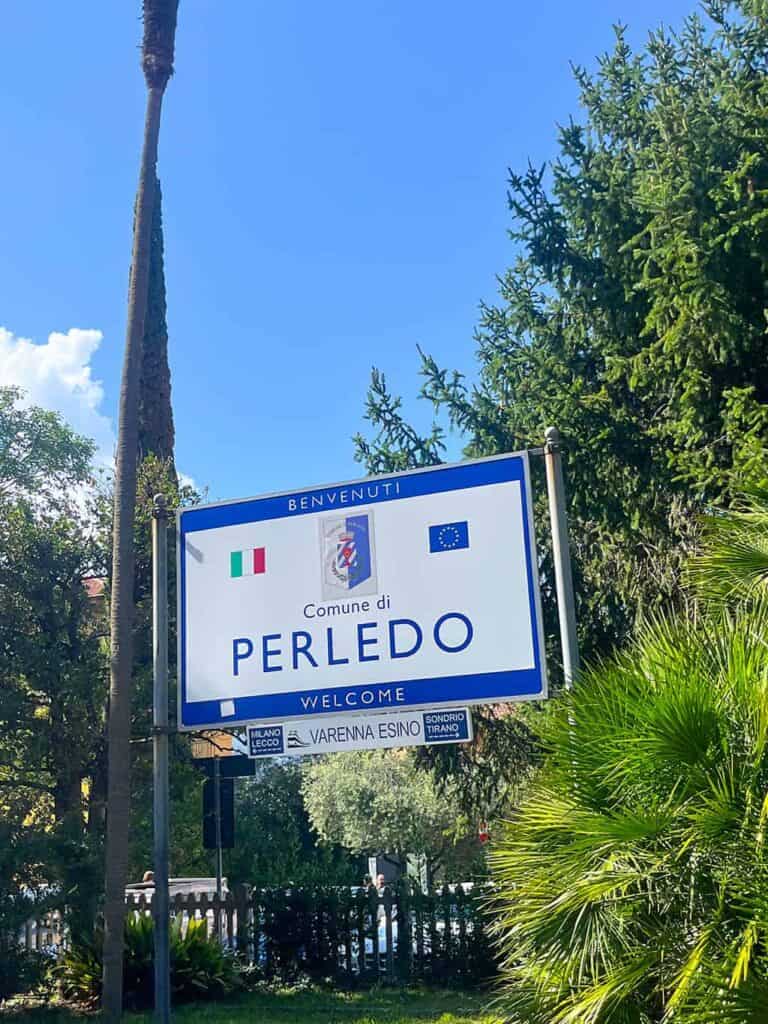 Ferry from Verenna to Bellagio Italy on Lake Como
The ferry runs pretty frequently, and we only waited about 20 minutes to board – best part, it only cost us 9.2€ for both of us to get to Bellagio. It was a quick and pretty ride. If you get in line a little early you can ensure a seat with a good view. We were toward the back of the line, so didn't have our pick of the best seats, oh well. 🙂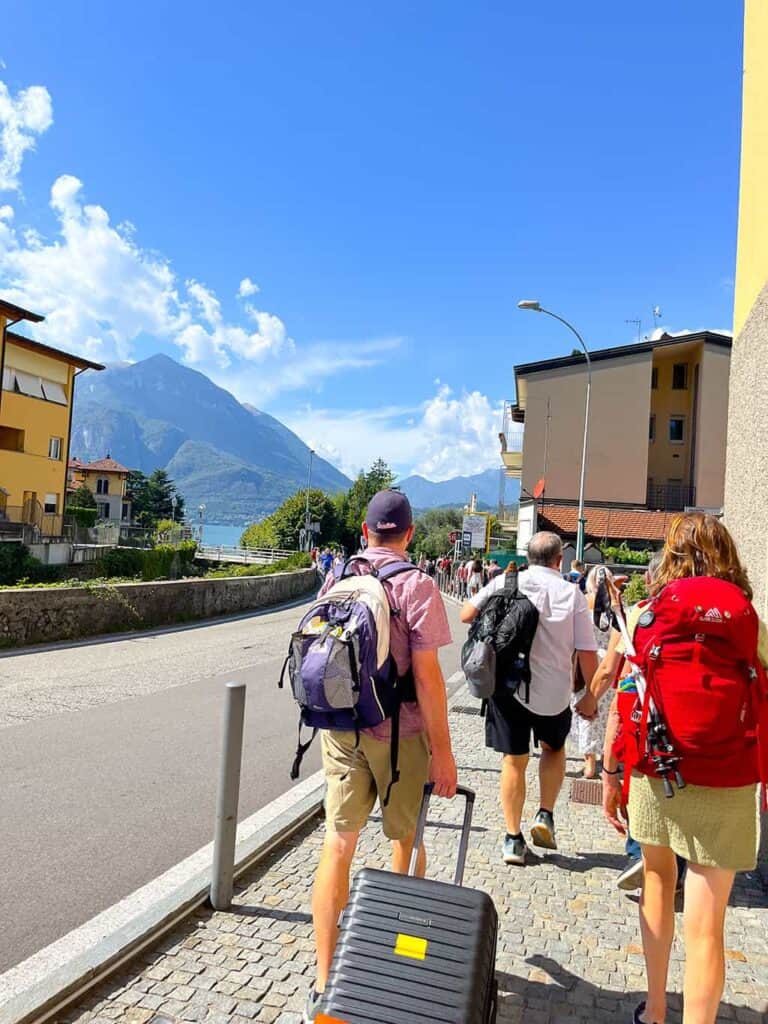 Arriving in Bellagio Italy on Lake Como
We got off the ferry around 2:30 pm, and stepped onto the most picturesque streets lined with the most beautiful and colorful old buildings. I was so excited and immediately started snapping some quick photos, ha!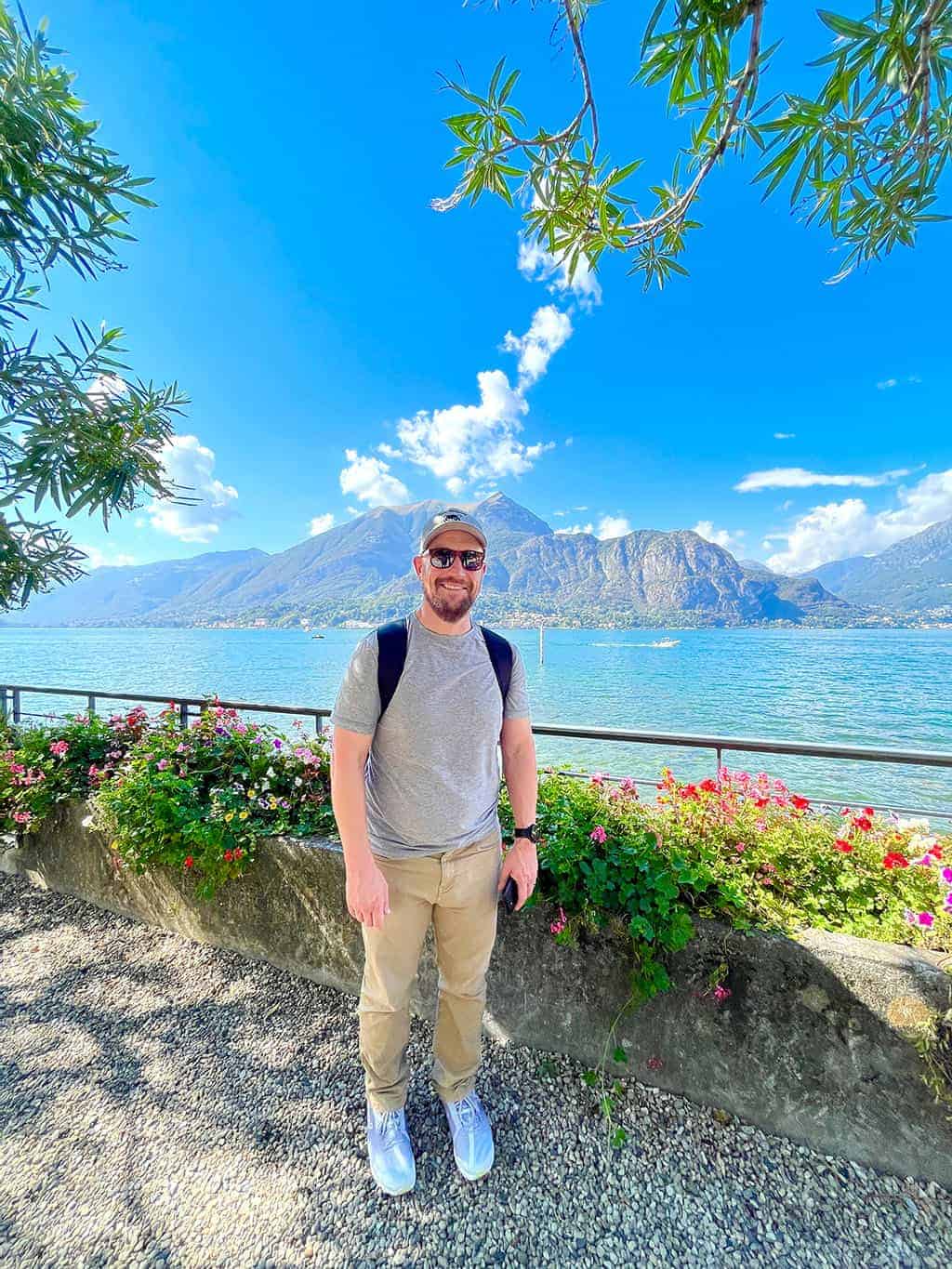 The temperatures were warmer than I expected for mid September (averaged 80-90 degrees each afternoon), and I instantly wished I would have packed some lighter clothes – oops!
From the main part of town near the Ferry it was about a 10 minute walk on the prettiest road to the most amazing bed and breakfast we've ever visited – Agriturismo Il Colle.
Side note: We booked some of our hotels using our Chase Sapphire reward points, which made the trip much more affordable for us.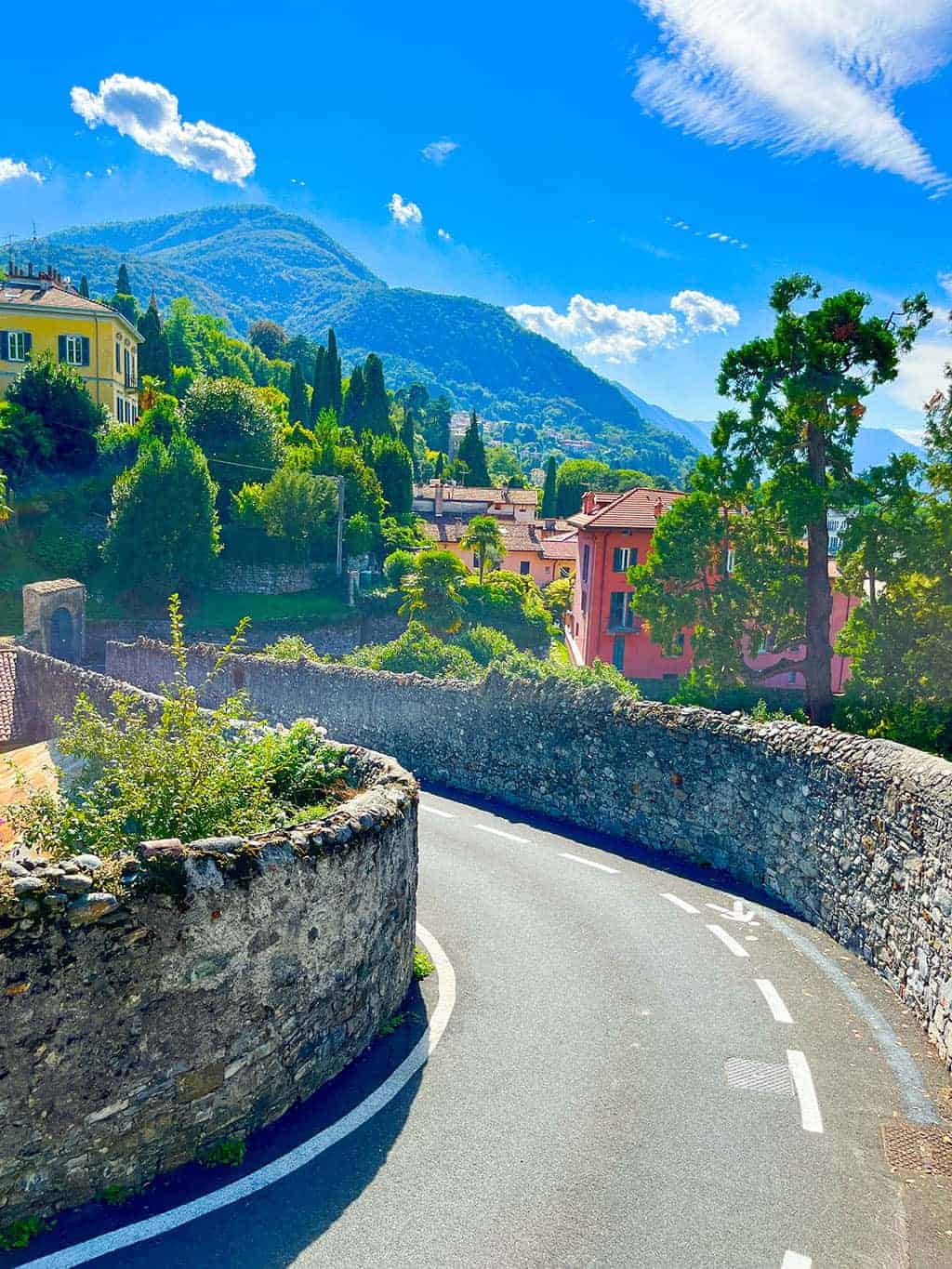 Located very close to Villa Melzi Gardens, Bellagio Ferry Terminal, shops, and restaurants, Agriturismo Il Colle was the perfect choice for us.
All guests at the farm can enjoy a free buffet breakfast with most food made from scratch using produce right from the property.
There's a stunning terrace and back patio with comfortable seating with a stunning views of the lake and hillsides in the other direction.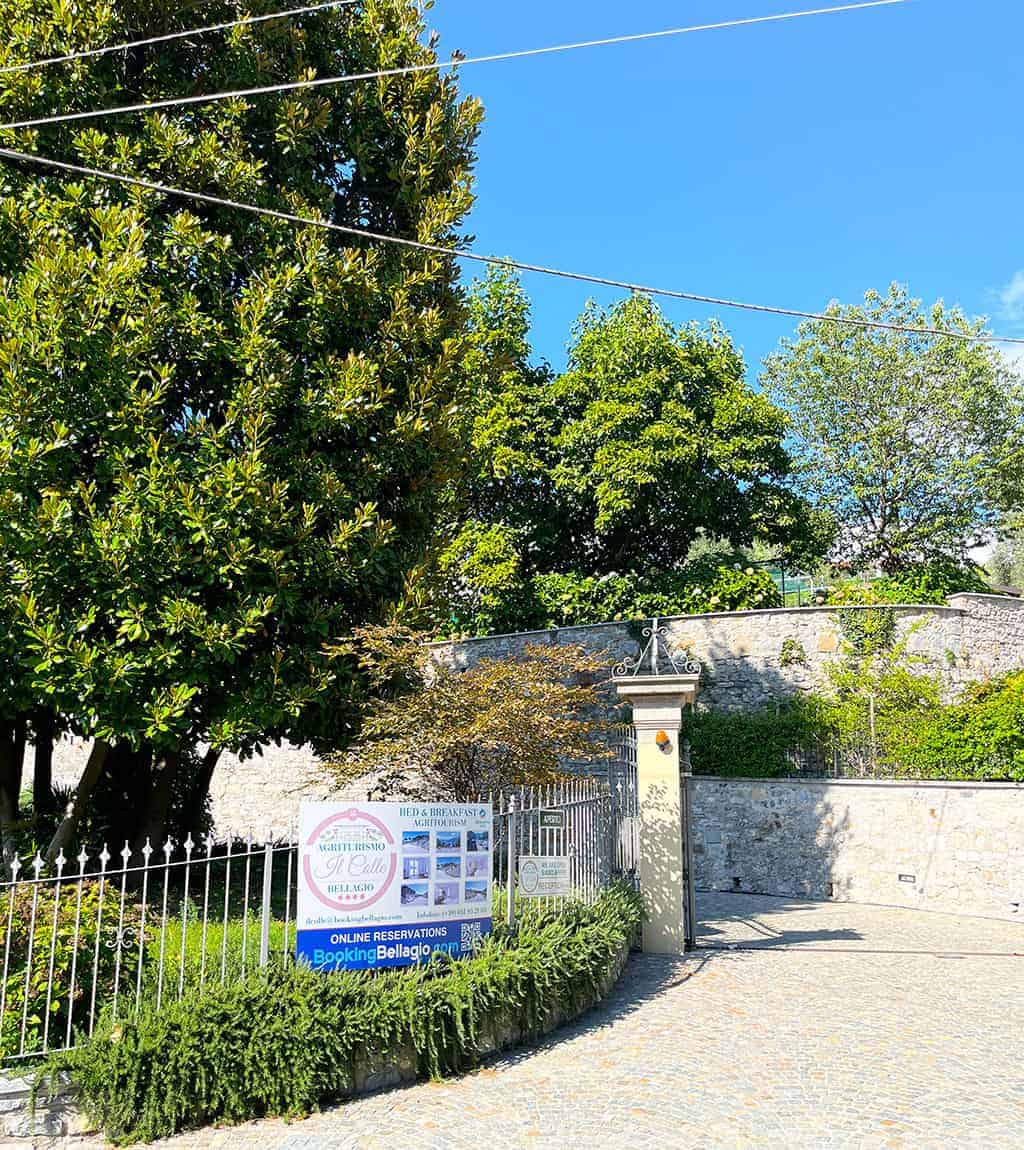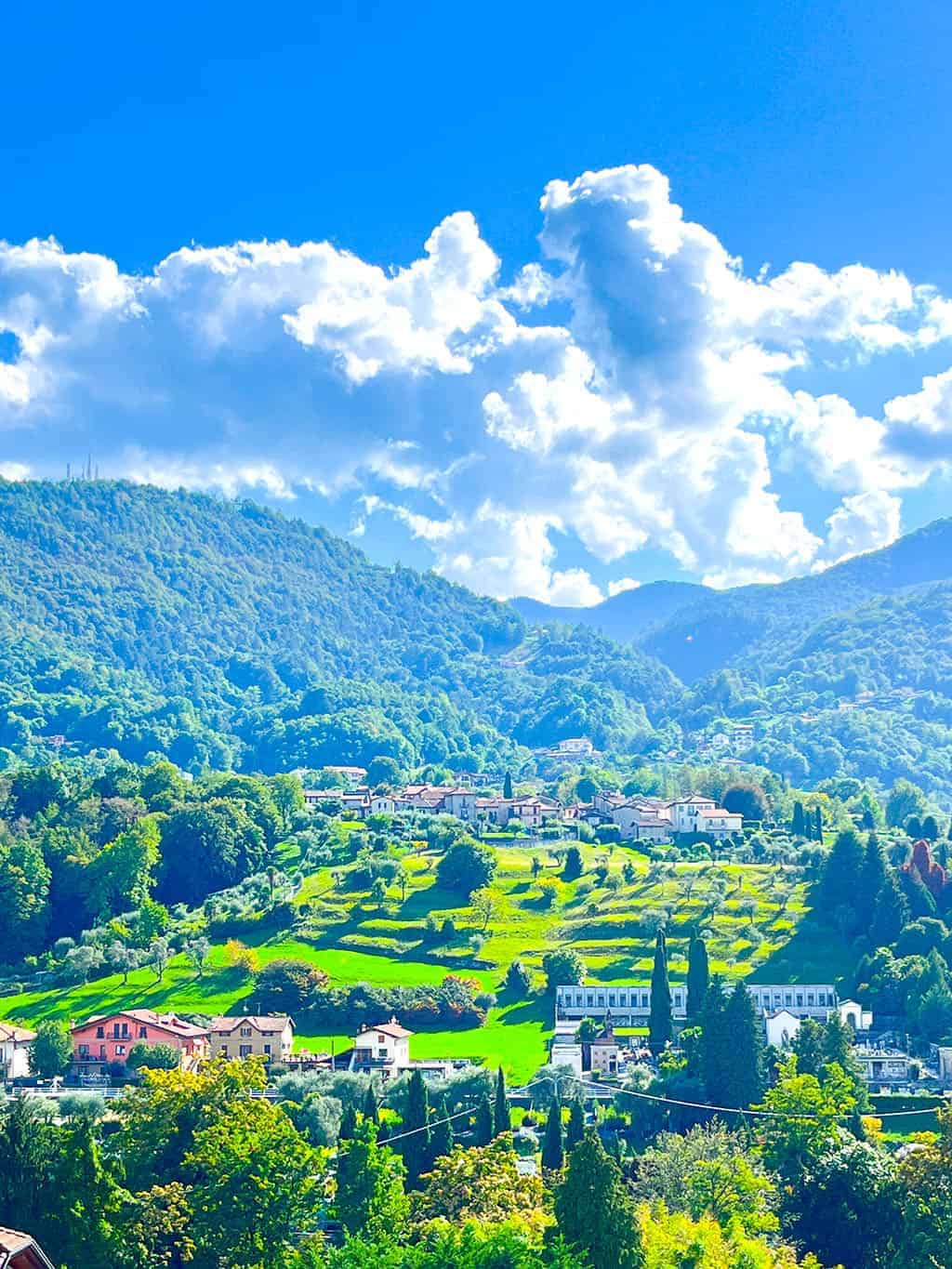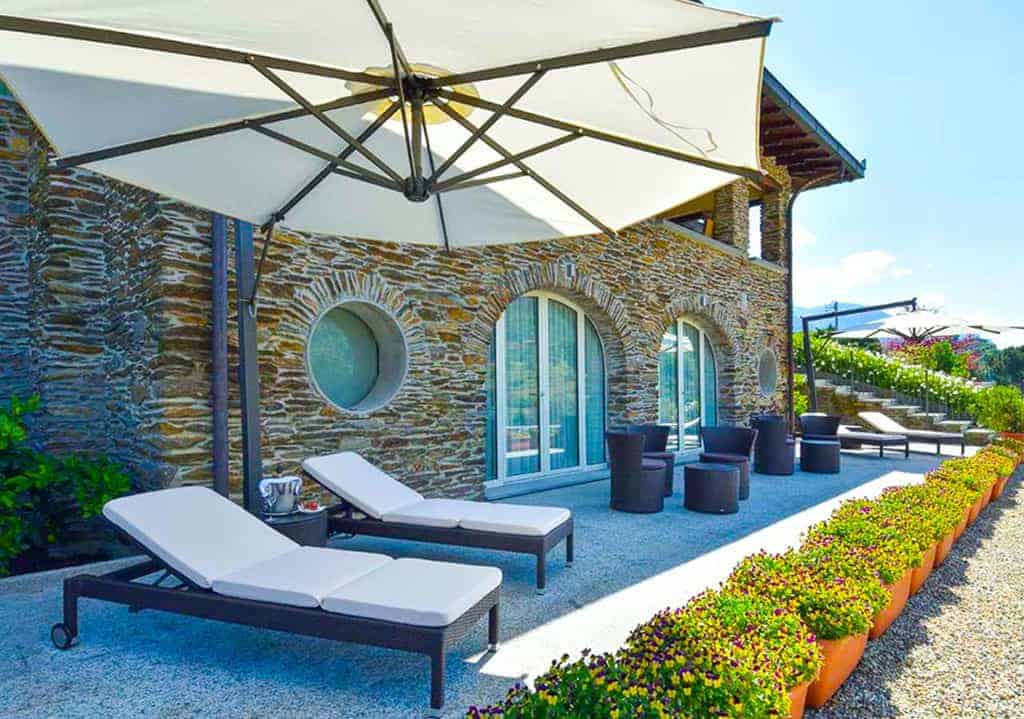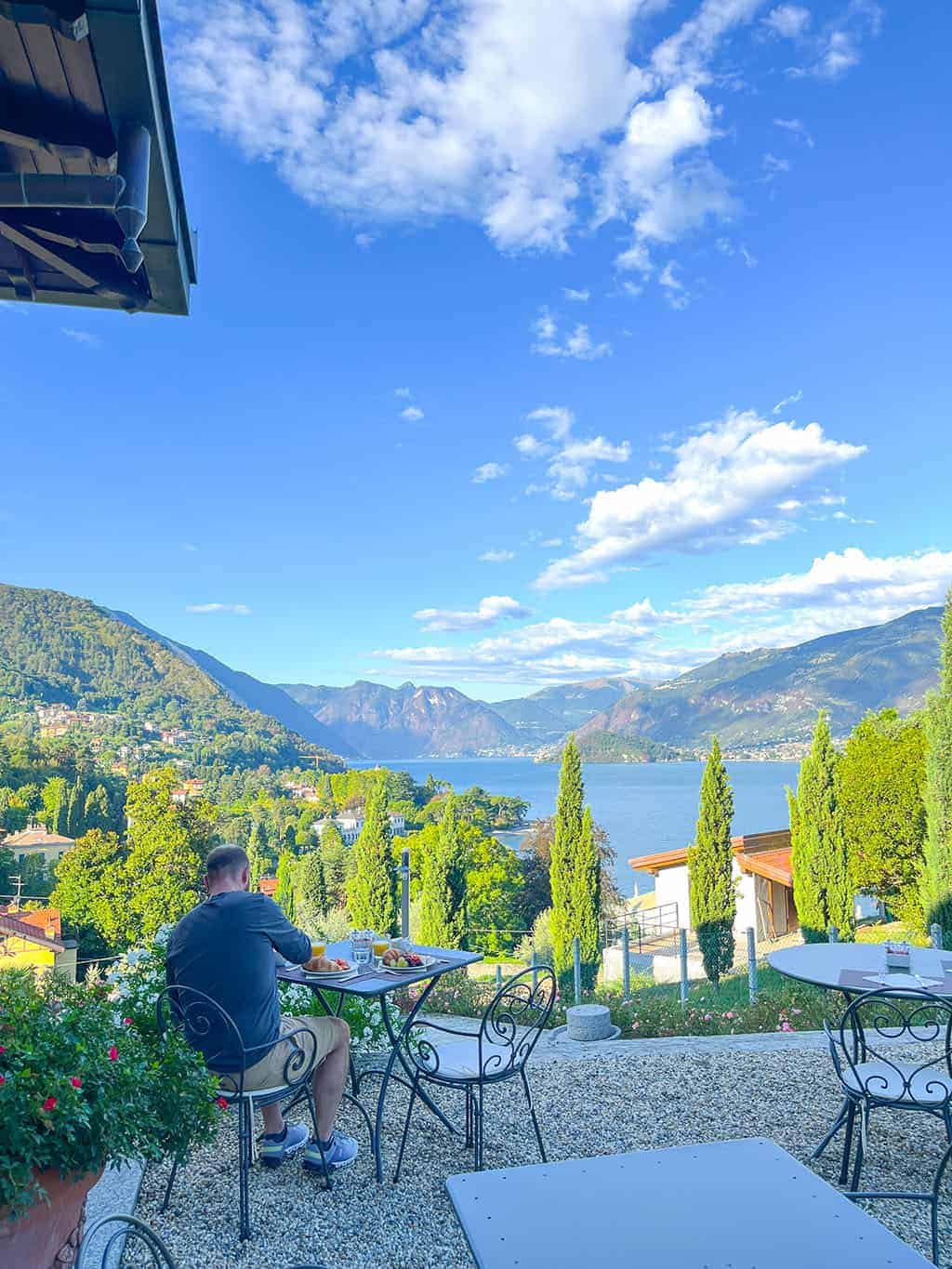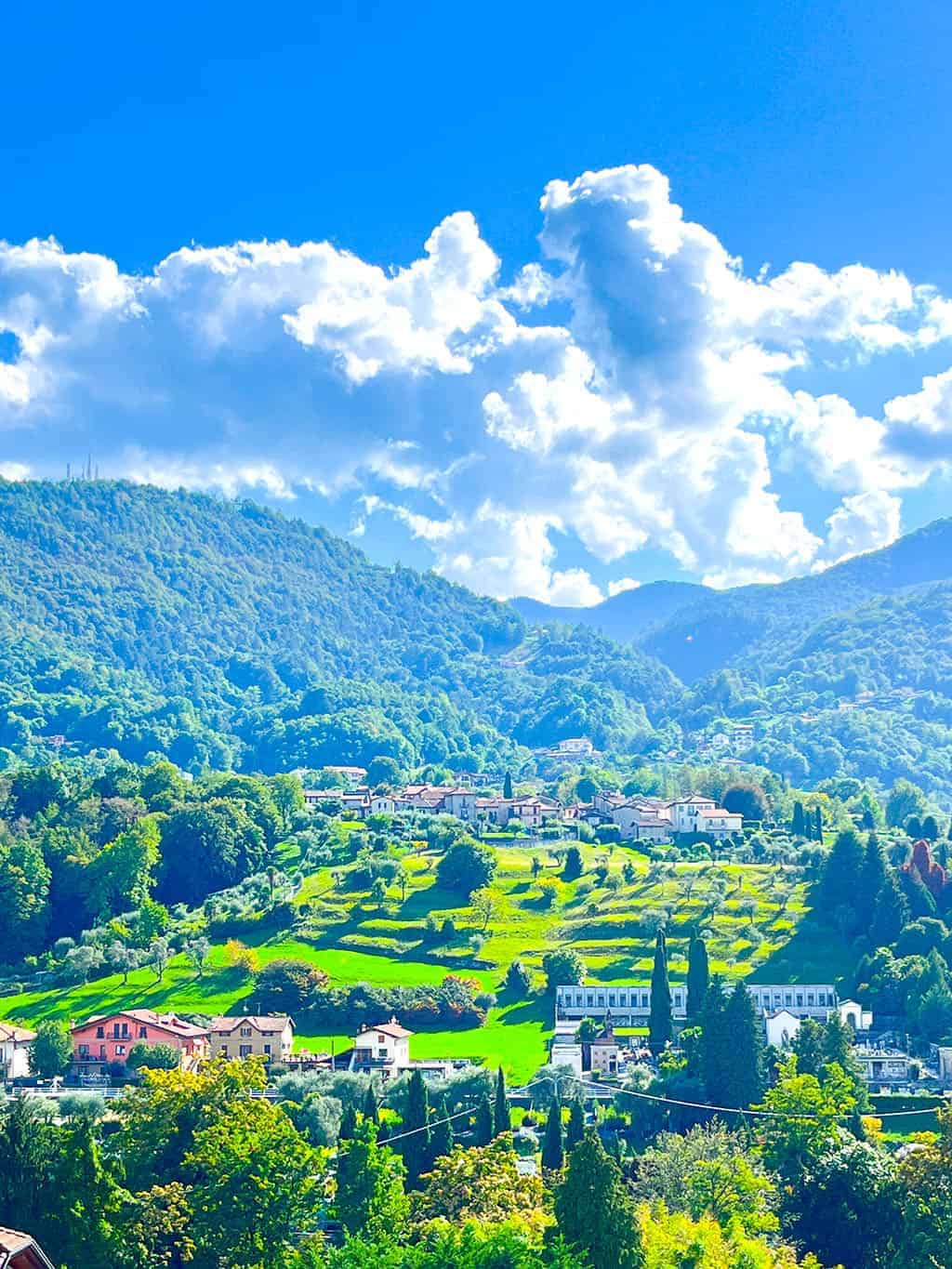 Our unit had a king sized bed, couch, private bathroom, bidet, air conditioning, washer, flat-screen TV, mini kitchen, fridge, and the most beautiful view of Lake Como from a huge private balcony.
They have smaller, more affordable rooms too, but this was the last one available at the time of booking.
The owners Luigi and Mary were extremely helpful and you can tell they take a lot of pride in their B&B and guest satisfaction. Luigi was fun to chat with and Mary was helpful giving us ideas of things to do in the area – they are a great team! I'd highly recommend to anyone and everyone.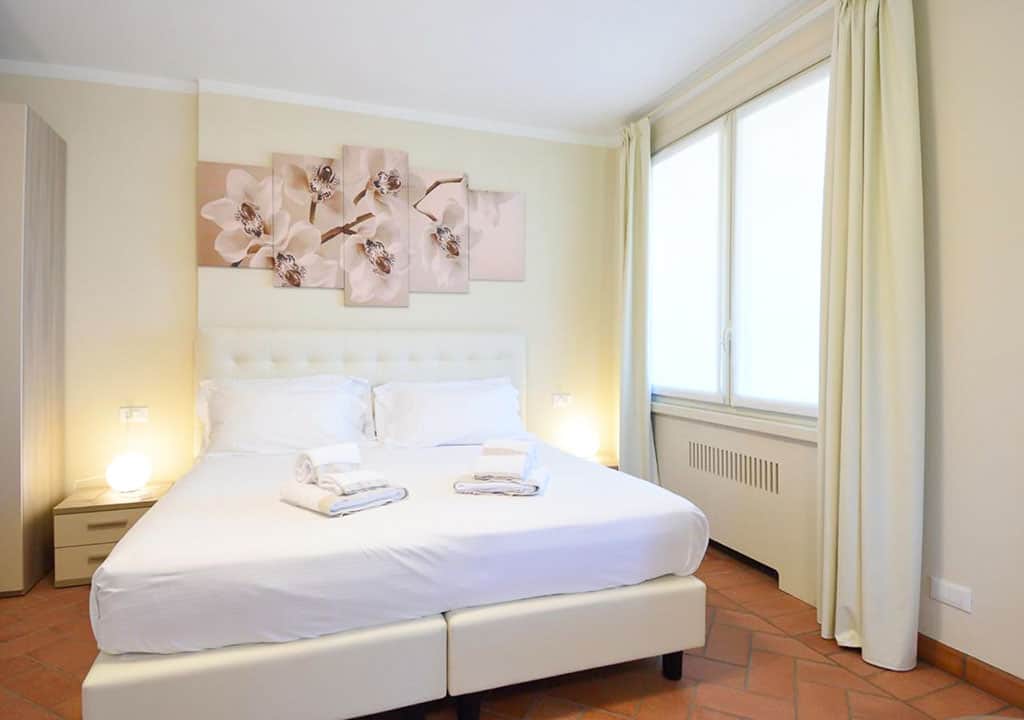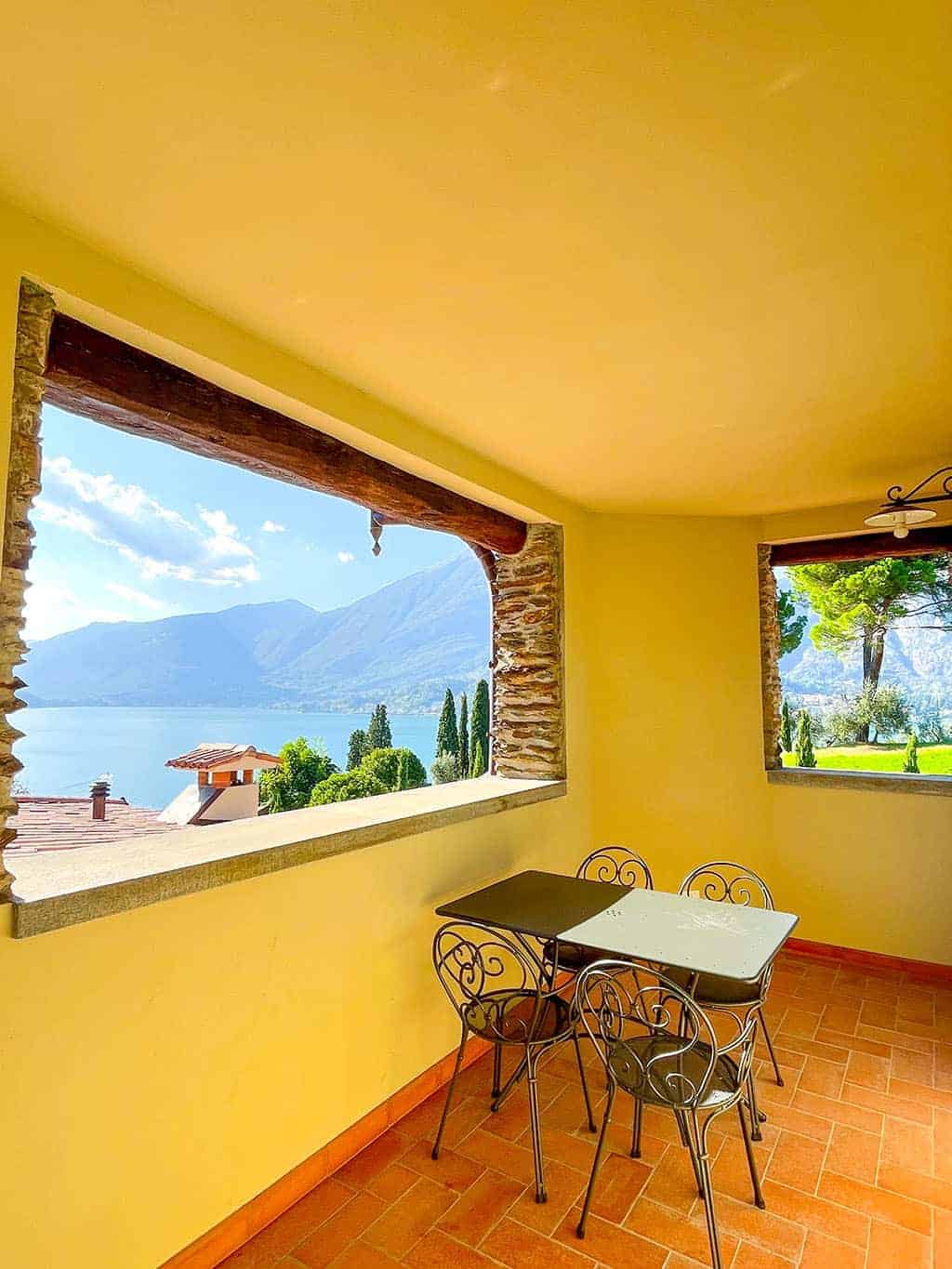 Things to do in Bellagio Italy on Lake Como
Our first day in Bellagio was cut pretty short due to our big travel day. We were up for 24 hours, so we both decided to take a quick nap before we headed out to dinner.
Around 6 pm we were finally able to rally, and toured the property before we walked to the adorable village for dinner and drinks.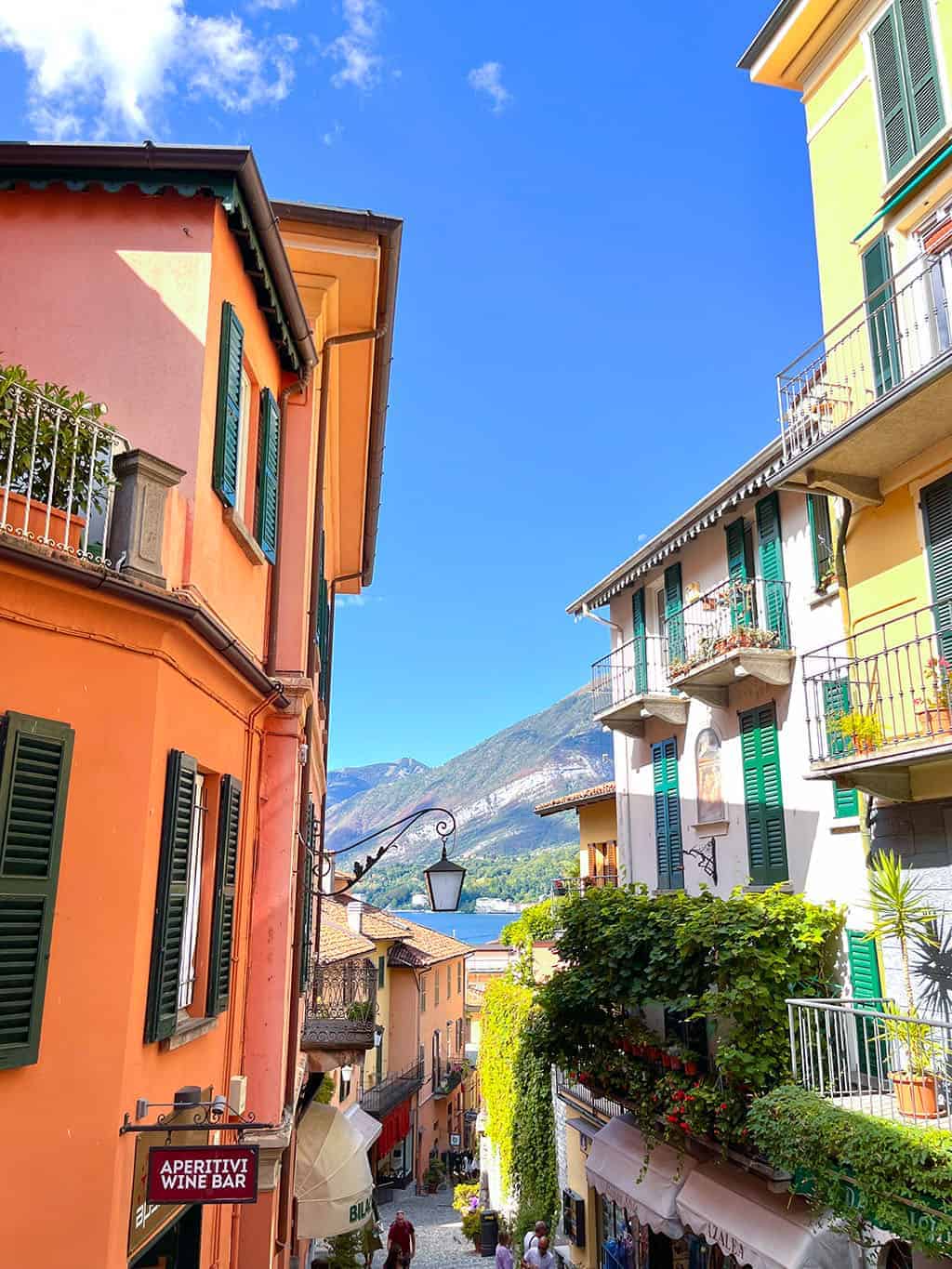 There are many outdoor, waterfront restaurants to choose from, but we ended up at Florence Restaurant, which had a beautiful view right on the water. I ordered a spaghetti dish and Ted ordered the sea bass.
It was a pretty decent meal, but not life changing by any means. This was also the priciest meal we had in Italy at 70€ – everywhere else was extremely affordable (like 10€ per plate affordable).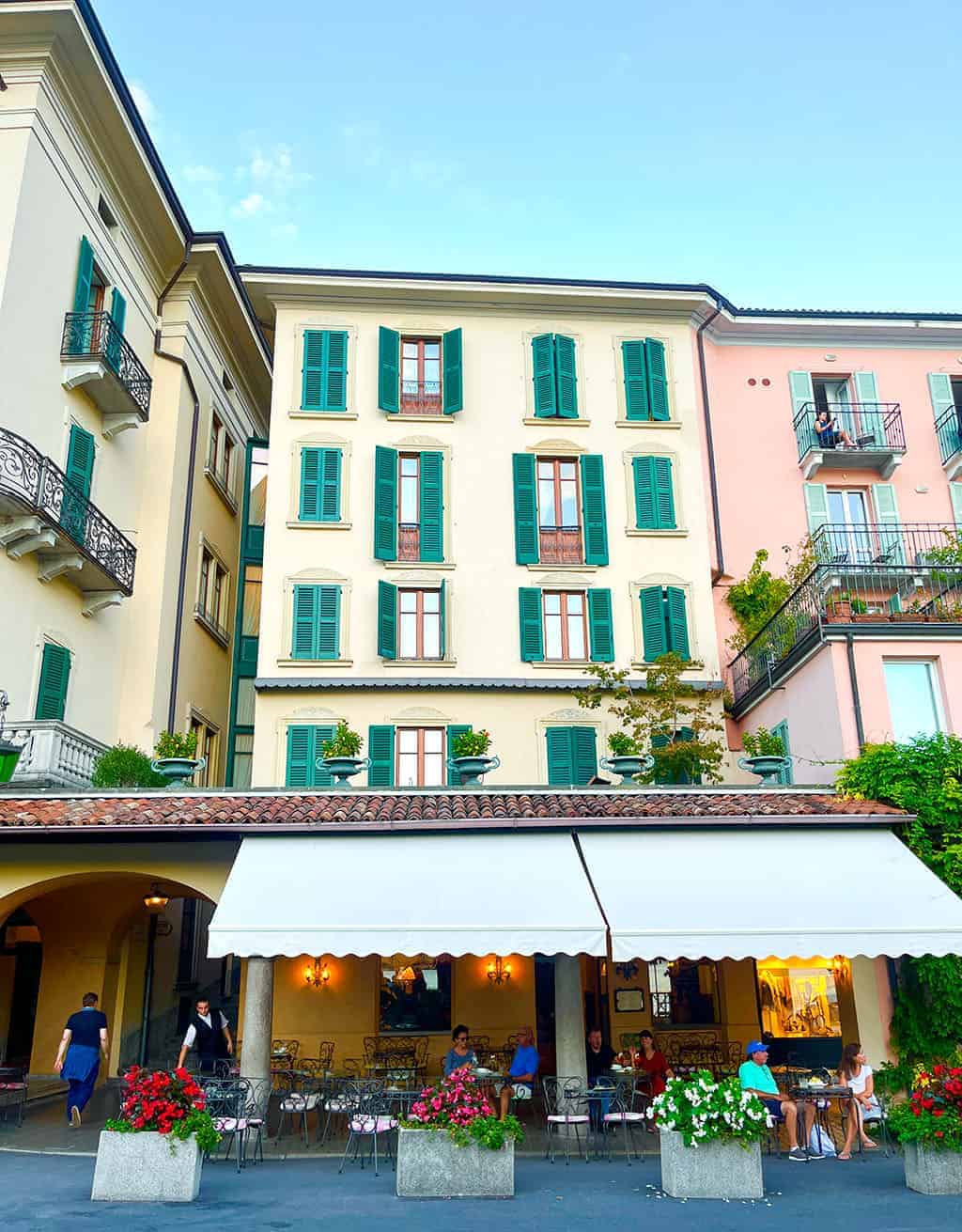 Tip: Oh, and if you didn't already know, they don't do tipping in Italy (or any of the countries we visited), so that helps cut down on meal costs tremendously. 🙂
After dinner we walked through the town a bit more, grabbed some gelato, and then headed back to our B&B.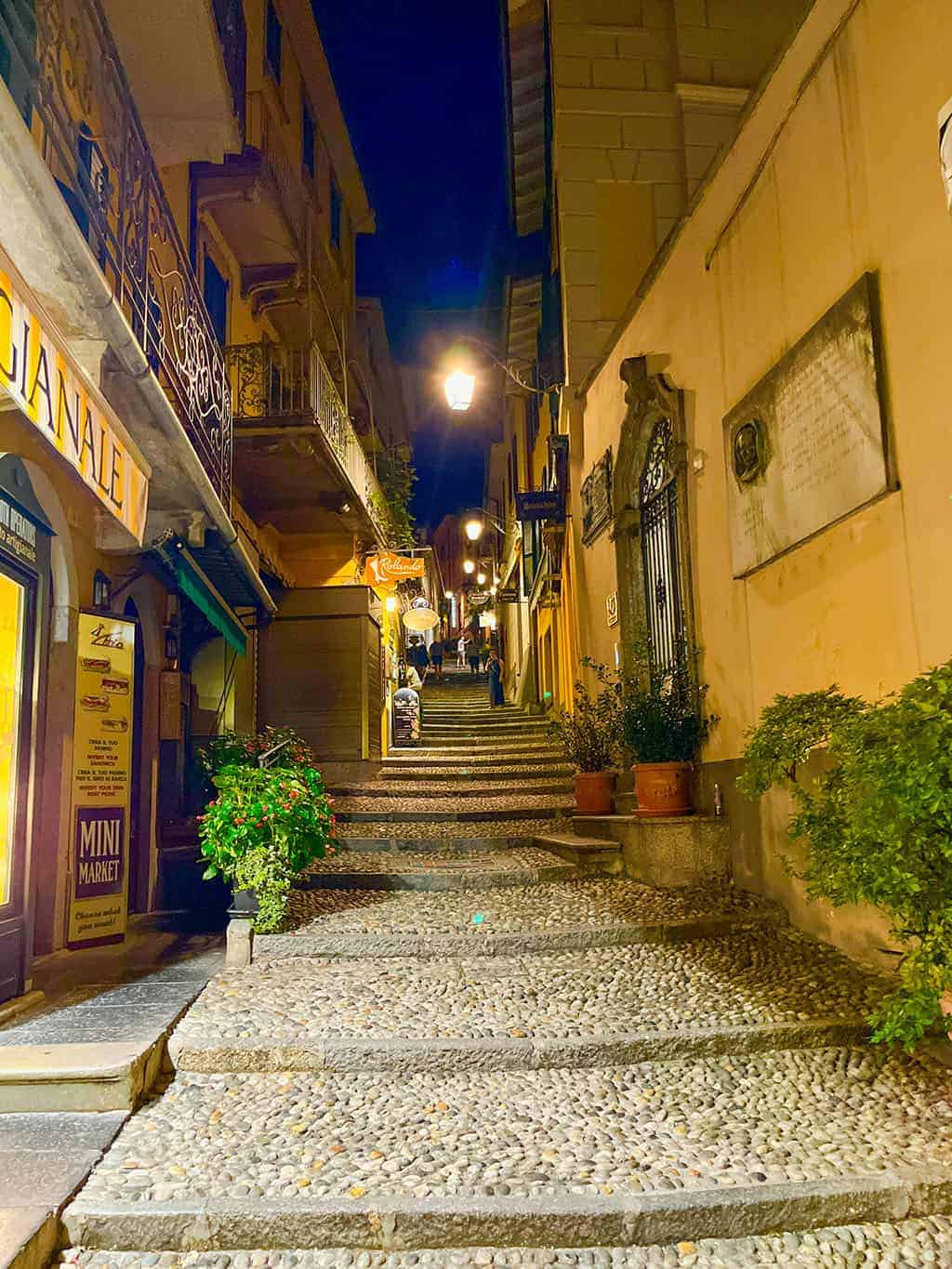 Day two in Bellagio Italy on Lake Como
The following morning we slept in a little bit and then headed to breakfast. Afterward we walked into town to start our day.
We had planned on taking the ferry to some of the other nearby islands to tour homes and gardens, but unfortunately the transportation workers (ferries, taxis, etc) were all on strike that day, which meant that nearly every form of transportation was closed until around 5 pm.
Ted and I decided to just walk all around Bellagio and explore a bit, which was a great way to see the area.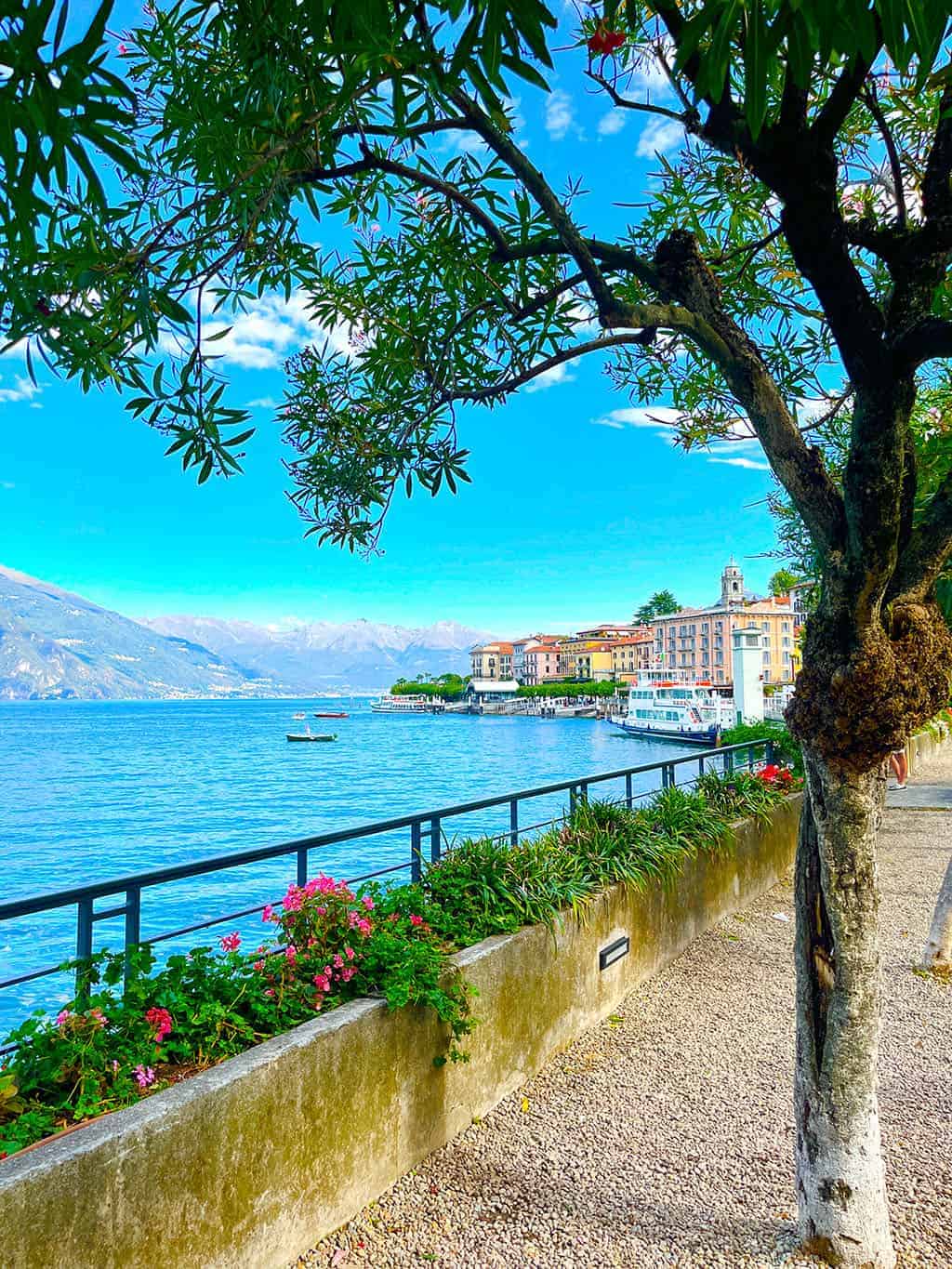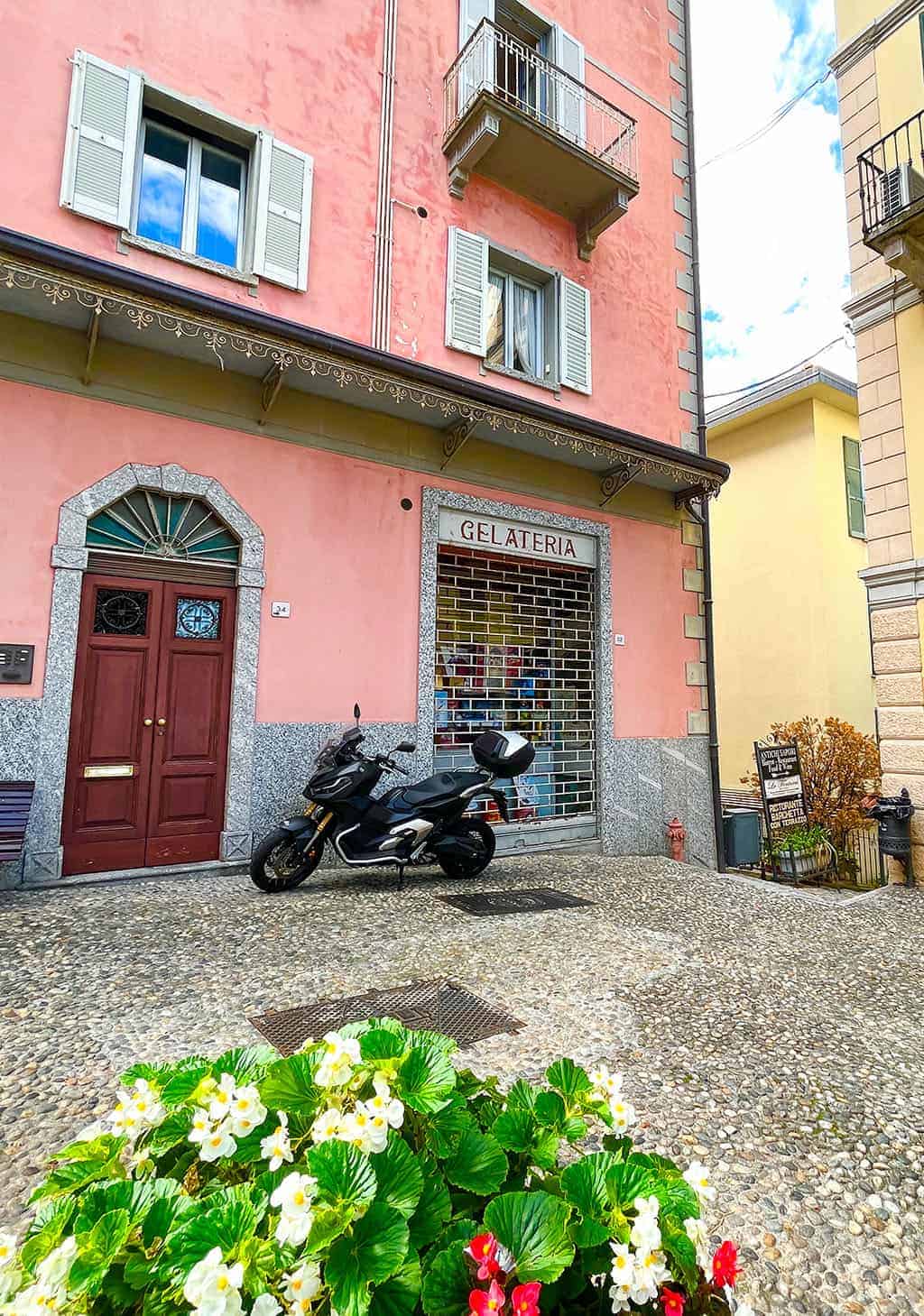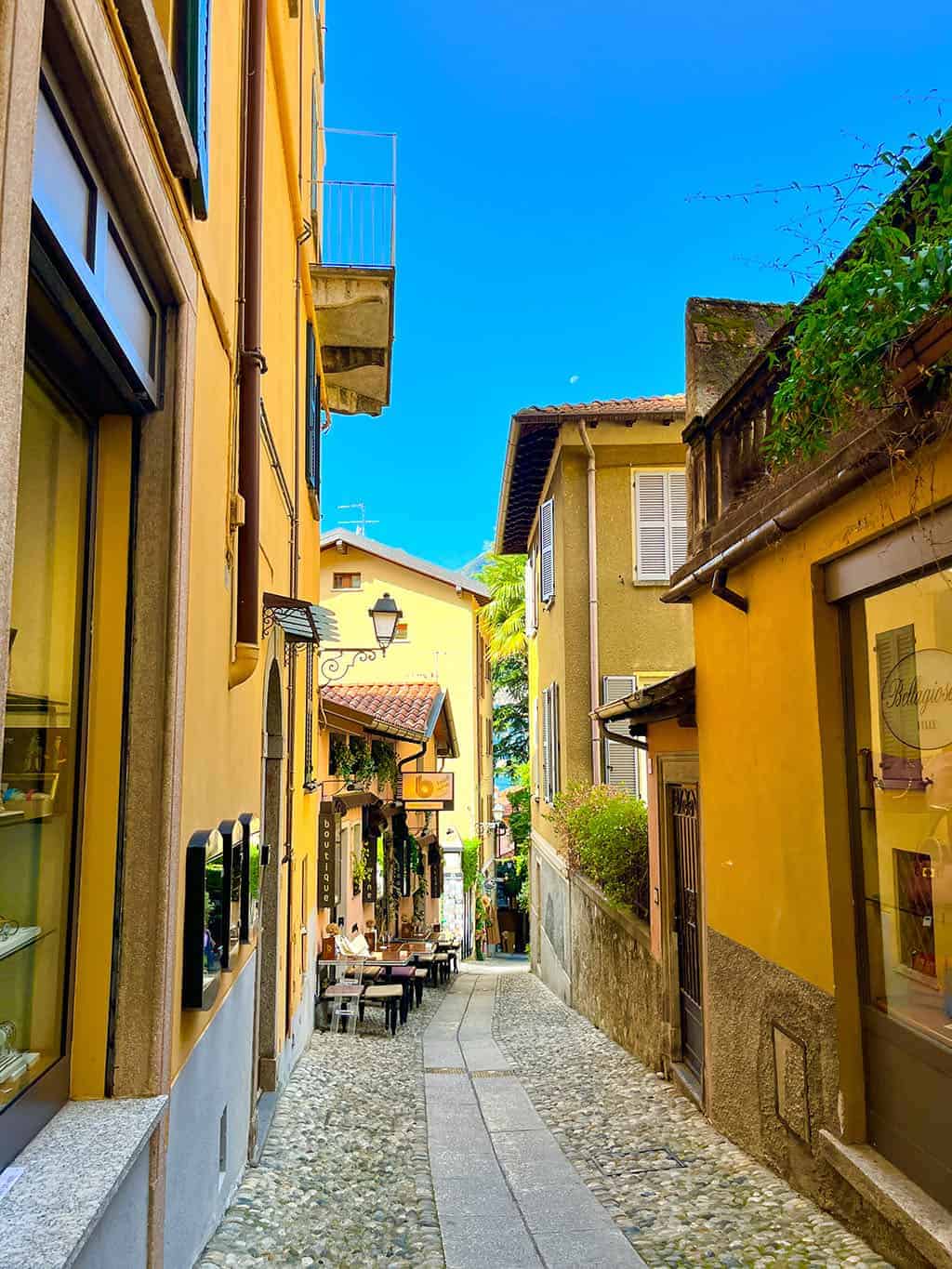 After lots of walking we stumbled upon a cute little 18th century wine cellar (Enoteca Cava Turacciolo) tucked into a narrow walkway. they have 300+ labels of local and national wines which can be tasted.

We decided to do a tasting at a table outside. Our server was great and recommend his favorites, which were wonderful! They brought us a free snack plate as well.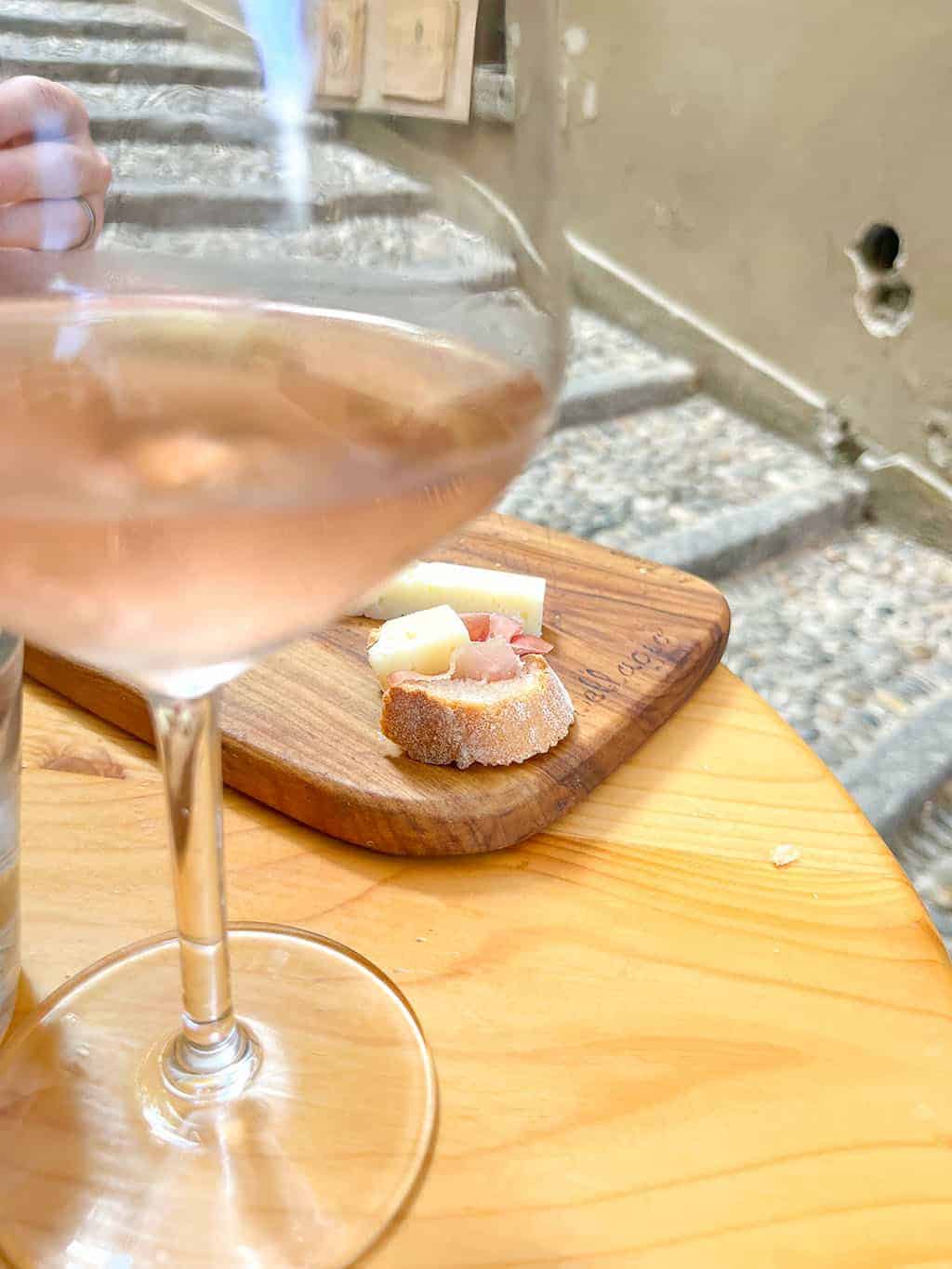 After we finished our tastings, we decided to head to a stunning garden, Giardini di Villa Melzi.
It cost 16€ for both of us to enter, and it was totally worth it. The Gardens of Villa Melzi, created 1808 – 1810, line the shores of Lake Como between the two branches of the lake and are absolutely beautiful. It's located super close to our B&B too.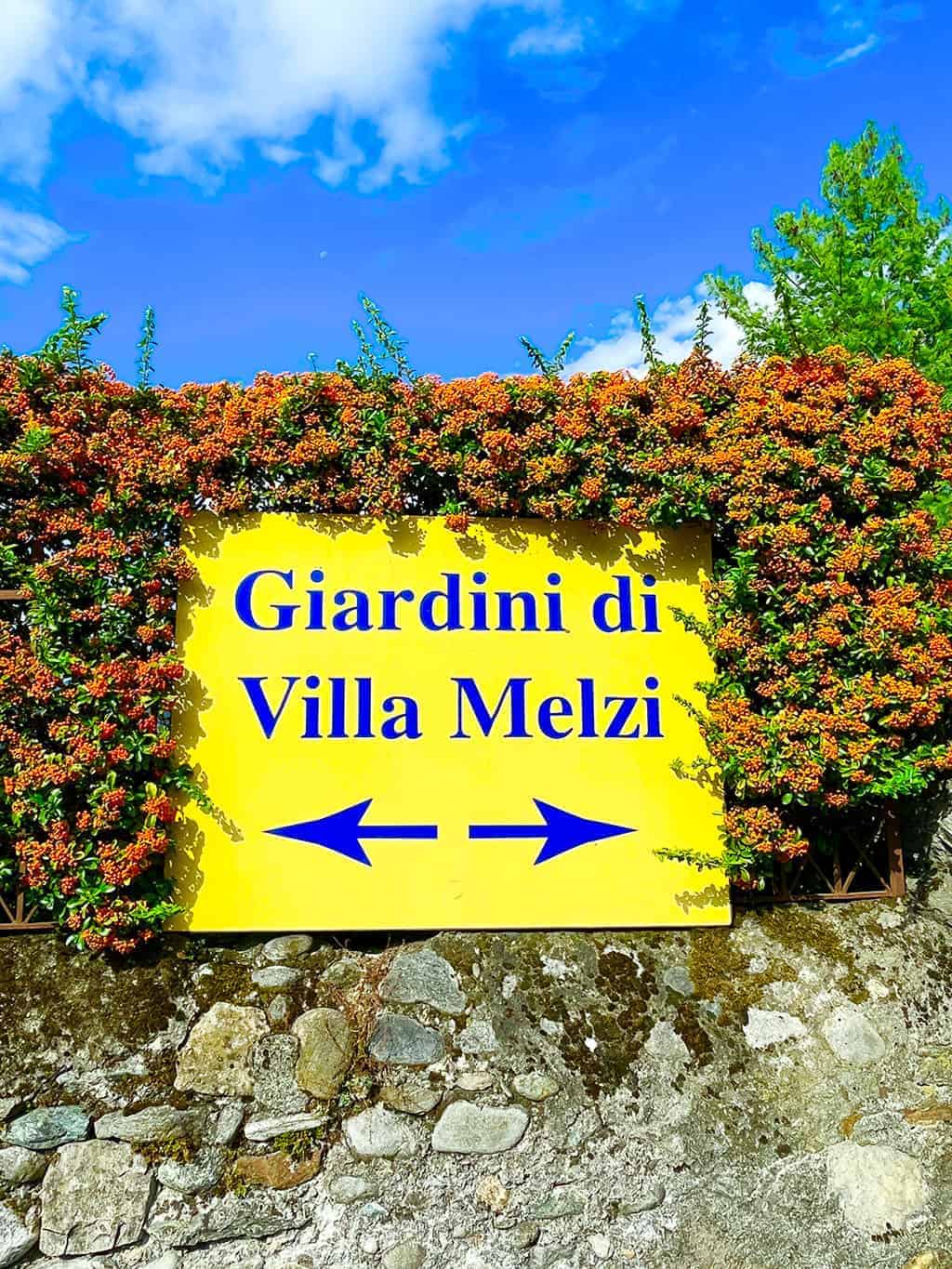 Inside the garden is a villa, chapel, and greenhouse (or orangérie), and all are now museums. The gardens were designed in the Neoclassical style and embellished with sculptures, which are national monuments.
Some history: The complex was built for Francesco Melzi d'Eril, Duke of Lodi, Vice-president of Napoleon's Italian Republic and, later, Grand Chancellor of the Kingdom of Italy. Melzi d'Eril lived there until the end of his political career, after which it became his summer residence until his death in 1816.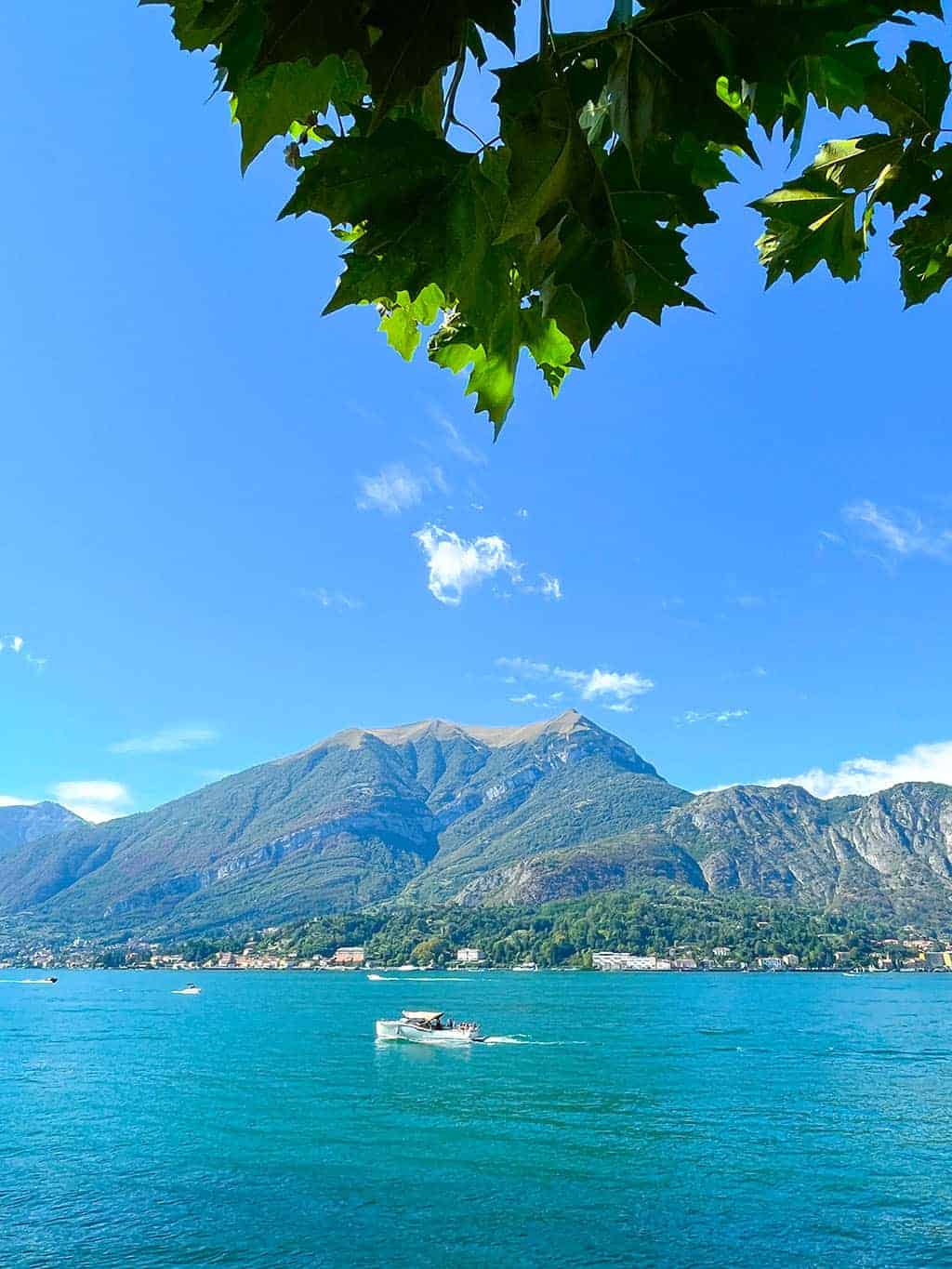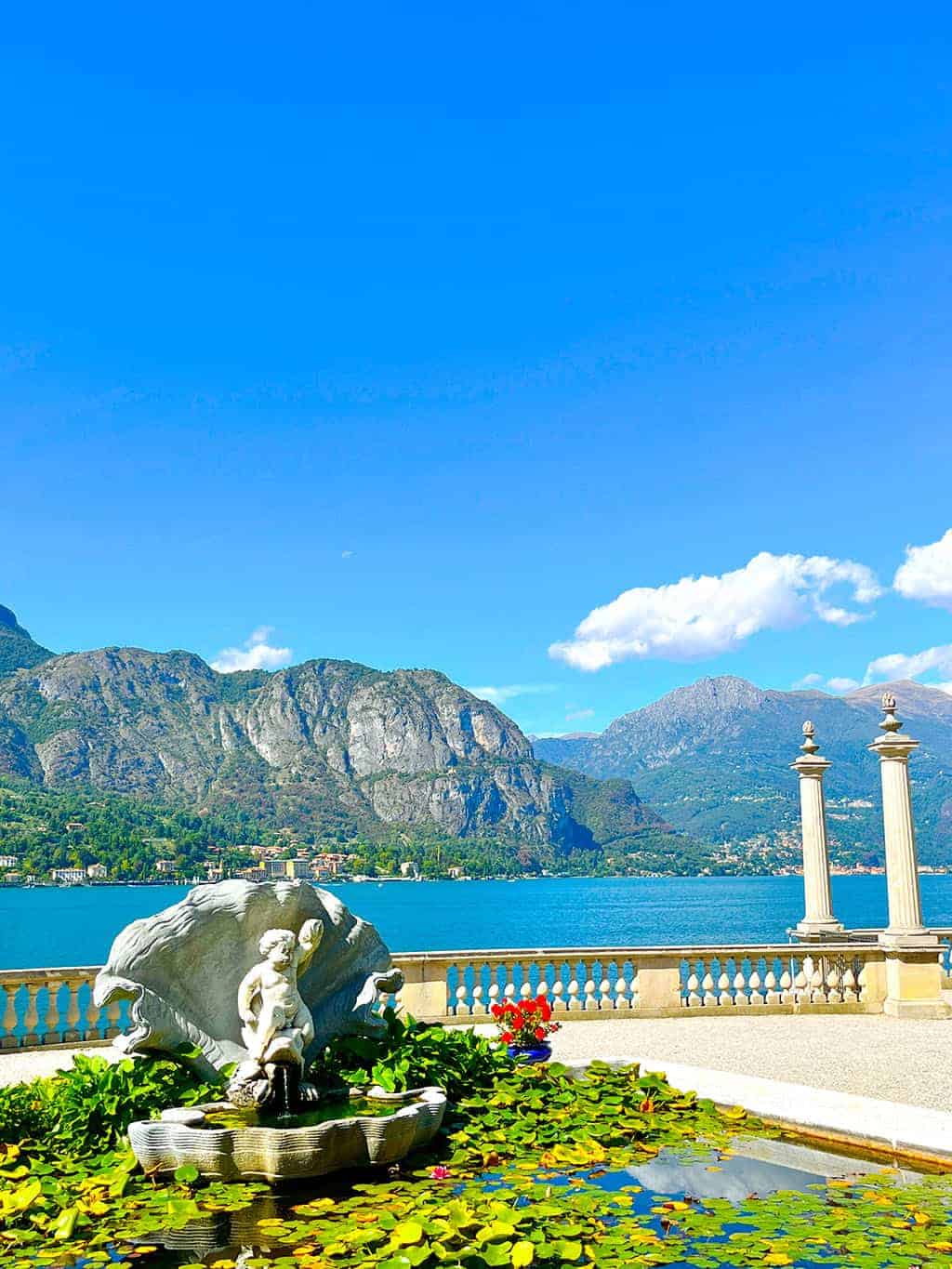 After the gardens we headed back to the B&B to enjoy a glass of wine and take in the beautiful lake views.
Side note: Since we knew this trip was going to involve a TON of walking, I got these cute retro looking Nikes right beforehand, and I wore them every single day (remember we had to pack light). They were sooo comfortable, and I highly recommend (they come in other color choices too).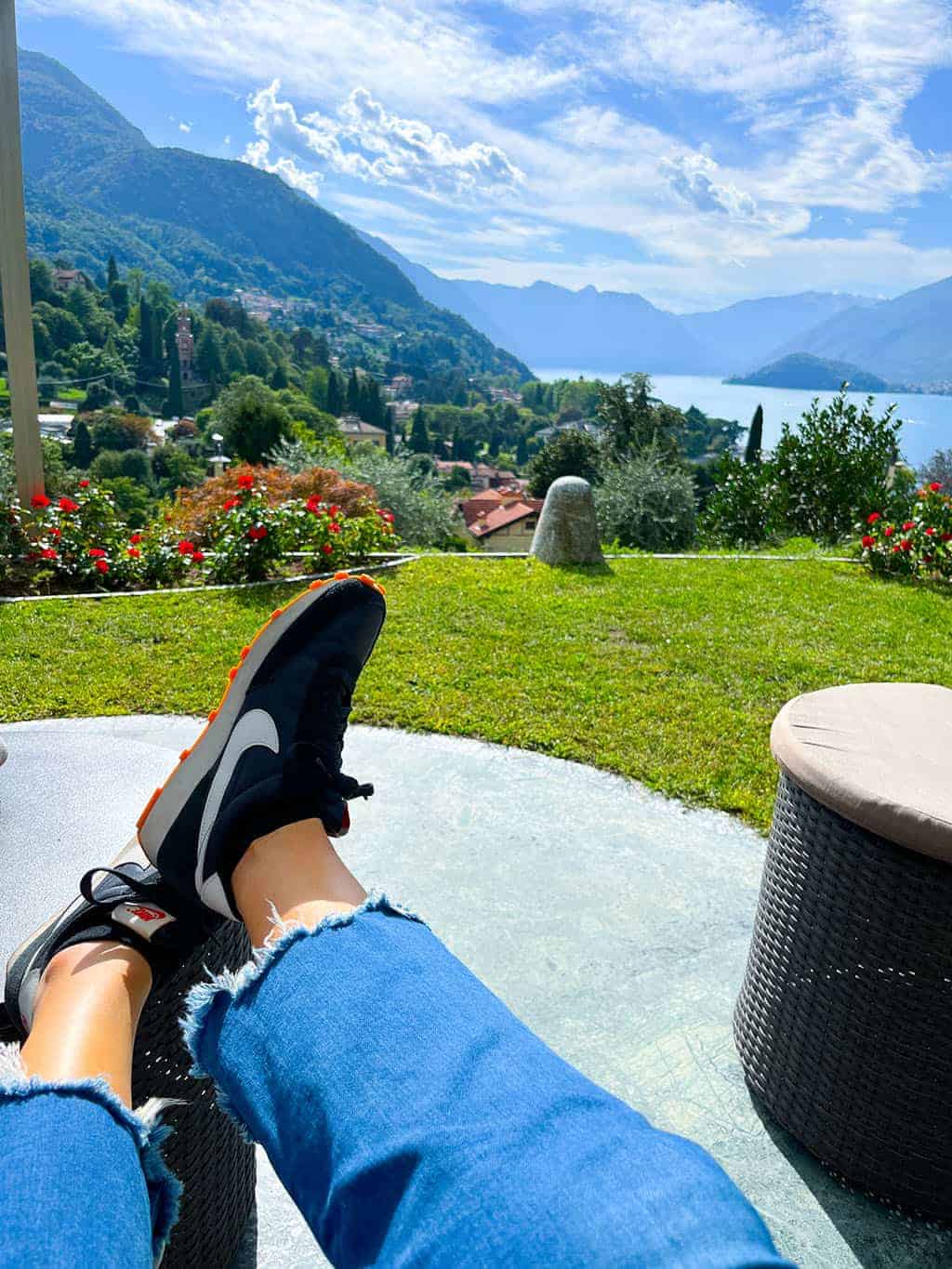 Later that evening we walked back into town to find a restaurant for dinner. We ended up eating at La Fontana, where we split a delicious pizza and had salads. Ted had a beer and I opted for some wine, which by the way is sooo affordable in Italy – like 3-5€ per glass.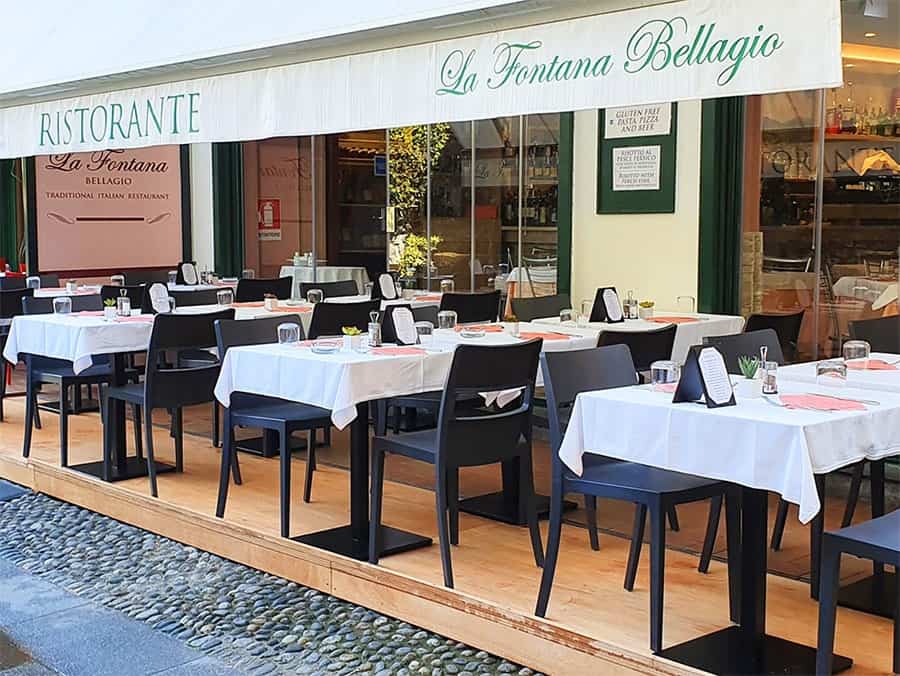 We decided to walk back to the B&B to pack for the second leg of our trip and plan out our next train routes to Grindelwald, Switzerland.
We explored Bellagio in only a day and a half, but feel like we saw a lot in a short time.
Our final morning in Bellagio Italy on Lake Como before leg two of our trip to Grindelwald, Switzerland
The next morning we got up early for breakfast, and were planning on getting on the 8:13 Ferry to Como, where we would hit the next train station, but sadly missed it by a few minutes. The next ferry wasn't heading out for three hours, so we had to find a plan B.
We called a cab, who said it would be 150€, so we opted to go by bus, which thankfully worked out great for us. It ended up only costing 10€ for both of us to get to Como in about an hour. By the way, the bus only accepts cash/coin unless you purchase tickets in advance with card. We had to hit an ATM to grab some euros.
Once we got to the Como San Giovanni Train Station, we asked a ticketing attendent for some help planning our train route. The Trenord trains don't offer routes straight to Grindelwald, Switzerland, so we had to piece it all together at a couple upcoming stations.
We got as far as Lugano, Switzerland before having to get off the train and purchase our next tickets. Ted took the lead on train and bus ticketing, which I so appreciated. I planned the whole trip leading up to our travels, and he is much better at navigating than I am. 🙂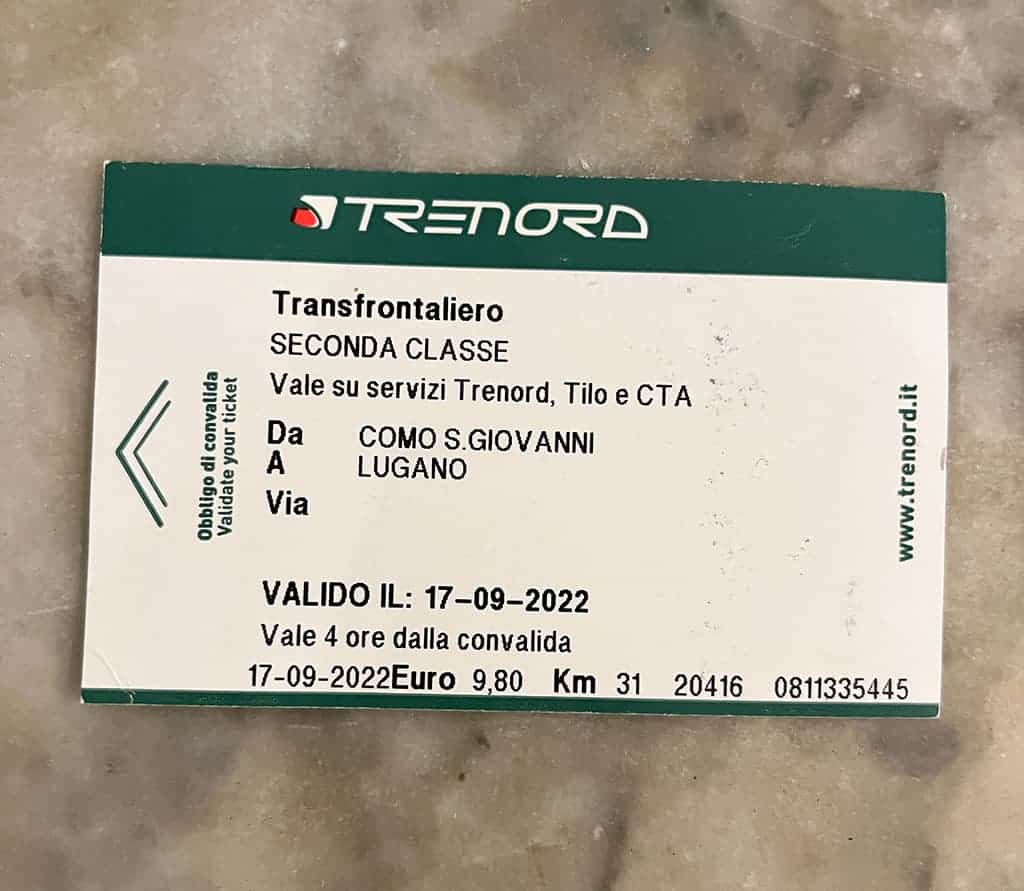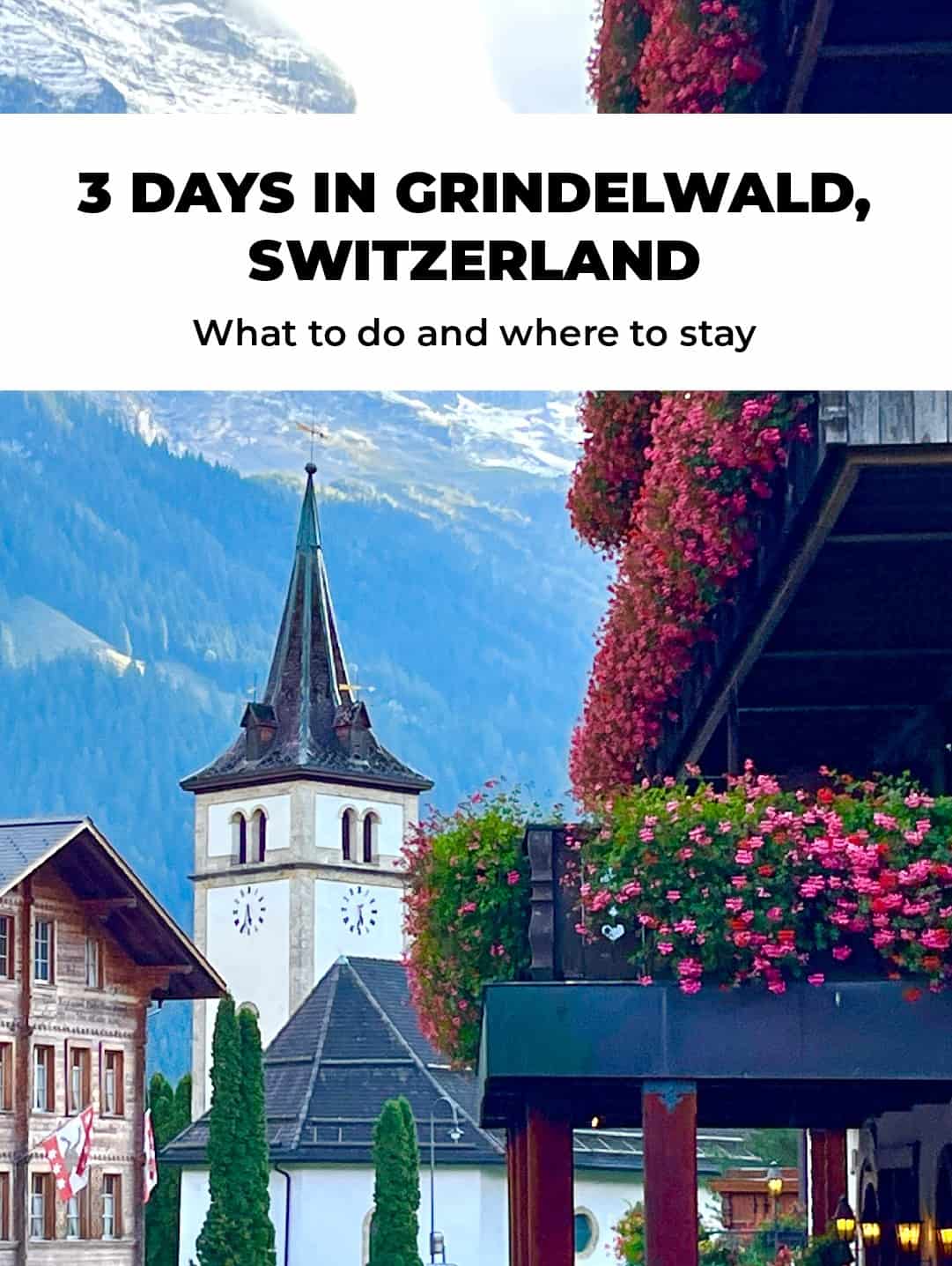 xoxo
Audrey
Pin this Bellagio Italy on Lake Como post for future planning!