One of my favorite fall activities putting up our outdoor Halloween decorations. And I go gaudy, haha!
I love decorating our porch for fall in early September, and then just add to it for Halloween a couple weeks later.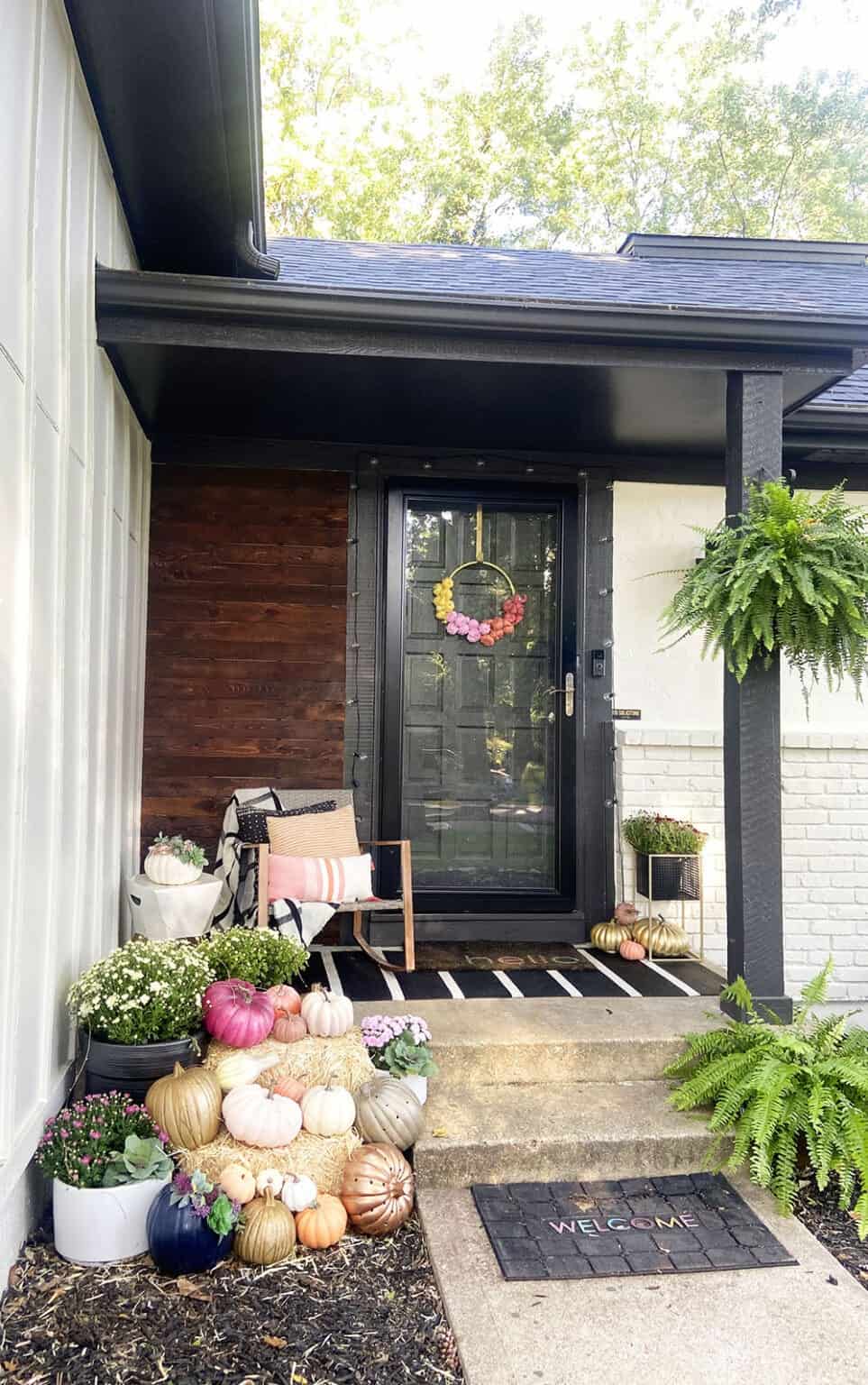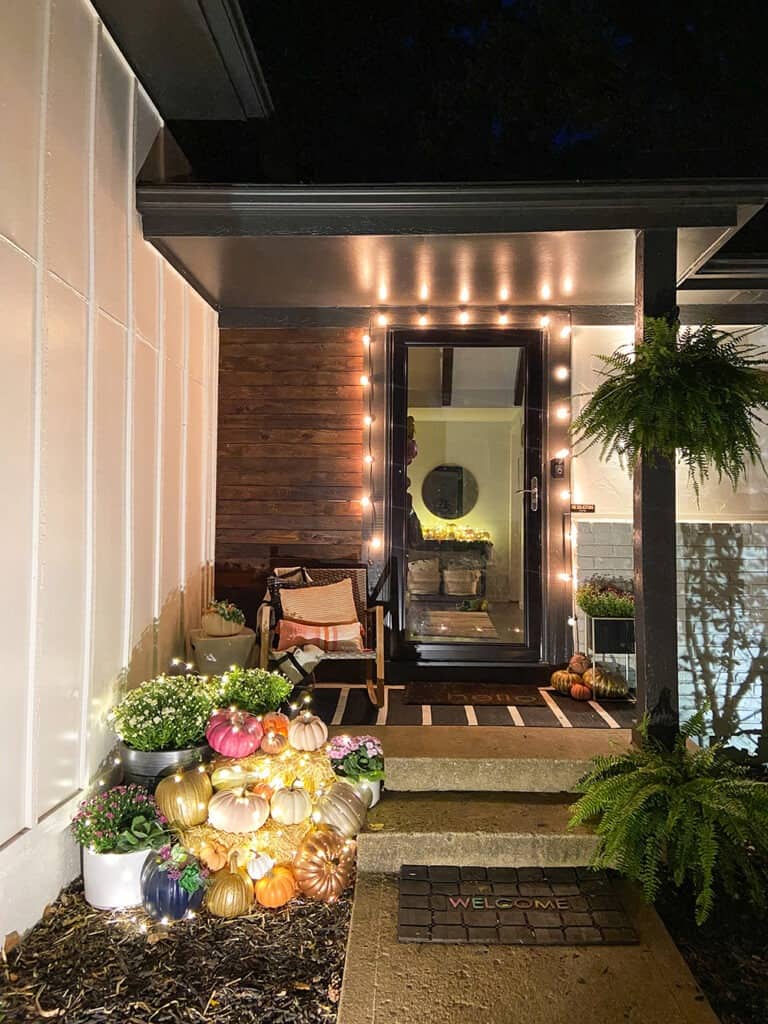 Vivienne loves to help me with the Halloween decorations!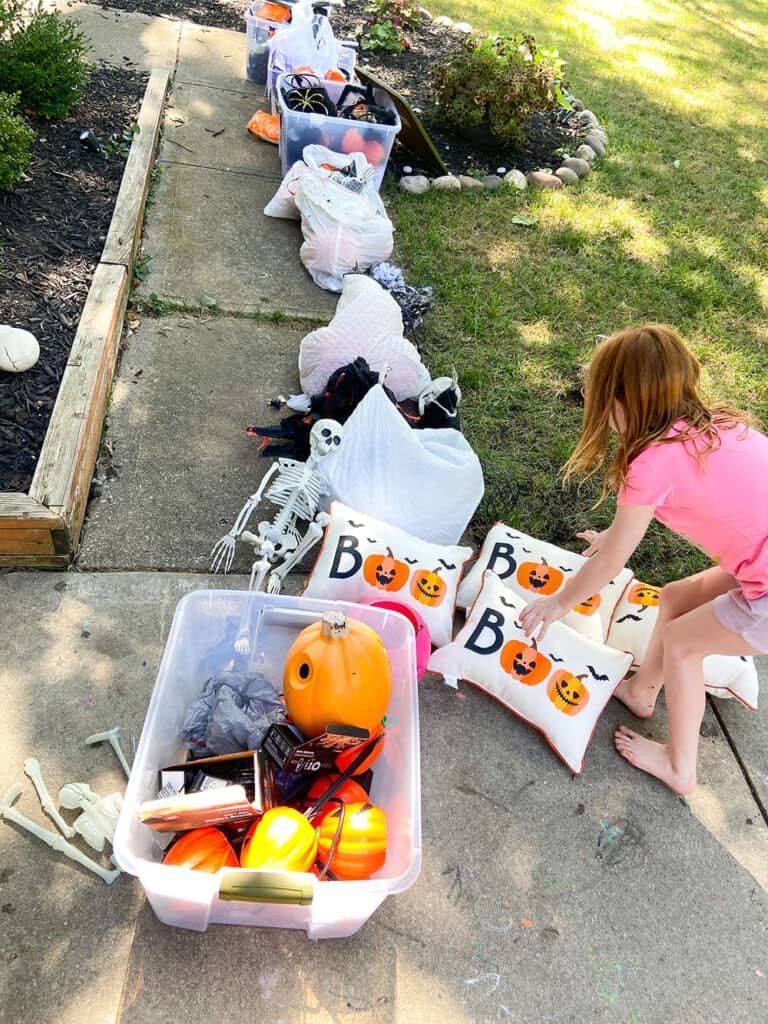 I started off by adding orange net lights to two of our box wood bushes. Net lights are the easiest ever!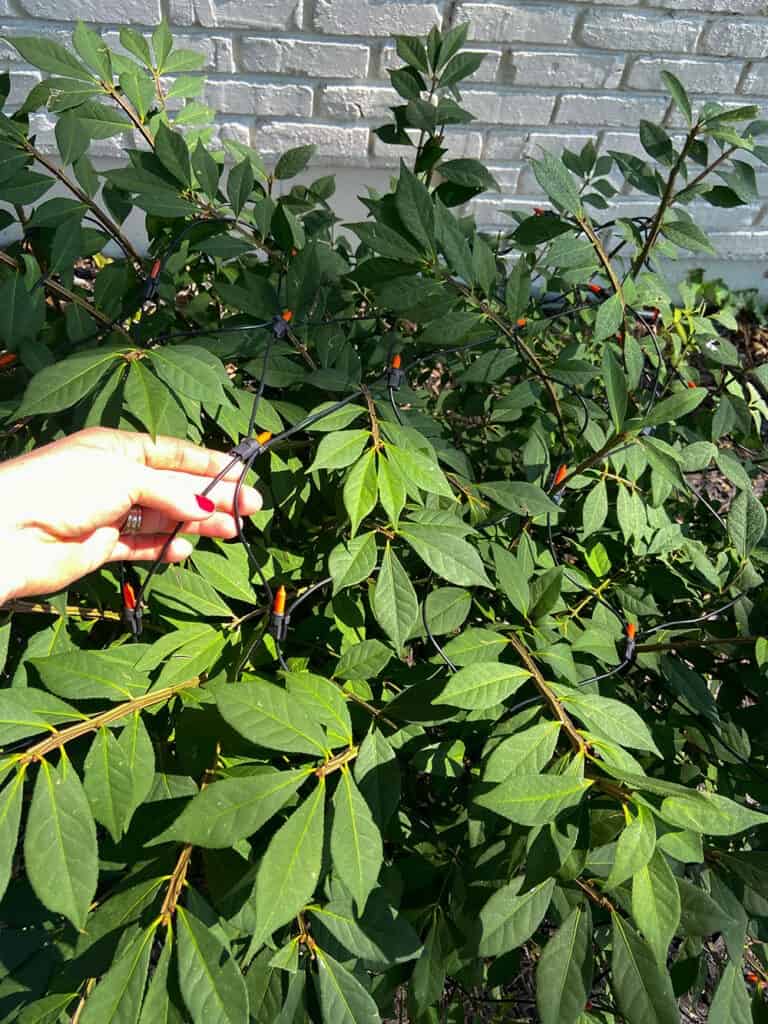 On two of our other bushes I used regular orange LED lights only because I don't have enough net lights.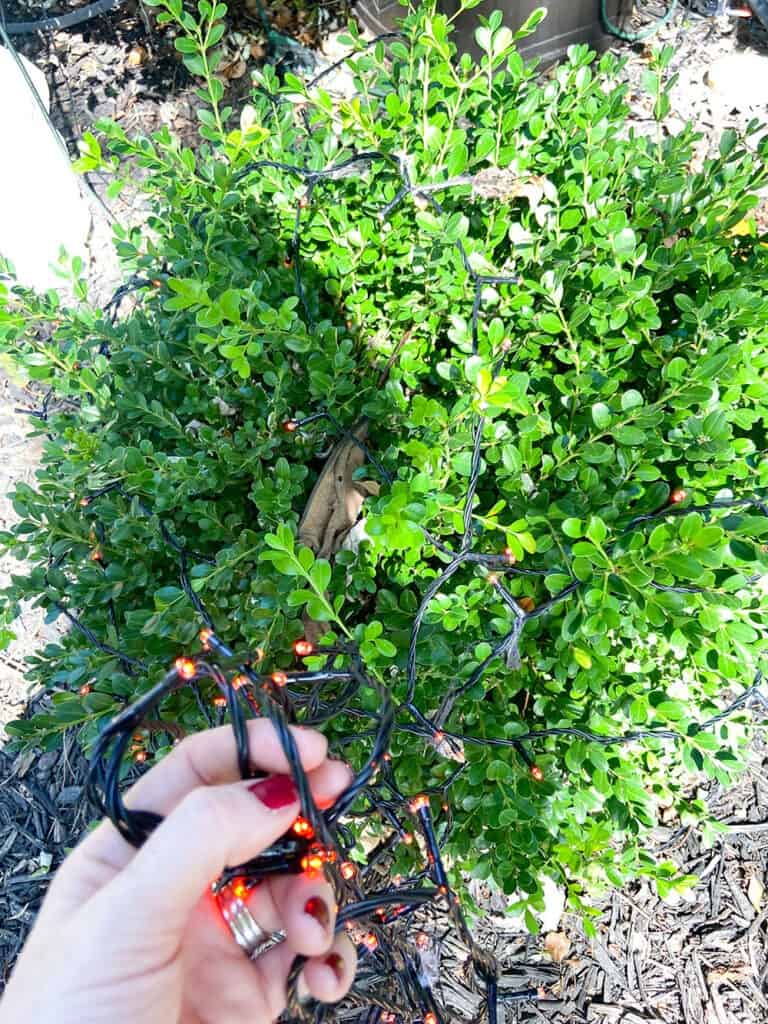 Window box Halloween decorations
Next up, I added six light up (plug-in) pumpkins in varying sizes to the existing pumpkins, faux ferns, and sprigs that were already in place.
I have one outdoor electric strip that I cover and hide in the window box to plug everything into.
After I was happy with the pumpkin placement, I added the cobwebs. This part always takes awhile since I really like to stretch them out over the box and bushes.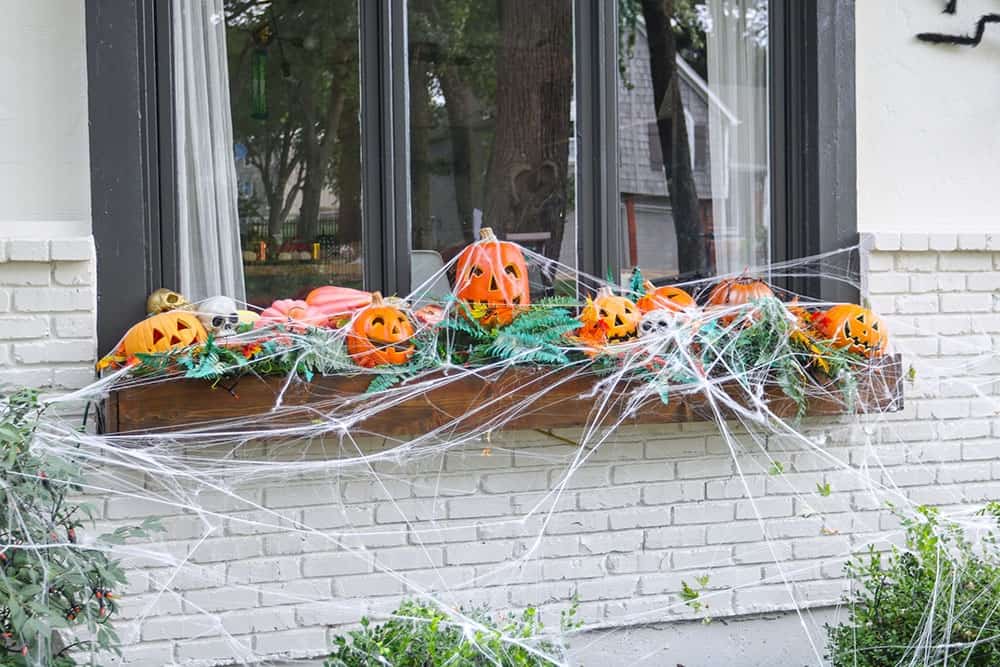 Here's closer view. I know it's busy, but I love the scattered and layered look, especially at night.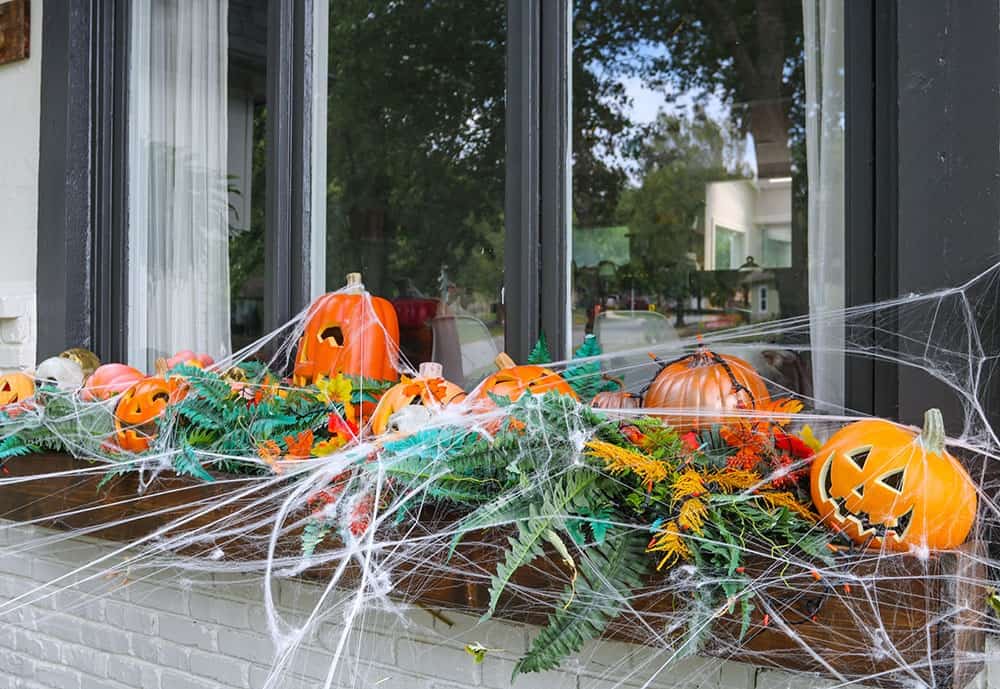 I love the large fuzzy spiders – we have three of them. I hang them on existing nails when available, but otherwise I use command strips.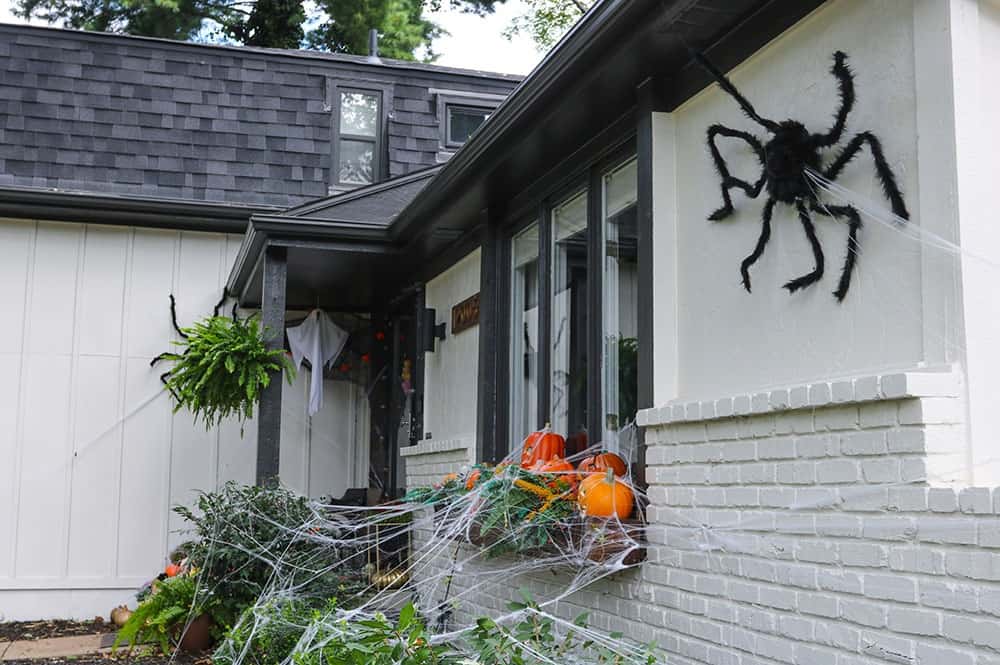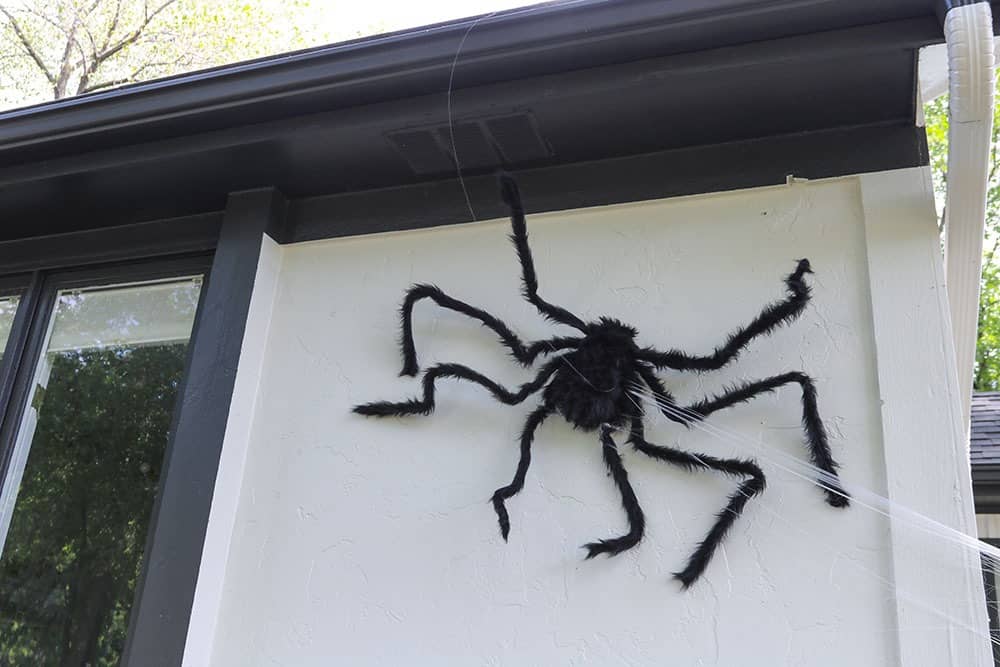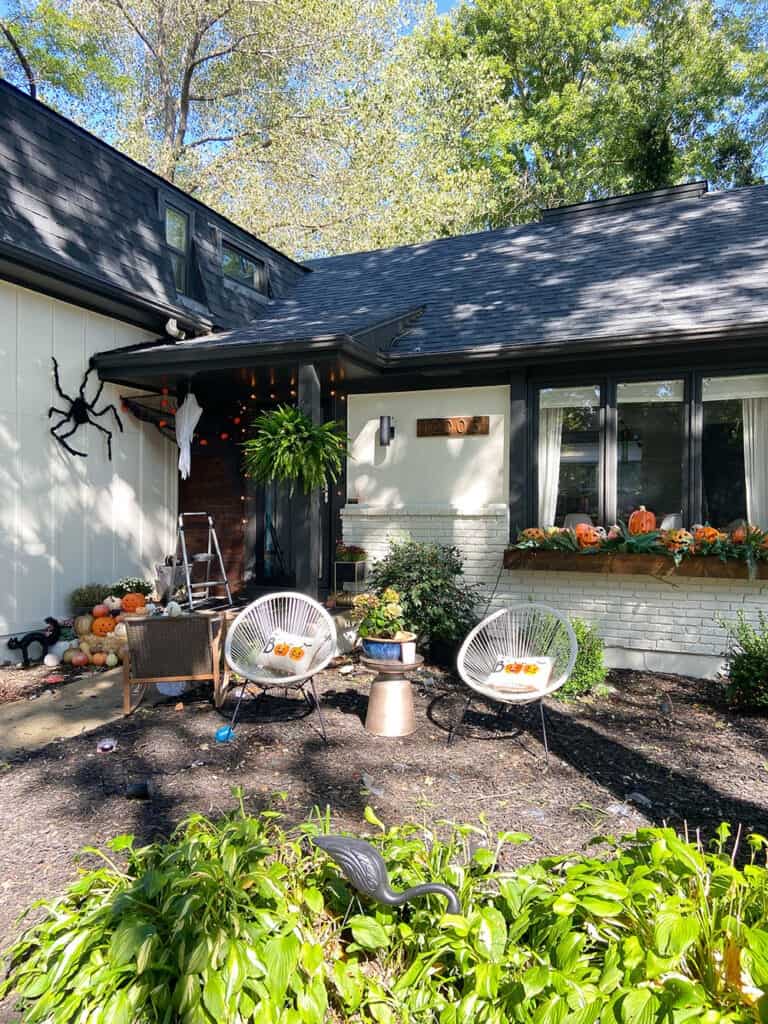 I hung a ghost from the Dollar Tree (similar), another fuzzy spider, pumpkin lights, and cobwebs in the corner in front of our freshly wood-cladded wall.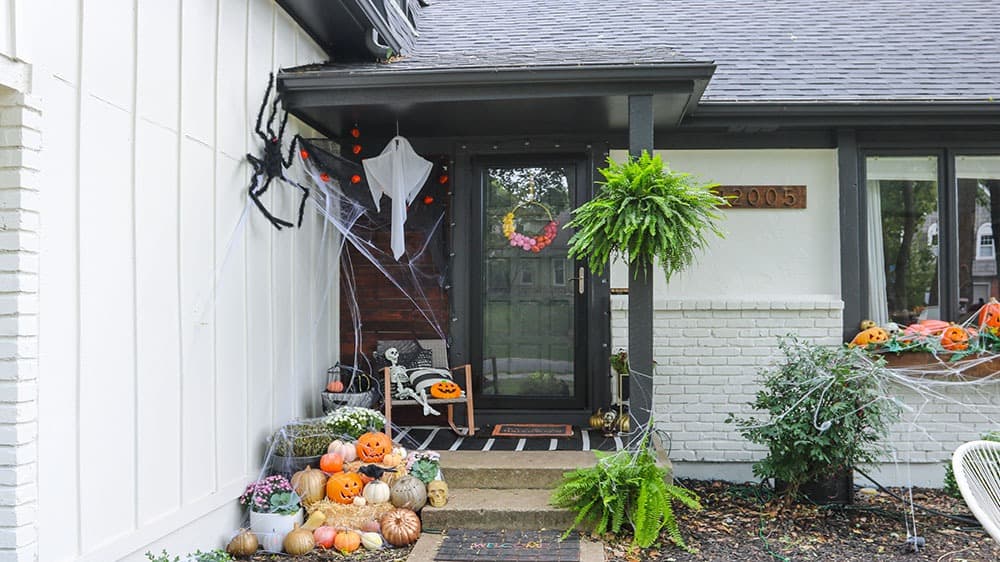 What I love about our Halloween decorations is that they are simply added to our existing fall decor.
I added two light up pumpkins, a crow, gold skull, and more cobwebs. And when one mum plant died, ever better, ha!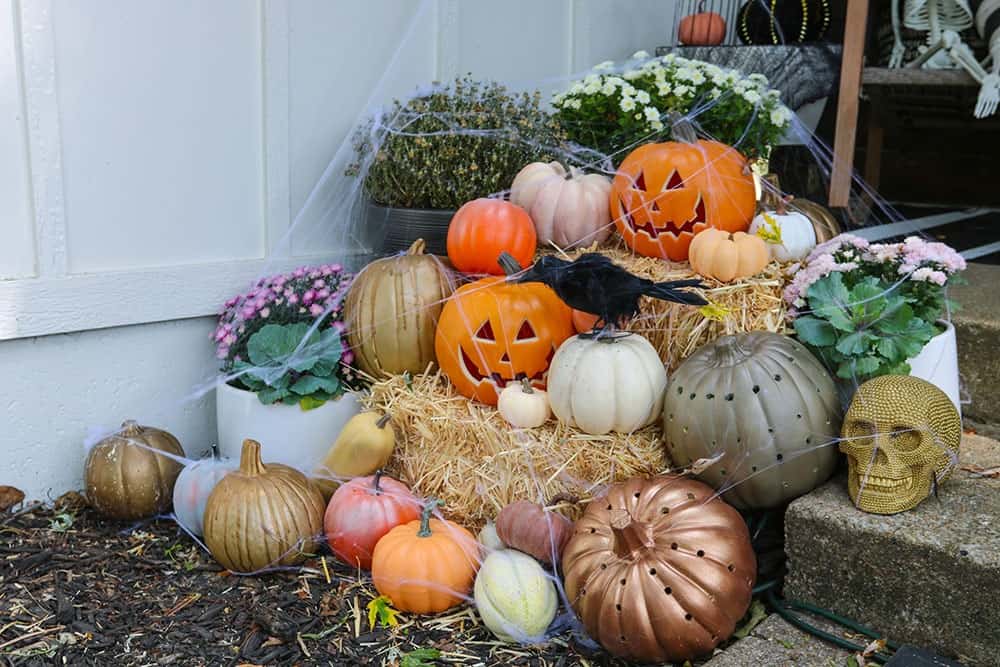 A zoomed out view…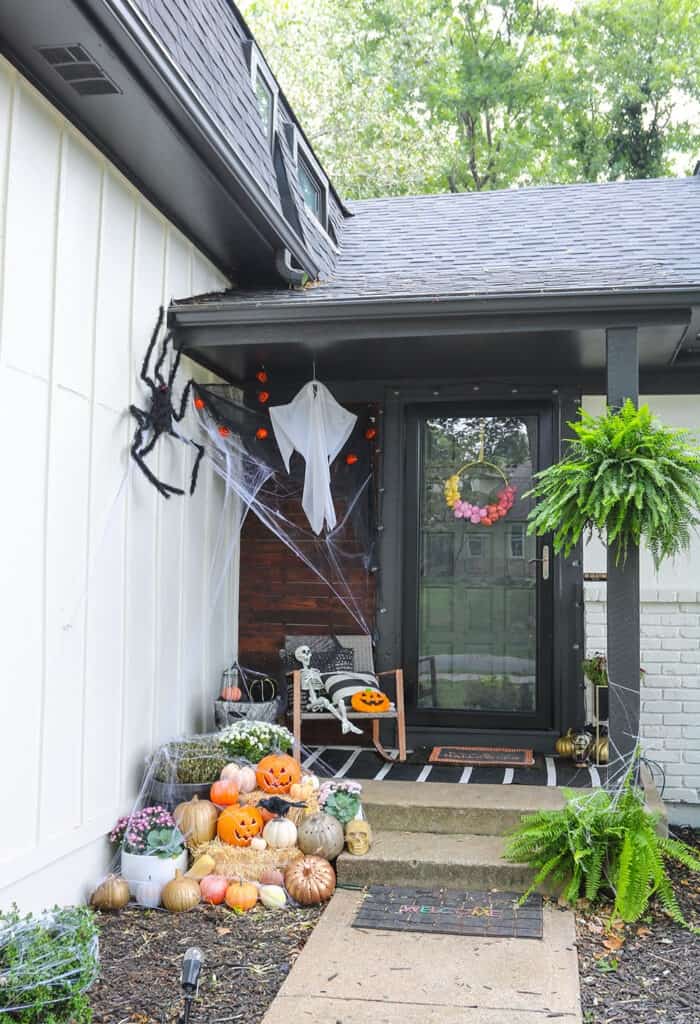 I got a few sets of light-up pumpkin stakes (similar option) and added them to the landscaping bed and two smaller window boxes.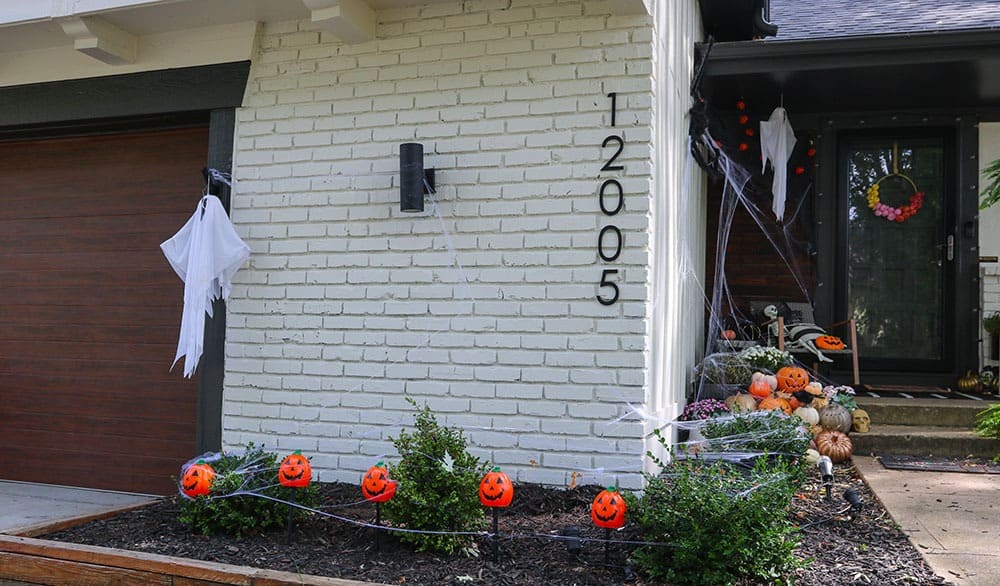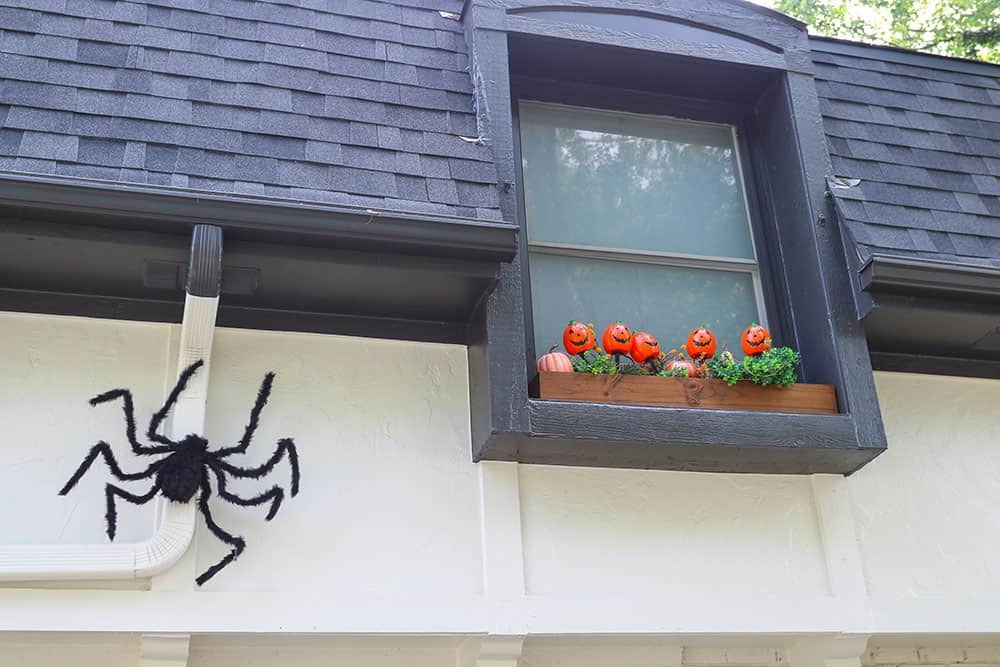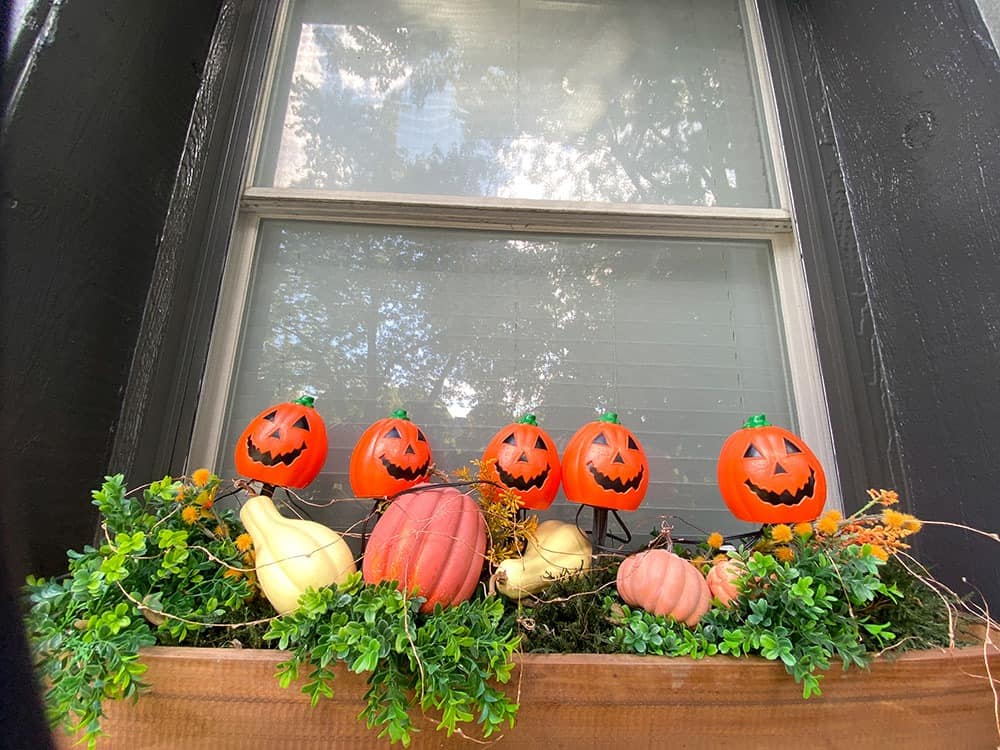 I found these BOO outdoor pillows at Walmart a couple years ago, and got 4. I love them (similar)!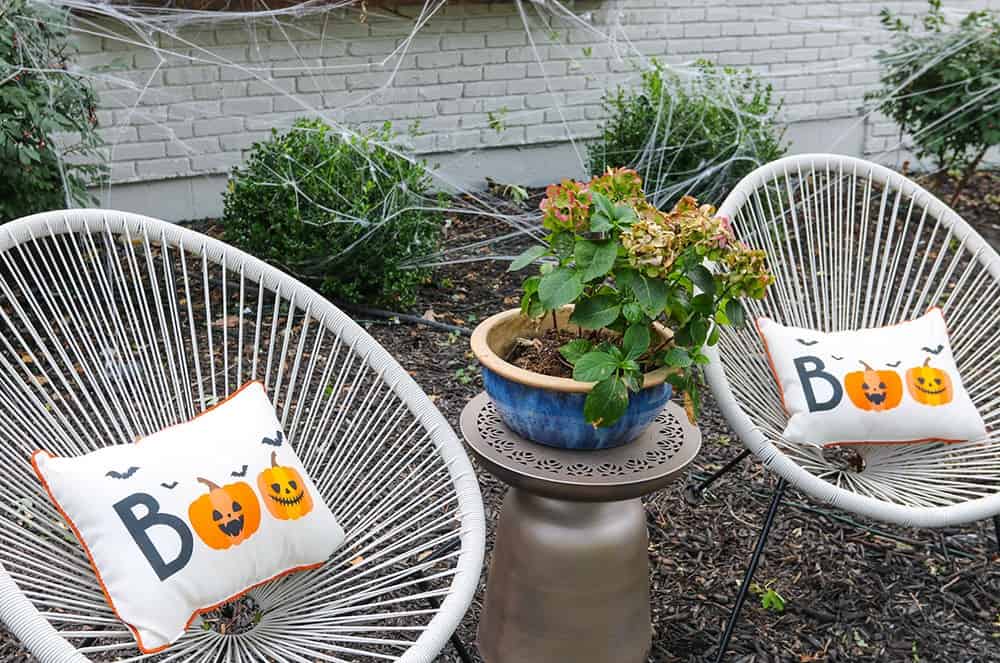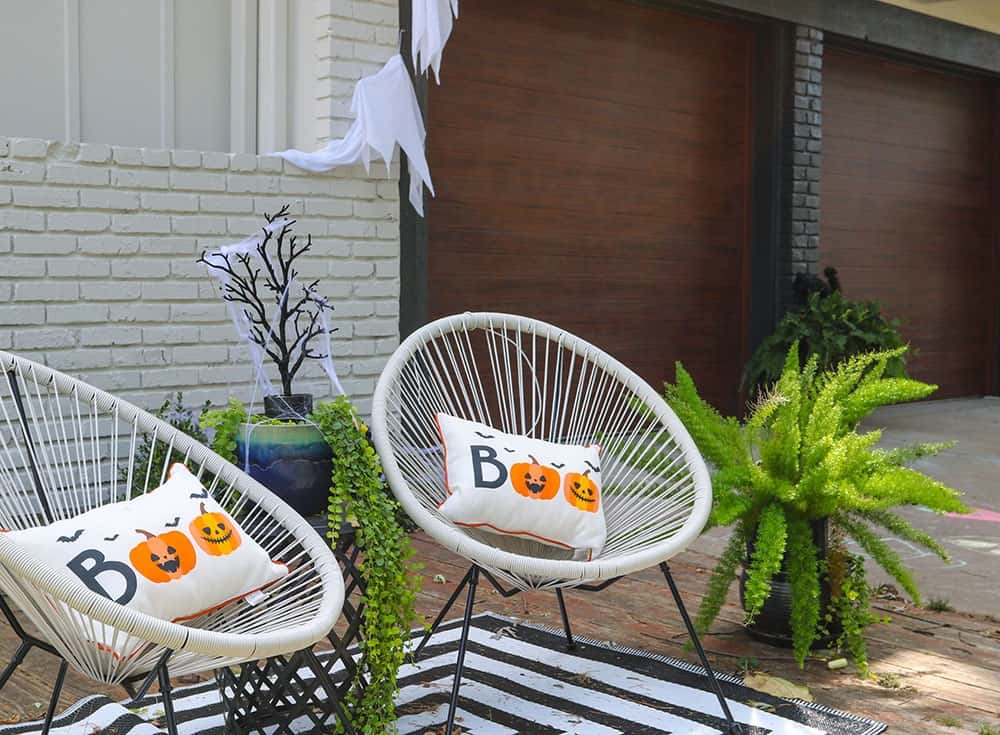 Another Dollar Tree find are these foam gravestones, which I added to the landscaping (similar).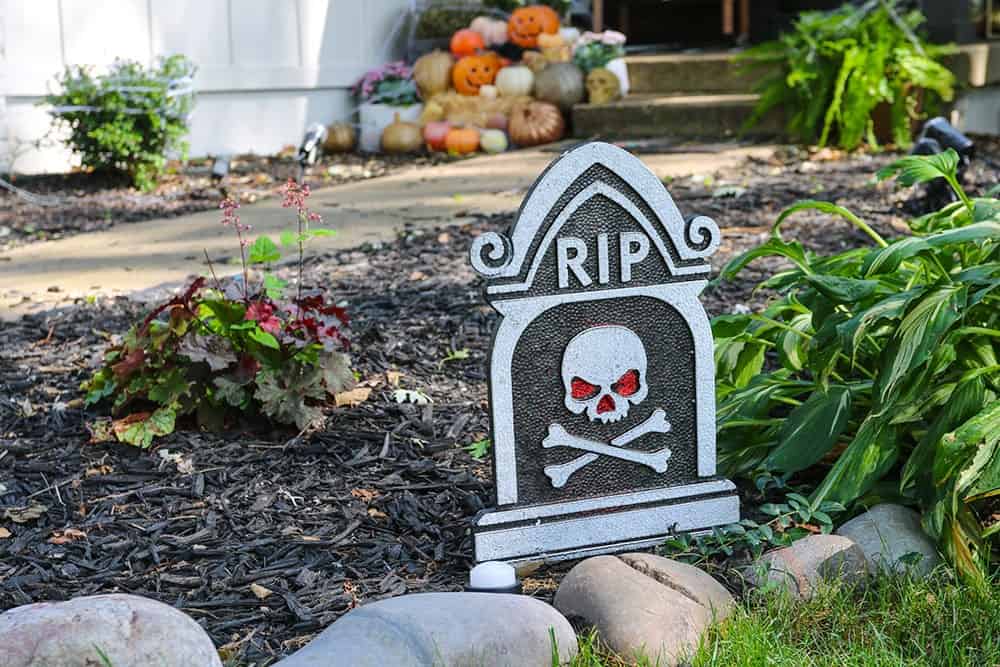 Of course I had to wrap a large tree in orange LED lights.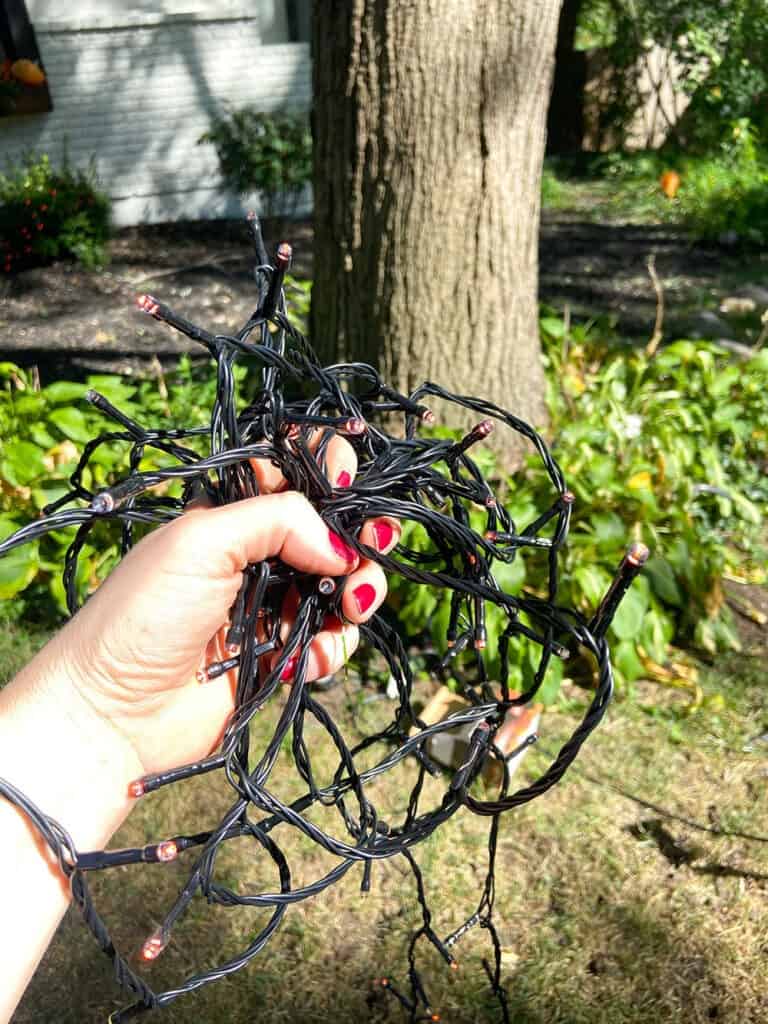 Once the lights were hung, I added another ghost.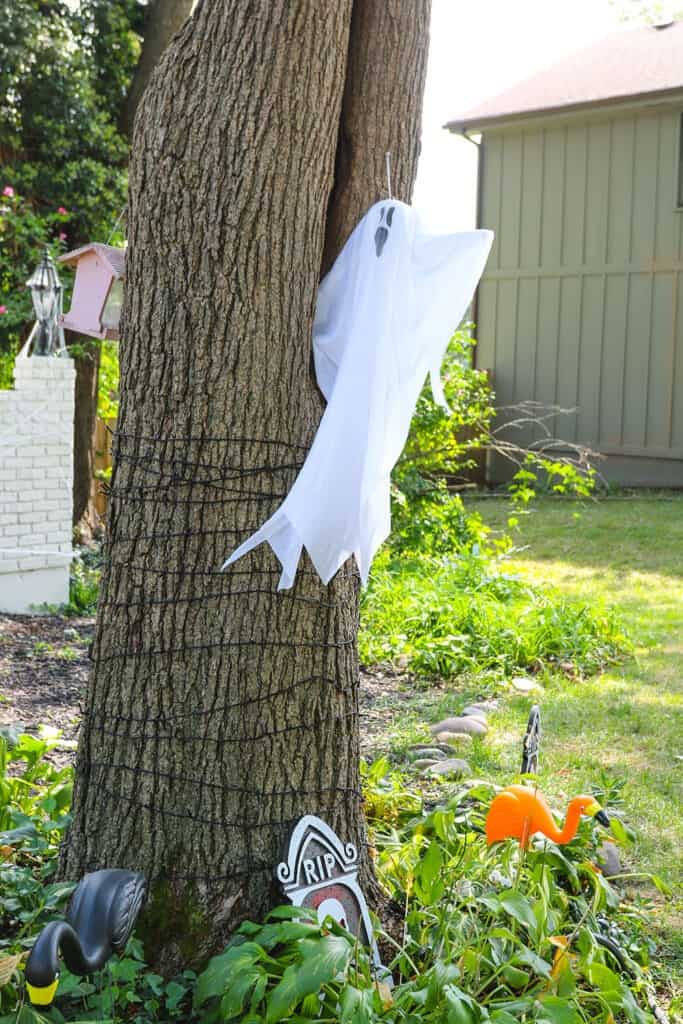 I hung these other spooky characters from the Dollar Tree on the trees along our front sidewalk.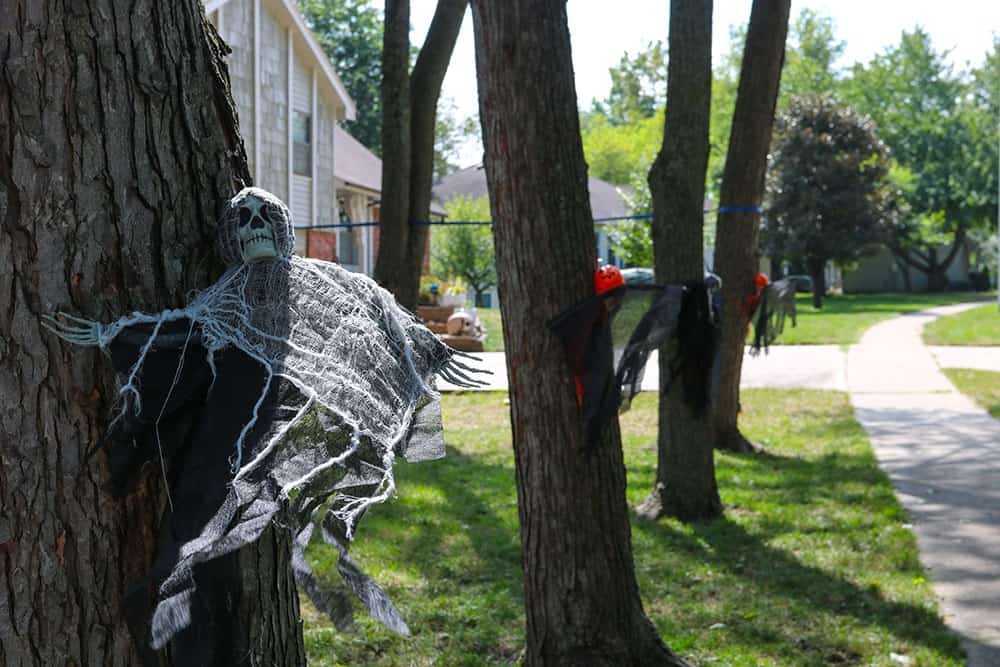 Just yesterday I added 4 ghosts in front of our garage doors, which I like better than the original placement. One of the spiders also moved down near the light.
And here's a zoomed out view of our Halloween decor at night!
It's A LOT, but the neighborhood kids (and me) love it!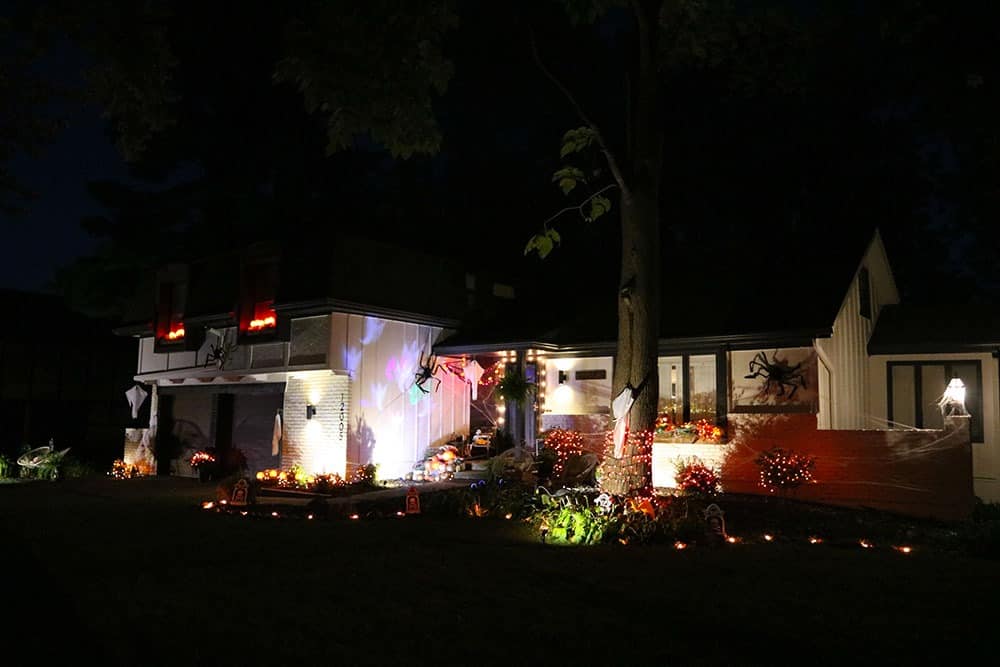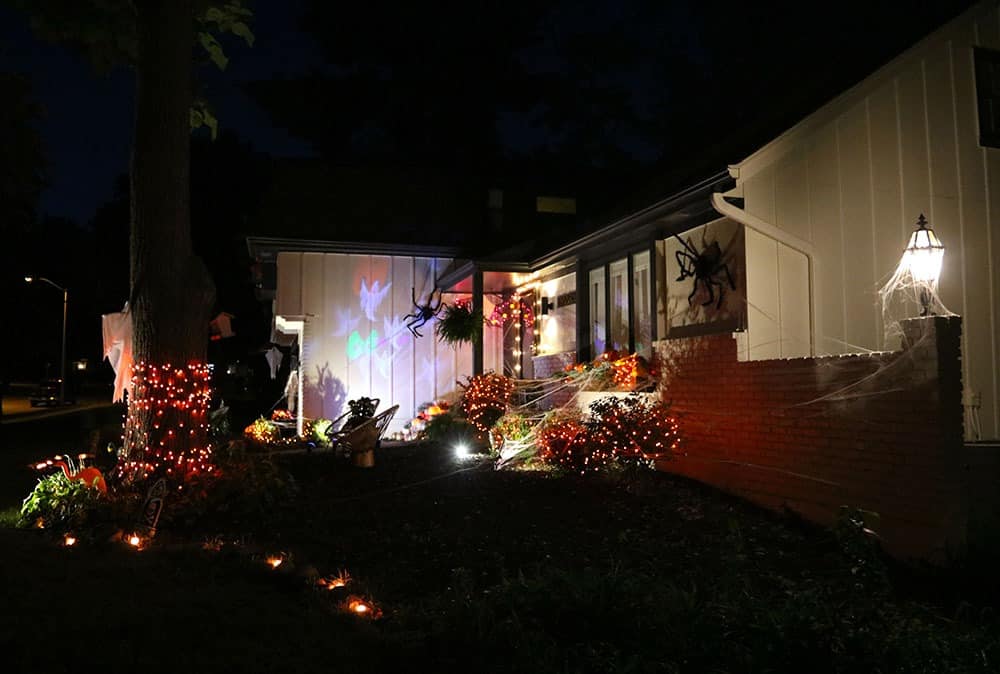 I especially love the projector lights that display on this wall. (similar).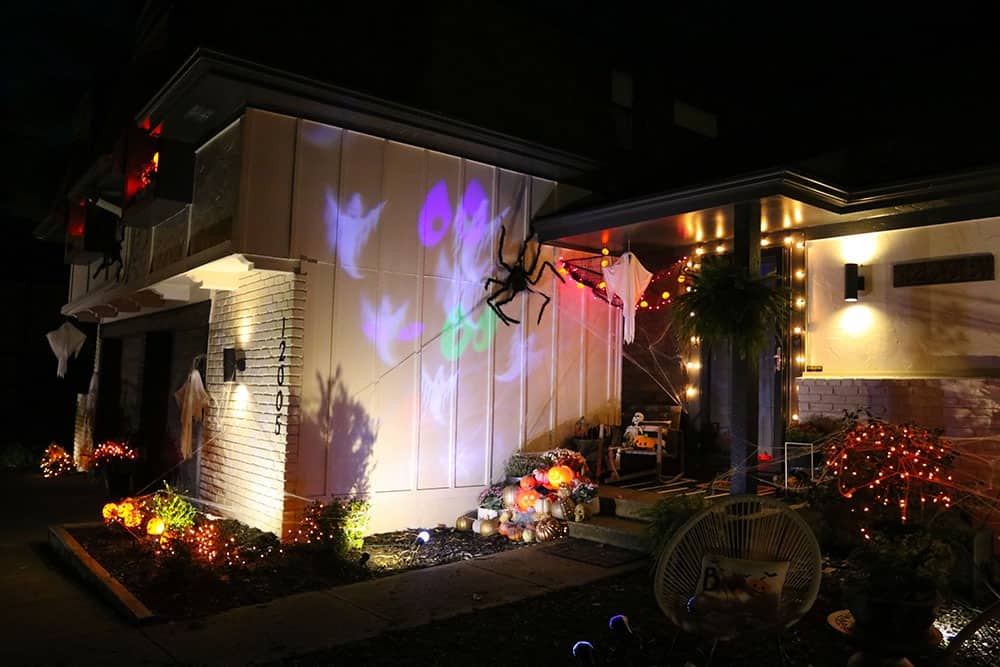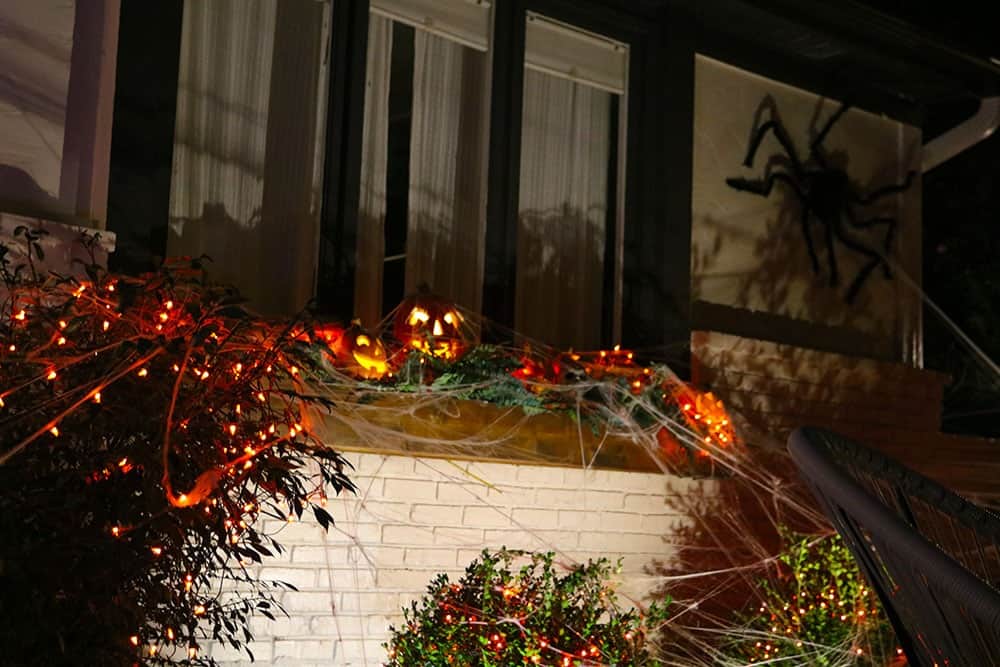 This window box of pumpkins just makes me happy for some reason, ha.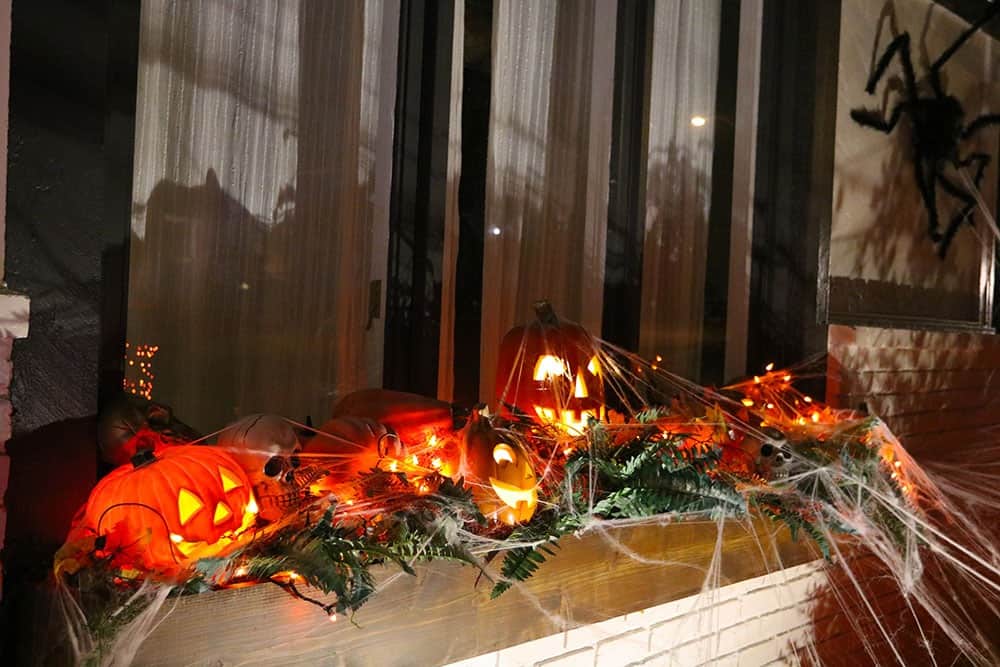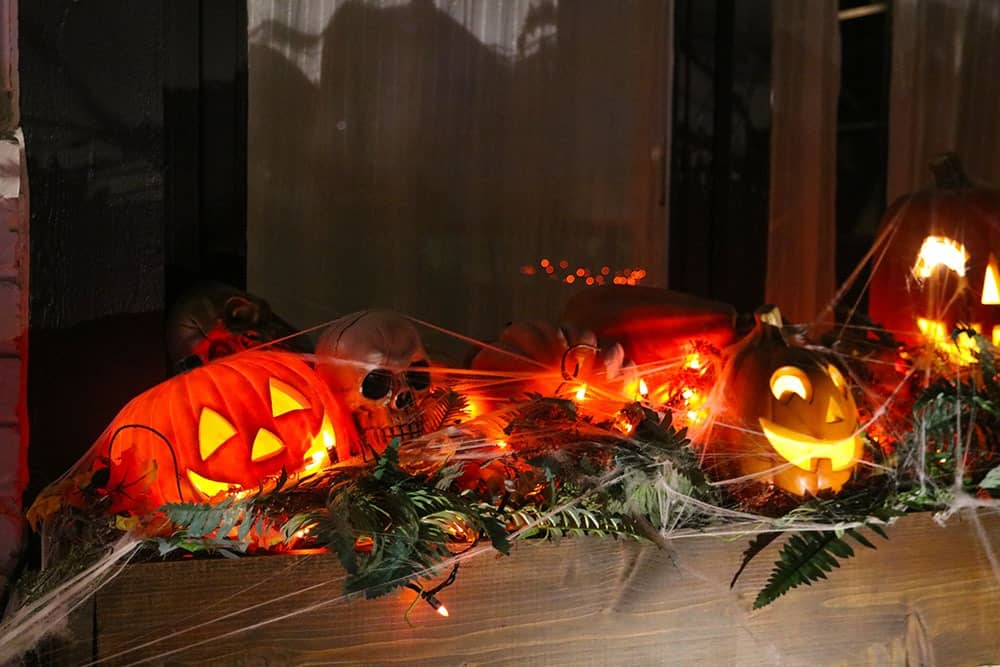 And I love the shadows casted from our DIY uplighting.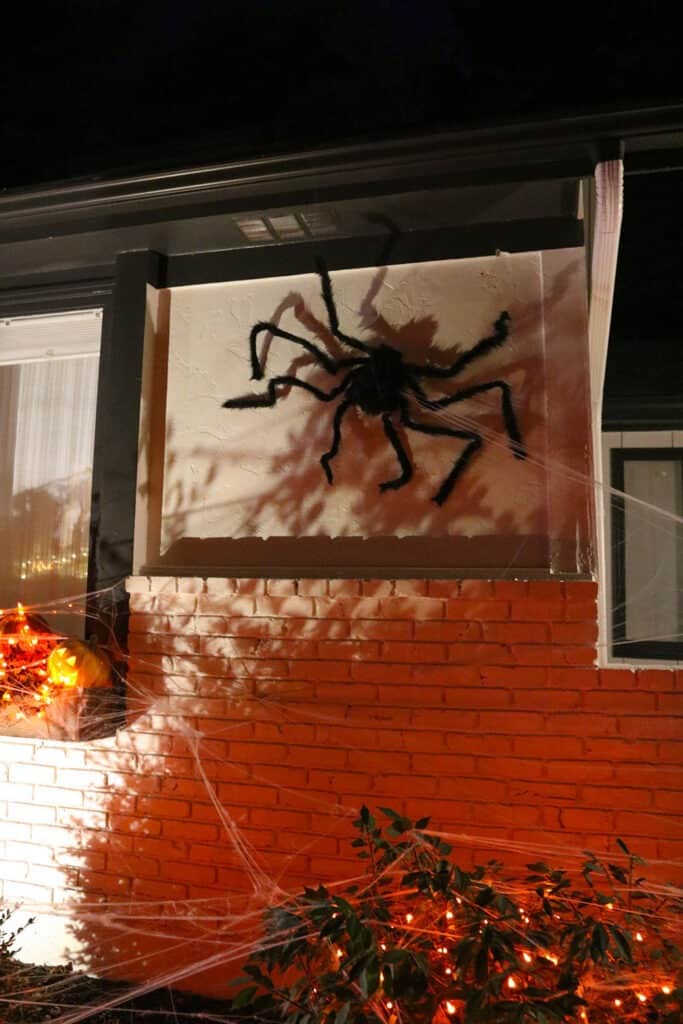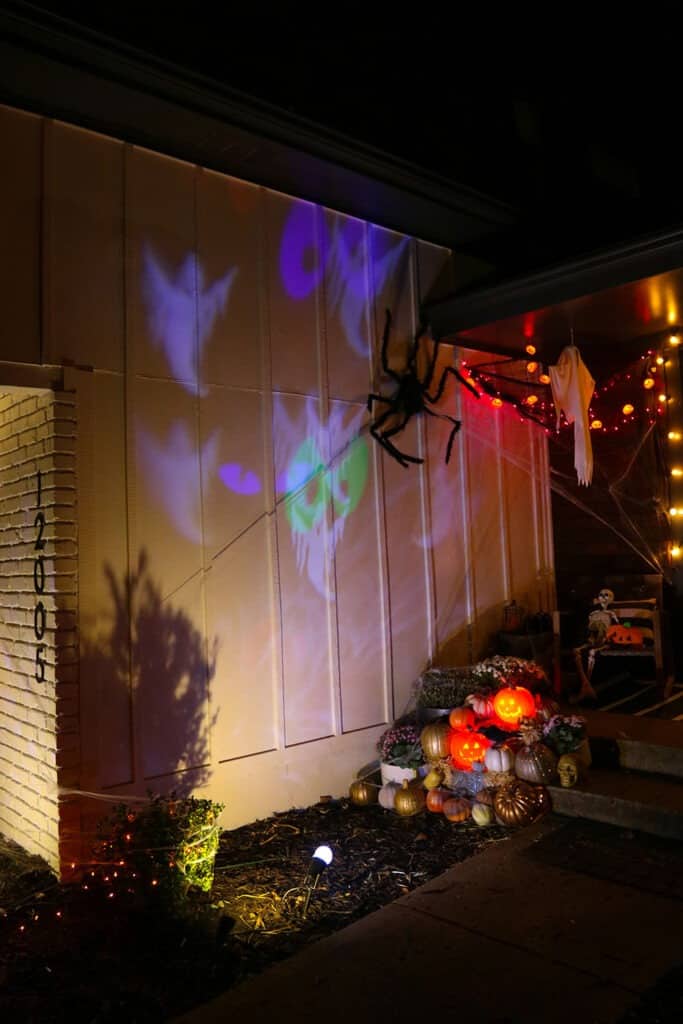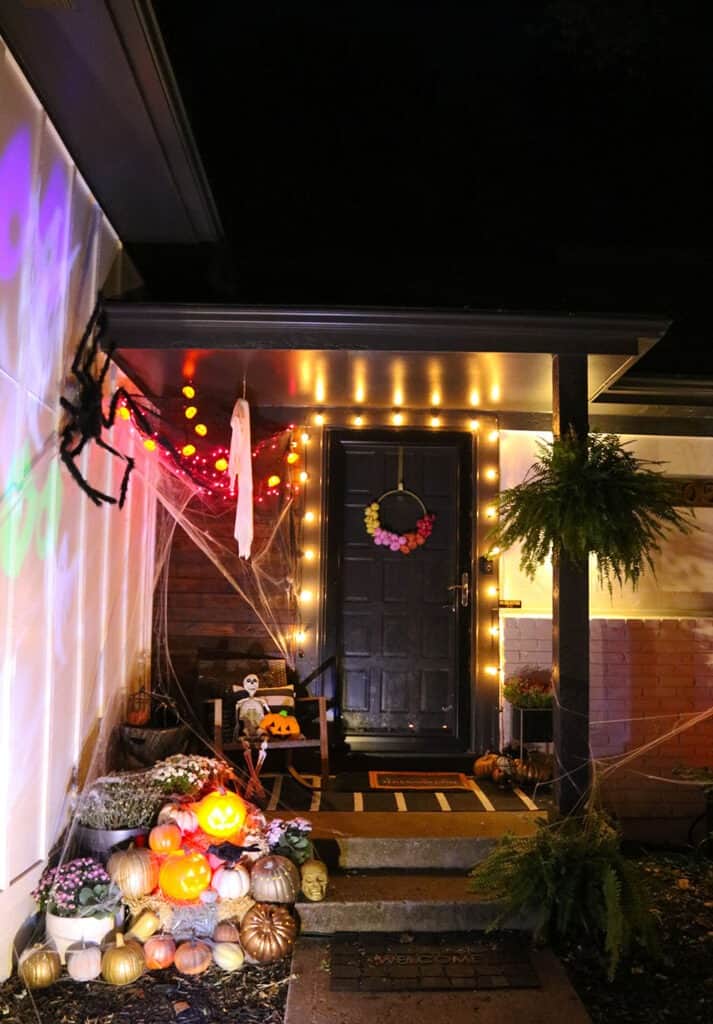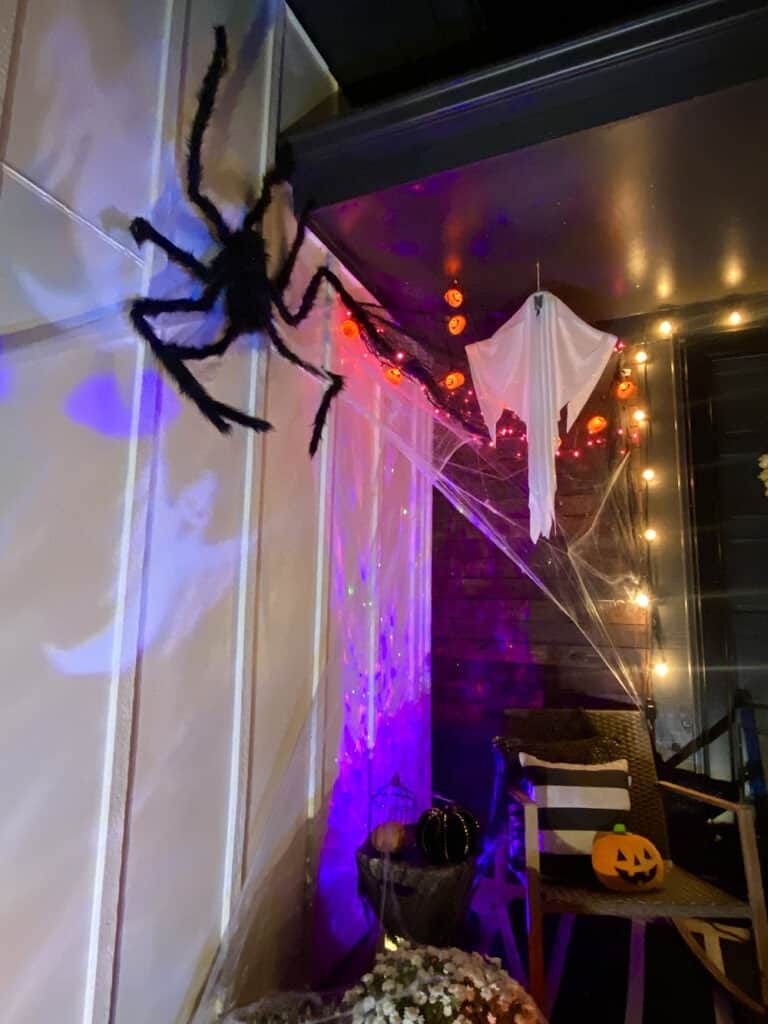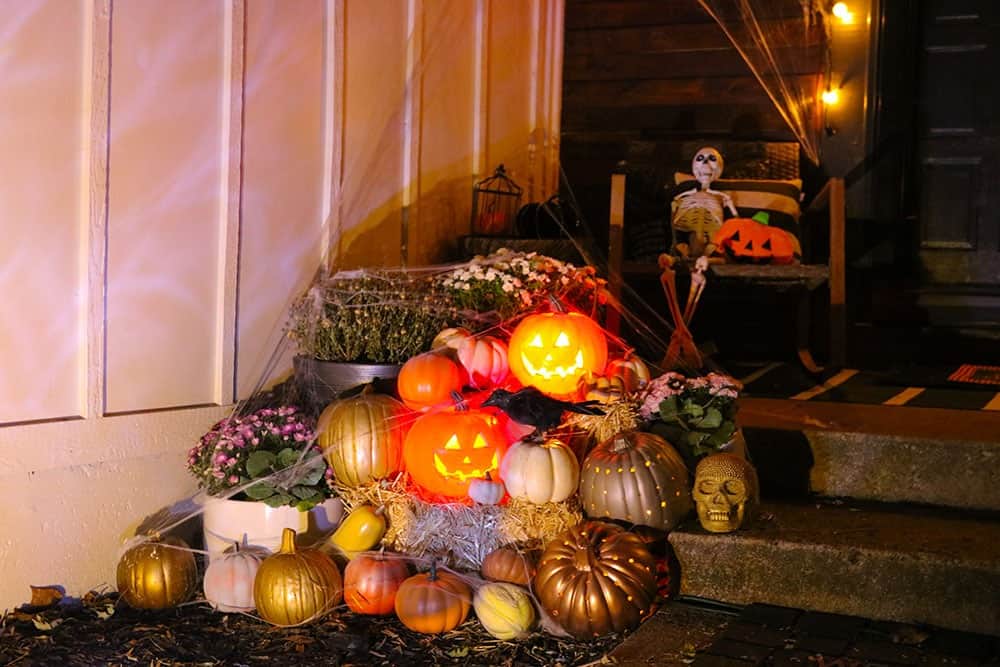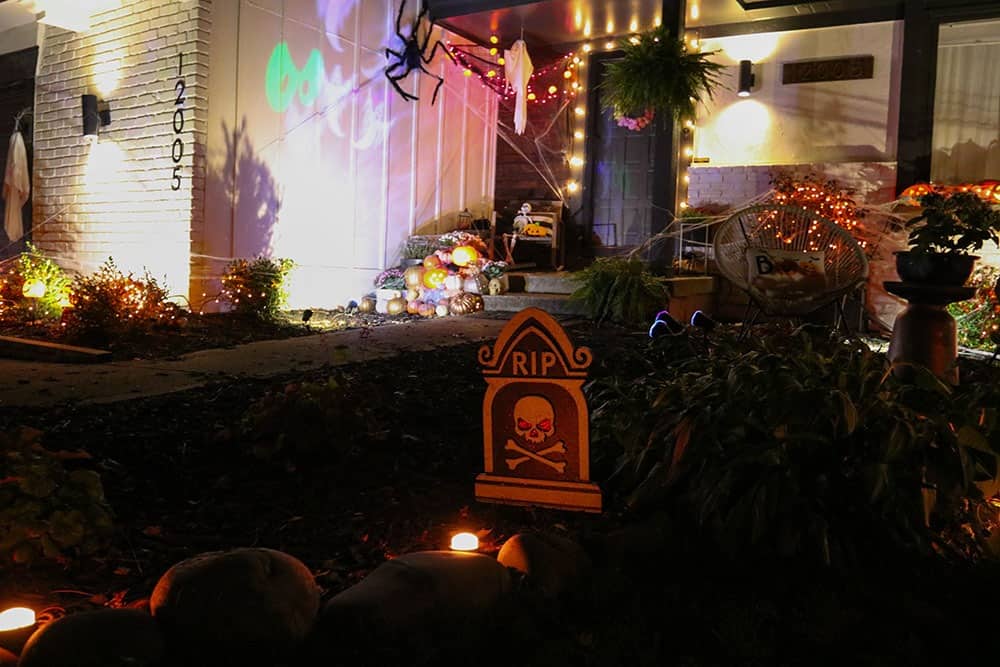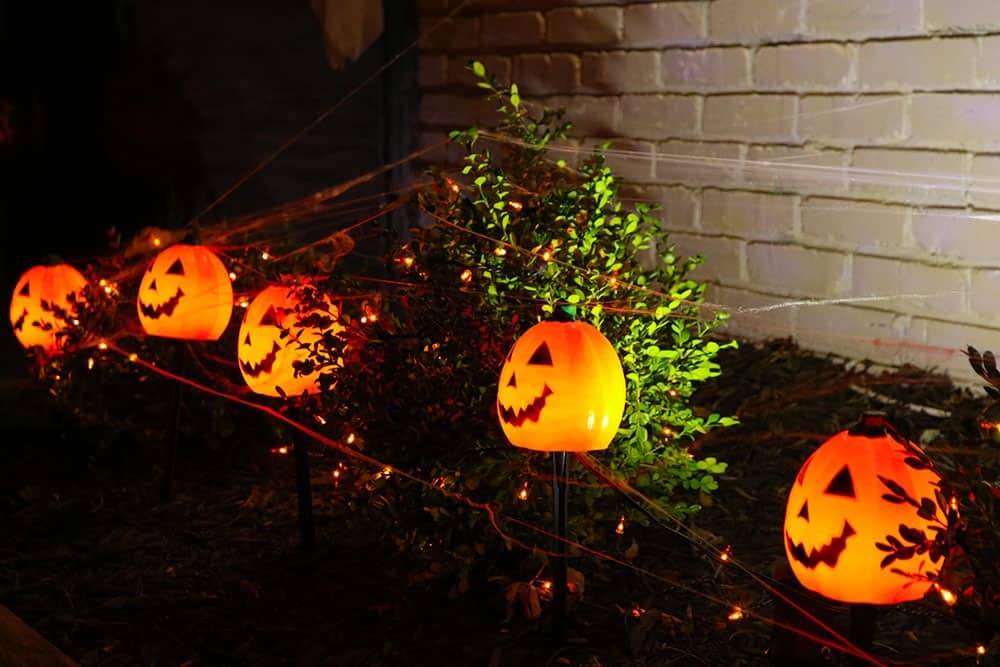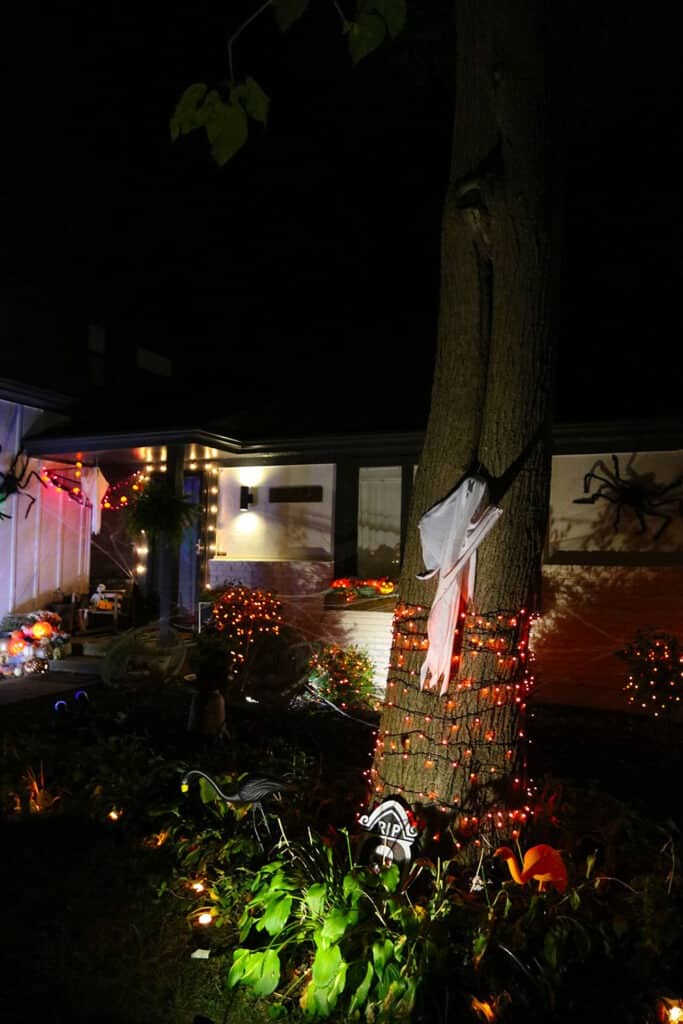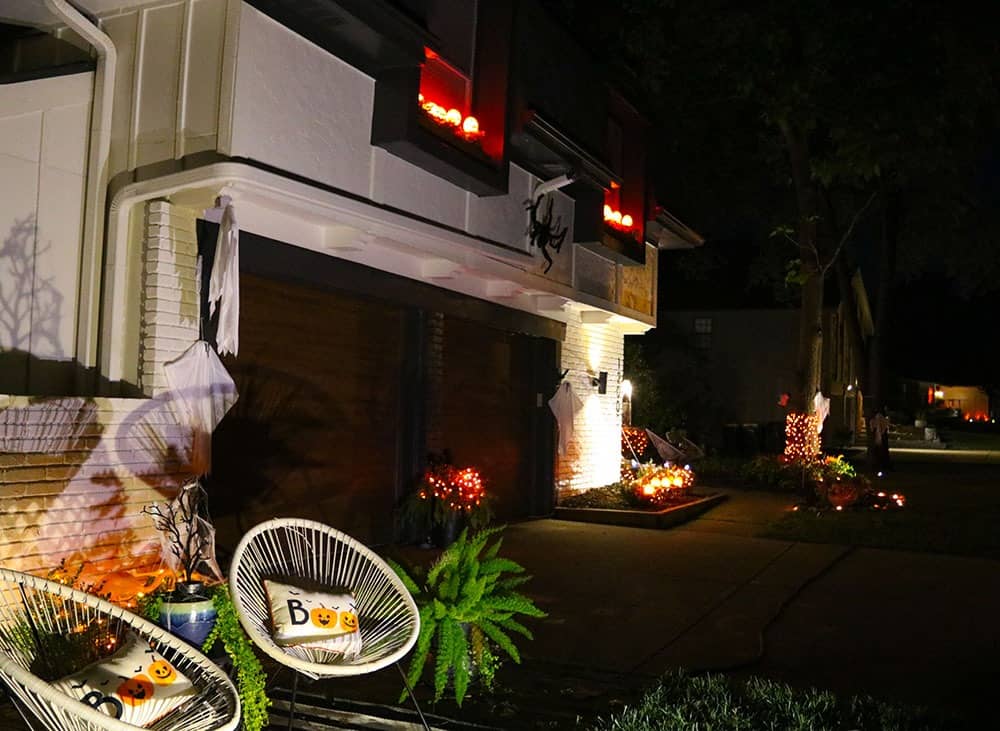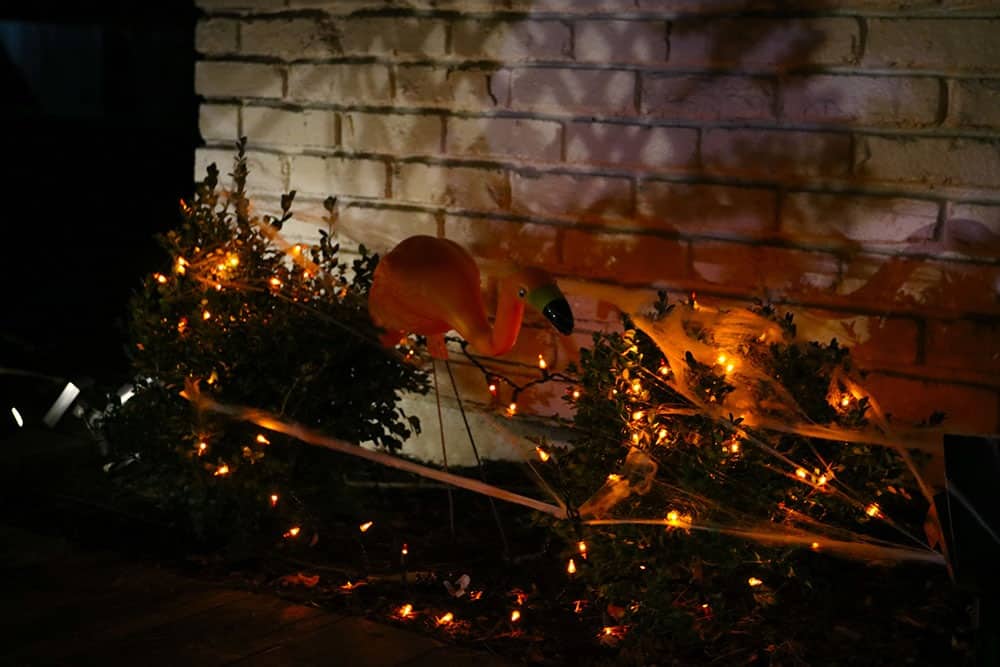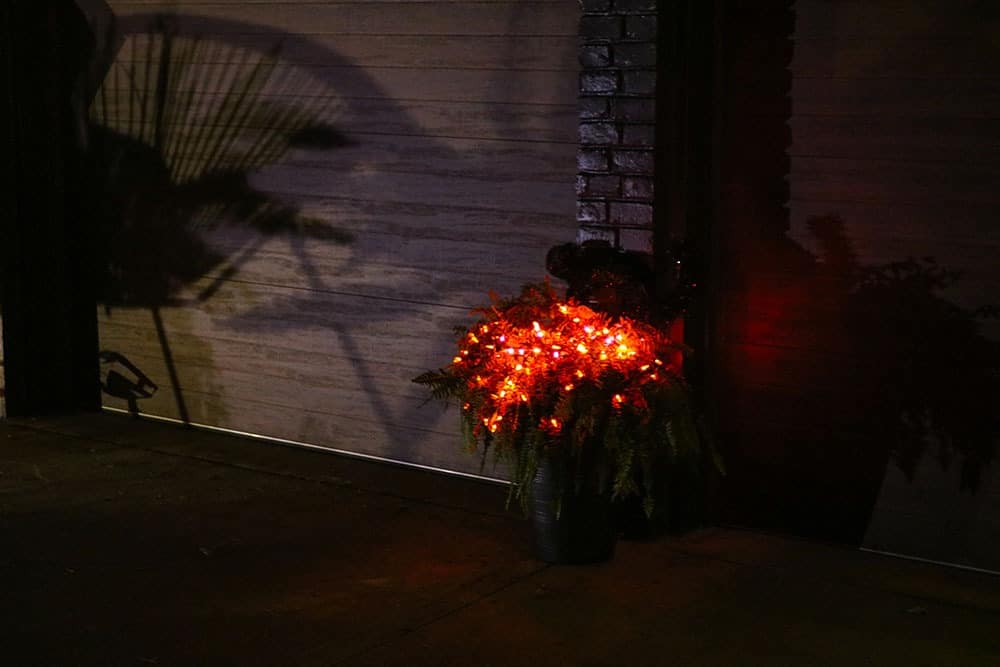 Thanks for taking the Halloween decor tour!
you can check out last year's Halloween decor here.
xoxo
Audrey